Jubilejný 75. ročník Hudobného leta sa teší veľkej priazni návštevníkov aj napriek limitom, ktoré určujú platné protipandemické opatrenia. Hostia si doteraz mohli užiť a capella koncert vokálnej skupiny Fragile, podujatie Na vlnách swingu pod vedením orchestra Fats Jazz Band, podmanivý muzikál Frida – maľovať a milovať, Letný hudobný galavečer pop operného zoskupenia Gioia či netradičný koncert legendy slovenskej populárnej hudby – Vaša Patejdla.
V priebehu augusta nás ešte čaká Beatles show slovenskej kapely The Backwards a vystúpenie umeleckého súboru Lúčnica, ktorý prinesie výber z choreografií jej niekdajšieho umeleckého vedúceho, profesora Štefana Nosáľa.
Koncert Vaša Patejdla prekonal všetky očakávania
"Aj vzhľadom ku covidovým opatreniam, ktoré na dlhé mesiace znemožnili organizovať kultúrne akcie, som sa na koncert v Trenčianskych Tepliciach veľmi tešil," prezradil Vašo Patejdl. "Priznám sa, že som mal trošku obavy, ako to celé dopadne, hlavne organizačne – predsa len, stále sú tu rôzne obmedzenia a je potrebné dodržiavať hygienické opatrenia. Výsledok však prekonal všetky moje očakávania, publikum bolo skvelé, vystúpenie som si užíval a mám z neho výborný pocit."
V Kursalone Trenčianske Teplice sa predstavil so svojimi najväčšími hitmi, ktoré si účastníci koncertu mohli vypočuť nielen v hudobnom sprievode skvelého gitaristu Juraja Buriana, ale tiež v netradičnej úprave so sláčikovým kvintetom. "Vždy sa snažím svojich fanúšikov niečím prekvapiť. Myšlienka zaranžovať svoje pesničky pre klavír, gitaru a sláčikové kvinteto mi napadla asi pred piatimi rokmi. Vzťah ku klasickým nástrojom mám už od dôb môjho štúdia na VŠMU. Chcel som si overiť, že pesnička môže znieť dobre nielen so "synťákmi", ale aj so sláčikmi," vysvetľuje Vašo Patejdl.
Fragile sa teší veľkému záujmu o vstupenky
V Trenčianskych Tepliciach sa ako doma cíti vokálna skupina Fragile, ktorá v kúpeľnom meste vystupovala už mnohokrát. "Vždy tu vládne skvelá atmosféra. Kúpeľní hostia sa zakaždým veľmi radi bavia. Aj teraz reagovali spontánne na všetko, čo sa na javisku v rámci programu dialo. Bol to nadmieru vydarený večer! Bolo vidieť, že kultúrnej "veľkej prestávky" už máme všetci dosť a chceme spolu zažívať už aj pozitívnejšie veci, ku ktorým spoločný a hlavne interaktívny zážitok z hudby určite patrí," hovoria svorne členovia skupiny Fragile.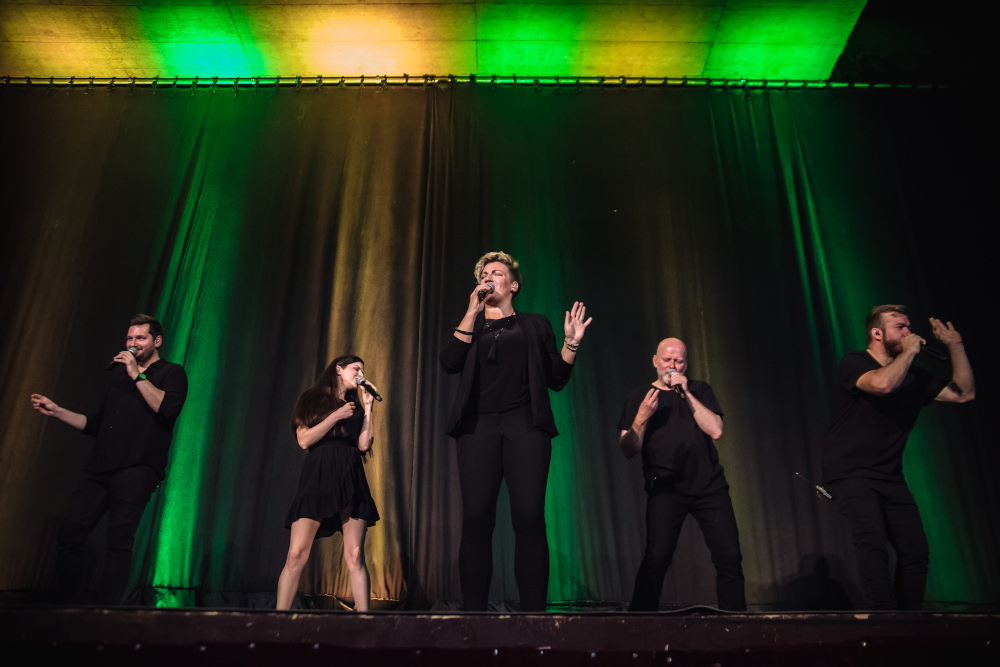 Ako dodávajú, po úplnom uzatvorení, ktoré sa zdalo byť nekonečné, sú radi, že ľudia nezanevreli na kultúru a dávajú najavo, že im chýba živý styk s umením. "A hoci sa kapacita zo známych dôvodov nedá naplniť, o vstupenky je veľký záujem. Niekde sa to dá vyriešiť pridaním ďalšieho koncertu, inde asi budeme musieť prísť ešte raz, aby sme vyšli v ústrety zvýšenému záujmu. Pevne veríme, že situácia sa už nikdy nevráti do tej hrôzy, ktorú zažívala nielen umelecká obec, ale vlastne všetci ľudia, ktorých sa pandémia akokoľvek, aj osobne dotkla," veria členovia Fragile.
Návrat muzikálu bol veľmi emotívny
Po dlhých 20 mesiacoch sa na divadelné pódiá vrátil aj pôvodný slovenský muzikál Frida – maľovať a milovať. Svoj "comeback" zažili herci práve v Kursalone Trenčianske Teplice. "Cítili sme sa prakticky ako pred premiérou. Hoci sme mali generálku a všetko si opakovali, v kútiku duše som sa obávala, či po takom dlhom čase niečo nezabudnem. Ešte aj emócie boli nesmierne silné, pretože som cítila obrovskú vnútornú radosť z toho, že opäť hrám. Publikum bolo takisto úžasné, ani sme si nemohli priať viac," pochvaľovala si vystúpenie Katarína Ivanková, predstaviteľka hlavnej postavy, slávnej mexickej maliarky Fridy Kahlo.
"Všetci v kultúrnej obci sa nádejame, že sa už nezopakuje situácia, s akou sme sa borili uprostred pandémie. Veríme, že aj prípadnú tretiu vlnu budú sprevádzať oveľa miernejšie opatrenia a divadelné predstavenia nedostanú červenú," dodala talentovaná herečka a speváčka.
Fanúšikovia Fats Jazz Band sa zabavia aj bez tanca
V Trenčianskych Tepliciach pravidelne vystupuje aj swingový orchester Fats Jazz Band. "Vždy nás poteší, keď v sále vidíme aj známe tváre. Mnohí naši fanúšikovia sú cez leto niekde v okolí a nenechajú si ujsť návštevu tohto nezameniteľného miesta spojenú s koncertom hudby z obdobia 30. rokov, keď bol aj Kursalon prestavaný do svojej funkcionalistickej podoby. Atmosféra na koncertoch v Tepliciach je vždy čarovná," podotýka Jana Dekánková, speváčka a manažérka swingového orchestra Fats Jazz Band.
Umelecké teleso je na scéne už celú dekádu a svoje výročie aj napriek obmedzeniam oslavuje úspešným letným turné s 11 koncertmi po celom Slovensku. "Na našich koncertoch si ľudia radi spontánne zatancujú, často teda hrávame aj čisto tanečné večery. Je škoda, že nič z toho sa momentálne robiť nesmie," hodnotí situáciu Jana Dekánková.
Trio Gioia nepocítilo úbytok divákov na koncertoch
Pop operné zoskupenie Gioia si po viac ako ročnej prestávke opäť užíva koncertné pódiá. "Z Trenčianskych Teplíc si odnášame len tie najlepšie dojmy. Koncerty sú tu vždy plné pozitívnych emócií, keďže v rámci festivalu Hudobné leto sme vystupovali už viackrát. Trenčianske Teplice sú špecifické svojím kultivovaným a náročným publikom, ktoré udržuje neustály kontakt s umelcami. Práve to vyburcuje nás, umelcov, k najlepším výkonom a publikum to vždy patrične ocení potleskom. Ten dnešný potlesk a ovácie naozaj nemali konca," tešili sa po koncerte členovia umeleckého tria Gioia.
Do budúcnosti uvažujú pozitívne. "Situácia v našom prípade ukázala, že počas leta možno viac ako inokedy koncertovať pod holým nebom. Samozrejme, počasiu človek nerozkáže, zakaždým je to veľké dobrodružstva plné očakávania. A my sme našťastie nepocítili úbytok divákov na našich koncertoch, za čo im srdečne ďakujeme," uzatvárajú speváci.
Viac informácií o festivale Hudobné leto Trenčianske Teplice nájdete na stránke www.hudobneleto.sk.
Zdroj: TS