Festival talianskej kultúry DOLCE VITAJ ponúkne aj stretnutia s troma významnými osobnosťami súčasnej literatúry. Romány Silvie Avallone – Odkiaľ je život dokonalý, Marca Missiroliho – Vernosť, Nicolu Lagioiu – Krutosť vyšli v minulom roku v slovenských prekladoch a ponúkajú tri odlišné pohľady na súčasnú taliansku spoločnosť cez optiku zložitých rodinných či partnerských vzťahov. V Taliansku ide o čitateľsky úspešné a kritikou oceňované tituly, ktoré si už svoje publikum našli aj na Slovensku. Štrnásty ročník festivalu predstaví okrem literatúry výnimočné momenty talianskej architektúry, dizajnu, výtvarného umenia, fotografie a filmu.
"Pre Taliansky kultúrny inštitút je literatúra a rozrastajúci sa počet slovenských prekladov klasickej a súčasnej talianskej literatúry jedným z kľúčových nástrojov na propagáciu talianskeho jazyka a kultúry. Sme veľmi radi, že oslovení autori a autorka prijali naše pozvanie a hoci sa tieto stretnutia uskutočnia len vo virtuálnom priestore, veríme, že dokážu nadviazať na tradíciu živých kontaktov s talianskymi spisovateľmi a ponúknu inšpiratívnu reflexiu na dobu, v ktorej žijeme," povedal Marco Gerbi z Talianskeho kultúrneho inštitútu, ktorý spolu s Talianskym veľvyslanectvom a Taliansko – Slovenskou obchodnou komorou festival Dolce Vitaj organizuje.
Prvú online diskusiu medzi spisovateľkou Silviou Avallone a literárnym publicistom Dadom Nagyom zverejnia organizátori 2. júna 2021 o 18:00 hod. na svojich sociálnych sieťach (youtube, Facebook). Silvia Avallone je za svoj románový debut držiteľkou ceny Campiello 2010 a ceny Flaiano. Jej posledný román Un'amicizia vyšiel v Taliansku v novembri 2020. Pripravuje sa jeho televízne spracovanie a preklad do viacerých jazykov. Vrátane slovenčiny. V rozhovore sa autorka sústredila na svoj román Odkiaľ je život dokonalý, ktorý vyšiel v slovenskom preklade Ivany Dobrakovovej vo vydavateľstve Inaque. "Aj v tomto románe Avallone píše o mladých ženách a mužoch, ktorí sa usilujú o inú budúcnosť, no tentoraz z perspektívy toho, kto hoci zostáva dieťaťom, sa zároveň musí vyrovnať s tým, že sa stáva rodičom. Silvia Avallone akoby chcela svojím románom povedať, že stať sa rodičom je tá najväčšia stávka do budúcnosti, akú môžeme urobiť. A budúcnosť môžeme zmeniť iba štúdiom, pretože to jediné nám dáva slobodu vybrať si vlastnú cestu," píše prekladateľka vo svojom doslove ku knihe.
Rozhovor s talianskym spisovateľom Marcom Missirolim, držiteľom ceny Strega Giovani 2019 v hlasovaní mladých čitateľov a ceny Campiello 2016 za najlepší debut vedie publicistka a dramaturgička Zuzana Golianováa do online priestoru sa dostane od 9. 6. 2021 o 18:00 hod. Témou ich rozhovoru bude úspešný román Vernosť, ktorý vyšiel v roku 2020 vo vydavateľstve Slovart v preklade Františka Hrušku. "Sme si istí, že odolať pokušeniu znamená byť verní? A čo ak to odmietnutie znamená podviesť v hĺbke samého seba? Vernosť je kotva, ktorá nám ponúka bezpečie na rozbúrenom mori, zrkadlo, do ktorého dennodenne hľadíme v snahe nájsť svoje vlastné ja. Marco Missiroli hľadá odpovede na tieto otázky vnárajúc sa do sŕdc svojich literárnych postáv: jeho, jej, toho druhého, tej druhej. Nášho vlastného. Pripravte sa na to, že si možno prečítate vlastný príbeh," uvádza sprievodný text ku knihe v slovenskom preklade.
Sériu stretnutí s talianskou literatúrou uzavrie rozhovor medzi spisovateľom Nicolom Lagioiom, držiteľom ceny Strega 2015 a Andreom De Lucom, profesorom talianskej literatúry. V centre pozornosti je román Krutosť, ktorý podľa redakcie Spectotor má všetky prvky trileru a zároveň je majstrovsky napísaným barokovým, viacvrstvovým portrétom moderného Talianska; vyšiel v slovenskom preklade Adriany Šulíkovej vo vydavateľstve Inaque. "Jednej horúcej jarnej noci objavia v blízkosti diaľnice mŕtvu mladú ženu. Clara Salvemini je najstaršou dcérou vplyvného podnikateľa v stavebníctve. Jej smrť označia za samovraždu. Je to naozaj pravda? Čo spája Claru s obchodmi jej otca? Vily bohatých na periférii mesta Bari, ťažkosti, ktoré prináša rýchly spoločenský a sociálny vzostup, zbierka nezabudnuteľných postáv, napäté vzťahy v rodine na pomedzí medzi leskom bohatstva a hrozbou skazy. Lagioia využíva formy noir, gotického románu, či rodinnej ságy," píše sa v slovenskej anotácii k románu. Rozhovor bude online na všetkých spomenutých platformách od 16. 6. 2021 o 18:00 hod.
Podujatie pripravil Taliansky kultúrny inštitút v Bratislave v spolupráci s vydavateľstvami Inaque, Slovarta kníhkupectvom Martinus. Všetky rozhovory budú preložené do slovenského jazyka.
Silvia Avallone (Biella, 1984) vyštudovala filozofiu na univerzite v Bologni. Vydala zbierku poézie Il libro dei vent'anni, (Kniha dvadsaťročných), za ktorú získala cenu Alfonsa Gatta. Pre Reprey´s Film napísala publikáciu Un'attrice e le sue donne (Herečka a jej ženské postavy) o herečke Anne Magnani (2008). V roku 2010 vyšla vo vydavateľstve Rizzoli jej prvotina Acciaio (Oceľ), za ktorú získala cenu Campiello za najlepší debut, cenu Flaiano a skončila druhá v prestížnej literárnej súťaži Premio Strega 2010. V roku 2013 vyšiel je druhý román Marina Bellezza a v roku 2017 vydalo vydavateľstvo Rizzoli jej tretiu knihu Odkiaľ je život dokonalý.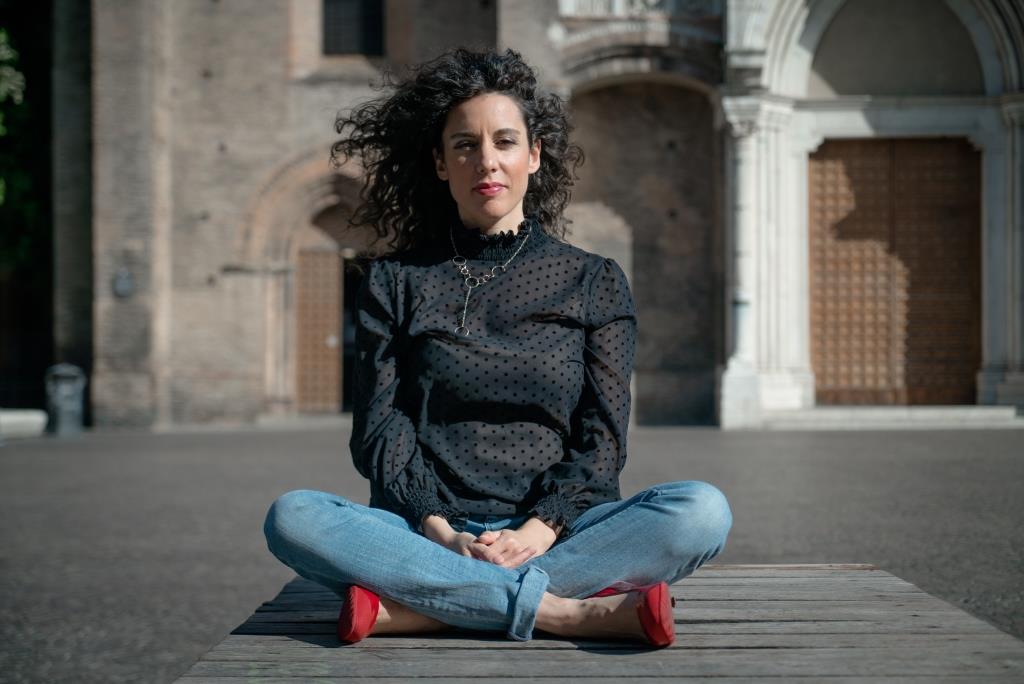 Marco Missiroli (Rimini, 1981) žije a pracuje v Miláne. Jeho prvý román Senza coda (Bez chvosta) získal cenu Campiello ako najlepší literárny debut. Po sérii románov pre vydavateľstvo Guanda mu v roku 2015 vyšiel vo Feltrinelli román Atti osceni in luogo privato (Obscénnosti v súkromí), za ktorý získal cenu Mondello. Píše pre denník Corriere della Sera.
Nicola Lagioia (Bari, 1973) vydal romány Tre sistemi per sbarazzarsi di Tolstoj (Tri spôsoby ako sa zbaviť Tolského), Occidente per principianti (Západ pre začiatočníkov), Riportando tutto a casa (To, čo si prinášam domov), Krutosť (cena Strega za najlepší román), La città dei vivi (Mesto živých). Je riaditeľom knižného veľtrhu v Turíne, vedie Nichel, edíciu talianskej literatúry vydavateľstva Minimum fax. Je jedným z autorov Pagina3, denného prehľadu správ na Radio3 a členom výberovej komisie Medzinárodného filmového festivalu v Benátkach. Prispieva do mnohých novín a časopisov.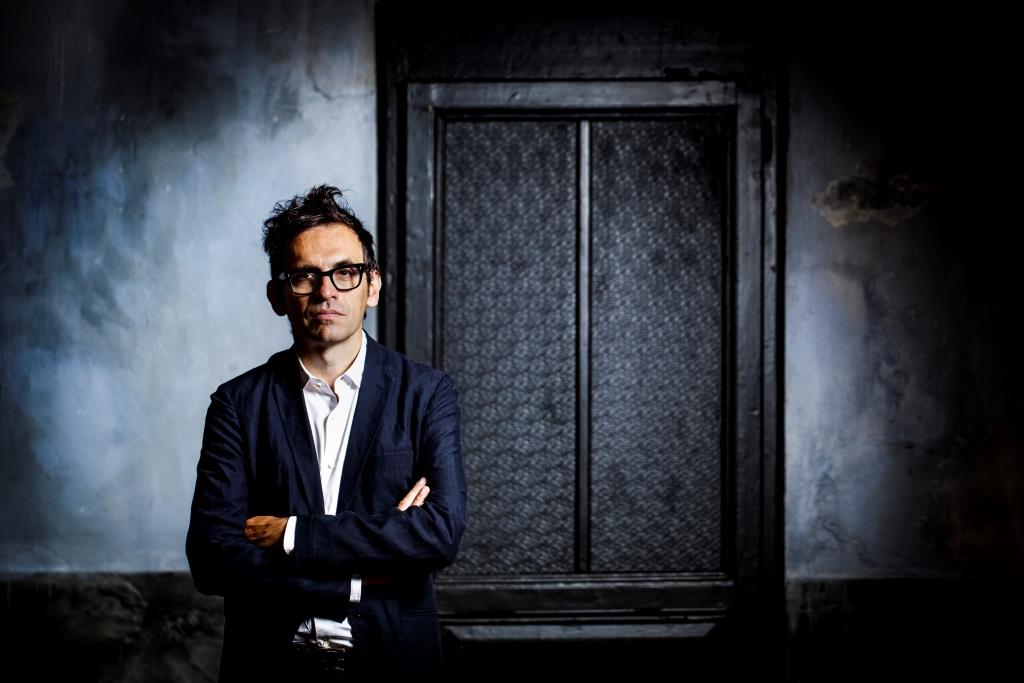 LITERÁRNE STRETNUTIA
2. 6. 2021, 18:00 h.
SILVIA AVALLONE (Odkiaľ je život dokonalý)
v rozhovore s Dadom Nagyom
9. 6. 2021, 18:00 h.
MARCO MISSIROLI (Vernosť)
v rozhovore so Zuzanou Golianovou
16. 6. 2021, 18:00 h.
NICOLA LAGIOIA (Krutosť)
v rozhovore s Andreom De Lucom
Festival Dolce Vitaj 2021 otvorila 21. mája výstava Corrada Cagliho Strach z totemu v Považskej galérii umenia Žilina, ktorá potrvá do 27. júna 2021. Corrada Cagliho môžeme považovať za akýsi symbol 20. storočia, pretože bol súčasťou avantgardných hnutí, prežil rasové prenasledovanie, dve svetové vojny, na jednej z nich sa zúčastnil ako vojak americkej armády, spolupracoval s množstvom umelcov a intelektuálov z celého sveta a najmenej štyrikrát sa zúčastnil Bienále v Benátkach.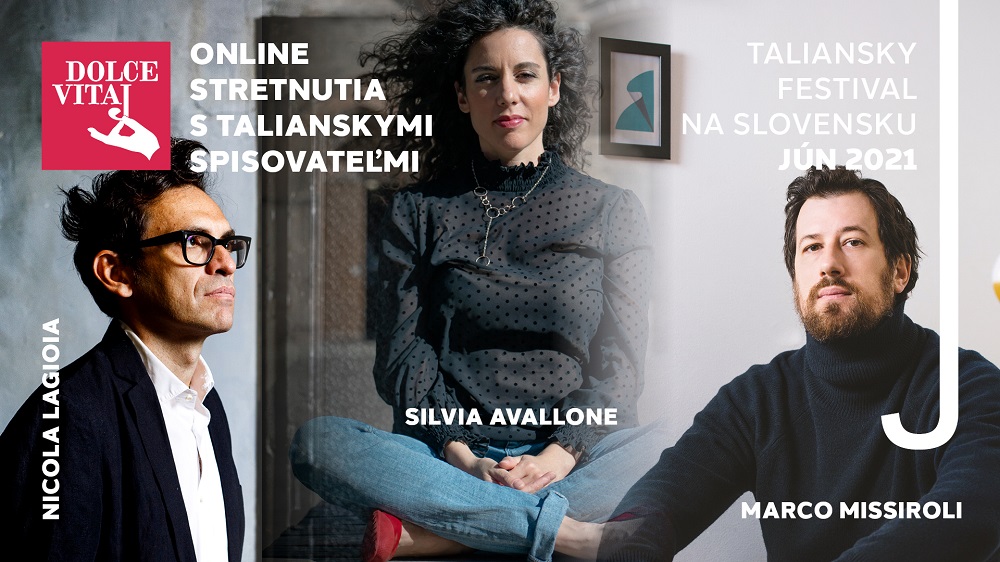 Zdroj: Zuzana Golianová