Tři slovenské kapely ve třech dnech a třech městech s českou třešničkou. Začněte Velikonoce stylově a přijďte si rozbít pár hudebních vajíček s velezajímavou CZ/SK sestavou!
WAYD (sk)
Kdo viděl tuhle kapelu živě? Ano, hrubě nedocenění tech/death/avantgard metaloví experimentátoři stále fungují a poprvé ve své historii se vypraví do Čech na klubové "turné". Příležitostí, kde chalany vidět, nebylo moc (Brutal Assault), a ani se není čemu divit – když hrajete "divnou" tvrdou muziku, rozhodně nemůžete počítat s rychlou slávou. A pak taky poslední deska "Ghostwalk" vyšla před 15 lety…
Kapela vznikla v polovině 90. let, ale první desku vydala až na sklonku dekády ("The Ultimate Passion"), o dva roky později následovala "Barriers". Zlom mohl nastat u třetí "Decadance" (2003), pokud by ji ale asi vydali o desetiletí později. Na téhle desce Wayd použili, na svou dobu, velmi netradiční saxofon, ale i trumpety a samply. Dnes naopak využití dechových nástrojů v tech/prog metalu není ojedinělé. Poslední deska "Ghostwalk" vyšla v roce 2007 a kapela se prakticky na 10 let vytratila, ale nezanikla.
V roce 2017 vyšel nový singl, na který letos navazuje další. Ano, Wayd připravují další desku a je tedy načase si připomenout, jak originální tahle kapela vlastně i po letech je!
https://youtu.be/WquBRf4_e6I – Walpurgas (nová skladba)
https://youtu.be/l3m_NyGZ_-Q – Waiting for the Sun (Decadence, 2017, live)
https://youtu.be/6gBUU9QeL-o – Rivers of the Night (Ghostwalk)
MORTHYMER (cz)
Jediný český zástupce a černý kůň sestavy? Funkčně sice nejmladší kapela, ale zkušenostmi přebohatá. Základ tvoří duo ze zaniklých litoměřických Keep On Rotting – kytarista Láďa a bubeník Hanzz – a k nim se přidal basák Petr.
Prozatím čistě instrumentální trio produkuje stále vysoce technickou hudbu, ale na rozdíl od KoR s větším příklonem k progresivnímu metalu, moderně a experimentům. I zde si asi ještě na nějakou oficiální nahrávku počkáme, o to větší důvod je nechat se instrumentálně přijít namasírovat živě.
https://morthymer.bandcamp.com/album/raw-demo
https://youtu.be/AxtxdHj-QJg – Red Hot Chilli Shit (zkušebna session)
https://youtu.be/RJ2FCMiwjuQ – Happy Hound Shit (live)
https://youtu.be/V0QZYK7BcuM – Black Chicken Shit (live)
HOLOTROPIC (sk)
Bratislavští Holotropic už mají za sebou také pomalu 10 let fungování a k české scéně mají ze všech slovenských nejblíže, třeba i tím, že na skvělém debutu "Permeate" (2014) jim zahostoval Martin Schuster. K desce následně proběhlo i turnépo Čechách, též pražským experimentátorům Demimonde pomohli pokřtít jejich desku "Cygnus Oddyssey".
Aktuálně už kluci pracují (konečně) na další desce, tak se třeba dočkáme i nějakých novinek. Každopádně stylově se budeme pohybovat někde mezi rozmáchlostí Between The Buried and Me a hypnoticky meditativním tlakem Falllujah.
https://holotropicband.bandcamp.com
FISHARTCOLLECTION (sk)
Aby se Wayd jelo lépe, vezmou s sebou ještě tuhle spřátelenou partu z Trnavy. Opět to bude tvrdší, FAC zpívají jak anglicky, tak i slovensky a tvorba osciluje na pomezí rapu, hardcoru a math metalu, ale s nadhledem do skladby dokáží implementovat třeba foukací harmoniku. Chvílemi můžou upomenout třeba Rage Against The Machine, jinde zase The Dillinger Escape Plan. Zatímco debut "In Oil" (2013) byl v angličtině, EP "Pretlak" už je v rodném jazyce a skladbám to jen prospívá. FAC budou asi jedinou kapelou, na kterou si budete moct rozjet i circle pit!
https://youtu.be/aTeQImvfGPY – Pešávar
https://youtu.be/bS7NEs4Ey6Y – Pešávar (live)
14. 4. 2022 – Praha, Modrá Vopice – https://facebook.com/events/3866388776918929
15. 4. 2022 – Liberec, Azyl – https://facebook.com/events/508234084135364
16. 4. 2022 – Brno, Kabinet MUZ – https://facebook.com/events/479851503805037
Vstupné: 190 Kč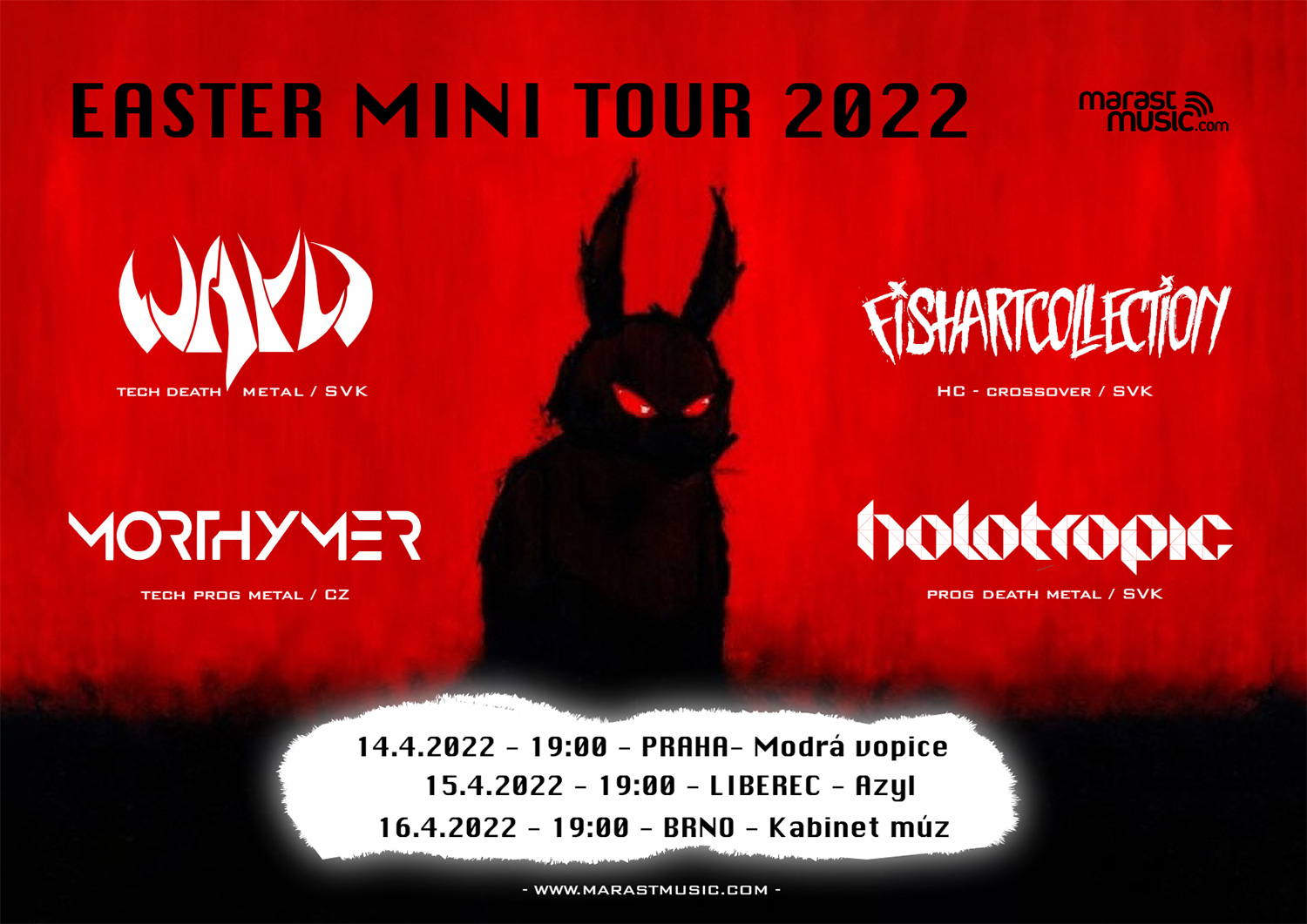 Zdroj: TS