19. októbra 2022 sa v Žiari nad Hronom oslavovalo. Že čo? Občianske združenie Milan Štefánik s aktívnou podporou mesta Žiar nad Hronom pripravili pre osoby s mentálnym a zdravotným postihnutím v poradí už desiaty ročník benefičného koncertu – Na krídlach anjelov. Priestory Mestského kultúrneho centra boli pre túto udalosť viac ako vhodné.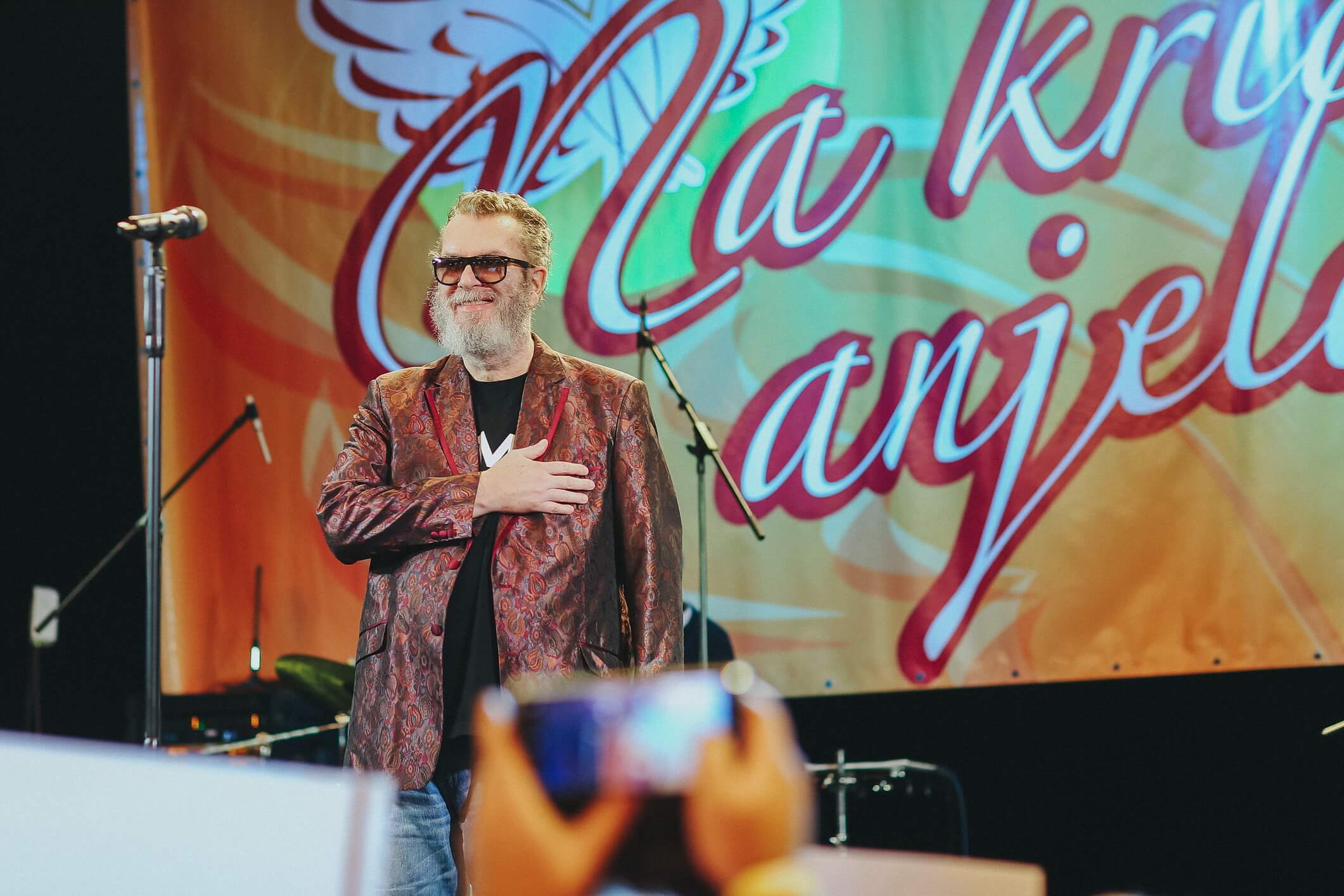 Ale pekne po poriadku. Na takú oslavu treba všetko pripraviť. Od rána preto v priestoroch kmitali dobrovoľníci. Nosili a prekladali. Vyberali z krabíc. Lepili. Zapájali. Hudobné nástroje. Mikrofóny. Miesto pre občerstvenie. Ešte stoly pre kreatívne dielne. Na čo sa môžu dnes návštevníci tešiť? Je z čoho vyberať. Enkaustika – maľovanie horúcim voskom. Maľovanie na sadrové odliatky. Prútikárstvo. Maľovanie na tvár. Posledné úpravy. Pripraviť farebné tričká. A aj slniečko prenikajúce cez okná podporilo krásnu myšlienku podujatia: Darovať hudobný zážitok "inak obdareným".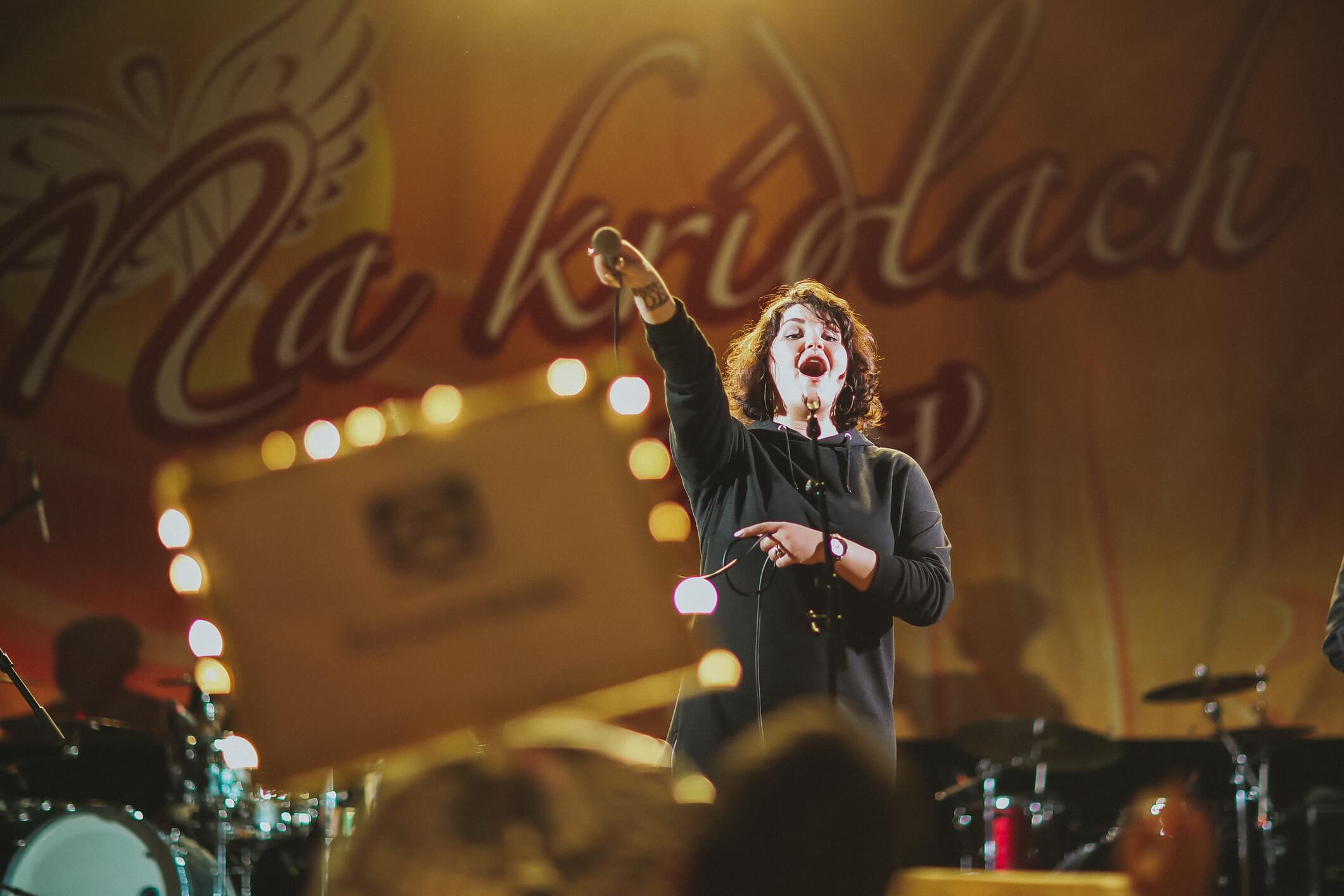 Prví prichádzajúci. A s nimi znejú i prvé tóny z reproduktorov. Na pódiu už sa točia dievčatá zo Zumby s Alou. Chytľavé latino rytmy dvíhajú tanečníkov zo stoličiek. Dva kroky vpravo. Dva kroky vľavo. Otočka. Zaznieva i Jerusalema. Ruky nad hlavu. Bachata či salsa. Ktorá bude ďalšia? No naša, Slovenská. Jedného dňa. "Vždy rada prijmem pozvanie na otváračku tejto akcie. Myslím, že z 10. ročníkov som tu bola 7-8 krát. Je úžasné, že taký program existuje. A pre mňa je veľkou cťou, že to so svojou bandou môžem predvariť." Ala svojim chytľavým úsmevom "nakazila" v sále všetkých. Všetci úsmev na tvári. "Všetky deti sa majú zabávať a smiať. A ja dúfam, že sa nám to podarilo." Za skvelo rozbehnutú atmosféru si Ala s dievčatami odnášali plné náruče darčekov, ktoré "inak obdarení" sami pripravili.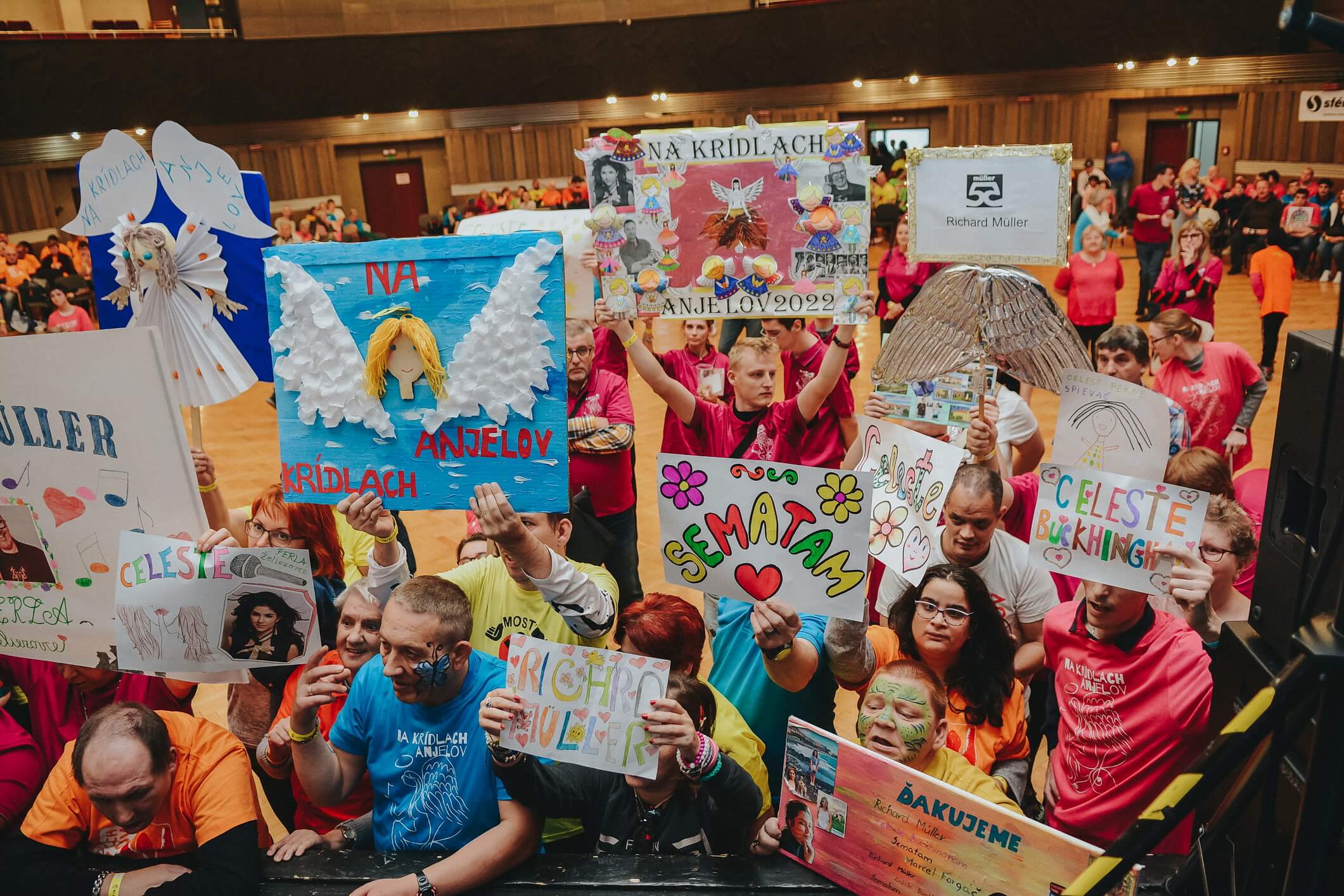 Moderátorského "žezla" sa tento krát ujal Marcel Forgáč. Moderátor, rozhlasový redaktor. Poznáme ho z relácií v Tv i ako hlas z rádia. "Ja Vás všetkých vítam. Zatlieskajte, nech vieme, že ste tu…" Privítal prítomných a pozýva si k sebe: Primátora mesta Žiar nad Hronom, Mgr. Petra Antala, viceprimátora mesta, MUDr. Ladislava Kukolíka a organizátora podujatia, Milana Štefánika. Každí sa prihovoril pár vetami. Je tu jedna milá povinnosť. Darovať obraz s motívom podujatia. Namaľovala ho Paulínka Csápaiová Triščová a je výnimočný tým, že sama patrí medzi "inak obdarených". Obraz maľovala nohami. Milan štefánik si na pódium pozýva z DSS Hrabiny Nová Baňa pána Petra Štrbu. Obraz poputuje práve do tohto zariadenia. Z publika veľký potlesk. Marcel sa priznal: "Som šťastný, že som tu. Oni sa tešia. Oni sa úprimne tešia. V tomto prípade je tu jedna obrovská porcia radosti. A to je fantastická odmena za to, že človek sadol do auta, prišiel, a vystúpil tu na tomto pódiu."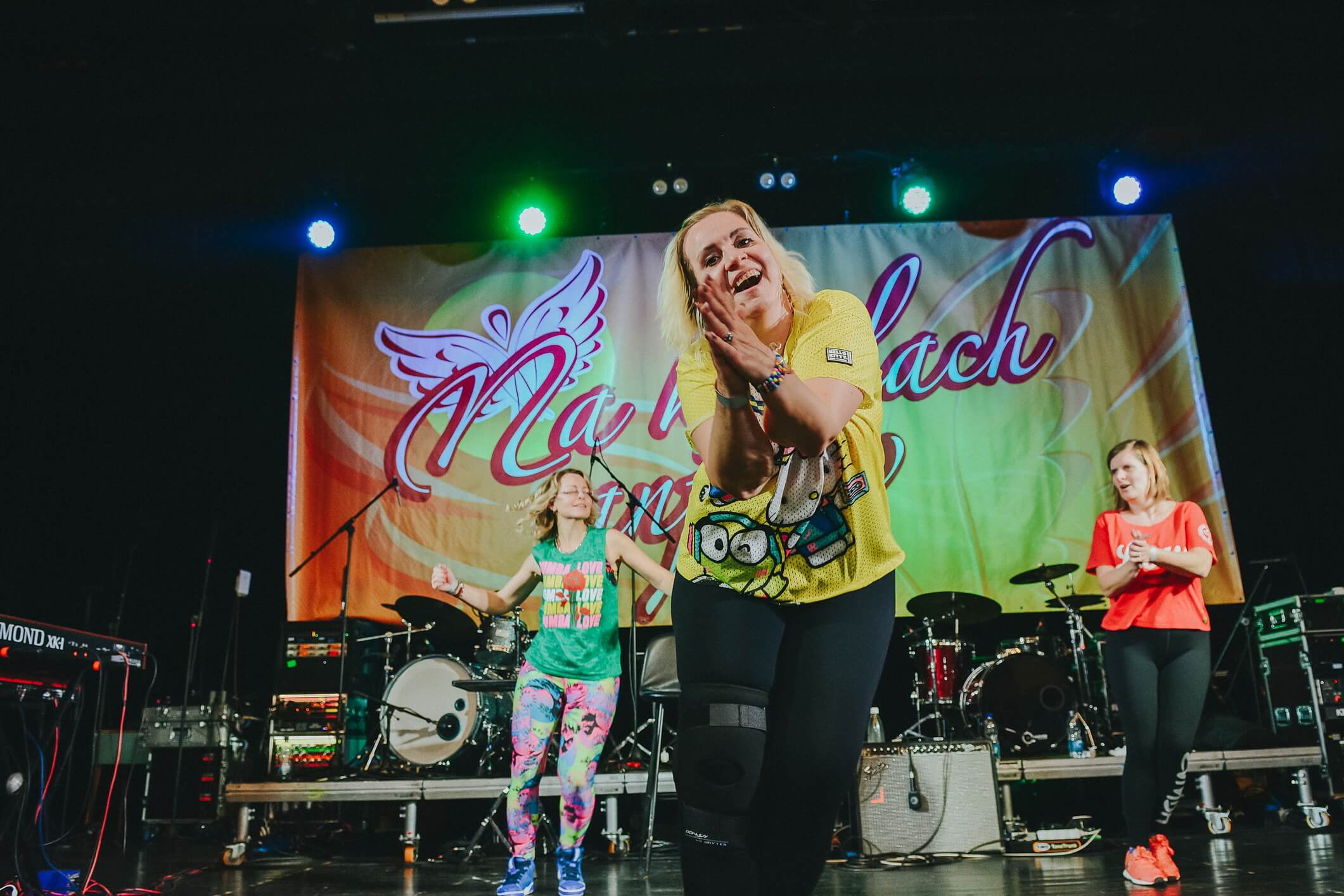 Ale poďme už na prvého hudobného hosťa. Za jemných tónov gitary kráča na pódium Richard Müller, slovenský spevák, hudobník, skladateľ. Na hudobnej scéne je už niekoľko desaťročí. Pop miešaný so šansónom. Karel z americkej Prahy. Gitarové sólo. Slovenčinu strieda plynulá čeština. Nina Ricci. "Inak obdarení", ale hlavne mamky, vychovávateľky sa tešili na tie najznámejšie od Richarda. Prišli. V tom istom meste Nebude to také ľahké drahá. Za oknami slnko, ale v sále zazneli kvapky dažďa. Milovanie v daždi. A znova zmeníme jazyk. Srdce jako kníže Rohan. Ikonická Po schodoch. Odkaz pre všetkých – Štěstí je krásná věc. Šťastie a radosť. Dnes radosť "inak obdarených". Veľký potlesk. Darčeky.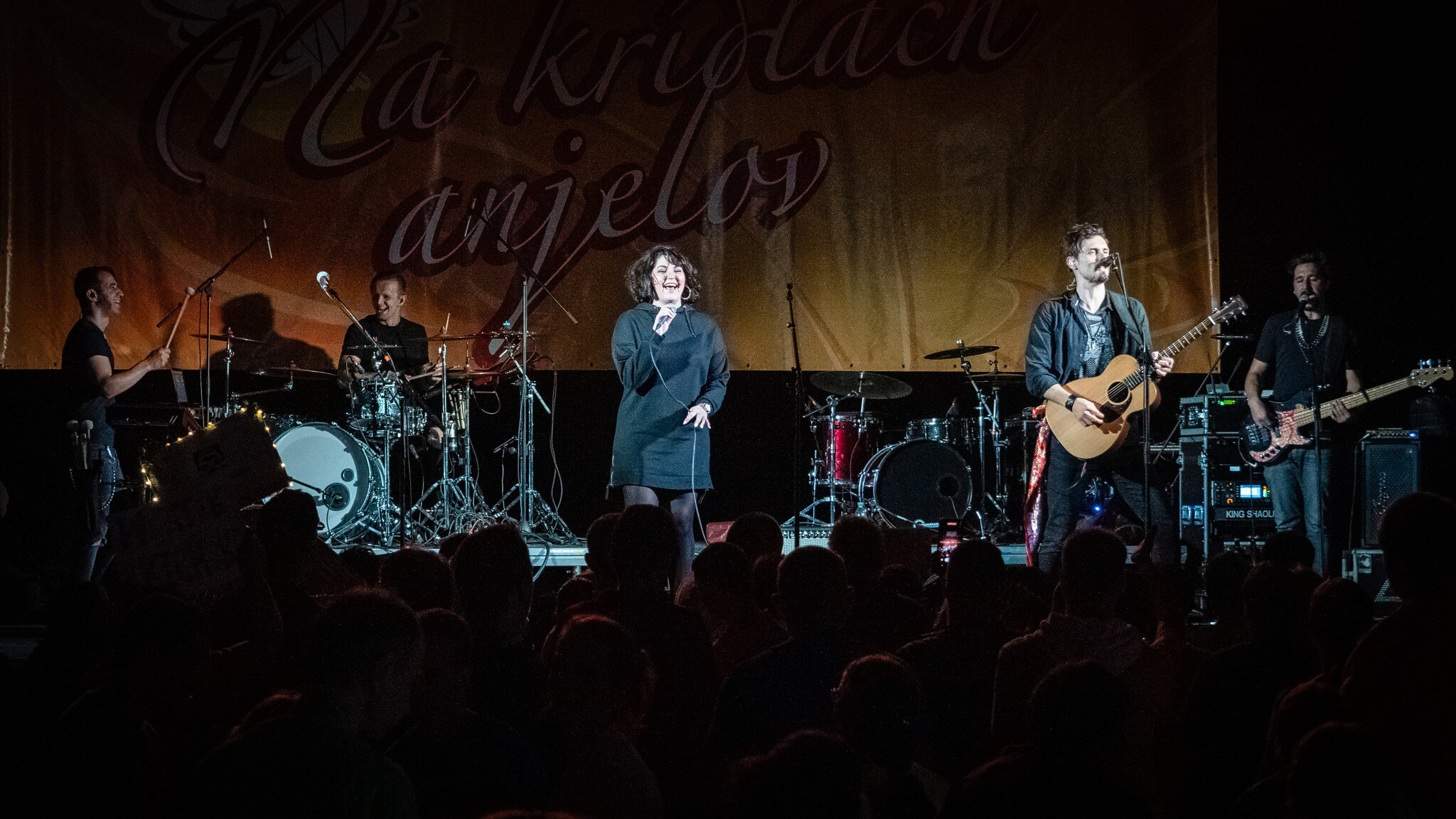 Chvíľku na výmenu nástrojov môžete využiť i na občerstvenie. Pripravené. Na scénu vstupuje Celeste Buckingham s chlapcami King Shaolin. Charizmatická speváčka to s chalanmi rozbalila na plno. Nefalšovaný rock. Hello, Paradise, Never be you. I keď repertoár v angličtine, parket je hneď plný. "Ja som nadšená. Ja som bola už pár krát súčasťou tejto akcie v minulosti a veľmi sa z toho teším, že som opäť mohla byť tu." Alica, Addict, Crushin´my fairytale. Predsa si dáme i slovenskú. Láska na vlásku. "Ja si myslím, že tieto akcie sú práve tie najlepšie. Lebo to publikum je úžasné. Bavia sa pri každej veci. Zároveň tá odozva je výborná a pre muzikanta to je sen a pre spevákov určite. A zároveň si myslím, že to je náš malý spôsob ako im urobiť trošku radosti." Staršie piesne striedajú tie takmer čerstvé. Make me. Money in my soul. Feel. Nesmie chýbať Run run run. Poďme si pri nej zatlieskať. Seleste znova prekvapili darčeky. Určite si ich s kapelou po 100% výkone zaslúžili.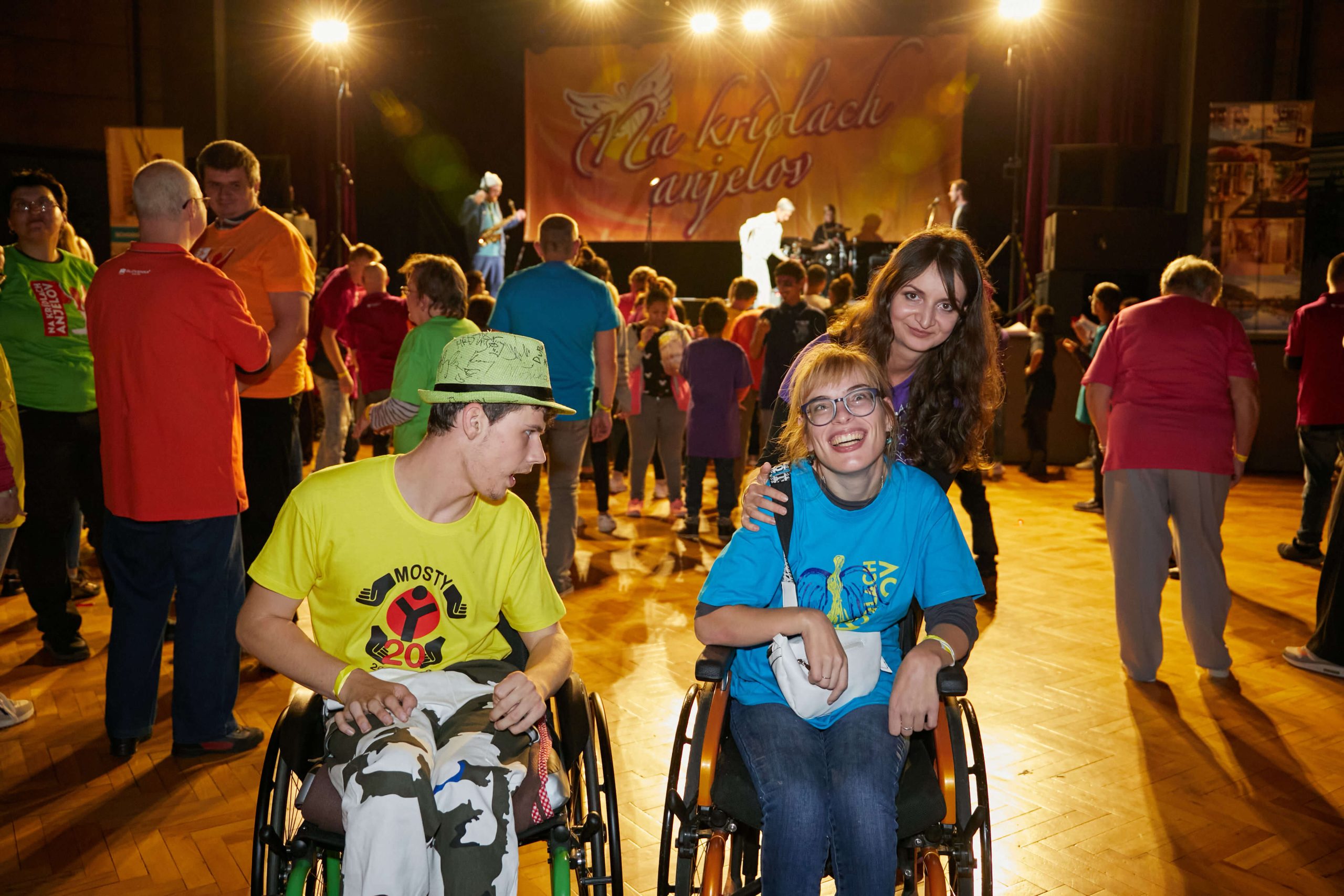 Nad hlavy sa dvíhajú farebné transparenty a mávadlá. "Inak obdarení" už vedia, čo teraz príde. Vyhodnotenie. Kto bude v porote? Milan Štefánik, Marcel Forgáč a Viera Šedivcová. Dnes majú z čoho vyberať. Prísne oko poroty vyberá piatich finalistov. Víťaz si odnáša cenu a pohár. Ostatní nezúfajte. Kto sa snažil dostane aspoň malý darček. Pochváľte sa, čo je v balíčku.
Na pódium vybieha mladá krv z Nitry. Nebezpečne dobrá funky kapela Sematam. Za bicími netradične bubeníčka Miška. Gitary, trúbka. Saxofón, trombón. Ako sami hovoria, svojou hudbou chcú ľudí zabávať a dobíjať energiou. Na krídlach anjelov sa im to určite podarilo. "Chceli sme podporiť dobrú vec a priniesť trošku aj nitrianskej funky muziky a dobrej nálady týmto deťom." Na svojom konte už majú vystúpenia na festivaloch a pripravili si pre publikum svoje naj. De ste?! Pome rockovať. Námety čerpajú zo života mladých ľudí, sú plné dobrej nálady. 10 dní prázdnin. PVD. Letná nálada sa vrátila s piesňou S.A.M.R. vibe. Nebezpečne dobrá aj pieseň. Parket je zaplnený. Je Čas sa hýbať. "My si myslíme, že je to veľmi vďačné publikum. A je to vidieť aj na tom našom koncerte. Myslím, že sa im to veľmi páčilo a že to ocenili. A dokonca nám aj pripravili krásne transparenty. Bolo to naozaj super, že nám dali aj naspäť veľa energie." Dnes sa splnil Sen všetkým. A krásne zakončenie v podobe pripomenutia tvorby Mira Žbirku – Milionkrát. A čo hovoria na transparenty s názvom kapely? Miška to povedala za všetkých: "nečakala som to. A musím povedať, že som bola veľmi milo prekvapená. Naozaj to bol super pocit, keď som videla tam jak sa tešia s transparentmi." Niektoré si odnášajú so sebou spolu s darčekmi. Nájdu svoje miesto v skúšobni. Veľký potlesk a foto.
Už tu máme záver. Malá autogramiáda, pár slov na koniec. Stisk rúk. Objatia. A poďakovanie. Veľké ďakujem organizátorovi Milanovi Štefánikovi. Ale nie len jemu. Aj všetkým dobrovoľníkom, sponzorom, zvukárom, hudobníkom. Všetkým, ktorí tu dnes boli. K slovám Marcela Forgáča už nie je ani čo dodať. "Milan Štefánik, to je neuveriteľné koľko úžasnej sinergie, lásky a dobrého, najlepšieho pomáhajúceho pozitívna strašne potrebuje táto krajina to dokáže dostať do jedného priestoru." Áno, dnes v Mestskom kultúrnom centre v Žiari nad Hronom sme boli toho svedkami. Tešíme sa opäť o rok.
Text: Júlia Platková
Foto: Igor Frimmel, Milan Maršalka a Marek Vaco
Video: Igor Kolesár