Uběhl další měsíc, je třeba sestavu kapel na nadcházející ročník opět posunout dál. A jsme si jisti, že oznámení nových kapel pro 16. Basinfirefest všechny potěší.
Přejděme hned k jedněm z headlinerů. Jimi budou australští AIRBOURNE, kteří před dvěma měsíci vyprodali pražskou Roxy. Kapela se svou divokou hardrockovou show objíždí ty největší světové festivaly (Hellfest, Wacken ad.), takže není divu, že se o jejich koncertu psalo jako o události. A událost to bude i u nás ve Spáleném Poříčí, připravte se na energickou show plnou nefalšovaných heavy hitů – It's All for the Rock'n'Roll!
Dalšími, kdo hraje na největších festivalech, jsou i GUTALAX z Českých Budějovic. Těžko říci, zda goregrindová pětice našla patent na úspěch, rozhodně ale zaplnila díru na trhu takovým způsobem, že před pódii kdekoli po světě rozpoutávají davová šílenství. Snad ani nebudeme zmiňovat, co se dělo letos v létě na Brutal Assaultu, ale toikový crowdsurfing byl určitě galaktický unikát.
Potutelný úsměv na tváři vám vykouzlí určitě i GRAVE DIGGER! Tihle Němci už od roku 1980 patří k jedněm z nejvýraznějších a nejpoctivějších heavy/power kapel. A zapomenout nesmíme na signifikantně nakřáplý hlas Chrise Boltendahla.
Dále v sestavě máme už jen muziky z našich luhů a hájů. KURTIZÁNY Z 25. AVENUE ihned od svého vzniku (r. 1989) bez debat patří mezi nejvýraznější české rockové kapely. Hlas Kurze má své flow stejně jako hlas Zellera má nezaměnitelné charisma prověřený stovkami a stovkami koncertů. Ano, přivítáme COCOTTE MINUTE s jejich naléhavým, agresivním a někdy diskutabilním názorem. Podobně bychom mohli mluvit i o hardrockových matadorech DOGA z Karviné s potetovaným frontmanem Izzim. Jejich rocková závislost je prověřená již třiceti lety. Buřit a bavit přijedou velmi svérázní HENTAI CORPORATION. V případě Pražáků ale neradno žánrově zařazovat, protože v jejich výbušném koktejlu je úplně vše. Ruku do ohně ale dáme, že na tuhle show jen tak nezapomenete.
Stopy následujícího interpreta sahají až do roku 85, byť se oficiální vznik datuje až o dva roky později. Thrashový debut "Rainhold" z '93 si pamatujeme dodnes. Plzeňáci FERAT ale přijedou v původní sestavě, takže nepůjde jen o ledajakou show. A tu určitě zaručí i rockový bang gang WALDA GANG, neb nepřiveze pouze rockové verze skladeb Waldemara Matušky, ale i ty zpoza hranic. Když se řekne gotický rock, co prvního vás napadne? Jasně, Petr Štěpán a XIII. STOLETÍ. To samé když se řekne punk. I tady vás mezi prvními musí napadnout český Sid – Petr Hošek a jeho pětatřicetiletý rachot PLEXIS.
Nezbývá než připomenout, že předprodej vstupenek frčí v plném proudu. Na našem shopu krom elektronických vstupenek máte k dispozici ještě papírové designovky a pak cenově zvýhodněné pro vaše nezletilé ratolesti ve věku 13-17 let.
Ceny vstupenek platí do 31.12.2019 a Vánoce se blíží!
Kapely z updatu: Airbourne, Gutalax, Grave Digger, Hentai Corporation, Cocotte Minute, Walda Gang, Doga, Kurtizány z 25. avenue, Ferat, XIII. století, Plexis
Dosud zveřejněné kapely: AIRBOURNE, JINJER, INFECTED RAIN, PRO-PAIN, GUTALAX, GRAVE DIGGER, VAN CANTO, PIPES AND PINTS, KRUCIPÜSK, HENTAI CORPORATION, COCOTTE MINUTE, WALDA GANG, DEBUSTROL, DOGA, KURTIZÁNY Z 25. AVENUE, FERAT, GAIA MESIAH, XIII. STOLETÍ, ASMODEUS, PLEXIS, SPS, E!E
www.basinfirefest.cz
www.facebook.com/BasinfirefestOfficial
www.instagram.com/basinfire_fest/
Vstupenky: https://shop.basinfirefest.cz/
FB event: www.facebook.com/events/672670189922570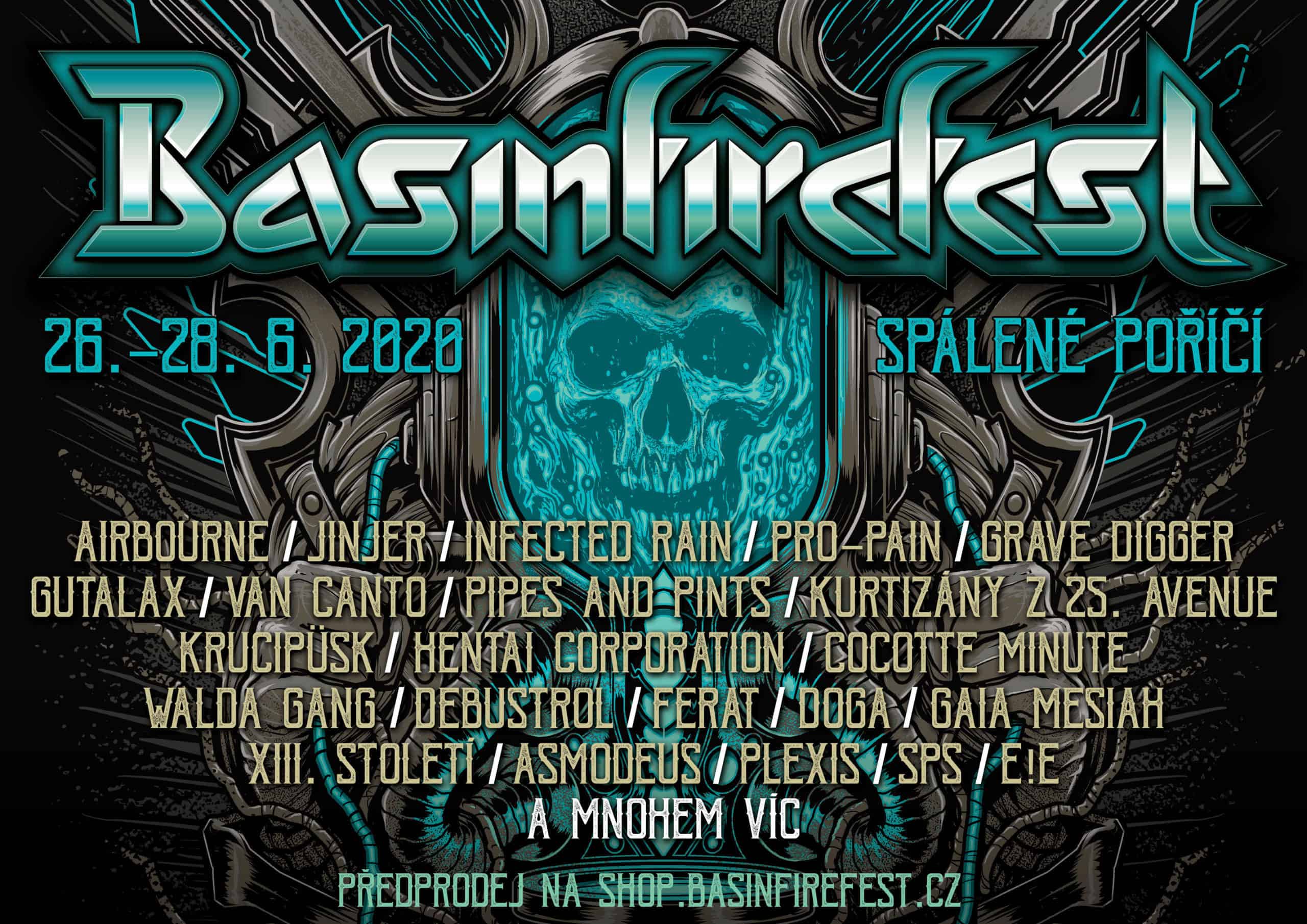 Zdroj: TS