Nový přírůstek kapel není sice obsáhlý, ale o to je výživnější! Není pochyb, že jedněmi z headlinerů budou Payable On Death, které všichni znáte pod zkratkou P.O.D. stejně jako jejich

na Grammy nominovaný hit "Youth of the Nation"

. S Limb Bizkit a Korn jedni ze zakladatelů nu-metalu před měsícem a půl v Praze vyprodali MeetFactory, takže ve Spáleném Poříčí se tentokrát dostane na všechny!
Další peckou v sestavě jsou… STEEL PANTHER! Kvartet adorující hard rock a glam-hair-heavy metal předvádí takovou show, že zapomenete, že nějací Mötley Crüe, Van Halen, Bon Jovi, Twisted Sister ad. vůbec existovali!
Nepolevíme ani u následujících tří jmen. Prvním jsou WEDNESDAY 13. Hororovou tématikou prosycený mix gothic punku a hard rocku stejně jako Pantheři přiveze pořádnou show, jen areál šestnáctého Basinfirefestu zahalí do potemnělého hávu. Druhým jménem jsou UNLEASH THE ARCHERS. Vedle Jinjer a Infected Rain další z kapel, která má v popředí ženu. Tentokrát však nepůjde o modernu, ale o heavy/power metal až z daleké Kanady. Naše republika letos slaví 30 let svobody. Co by to bylo za její oslavu bez refrénu "Pravda víťazí, Pravde čas nevadí, Pravda vždy zvíťazí, zvíťazí"?! Ano, je treba v řadách BFF2020 privítať Maťa Ďurindu a nesmrtelnou TUBLATANKU!
Užijte si se svými blízkými krásné svátky a nezapomeňte, že 1. vlna předprodejových vstupenek končí koncem roku dnem 31.12.2019! Takže chcete-li ušetřit, neváhejte s nákupem – e-ticket můžete koupit třeba hned teď!
Kapely z updatu: P.O.D., Steel Panther, Tublatanka Wednesday 13, Unleash The Archers
www.basinfirefest.cz
www.facebook.com/BasinfirefestOfficial
www.instagram.com/basinfire_fest/

Vstupenky: https://shop.basinfirefest.cz/
FB event: www.facebook.com/events/672670189922570

Dosud zveřejněné kapely: AIRBOURNE, P.O.D., STEEL PANTHER, WEDNESDAY 13, TUBLATANKA, JINJER, INFECTED RAIN, PRO-PAIN, GRAVE DIGGER, GUTALAX, VAN CANTO, UNLEASH THE ARCHERS, PIPES AND PINTS, KRUCIPÜSK, HENTAI CORPORATION, COCOTTE MINUTE, WALDA GANG, DEBUSTROL, DOGA, KURTIZÁNY Z 25. AVENUE, FERAT, GAIA MESIAH, XIII. STOLETÍ, ASMODEUS, PLEXIS, SPS, E!E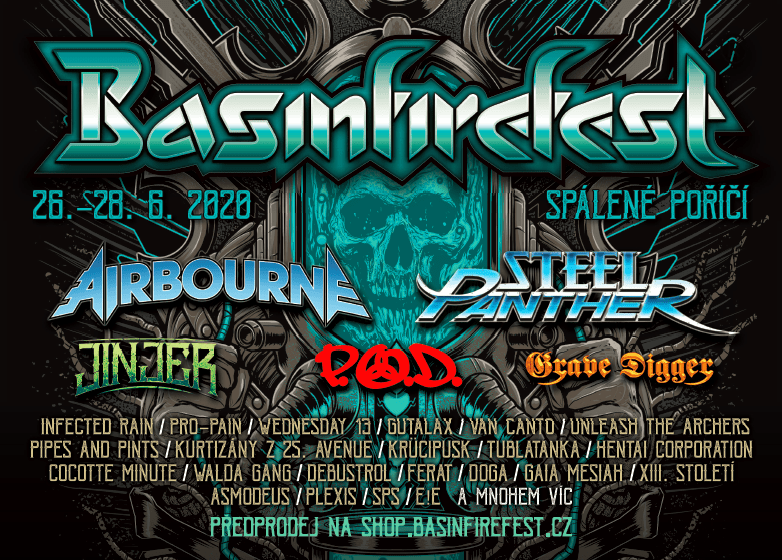 Zdroj: Obscure Promotion