Zažite Back To The 80s atmosféru. Nažhavte kazeťáky, walkmany, nahoďte šušťáky alebo kožené bundy a baretky, daj si poriadny make up a vyraz na najväčšiu 80s party v Bratislave.
DIABLO & KRTO vás prevedú hitmi obdobia rokov 80-tych.
Párty je oslava nového albumu Depeche Mode "M E M E N T O M O R I". 24. marec majú v kalendári poznačení veľkým písmom všetci depešáci. Kultová britská kapela vydáva svoj pätnásty štúdiový album MEMENTO MORI.
Pri tejto príležitosti je pripravená oficiálna MEMENTO MORI release party.
Depešácka výzdoba, špeciálna Mementio Mori fotostena, veľkoplošná projekcia a darček pre každého návštevníka. Skrátka, žúrka, ktorá je povinnosť pre každého depešáka. Party na ktorej sa oplatí byť.
Legenda, kult, životný štýl, jednoducho DEPECHE MODE. Kto ich má rád, nemá pokazený hudobný vkus ako hovorí LACO LUČENIČ.
Párty však nebude iba o hudbe Depeche Mode. Na svoje si prídu fanúšikovia synthpopu, new wave ale aj klasických MTV hitoviek. Od Duranu, Erasure cez Madonnu až po moonwalk Michaela Jacksona. Všetky nezabudnuteľné 80s hity na jednej party.
BACK TO THE 80s DEPECHE MODE – MEMENTO MORI (RELEASE PARTY)
25.3.2023 / štart od 20.00 hod / HPK – Hopkirk Club – Hurbanovo nám. 6
MUSIC DJ DIABLO a DJ KRTO (Back To The Future MUSIC PARTY)
VJ GABRIEL (depechemode.sk)
25.3.2023
štart od 22.00 hodiny
HPK – Hopkirk Club
vstupné predaj na mieste
reserve box & bottle service manager 0940347266
pre návštevníkov od 18 rokov
Media partneri – ďakujeme za spoluprácu
ℹ️ ELECTRICITY room «80s-90s-electro-synth-wave-dark» www.facebook.com/groups/electricityroom/
ℹ️ Eventland – podujatia, kam v Bratislave www.eventland.eu
ℹ️ www.gregi.net
ℹ️ www.citylife.sk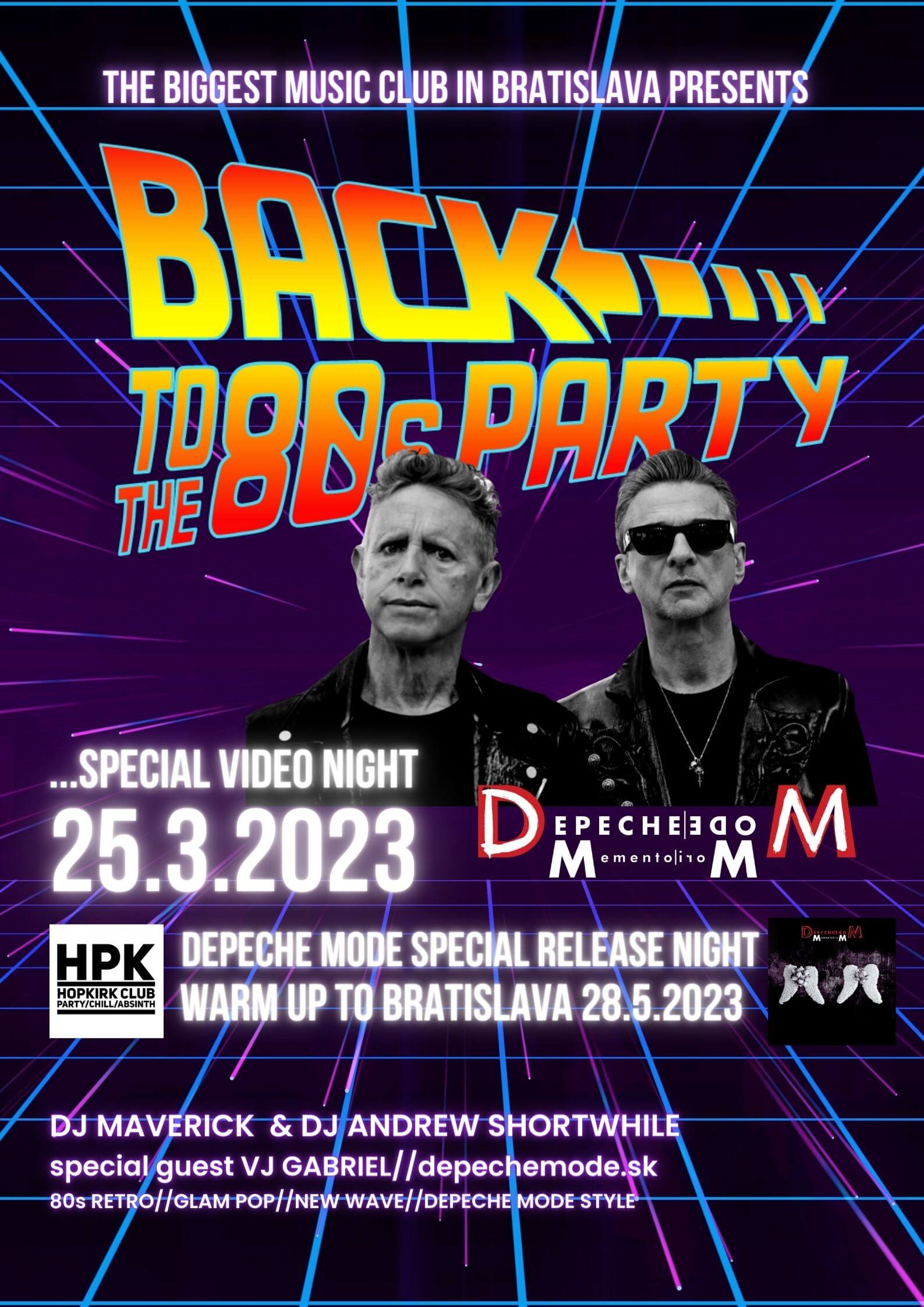 Zdroj: TS