O ich koncerte na festivale Pohoda v roku 2014 sa hovorilo ako o jednom z triumfov celého programu. Pritom nešlo o žiadne obrovské meno na hlavnej scéne. Napriek tomu sa dánska formácia When Saints Go Machine na pódiu posledných 5 rokov takmer neobjavovala. To sa teraz zmení, keď sa na jeseň vráti do Bratislavy a ukáže svoj overený i nový materiál Ateliéru Babylon 23. októbra.
Kým sú When Saints Go Machine? Prvé tóny ich tanečného a pritom hĺbavého popu sa v Kodani začali ozývať už v roku 2007. O rok neskôr debutovali silným albumom Ten Makes a Face. Už vtedy začali prekračovať hranice Dánska a dokonale zapadli do silnej generácie škandinávskeho popu, ktorý dokáže roztancovať nohy, zamestnať hlavu a zároveň nepôsobí fádne ako hudba, ktorá sa na nás valí deň čo deň z rádií. Prirovnania k Robyn, Lykke Li, The Knife alebo Fever Ray tak nemusia byť úplne mimo, aj keď si WSGM razia vlastnú cestu.
WSGM fungujú naživo výborne. Špeciálne, keď si okrem výrazného vokálu Nikolaja Manuela Vonsilda, oživili svoj synth pop o živé bicie. Zároveň sú skladby WSGM v správnom zmysle nákazlivé, čo môže vychádzať z ich lásky k dnes už kultovým postavám elektronickej hudby, akými sú Hercules and Love Affair alebo Moloko.
Na Slovensku budú WSGM predstavovať svoj nový album, prvý po zmieňovanej pauze. "Proces vytvárania nového albumu začal pomaly v roku 2017, keď sme pracovali s našim priateľom – skladateľom Christianom Balvigom – na hodinovej symfónií pre Kodanskú filharmóniu. To nám poskytlo nový pohľad na textúry, rozsah klasických nástrojov a inšpirovalo v k zmene toho, ako pristupujeme k produkovaniu elektroniky," hovorí Vonsild v materiáloch k jesennému turné. "Máme pocit, že sme vynašli nový jazyk, ktorý sa stal základom pre SO DEEP a aj pre naše koncerty," dodáva.
Návrat When Saints Go Machine na Slovensko bude už celkovo tretím koncertom skupiny v našej krajine. Po prvý raz sa v Bratislave predstavili ešte v roku 2010, len pár metrov od Ateliéru Babylon – v niekdajšej A4 na Námestí SNP. Teraz sa vrátia do hlavného mesta už 23. októbra.
Vstupenky na koncert sa začínajú v sieti Ticketportal predávať už 25. apríla. Na státie budú stáť od 19 €, za VIP sedenie návštevníci zaplatia 35 €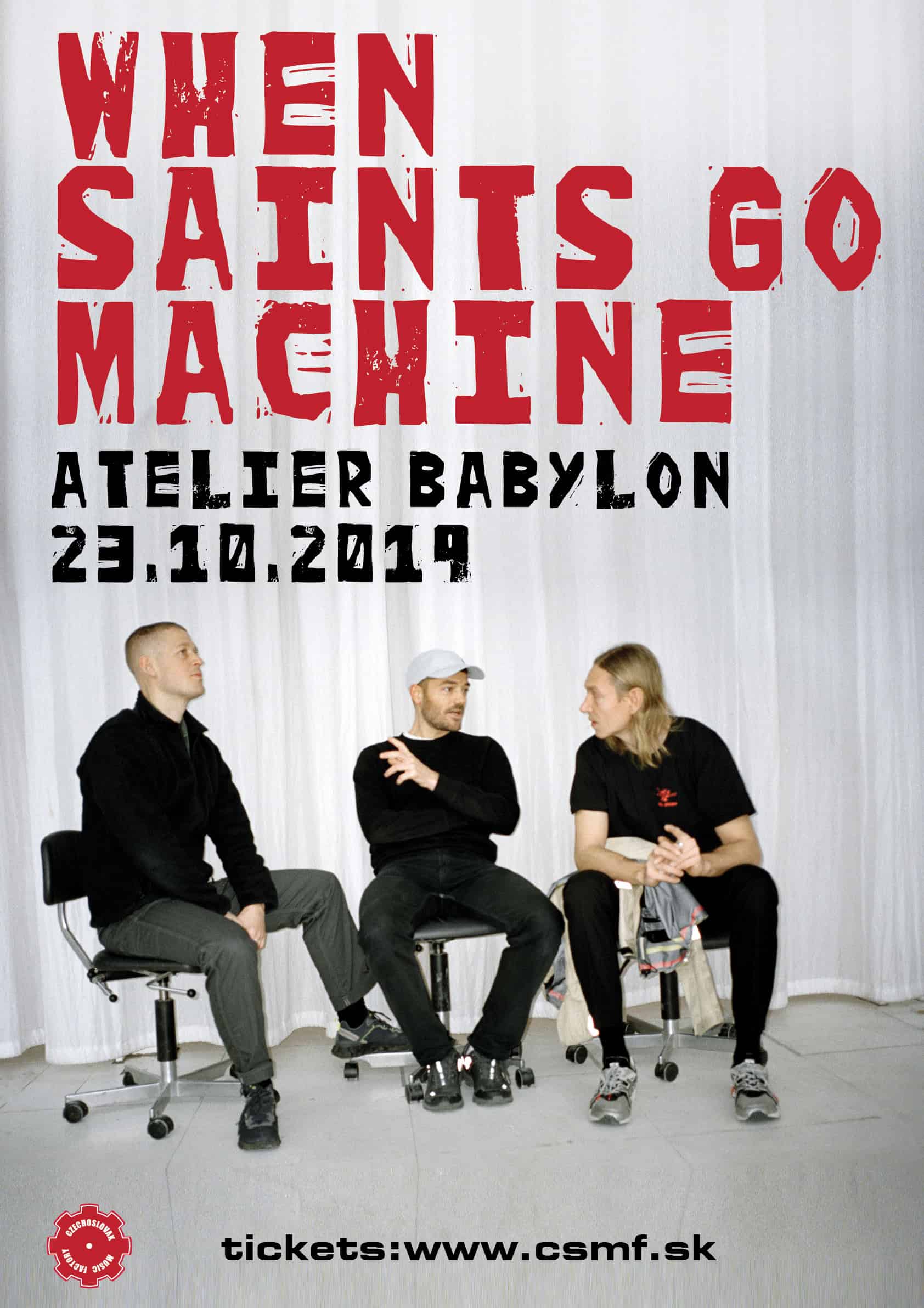 Zdroj: TS