Vážna hudba, world music, spoločné počúvanie očakávanej novinky aj prezentácia originálnej audioknihy. Vydavateľstvo Real Music House pripravilo pre všetkých obdivovateľov živý kultúry intenzívny záver umeleckého roka. Zastavte sa na podujatiach tohto bratislavského vydavateľstva a určite nebudete ľutovať.
V ponuke podujatí nájdete špičkových interpretov, ktorý spolupracujú s touto rešpektovanou vydavateľskou značkou. "Živá prezentácia umenia je pre nás absolútne kľúčová. Tešíme sa z toho, že sa nám podarilo dať dokopy kvalitnú dramaturgiu nášho koncertného cyklu Real Music House uvádza. Opäť spolupracujeme s Hummelovým múzeom a tešíme sa z toho. Vstupné na všetky podujatia je voľný. Srdečne pozývame všetkých návštevníkov. Budú to krásne večery plné kvalitného umenia," dodáva k tohtoročnému koncertnému cyklu Robert Pospiš, hudobník a spoluzakladateľ vydavateľstva Real Music House. Koncertné a prezentačné aktivity vydavateľstva podporil z verejných zdrojov Fond na podporu umenia.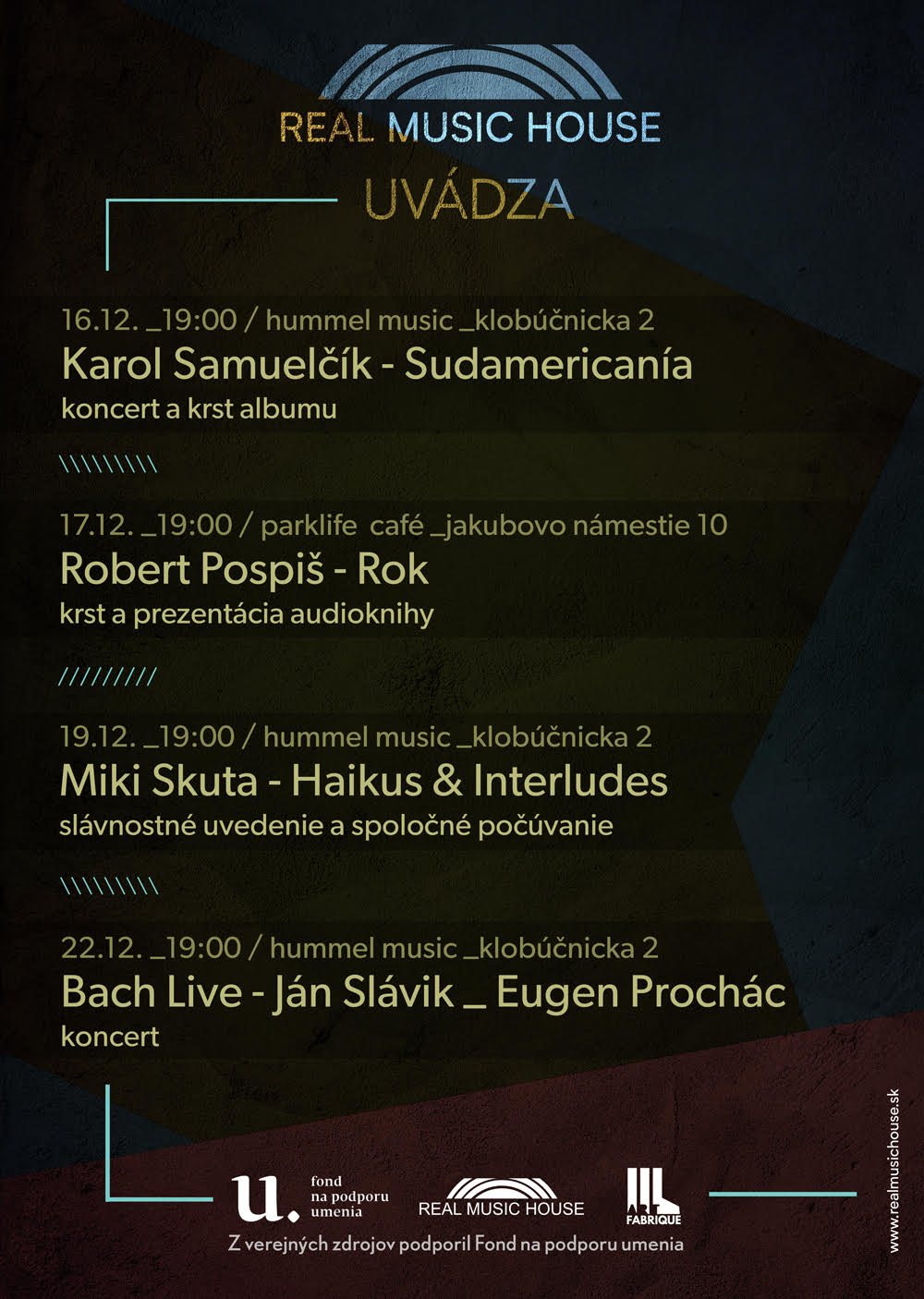 Real Music House Uvádza 2022
16.12. – 19:00 – Karol Samuelčík – Krst a koncert k CD Sudamericanía – Hummel Music – Klobučnícka 2
Srdečne vás pozývame na slávnostný krst CD Sudamericanía gitaristu Karola Samuelčíka. Súčasťou podujatia bude aj krátky koncert. Projekt s názvom Sudamericanía predstavuje juhoamerické spojenie štýlovej odlišnosti klasickej hudby, žánrov populárnej hudby – choro a bossa nova či temperamentného argentínske tanga. CD so svojou dramaturgiou ponúka najväčšie mená latinskoamerickej tvorby jednotlivých štýlov, medzi ktoré určite patria osobnosti ako Astor Piazzolla, Radamés Gnattali, Sergio Assad, Antônio Carlos Jobim / Vinicius de Moraes či Pixinguinha.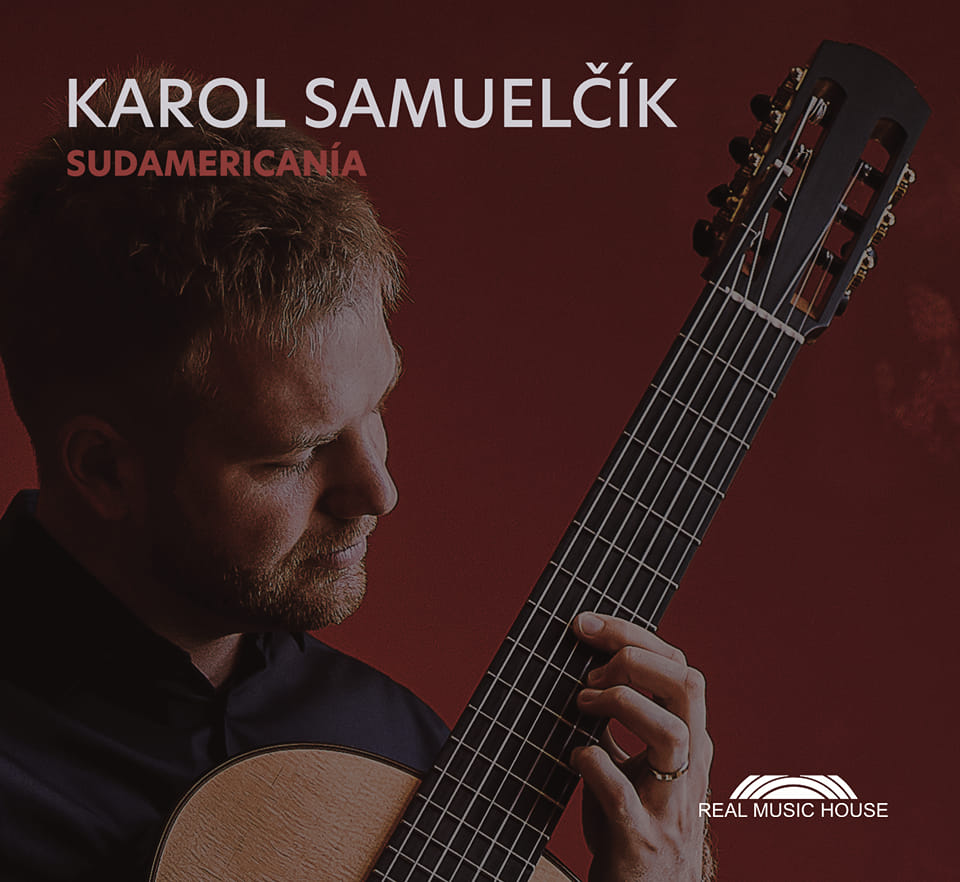 FB event: https://www.facebook.com/events/3325049997750266/
17.12. – 19:00 – Robert Pospiš – Rok – Krst a prezentácia audioknihy – ParkLife
Cafe – Jakubovo námestie
Slávnostné ale neformálne uvedenie audioknihy ROK. Na mieste si budete môcť audioknihu aj zakúpiť. Titul vychádza v limitovanom náklade v knižnom formáte. Vo vnútri knihy nájdete kód pre vypočutie samotnej audioknihy. Tlačená verzia obsahuje všetky použité básne Roberta Pospiša a slúži ako akýsi sprievodca sveta s označením ROK.
O audioknihe ROK:
Ide o básne, na ktorých pracoval Robert Pospiš kontinuálne od marca roku 2020. Následne z nich vybral finálnu zbierku, ktorú narozprávali vzácni hostia.
"Spoločne s Martinom sme vybrali ľudí, ktorí sú s nami nejako spätí. Rok je osobnou výpoveďou. Je to kolektívne dielo. Poézia/Denník/Ambientné prostredie/Príbeh. Tešíme sa na to, keď ho budú počuť poslucháči/čitatelia/fanúšikovia netradičných umeleckých foriem. Veríme, že ich zasiahne."
FB event: https://www.facebook.com/events/681548633333021/
19.12. – 19:00 – Miki Skuta – Karma / Haikus & Interludes – Slávnostné uvedenie a spoločné počúvanie CD – Hummel Music – Klobučnícka 2
Slávnostné uvedenie nového CD Mikiho Skutu s názvom Haikus & Interludes.
Súčasťou uvedenia bude rozhovor o albume a následné "spoločné" počúvanie nahrávky. Na mieste bude možné zakúpiť si limitovanú a podpísanú verziu tohto výnimočného albumu.
Miki Skuta o albume Haikus & Interludes:
Projekt "Karma – Haikus & Interludes" som skomponoval v roku 2021.
Keby som musel sformulovať, čo to je za hudbu, aký to je štýl, tak by som s tým mal problémy, lebo do bežných žánrov by to asi nezapadlo. V každom prípade bol to jeden veľmi dlhý proces, kým som si povedal, toto je moja hudba, to je môj svet, moja duša. Ale keby predsa, tak by som to označil za istý druh relaxačnej, meditatívnej, trošku jazzovej, ale asi aj súčasnej hudby. Verím ale, že z tých všetkých komponentov sa mi podarilo stvoriť niečo, čo je už niečo samostatné, svojské a hlavne úprimné a ľahko čitateľné, počúvateľné.
FB event: https://www.facebook.com/events/705656480928844/
22.12. – 19:00 – Bach LIVE – Ján Slávik / Eugen Prochác – Hummel Music –
Klobučnícka 2
Koncert dvoch špičkových violončelistov. Odznie Bachova hudba a chýbať nebude ani malé občerstvenie. Súčasťou koncertu bude seminár na tému interpretácie Bachovej hudby. Bude to výnimočný večer plný krásnej hudby a kvalitného rozprávania.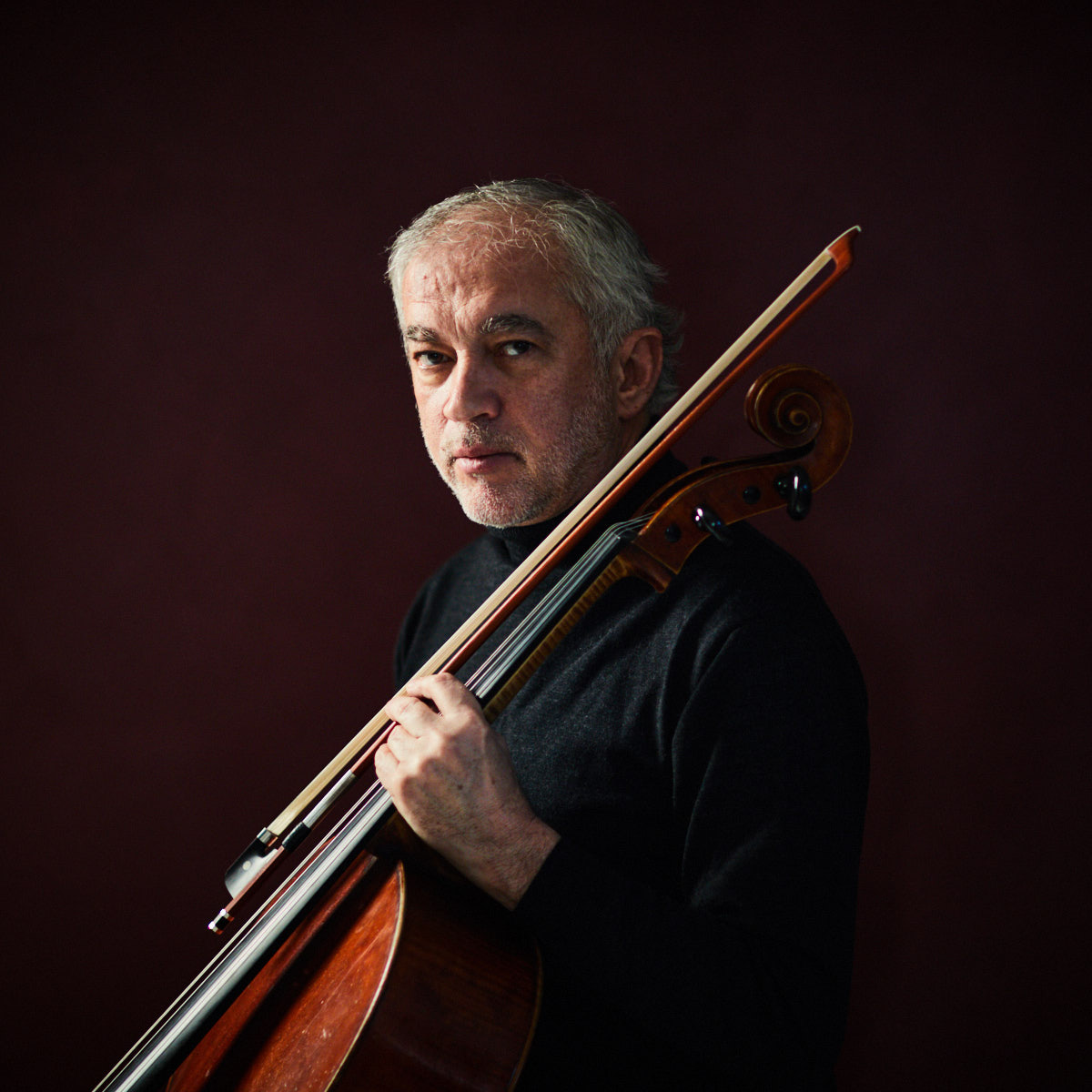 Eugen Prochác je odchovancom bratislavského konzervatória v triede Juraja Fazekaša. Pokračoval v štúdiách na pražskej Akadémii múzických umení pod vedením Jozefa Chuchra. Svoje umenie si zdokonaľoval u takých majstrov, ako sú Daniel Šafran, Erling Blondal Bengtsson, Michail Chomicer, či Angelica May. Je absolútnym víťazom medzinárodnej súťaže Premio Valentino Bucchi v Ríme v roku 1990. Vystupoval vo viac ako 40 krajinách štyroch kontinentov, nahral množstvo CD pre domáce i zahraničné vydavateľstvá.
Ján Slávik študoval hru na violončele na bratislavskom Konzervatóriu u G.Večerného a K.Filipoviča a na Vysokej škole múzických umení u J.Podhoranského. Komornú hru študoval vo Viedni na Hochschule für Musik und Darstellende Kunst u F.Samohyla a G.Pichlera. Na VŠMU pôsobí od roku 1993 ako pedagóg. V roku 2012 bol prezidentom republiky menovaný vysokoškolským profesorom v odbore hudobné umenie. Ján Slávik je zakladajúcim členom Moyzesovho kvarteta (1975) s ktorým koncertoval takmer vo všetkých štátoch Európy, Japonsku, USA a Kanade a nahral s ním už viac ako 40 kompaktných diskov.
FB event: https://www.facebook.com/events/1242107206647699
Zdroj: Real Music House