Špeciálna edičná séria Supraphonu, tzv. "Line" edícia sa v úvode roka už tradične rozrastá o nový, v poradí siedmy diel.
Dvojalbumová kompilácia s názvom Pop Rock Line 1966–1973 mapuje fenomén českých bigbítových cover verzií a nadväzuje na predchádzajúce tituly Art Rock Line 1971–1985 (2021), Jazz Rock Line 1971–1981 (2020), Rock Line 1970–1974 (2019), Beat (Al)Boom 1968–1970 (2018), Big Beat Line 1965–1968 (2017) a Beatline 1967–1969 (2016).
"Popri legendárnych zostavách nám v bigbítových šesťdesiatkach robili radosť tiež desiatky ďalších kapiel, vždy nadšene a často kvalitne približujúce oficiálne nedostupnú zahraničnú muziku. V období slobodného nádychu okolo 68. roku bolo oneskorenie ich nahrávok proti Západu niekoľko rokov, výnimočne mesiacov – a trvanlivosť hitov sa vtedy nepočítala iba na týždne. Vďaka neprítomnosti originálnych songov v predajniach v našich zemepisných šírkach vtedy vznikli stovky cover verzií. V rôzne (ne)dokonalej angličtine či s českými textami predstavovali tieto SP či EP dosky šancu prehrávať si niečo občas len vzdialene podobajúce sa predlohám," približuje editor Karel Deniš v booklete dobu i koncept aktuálneho prírastku do populárnej kompilačnej série, ktorej staršie diely sú teraz k dispozícii s 30% zľavou na CD a digitálne na Suprapholine.
Oproti predchádzajúcemu "vážnemu" jazzrocku a artrocku sa teraz dočkáme pomerne pestrofarebného hudobného obsahu. Ten je i napriek svojej veľkej rôznorodosti zásadným článkom v histórii českého bigbítu. Päťdesiatka skladieb má celkovú stopáž bezmála dve a pol hodiny. Mnohé z nich vychádzajú na CD a digitálne prvýkrát. Nájdeme tu okrem iného i americké štandardy, pestrú britskú inváziu, náznaky európskych šancí, veľké orchestrálne opusy i posun do 70. rokov.
Úspešné zahraničné predlohy od Beatles, Mamas and Papas, Bee Gees, Tremeloes, Procol Harum, Beach Boys a ďalších tu znejú v podaní zoskupení ako Apollobeat, Atlantis, The Beatings, The Cardinals, Faraon, Flamingo, The Rebels, Synkopy 61 alebo Pavla Nováka, Pavla Sedláčka či Viktora Sodomu. Napriek vtedajším komplikovaným ideologickým i technickým podmienkam songy sršia nadšením a energiou – so Západom minimálne porovnateľnými. Dvojalbum podčiarkuje skutočnosť, koľko kvality a talentu sa zrodilo v relatívne krátkom časovom období vo vtedajšej ČSSR.
Viacerí spomínaní sa nikdy nedočkali albumu, niektorí zmenili hudobný štýl alebo sa stali členmi sprievodných súborov, iní sa naopak preslávili sólovo. Túto dvojalbumovú mapu českého singlového diania na prelome 6. a 7. dekády 20. storočia to robí ešte dôležitejšou a pozoruhodnejšou. Platí to o 44 coververziách v češtine a rôzne dobrej angličtine i o "doplnkovej" šestici ukážok šikovnosti domácich autorov. To všetko – ako je už pri tejto edičnej sérii dobrým zvykom – prichádza v podobe 2CD s bohatým bookletom obsahujúcim edičnú poznámku, krátke profily zastúpených umelcov, dobové SP obaly a fotografie.
POP ROCK LINE 1966–1973: APOLLOBEAT / ATLANTIS / B-SIDE / THE BEATINGS / THE CARDINALS / THE COLOUR IMAGES / CRYSTAL / THE EXPRESSION / FARAON / FLAMINGO / JUVENTUS / THE MAJESTIC / MARKÝZ JOHN / METRONOM / THE REBELS / THE SAMUELS / THE SPEAKERS / SYNKOPY 61 / PAVEL NOVÁK / PAVEL SEDLÁČEK / VIKTOR SODOMA / MILUŠE VOBORNÍKOVÁ / JOSEF PLÍVA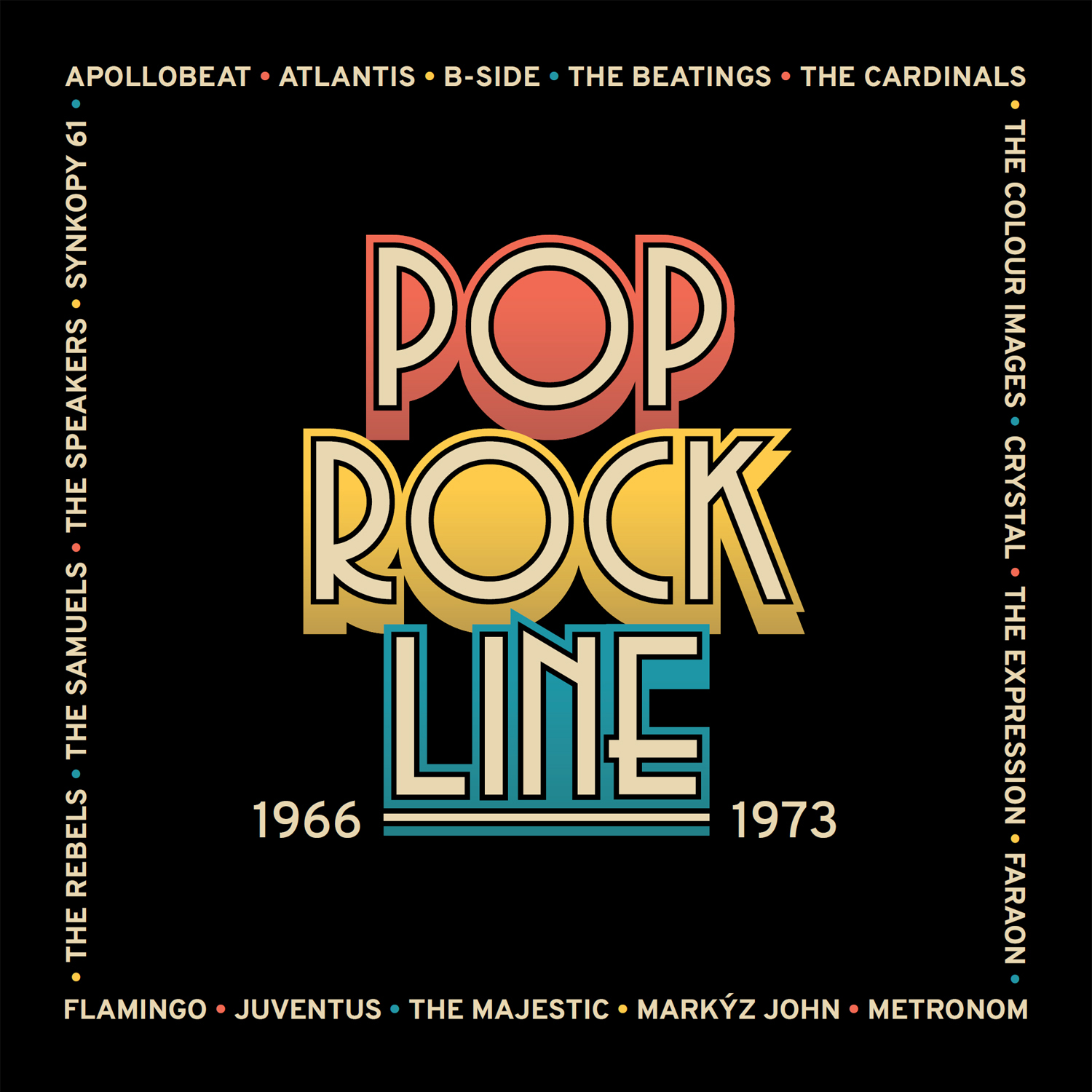 Zdroj: TS