Svetobežníci, ktorí prehovárajú tým najuniverzálnejším jazykom – hudbou. Patria k najznámejším, najoceňovanejším, najzaujímavejším kapelám zo strednej a východnej Európy. Ukrajinská skupina DakhaBrakha predvedie svoje zaklínadlá 18. februára 2022 v bratislavskom MMC v rámci novej koncertnej série Danube Music Day. Prvých sto vstupeniek v predpredaji za zvýhodnenú cenu.
Magické a opojné. Tradičné aj moderné. Na popísanie toho, čo presne robí ukrajinská DakhaBrakha, je možné použiť veľa slov. Ak však chcete zažiť tranz a zážitok, rozhodne by ste mali navštíviť ich živé vystúpenia. Trojica dám – Olena Tsybulska, Iryna Kovalenko, Nina Garenetska – sprevádzaná ich spolupútnikom Markom Halanevychom – príde 18. februára 2022 do bratislavského Majestic Music Clubu. Pochádzajú z divadelného prostredia, keď pôvodne vznikli ako projekt ukrajinského režiséra Vladislava Trojického v kyjevskom nezávislom centre Dakh. To formovalo ich scénický prejav, ktorý sa rokmi menil a rozvíjal, až sa vypracovali na jednu z najlepších koncertných kapiel vo svojom žánri. Typickým sa pre nich stalo vystupovanie v krojoch a baraniciach na hlavách, spájanie ukrajinských ľudových nástrojov s famóznymi vokálmi, ktorými napríklad imitujú vtáčí spev či iné zvuky z prírody. Označenie world music si (po)opravili a pozmenili na etnochaos, keďže nechceli byť zaseknutí iba v jednom hudobnom štýle. Radi si požičiavajú inšpiráciu z indickej, arabskej, africkej, austrálskej ľudovej hudby, aby ukrajinský folklór aktualizujú a rozširujú o ďalšie vplyvy. To súvisí aj s tým, že sú hudobnými nomádmi. Hrali už po takmer celom svete a tlieskali im nielen v Japonsku, ale aj na najväčšom festivale Glastonbury, v britskom BBC, či vo vysielaní kultového rádia KEXP v Seattli. Ich hudba zaznela aj v známom americkom seriáli Fargo. Po štyroch rokoch vydali svoju šiestu štúdiovú dosku Alambari, ktorú v Bratislave doplnia o staršie skladby. Tento koncert má byť povzbudením, že po dlhej a ťažkej zime, príde nádej na slobodnú a uvoľnenú jar.
Koncert ukrajinskej formácie DakhaBrakha sa uskutoční pod značkou Danube Music Day, ktorá chce prinášať na Slovensko prelomových a priekopníckych interpretov, ktorí výrazným spôsobom formovali hudobnú scénu (v oblasti zvuku, formy aj estetického vnímania), no napriek tomu u nás ešte nikdy nevystúpili, alebo len veľmi sporadicky.
Informácie: DakhaBrakha : Danube Music Day – 18.02.2022; Majestic Music Club, Bratislava
Vstupenky: https://tootoot.fm/sk/events/61b1d8c6b1e1a6121cc18b2f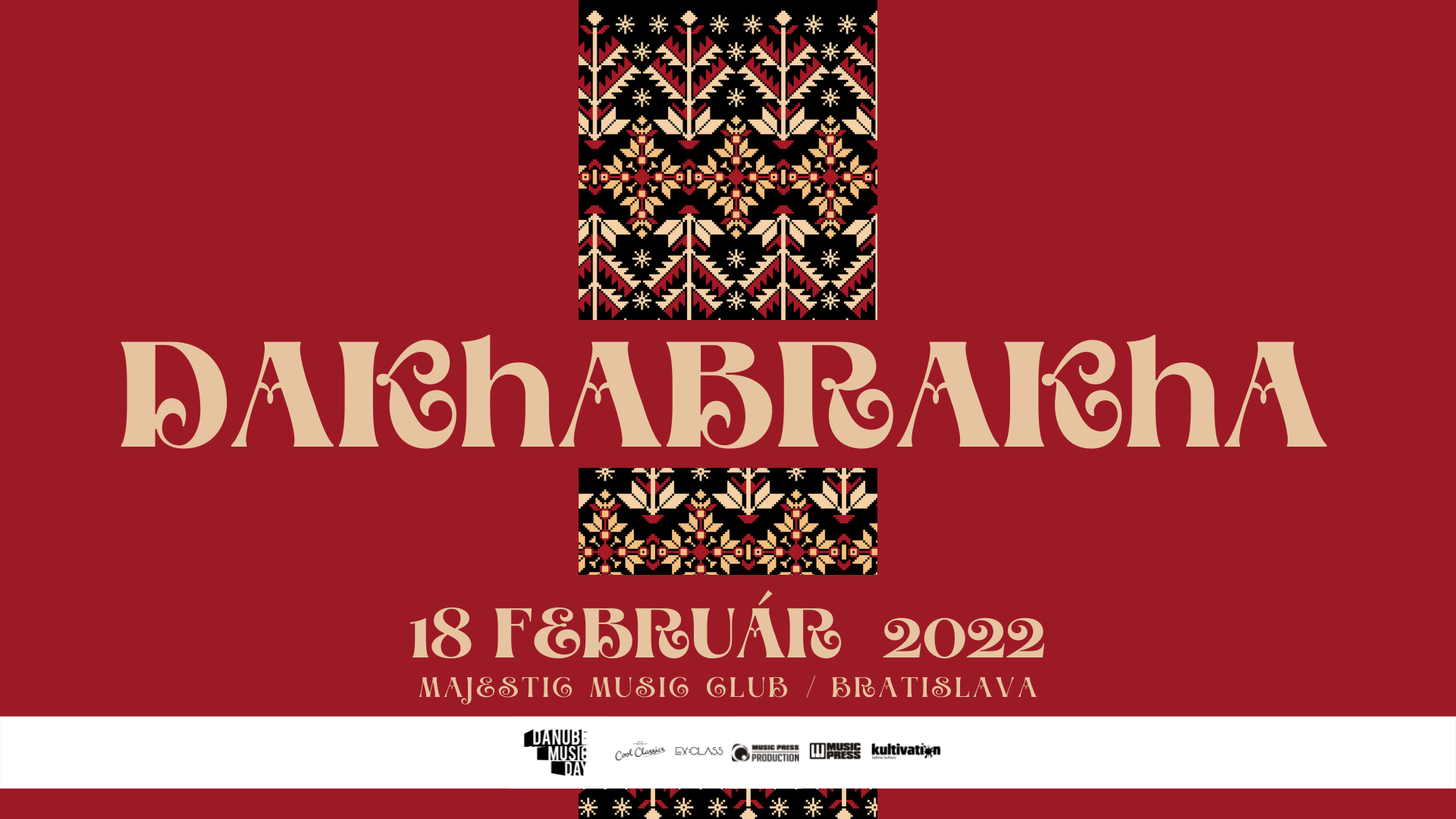 Zdroj: TS