"Hnev a strach sú veľmi protichodné emócie, z ktorých vždy vyplynie inšpirácia a potreba sa vyjadriť k danej situácii."
Udalosti posledných dní hlboko zasiahli ľudí po celom svete. Vojenský útok Ruska na Ukrajinu ostro odsúdili nielen politici, ale aj športovci či umelci. Český pesničkár Tomáš Klus počas víkendu odpremiéroval skladbu Ukrajino, ktorá vznikla práve ako dôsledok silných emócií vyvolaných situáciou v tejto krajine. Dnes je už dostupná aj v štúdiovej verzii a lyric videu.
Premiéra skladby Ukrajino: https://fb.watch/btyKRLpTrr/
"Napísal som pieseň pre Ukrajinu, pretože na jednej strane cítim obrovský hnev a na druhej obrovský strach. To sú dve veľmi protichodné emócie. Z nich vždy vzíde nejaká inšpirácia a potreba sa vyjadriť k danej situácii," povedal Tomáš Klus. Spevák sa k dianiu na politickej scéne vyjadruje dlhodobo, často diskutuje na sociálnych sieťach a za svoje názory je ochotný aj "uvaliť sankcie". V minulom roku mu dokonca vyšiel album ČAUČESKU. "Celé sa to začalo nevinne, proste som písal reflexiu doby a sveta, čo vidím, čo počujem a zrazu som mal skladby na celý album," vyjadril sa v čase vydania albumu spevák.
Vojenský útok na Ukrajinu a reakcia obyvateľov nenechala T. Klusa chladným. "Chcel som predovšetkým vzdať hold a pokloniť sa ukrajinskému národu a ich statočnému prezidentovi. Ich motivácia nepodľahnúť neľudskosti je veľmi inšpirujúca a motivujúca nielen pre nás, ale pre celú Európu i celý svet. Pieseň som napísal v čase, kedy som mal nastupovať do štúdia Českého rozhlasu k Alešovi Cibulkovi v relácii Tobogán. Ten ma vyzval, aby som tu pieseň zahral, čo je pre mňa nebývalou cťou. Český rozhlas je pre mňa médiom, ktoré si nesmierne vážim. Vďaka takýmto médiám nepodliehame dezinformačnej paľbe tak, ako sa to dejte v Rusku, kde ľudia nevedia, kde je vpravo a kde je vľavo. Je pre mňa veľkou cťou, že skladba po prvýkrát mohla zaznieť práve tu," povedal spevák, ktorému doprovod robil dlhoročný priateľ a spolupracovník Jiří Kučerovský.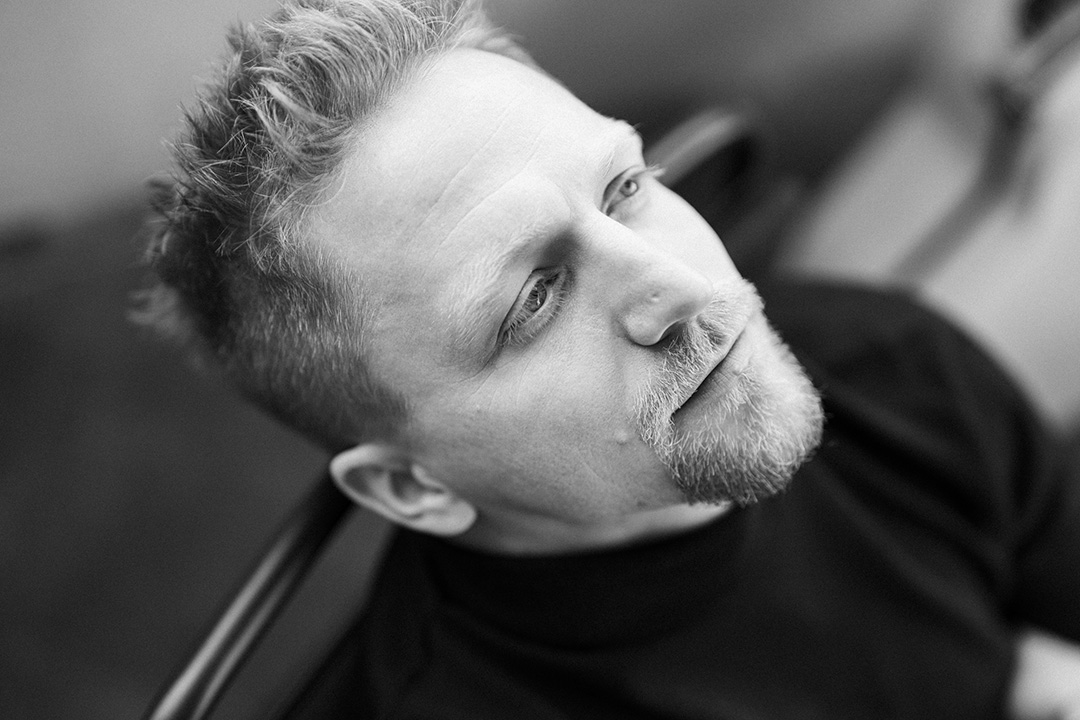 Skladbu Ukrajino v štúdiovej verzii doplnili aj slová priamo v ukrajinčine. Zverejnená je vo verzii lyric videa, pričom text celej skladby je uvedený takisto v ukrajinčine.
Tomáš Klus sa po pauze spôsobenej pandémiou vráti aj na slovenské koncertné pódiá. Jedným z prvých vystúpení bude 3. júna 2022 koncert v Pezinku, pôvodne naplánovaný na rok 2021, na ktorom predstaví nielen už známe a úspešné skladby, ale aj novinky z albumu Cítím. Turné po slovenských mestách by malo nasledovať na jeseň tohto roka.
Tomáš Klus – Ukrajino
Hudba/text: Tomáš Klus
To, co ti chci říct ze všeho nejvíc
Je, že se skláním před tvou odvahou,
Před silou tvé duše,
Co se tváří v tvář hrůze
Nerozpadla na milión částí.
To, co ti chci říct ze všeho nejvíc
Odtud, kde je zatím klidné nebe nad Prahou,
Že Jsem díky tobě ušel
Kus cesty rychlé chůze
Ke své lásce k vlasti.
Když vidím tvé muže, tvé otce a syny
Loučit se se ženami a dětmi,
Jak bez známky strachu jdou vstříc té svini,
Co je ubohá a zrozená ze tmy.
To jediné, co ti chci říct
je děkuji, je děkuji.
Ukrajino, Ukrajino.
Tys tou krajinou,
Co vzbudí naše
srdce spící
Ukrajino, Ukrajino.
Zhasnou pod Tvou
Odvahou
Nezvaní návštěvníci.
To, co ti chci říct ze všeho nejvíc
Je, že nejsi sama, že s tebou
Jsou milióny těch, co k tobě vzhlíží
Za to jaks nepodlehla strachu,
Jak sis zachovala tvář.
To, co ti chci říct ze všeho nejvíc
Je, že tě tví lidé dovedou
K vítězství nad tím, co tíží
Nás všechny,
Mamon moci, sedmilhář.
Zdroj: TS