Autentická nahrávka s pôsobivou dramaturgiou. Jubilejná novinka VENI 30 vychádza vo vydavateľstve Hudobný fond. Zoskupenie VENI ensemble netreba kultúrnej obci veľmi predstavovať. Za vyše 30 rokov pôsobenia na umeleckej scéne zanechali v pamäti poslucháčov hlbokú ryhu, ktorá nemá tendenciu slabnúť.
Súbor, ktorý sa za dlhú dobu svojej existencie vypracoval na teleso európskej úrovne, oslavoval výročie vzniku sériou koncertov doma i v zahraničí. A to bol impulz, ktorý odštartoval realizáciu projektu. "V roku 2018 sme oslavovali 30te výročie založenia a dospeli k názoru, že by sme našu tvorbu mali aj zdokumentovať. Vydavateľstvo Hudobný fond, kde CD vyšlo, je veľmi otvorené rôznym iniciatívam a mapuje autorskú aj interpretačnú tvorbu na Slovensku. Tak mohlo vzniknúť VENI 30," vysvetľuje umelecký vedúci súboru, skladateľ a dirigent Daniel Matej.
Album, ktorý otvára poslucháčovi pôsobivý svet hudby 20. a 21. storočia, disponuje životaschopnými skladbami zo slovenskej aj zahraničnej produkcie. Všetky skladby sú živým koncertným záznamom, ktoré zneli v rozmedzí rokov 2006 – 2018 v rôznych sálach za hranicami i u nás v rámci podujatí World Music Days, Večery novej hudby či Rok slovenskej hudby. "Skladby sú "live" nahrávkami s minimálnymi edičnými zásahmi, upravený bol len zvuk. Sú tam preto ponechané aj drobné chybičky – je to jednoducho náš život, ktorý sme žili v čase, kedy nahrávky vznikali," uvádza Matej. Rozsiahle dvoj-CD ponúka desať skladieb, z ktorých mnohé vznikli aj na objednávku. Poslucháčovi sa pod taktovkou Mariána Lejavu, Daniela Mateja a Balázsa Horvátha vynára dlhoročný repertoár ansámblu z pera autorov, akými sú Hilary Jeffery, Elliott Sharp, Christopher Fox, Giacinto Scelsi, Marián Lejava, Daniel Matej či Boško Milakovič. "Na albume možno nájsť aj Stockhausenovu skladbu Aus den sieben Tagen, čo je verbálna otvorená partitúra. Spočiatku sme sa ňou zaoberali s edukačným zámerom, no prirodzene prerástla do nášho repertoáru," vysvetlil Matej.
Napriek kvalitám súboru, ktorý nás svojím nadšením a špičkovou interpretáciou zasadzuje do medzinárodnej profesionálnej hudobnej komunity, VENI ensemble je skôr projektová a príležitostne hrajúca platforma. "Je to dané okolnosťami existencie slovenskej hudby a autorského a interpretačného umenia u nás. Touto hudbou sa dá bohužiaľ len veľmi ťažko uživiť. Avšak stále tvrdohlavo hráme hudbu, ktorá nás baví a ktorá nám za tie roky priniesla množstvo spolupráce so zahraničnými menami, medzi inými aj s významným improvizátorom a bluesovým hudobníkom Elliottom Sharpom či jazzovým experimentátorom Hilarym Jefferym, ktorých nájdeme aj na najnovšom CD," uzavrel Matej. Širokospektrálna tvorba a hudobný život VENI ensemble v kocke vychádza ako novinka vydavateľstva Hudobný fond.
Ďalšie informácie o CD VENI 30:
https://www.musicaslovaca.sk/index.php?route=product/product&product_id=2938
FB profil Hudobného fondu
https://www.facebook.com/hudobnyfond.sk?fref=ts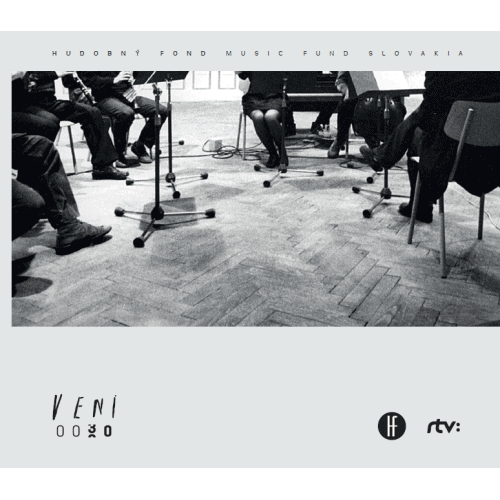 Zdroj: Hudobný fond