Obľúbený moderátor, imitátor a v neposlednom rade aj hudobník – Dušan "Šorty" Berky, vydáva svoje očakávané EP, ktoré nesie rovnomenný názov s pilotným singlom, na ktorom hosťuje KALI – "SÁM SEBOU"!
Aktuálne sme z neho dostali prvú a titulnú skladbu z tracklistu, na ktorej sa predstavil Kali. Ten však nie je jediným hosťom, pretože okrem neho budeme po Šortyho boku počuť ďalších 9 hostí! Celkovo nás teda čakajú mená ako Moja Reč, Andess, ADiss, Puerto, Lvcas Dope, Ego alebo Strapo. Na siedmich trackoch pracovalo päť beatmakerov ako Filipian, Hoodini, Peter Pann, Grizzly alebo Space Beatzzz.
"Táto skladba ako aj celé EP je venovaná najmä všetkým tím, ktorí sa cítia byť sami sebou!" /Šorty
Projekt sa nevolá "SÁM SEBOU" len vďaka jeho titulnej pesničke, ide totiž o projekt, ktorý si Šorty robil celý skutočne podľa seba a fokusoval sa len nato, aby bol spokojný on sám. Cover tohoto projektu je čierny, čo teda môže pôsobiť, že s konceptom EP-čka nekorešponduje, avšak je to kvôli pamiatke Šortyho milovanej maminy, ktorá bola jeho najväčším fanúšikom. Fotka z coveru je fotkou, ktorú odfotila práve ona ešte v roku 1992, čiže celé to má teda veľmi emotívne a hlboké prepojenie, keďže autorka spomínanej snímky už žiaľ nie je medzi nami.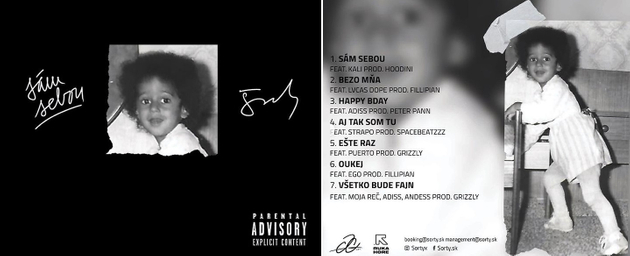 Videoklip "SÁM SEBOU" kompletne zastrešil Martin Miko a jeho tím Illuminate Production, hudobnú produkciu mal na starosti Hoodini. Najbližšie sa od Šortyho dočkáme nového klipu už v júni. Konkrétne pôjde o skladbu "Aj tak som tu", kde sa na feate predstaví Strapo. Ešte predtým by sme sa však vraj mali dočkať Šortyho spoločného klipu s ADissom na ich minuloročnú skladbu "Načo pôjdem domovwwwwwww", aby sme sa spoločne všetci mohli naladiť na (dúfajme) blížiacu sa koncertnú sezónu.
EP "SÁM SEBOU": https://rukahore.ffm.to/sorty_sam_sebou
INSTAGRAM: https://www.instagram.com/sortyx/
FACEBOOK: https://www.facebook.com/sorty.sk
Zdroj: PR/BRAND MANAŽÉR JANA TRELLOVÁ/RUKA HORE
Foto: YouTube