Dokumentárny film The Sailor od slovenskej režisérky Lucie Kašovej čaká v utorok 10. augusta americká premiéra na 39. ročníku medzinárodného filmového festivalu Flickers Rhode Island. The Sailor sa stal súčasťou kolekcie 400 filmových kúskov vyberaných z celkovo 6 800 prihlásených titulov. Flickers Rhode Island sa zaraďuje k desiatke najvýznamnejších amerických festivalov a patrí kfestivalom štartujúcim oscarovú sezónu v Amerike. Ústredná postava filmu The Sailor, svetoznámy námorník a konštruktér lodí Paul Erling Johnson, nás prednedávnom opustil vo veku nedožitých 84 rokov. Film o ňom a jeho medzinárodná i lokálna distribúcia sú poctou tomuto veľkému dobrodruhovi.
Aká je cena slobody? Námorník Paul Johnson sa celý svoj život plavil na oceáne. Žil nespútane, opíjal sa, miloval a nikdy sa neusadil na pevnine. Teraz má osemdesiat a on ani jeho ľoď nie sú schopní vyplávať. Kým každý deň vypije liter vodky, uvažuje o živote a smrti. Zdá sa, že cieľom jeho cesty je samota. The Sailor je film ovzťahu medzi slobodou a sebeckosťou. Režisérka Lucia Kašová v ňom hľadá odpoveď na univerzálnu otázku: Majú splnené sny na svojom konci vždy tak trpkú príchúť?
"Som námorníčka. Celý svoj život som chcela stráviť na mori. Stretla som ľudí, ktorí s morom komunikujú a žijú. Nazývajú sa ,morskí cigáni'. Na ich plavidlách nie sú vlajky ich rodných krajín, pretože ich národnosťou,náboženstvom i domovom je more. Ich spoločným znakom je pokora. Plavia sa už desiatky rokov a keď prehovoria, v ich hlase počuť rytmus vĺn. Keď som v minulosti začala študovať filmovú školu, bolo to kvôli tomuto filmu. Mala som potrebu rozpovedať príbeh o morských cigánoch, spoločnosti postavenej na iných princípoch bytia, než má tá naša," priblížila osobnú fascináciu témami svojho filmu režisérkaLucia Kašová, ktorá vstúpila do povedomia ako režisérka filmu o Robertovi Ficovi v rámci série Expremiéri.
"Námorník ako symbol slobodnej cesty, more ako esencia toho, čo tvorí a napĺňa náš život, loď ako obraz duše na šírom mori možností a motor, ktorý je tým, čo nás poháňa vpred. A čo je ten cieľ, kam nás poháňa? PaulaEarlinga Johnsona som stretla vo dverách malého supermarketu v Harvey Vale Bay na ostrove Carriacou. Pozreli sme sa jeden na druhého a hneď sme vedeli, že sme z rovnakého cesta," doplnila Kašová.

Výsledok stojí za to
Nakrúcanie filmu mimo slovenské reálie vôbec nebolo jednoduché. Vyžadovalo precíznu prípravu aj pevné nervy. "Pred nakrúcaním sme museli vyriešiť množstvo produkčnych a logistických problémov. Film sa nakrúcal na malom ostrove Carriacou, ktorý je bez zdroja pitnej vody. Aby sme sa len dostali na samotný ostrov, štáb a technikamuseli najprv preletieť sedemtisíc kilometrov a následne sa tri dni plaviť naprieč Karibským morom," spomína na nakrúcanie producent filmu Nazarij Kľujev zo spoločnosti Toxpro.
"Treba dodať, že celé nakrúcanie sa konalo počas hurikánovej sezóny, keďže hurikány zohrávajú vo filmedôležitú úlohu. Realizácia filmu sa nám nakoniec vydarila a som veľmi rád, že sa nám okrem filmu podarilo vytvoriť aj online sériu making of videí. Pre nás tvorcov, ale aj pre divákov tak existuje spomienka, ktorá mapuje ako náš film vznikal," dodal Kľujev.
Ako sa The Sailor plaví doma i po svete?
Svoju medzinárodnú festivalovú plavbu započal The Sailor koncom apríla na renomovanom kanadskom festivale Hot Docs, koncom júla ho v národnej premiére uviedol najväčší slovenský filmový festival Art Film Fest,aby sa aktuálne vrátil späť na americký kontinent. 39. Flickers Rhode Island sa koná v hybridnej forme, bude kombinovať online uvedenie filmu s projekciami pod hviezdami.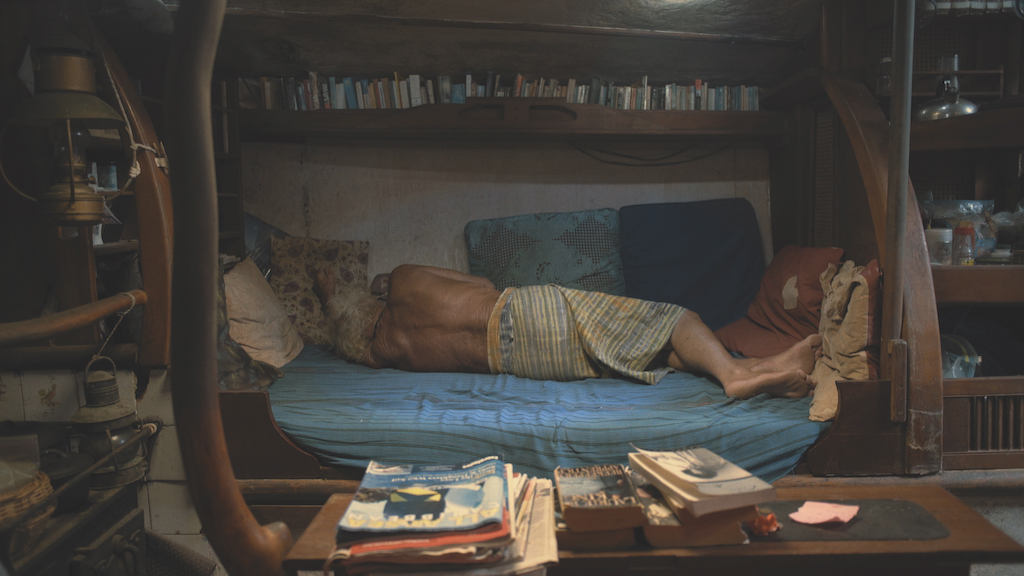 Emotívny príbeh starého námorníka Paula E. Johnsona z karibského ostrova Carriacou bilancujúceho život celý prežitý na oceáne aktuálne rotuje v slovenských klubových kinách, kam naň prišlo už vyše tisíc divákov. Poskoro päťdesiatke premietaní po celom Slovensku ho aktuálne čaká séria bratislavských open air projekcií, a tohneď na troch miestach — v letných kinách
OC Central, na kúpalisku Mičurín a v populárnej Novej Cvernovke, kde uzavrie celoletnú dokumentárnudramaturgiu pod hlavičkou distribučnej spoločnosti Film Expanded. V septembri súťaží o cenu za najlepší slovenský dokument na piešťanskom festivale Cinematik.
Aktuálny zoznam premietaní:
| | | |
| --- | --- | --- |
| 9.8. | 18:10 | Kino Lumière, Bratislava |
| 11.8. | 10:00 | Kino Lumière, Bratislava |
| 11.8. | 20:00 | Letné kino na kúpalisku Mičurín, Bratislava (za účasti režisérky) |
| 16.8. | 20:30 | Kino Iskra, Kežmarok |
| 18.8. | 19:30 | Letné kino OC Central, Bratislava (s diskusou) |
| 31.8. | 20:30 | Nová Cvernovka (za účasti delegácie tvorcov) |
| 14.9. | – 19.9. | MFF Cinematik (za účasti delegácie tvorcov) |