Už prvou skladbou ohlásila speváčka Ronie, že chce hudobne vrátiť späť rok 2000! Jej skladbu 2004 zdieľali a poznali fanúšikovia z jej sociálnych sieti skôr ako bola na Youtube. Hneď po skladbe "Lonely" , ktorá sa okamžite stala hitom prináša tentokrát nezameniteľný vibe roku 2000, ktorý venovala jej idolu Aaliyah.
"Preneste sa so mnou do éry "dvetisícok", kedy hudbou žil naozaj každý", takto vstúpila s prvou skladbou z albumu Roniemoon speváčka Ronie, ktorá sa inšpirovala svojimi idolmi a aktívne pracuje na albume, ktorý uzrie svetlo sveta už začiatkom roka 2023. Po skladbe "Lonely" prichádza s tanečnou skladbou venovanú práve jej hudobnému a fashion idolu – Aaliyah.
Ronie a jej inšpirácia Aaliyah…
Ten, kto nepozná túto brooklynskú R&B divu, herečku a modelku, tak práve Ronin klip ho inšpiruje to okamžite napraviť. Jej prvý album "Age Ain't Nothing But a Number " vyšiel pod taktovkou R. Kellyho a na tom druhom "One in a Million" spolupracovala s Timbalandom a Missy Elliot. V roku 2000 si zahrala vo filme "Romeo must die" a singlom "Try Again" prispela tiež k soundtracku tohto filmu, za ktorý si vyslúžila nomináciu na "Grammy Award" v kategórii najlepší spevák R&B. Zahrala si aj vo filme "Queen of the Damned"a jej tretí a posledný album "Aaliyah" bol vydaný v roku 2001, kde po ňom tragicky zahynula. No zanechala po sebe ikonickú hudbu a štýl.
"Aaliyah bola pre mňa vždy ikona. Po hudobnej stránke som bola vždy viac "poppy" a počúvala tie mainstreamovejšie speváčky. No Aaliyah bola pre mňa obrovská fashion ikona, ktorá dodnes ako je vidieť aj na mojom štýle, že ma veľmi inšpirovala, milovala som jej vyžarovanie a ako bola ženská, no pritom v obrovských handrách a ako bola sebavedomá, drsná a jemná zároveň. Preto sa v texte objavilo aj jej meno ako prirovnanie k niečomu dokonalému "hýbem sa jak Aaliyah", keďže jej tance v klipoch boli legendárne. Je to metafora na celú jej osobu. A preto sa aj pesnička pomenovala po nej", ozrejmuje svoju inšpiráciu k skladbe Ronie.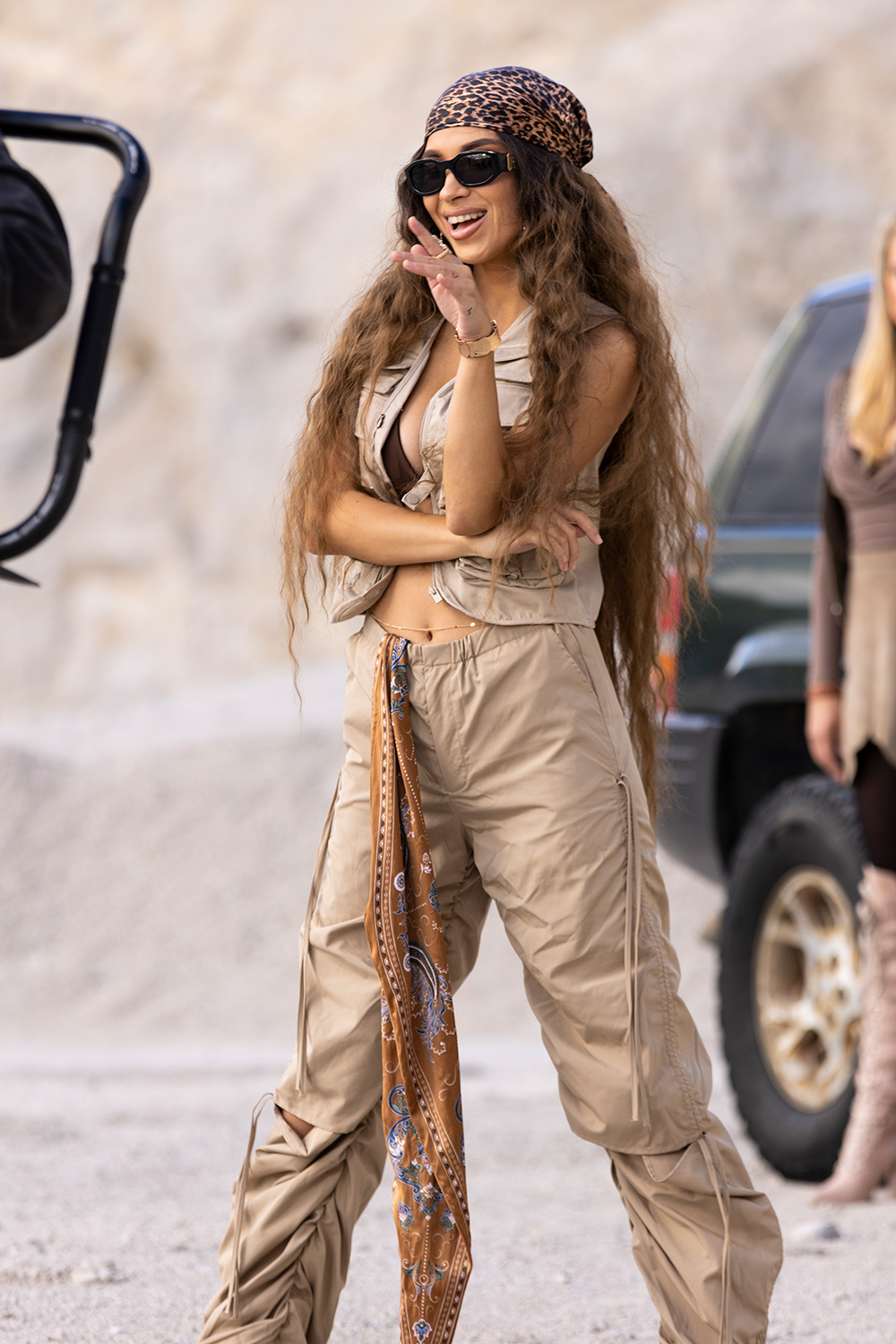 Videoklip vznikol od Illuminate Production, pod taktovkou uznávaného klipmakera Martina Miku. Hudobnú produkciu zastrešili dvatritridva, to je nová značka troch slovenských hudobných producentov – Martina Maxa Šrámeka (Celeste Buckingham, Majk Spirit, Ronie), Mateja Mikloša (Celeste Buckingham, MUS) a Adriana Líšku (Emma Drobná, Yael), ktorá pôvodne vznikla ako songwrittingová spolupráca producentov s novými a aj etablovanými menami na slovenskej scéne. Nový track "Aaliyah" vznikol tak v Littlebeat studio s jej dvorným producentom Martinom Maxom Šrámekom a Matejom Miklošom, ten sa podieľal aj na finálnom mixe, kde master už len dotvoril Miroslav Chyška. Sprievodné linky pomáhala dotvoriť kamáratka a speváčka Erika Rein a samotný text ku skladbe napísala Ronie.
"Hlavná myšlienka songu je v skratke ženská sila! Celý text rozpráva o žene, ktorá si prešla vzťahom, kde ju partner previedol citovým peklom až na úplne dno, ako sa z neho dostala našla svoju vnútornú ženskú energiu a je hrdá na to, kým sa stala. A muž ktorý jej nebol schopný dať nič by dal dnes všetko za to aby bol s ňou. Nazvime to jednoducho karma", opisuje námet klipu speváčka.
Okrem nových skladieb, ktoré aj podľa zhliadnutí majú obrovský úspech u jej fanúšikov sa môžeme tešiť aj na jej prvý album, ktorý vyjde už na jar 2023!
!Cítila som, že chcem robiť niečo, čo mi je veľmi blízke. Hudba, ktorá bola aktuálna ma moc neoslovila, a tak prišiel nápad urobiť niečo nostalgické, ale v novom šate. Stále som chcela robiť také pesničky ako moje obľúbené speváčky z detstva a teenage rokov. Tak sme sa rozhodli ísť týmto smerom a začali tvoriť album v duchu 2000´s. Presne pre ľudí ako som ja, ktorí si chcú pripomenúť detstvo a dospievanie alebo priniesť mladším generáciám to, čo formovalo mňa a teda aj ľudí z mojej generácie. Tento album teda bude prierez mojim životom a rokmi 2000 od skorších až po neskoršie 2000 roky", uzatvára Ronie.
https://youtu.be/sBZA9tu0mGc
http://instagram.com/ronieofficial
https://www.instagram.com/dvatritridva/
https://www.instagram.com/illuminate_production/
https://www.tiktok.com/@ronieofficial
http://facebook.com/ronieofficial
http://twitter.com/ronieofficial
Zdroj: PR/BRAND MANAŽÉR JANA TRELLOVÁ
Zdroj foto cover: Ronie