Mladá slovenská speváčka a skladateľka Andrea Juhásová alias Andie J. predstavuje svoj debutový singel s videoklipom Shoot Me To The Moon. Všetky emócie lásky prechádzajúc speváčkou zachytáva videoklip v expresívnej podobe stelesnenej ako Harley Quinn.
"Skladba vznikla už pár rokov dozadu. Verím, že každý z nás pozná ten pocit naivnej nekonečnej lásky, o ktorej v skladbe spievam. Hlavným faktorom je dištanc medzi mesiacom a slnkom. V pozadí slov je túžba stretnúť sa, dotknúť sa, prejavovať si náklonnosť. Pointa je v tom, že mesiac a slnko sa reálne nikdy nestretnú, no ich láska trvá," vysvetľuje speváčka kľúčovú myšlienku piesne Shoot Me To The Moon. "Skrátka som preniesla svoje pocity na neživé predmety. Odstrelila som ich na mesiac. Doslova," dodáva s úsmevom.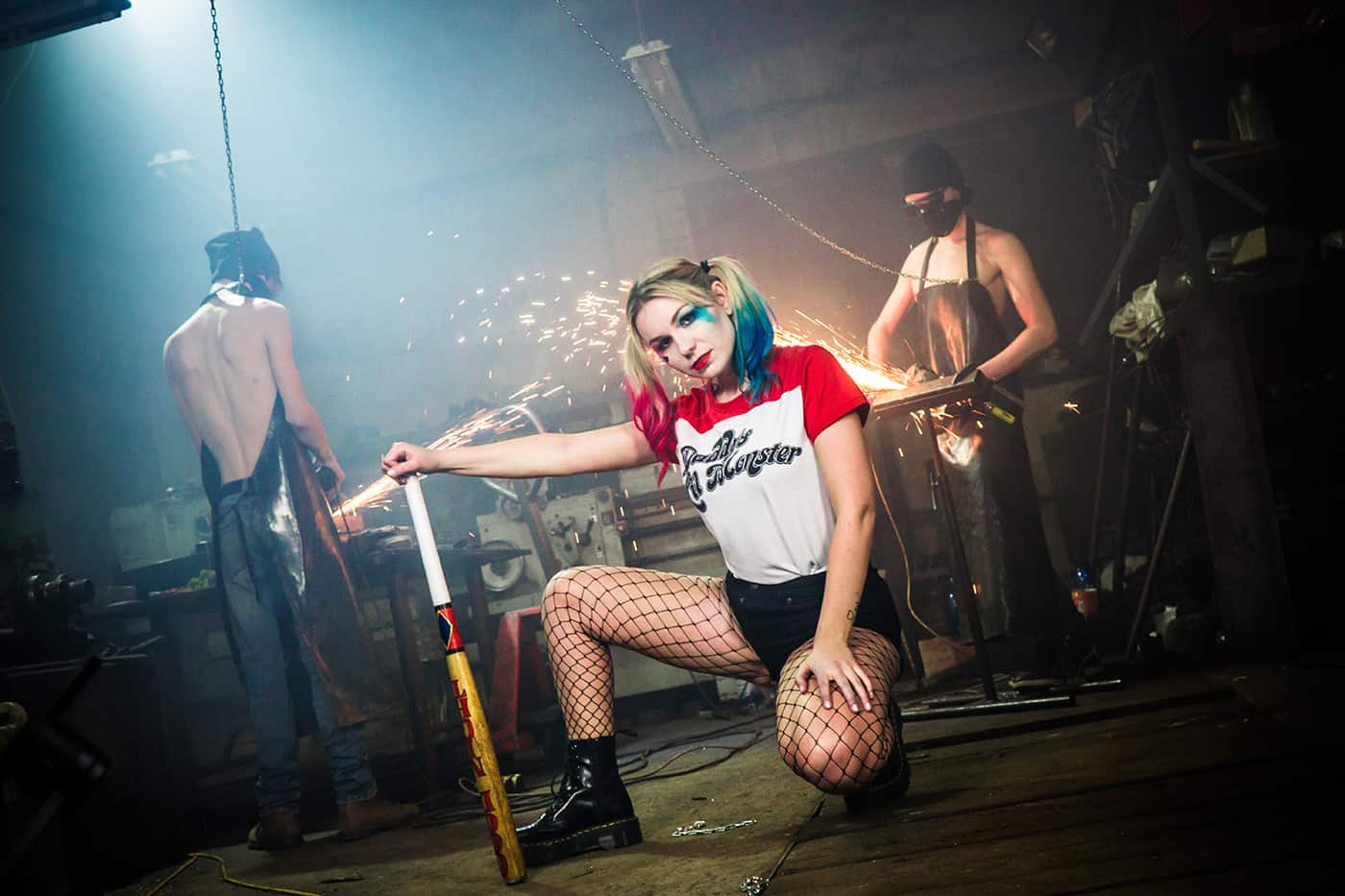 Text piesne vznikol súčasne s melodickou linkou a ako Andie J. prezrádza, jej zlozvykom je tvorenie hudby najmä v noci. "Jednoducho to príde a ja neviem zaspať, až kým text nie je na papieri a melódia nahraná v mobile. A tak vznikla aj táto skladba. Zapálila som o jednej ráno sviečku, držala gitaru a išlo to priam samo. Po tom sa neskutočne dobre spí," prezrádza.
Pieseň Shoot Me To The Moon je prvým oficiálnym singlom z pripravovaného EP a je inšpirovaná nekonečným vzťahom medzi mesiacom a slnkom. "Každý kvet čaká na svoje slnečné lúče, ktoré mu pomôžu rozkvitnúť. Tak isto na tom sú moje skladby. Práve tento rok na ne zasvietil hádam aj blesk z jasného neba a konečne dostali šat, ktorý si zaslúžili. Prvý singel je výnimočný. Nie len tým, že je prvý, ale práve on otvára brány do mojej duše, vypovedá o tom, čo mi najviac blúdi už roky hlavou. Existuje nekonečná láska? Alebo sme všetci zmierení s klamstvami a podvodmi?" uvažuje Andie J. Aranžérom a producentom skladby ako aj celého debutového EP je Domi Stoff z kapely King Shaolin. O mix a master skladby sa postaral Ecson Waldes z českého Biotech Studio.
Videoklip sa nesie hlavnou myšlienkou skladby a vznikol po úvahách Andie J. a Lukáša Patrika (LuPa Production), ktorý študuje na Fakulte masmediálnej komunikácie na UCM v Trnave. "S Andie J. sa poznáme už dlhšiu dobu. Pri konverzácii na Instagrame sa mi zdôverila, že hľadá niekoho, kto by jej nakrútil videoklip. Išlo o jej debutovú skladbu a ja som v tej dobe hľadal interpreta do svojej diplomovej práce, v ktorej som sa venoval expresivite vizuálneho jazyka v hudobnom videoklipe. Takže spolupráca bola obojstranne prospešná. Celkovo sme si prešli dvoma nakrúcacími dňami. Postprodukcia však bola oveľa náročnejšia a vďaka vzniknutej pandémii trvala dlhšie," objasňuje Lukáš Patrik, ktorý mal na starosti produkciu, námet aj celkový vizuál videoklipu. Nakrúcanie prebiehalo v okolí Trnavy a Piešťan, odkiaľ speváčka pochádza.
Andie J. v piesni zhmotňuje komplikovaný priebeh lásky a presne tam je doma postava antihrdinky Harley Quinn, ktorá prepadla neoblomnej láske k svojmu padlému idolu Jokerovi. "Vzhľadom k tomu, že expresivita je novým trendom vo videoklipoch, začal som sa ňou zaoberať približne pred rokom, ide o dekódovanie informácii z textu piesne a následne kódovanie do vizuálu videoklipu," dopĺňa Lukáš základné piliere tvorby klipu. Líniu príbehu a pocitových záberov Harley Quinn zvýraznených efektami spolu vytvárajú emóciou uchopené rozpoloženie piesne a príjmu diváka zamýšľať sa nad spojitosťami a predstavami, ktoré sa bijú so skutočnosťou.
Dojmy z nočného nakrúcania zanechali v Andie J. príjemné, ale aj úsmevné spomienky. "Stretli sme sa na konci februára o deviatej večer a točili sme takmer do druhej rána. Bola neskutočná zima. Dodnes mi je ľúto komparzistov, ktorí v klipe vystupovali len v studených zásterách a v otrhaných rifliach. No atmosféra bola úžasná. Všetci sme sa bavili a aj napriek sťaženým podmienkam, ktoré nám ponúklo počasie s jeho prehánkami, sme to nakoniec zvládli. O pár dní neskôr sme natáčali aj v priestoroch ateliéru, no celkovo ma to veľmi bavilo," prezrádza Andie J.
"Nakrúcanie klipu v priestoroch strojárskej dielne malo zvláštnu atmosféru. Premieňalo jemné slová o láske na silné obranné štíty. Práve o tieto kontrasty nám pri nakrúcaní videoklipu išlo," dodáva Lukáš Patrik.
Viac informácií o speváčkinom hudobnom pôsobení nájdete na jej facebookovej stránke https://www.facebook.com/AndiexJ/
Informácie poskytol PR manažér Michal Neffe