Maďarská skupina Pozvakowski vytvára zaujímavú post metalovú a post rockovú scenériu. Svoj putovný kinematograf zapustí za sprievodu slovenskej skupiny Jób 10. septembra (s podporou Maďarského inštitútu v Bratislave) v bratislavskom Randal Clube pod značkou NU SOUND OF VISEGRAD.
Pozvakowski z Budapešti si vytvorili smerom von vlastnú cestičku. Dvadsať rokov existencie s ich ojedinelým štýlom ich prinútil prekročiť hranice svojej krajiny. Zakladajúci člen Adam Darvas sformoval svoje trio v roku 1999 s cieľom spojiť tvrdšie gitarové aranžmány s nezvyčajnou formou, ktorá graduje a variuje v jednej línii. Formalistické postupy nahrádza snaha o invenčnosť v každom smere. Ako inšpiráciu líder zoskupenia uvádza rôzne noise zoskupenia z osemdesiatych a deväťdesiatych rokov, pričom médiá prirovnávajú tvorbu Pozvakowski najčastejšie ku kultovým Tortoise. V istom zmysle tam zohráva veľkú úlohu priamočiarosť Motörhead, ktorú kapela bez okolkov priznáva ako priamy inšpiračný zdroj. Ale aj preto, že sa nechcú zaštítiť jedným žánrom. Omnoho podstatnejšie je, keď môžu svojho poslucháča naživo naviesť k spojeniu asociácie zvukových vnemov s vizuálnou projekciou, ktorú púšťajú na osem a šestnásť milimetrových filmov zo starých premietačiek. Pozvakowski fungujú na princípoch DIY. Vytvorili vlastnú značku Not On Label, na ktorej nahrali väčšinu zo svojich šiestich štúdiových albumov. Stále je pre nich najdôležitejšie hrávať ich tvorbu naživo.
Druhým hosťom tohto večera bude nitrianska formácia Jób. Pri koncipovaní tohto projektu vychádzal gitarista a kapelník Radoslav Lakoštík zo svojej metalovej minulosti, z ktorej si povyberal progresívne a experimentálne postupy a zaobalil ich do post-rockového zvuku. Sám je veľkým obdivovateľom Stevena Wilsona, Davida Kollára či skupín ako Isis, Tool alebo Neurosis. Teda tých, čo vedia stavať a následne aj búrať zvukové a hlukové steny nápaditými riffmi idúcimi za hranicu obyčajnosti. Kapela dostala svoju konečnú podobu v roku 2018 keď "šuflíková" tvorba ožila v plnohodnotnej kapele. Odvtedy sa Jób pokúšajú zaplniť prázdne miesta na mape atmosférickej gitarovej hudby. Rado našiel pri formovaní svojich zámerov oporu v spoluhráčoch – Vlado Rjabin (gitara), Marek Kováč (bicie nástroje) a Filip Kriváň (basová gitara). Tvorbu skupiny Jób ste mohli naživo počuť z relácie Headbanger_FM, alebo z festivalov Who Needs Lyrics?! či Hradby Samoty. Zaujímavé je, že koncerty prebiehajú bez vynútených prídavkov. Keď chceš viac, musíš prísť nabudúce.
Koncert je organizovaný pod značkou Nu Sound of Visegrad – príďte podporiť kapely, klub aj promotéra, aby mohla živá kultúra prežiť.
Vstupenky sú dostupné v predpredajových platformách:
Tootoot – https://tootoot.fm/sk/events/611b46a5a9cdd30a34e3f69d
Predpredaj – https://predpredaj.zoznam.sk/sk/listky/pozvakowski-job-2021-09-10/
GoOut – https://goout.net/sk/poznakowski+job/szjprur/
Ticketportal – https://www.ticketportal.sk/event/POZVAKOWSKIJOB-2021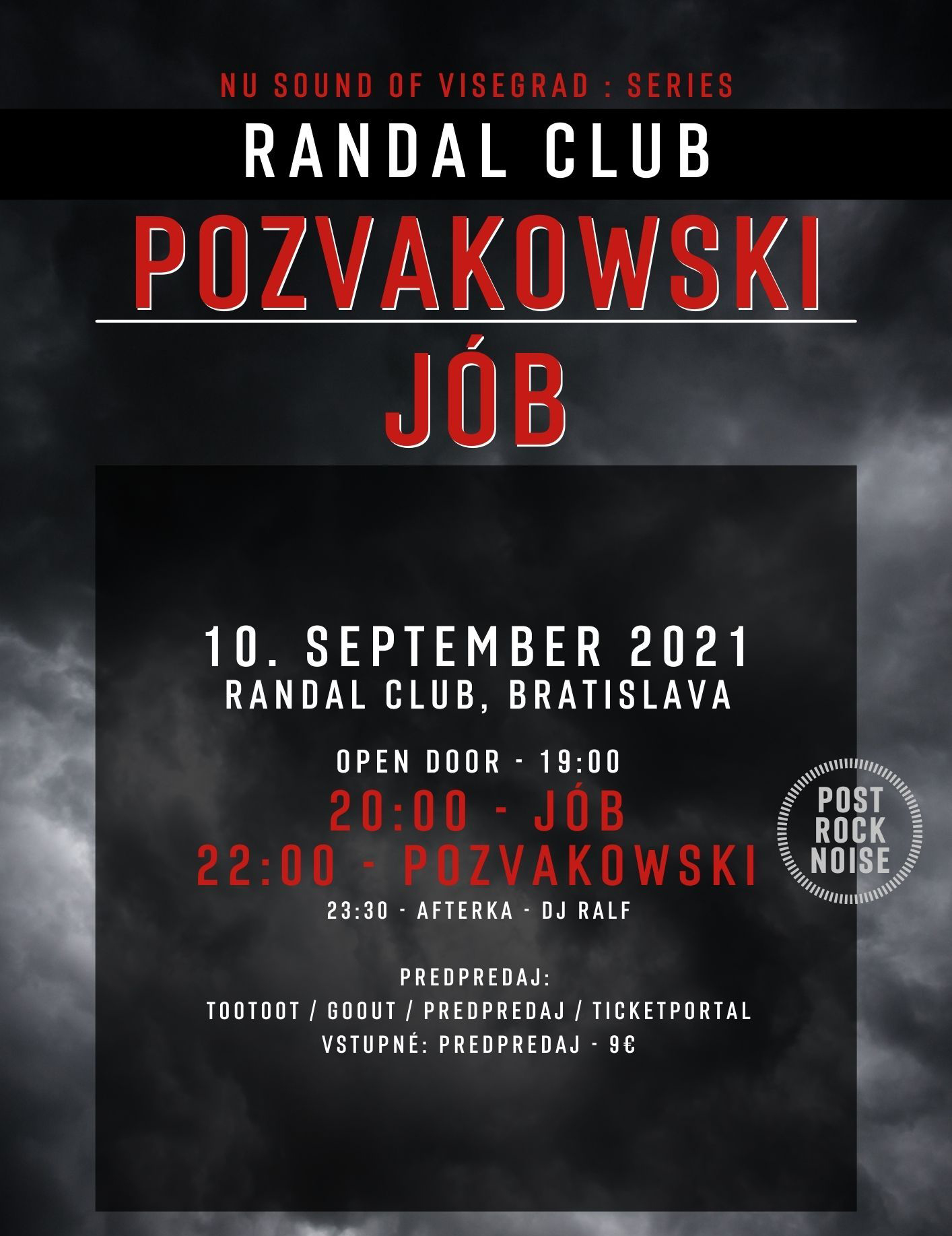 Zdroj: TS