Putovná koncertná séria Nu Sound of Visegrad prichádza do Berlína! Po Rumunsku, Srbsku, Nórsku sa projekt, ktorý vyhľadáva tie najzaujímavejšie mená z našej domácej scény aj od našich susedov, zastaví v Mekke klubovej – elektronickej scény. Kantaine am Berghain privíta 25.11.2022 slovenské trio – Space Cats, Isobutane, Subtension.
Berlín patrí k najdôležitejším miestam, kde klubová hudba formovala tvár tohto nesmierne zaujímavého a tvárneho mesta. Vynikajúce zázemie, poslucháči hladní po novej hudbe, zahraniční umelci prichádzajúci sem žiť. To všetko vytvára neprenositeľnú atmosféru. Jedným z takýchto miest je Kantine Am Berghain pôsobiaca v areáli kultového Berghainu, slúžiaca na menšie koncerty. Na tomto mieste vystúpi 25.11.2022 trio slovenských účinkujúcich, aby pod značkou Nu Sound of Visegrad prezentovali novú klubovú hudbu svetových parametrov.
Jedným z príkladov presadenia sa na zahraničnom fóre je Mário Dočekal alias Subtension. Ako drum and bassový producent sa objavil na takých prestížnych značkách ako Ram Records, Critical Music, Neosignal, Invisible (VISION) atď., pričom jeho skladby hrávali Pendulum, Amon Tobin či Roni Size. Neúnavný klubový cestovateľ sa okrem hrania venuje aj tvorbe. Za Nestbox získal Radio Head Awards ako Najlepší elektronický album za rok 2018, za rok 2021 sa mu v tej istej kategórii podarilo zvíťaziť za album Stranger, ktorý ho posunul do väčšieho žánrového rozptylu.
Martin Krajčír pôsobil v kapele The Ills ako gitarista, paralelne si popritom budoval svoj elektronický projekt Isobutane. Zažraný v hardvéroch a mašinkách šperkoval svoj zvuk s analógovým prístupom. Pohrával sa s jeho farebnosťou, aby potlačil tú strojovú chladnosť. Ďalším posunom v jeho tvorbe bol minuloročný album Mementos, kde sa objavilo viacero hostí a retrospektívne sa vrátil do obdobia osemdesiatok.
Miloš Bulík (basgitara), Ľuboš Ambrozai (bicie nástroje), Peter Kunzo (syntetizátory) sú známi hudobníci na bratislavskej scéne. Pravidelne sa stretávali v rôznych spoluprácach, až nakoniec založili autorský projekt Space Cats. Živá elektronika, mnoho súčasných zvukov aj odraz do šesťdesiatkovej psychedélie a sedemdesiatkového krautrocku. Mraučanie od vesmírnych kocúrov sa ozýva chronologicky od new wave až po new rave.
Projekt z verejných zdrojov podporil Fond na podporu umenia.
Nu Sound of Visegrad je putovná koncertná séria, ktorá za sedem rokov existencie predstavila vyše tridsiatich umelcov zo Slovenska, Česka, Maďarska. Uskutočnila sa vo viacerých slovenských mestách, pričom trikrát bola súčasťou programovej schémy Mesto kultúry (Banská Štiavnica, Nové Zámky, Stará Ľubovňa), okrem toho projekt vycestoval aj do Nórska, Srbska, Rumunska. Jeho existenciu mapuje 2CD kompilácia NU SOUND OF VISEGRAD 2015 – 2020. Vo svojej dramaturgii sa zameriava na rôzne elektronické fúzie, indie, nu jazz, hiphop, post rock, contemporary music a rôzne subkultúrne, avantgardné štýly.
Informácie: NSOV Berlin: Subtension; Isobutane; Space Cats; 25.11.2022; Kantine am Berghain, Berlin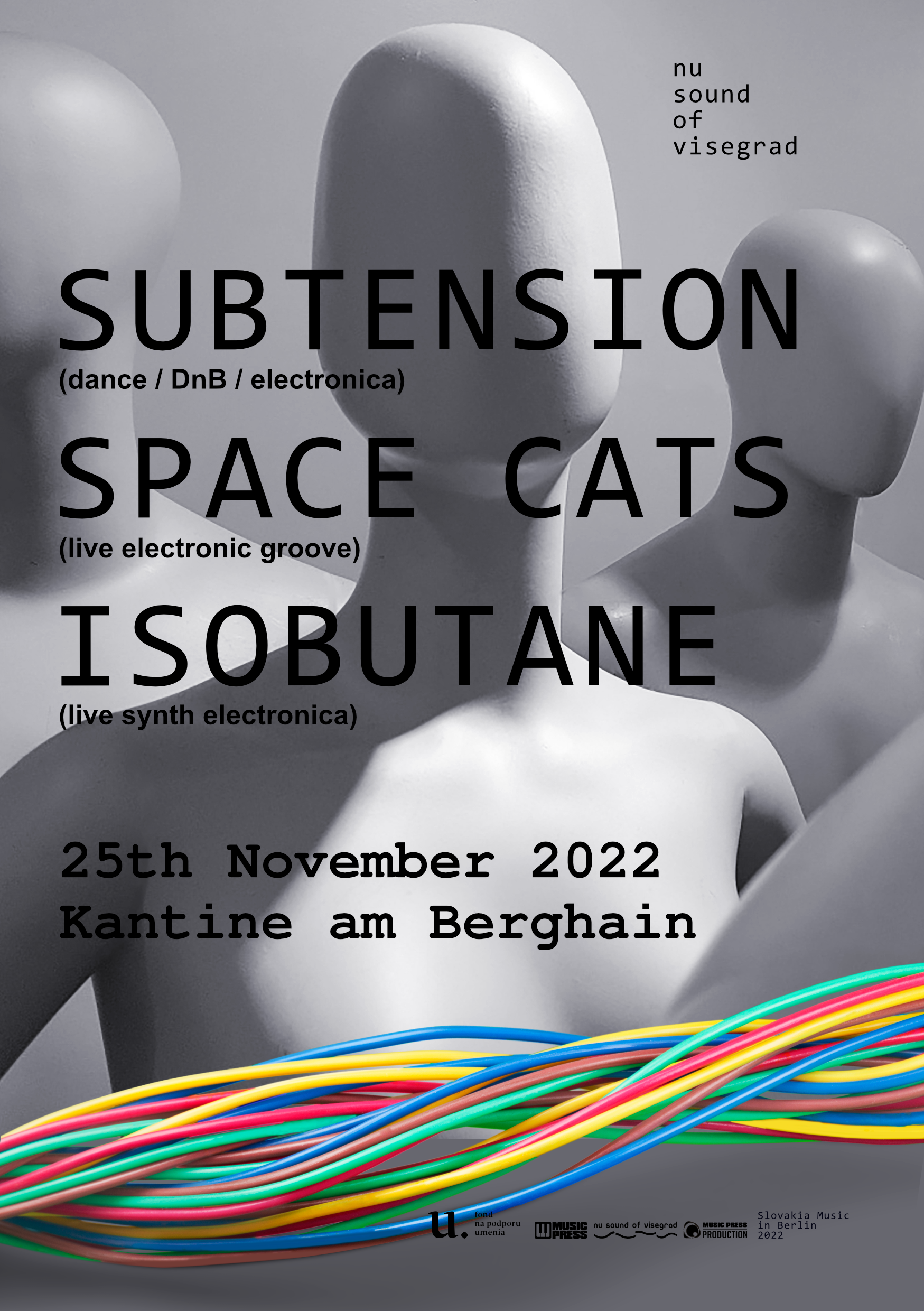 Zdroj: TS