Filmová prehliadka Cinevitaj prináša dve línie – jednu tvoria dokumenty o významných osobnostiach sochárstva a architektúry a druhá sa viaže na začiatky talianskej komédie. Diváci/diváčky budú môcť tak viac spoznať "otca talianskej architektúry" Andreu Palladia, či "sochára deviatich pápežov" Gian Lorenza Berniniho a pripomenúť si tiež diela Dina Risiho a ikonických umelcov Sofiu Loren a Vittoria De Sicu. Ponuka piatich titulov na päť utorkových večerov v Kine Lumière sa začne 15. júna 2021. Cinevitaj je aj tohto roku súčasťou Festivalu talianskej kultúry DOLCE VITAJ.
"Po úspešnej sérii filmov venovanej majstrom umenia v rámci Cinevitaj 2019, prinášame aj v tomto ročníku dokumenty, ktoré priblížia tvorbu veľkých talianskych architektov a sochárov ako Palladio, Canova a Bernini. Filmy uvedieme v exkluzívnej premiére ako jedinú projekciu na Slovensku," povedal Marco Gerbi z Talianskeho kultúrneho inštitútu, ktorý spolu s Talianskym veľvyslanectvom a Taliansko – Slovenskou obchodnou komoroufestival Dolce Vitaj organizuje.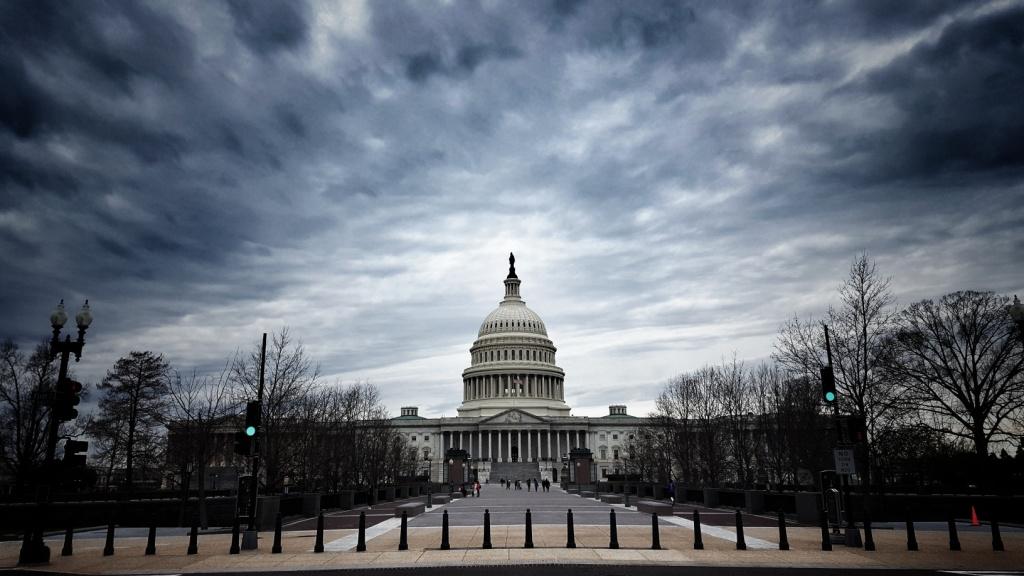 Filmová prehliadka predstaví Andreu Palladia, ktorého ideály symetrie, poriadku, dokonalosti a elegancie sa spojili v jedinečnom štýle nazvanom palladiánska architektúra. Po ňom bude nasledovať Gian Lorenzo Bernini, sochár deviatich pápežov, autor slávnych rímskych fontán či baldachýnu v Bazilike Sv. Petra vo Vatikáne. Film o ňom bol nakrútený v rímskej umeleckej galérii Villa Borghese, kde sa sústreďujú jeho najkrajšie sochy. O dve storočia neskôr žil a tvoril Antonio Canova, najvýznamnejší neoklasicistický sochár, priateľ Napoleona a jeho prvej manželky Josephiny. Bol umelcom harmónie a dokonalej krásy.
Druhá línia prehliadky je venovaná začiatkom talianskej komédie. Dva filmy – Chlieb, láska a…, V znamení Venuše – spájajú tri slávne mená: režisér Dino Risi a hereckí predstavitelia Sofia Loren a Vittorio De Sica.
"Filmy, ktoré sa budú v Bratislave premietať, boli digitálne reštaurované pomocou najmodernejších technológií v laboratóriách Cineteca di Bologna. Budú premietané v pôvodnom znení so slovenskými titulkami," doplnil Marco Gerbi.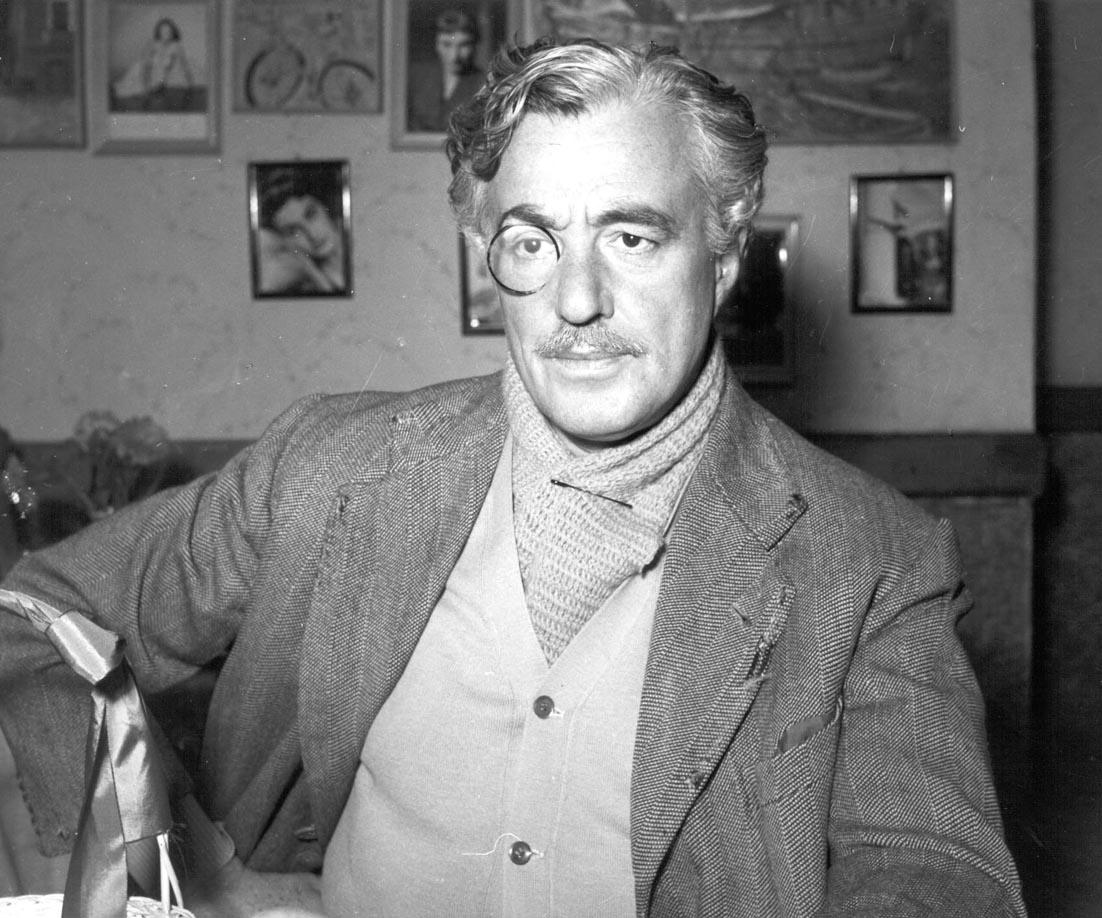 Prehliadku otvorí v utorok 15. júna 2021 o 18.30 hod, dokument PALLADIO. Film režiséra Giacoma Gattiho predstavuje s pôvabom a rafinovane umeleckú cestu Andreu Palladia, ktorý projektoval vily, paláce, baziliky a monumenty predovšetkým v Benátsku. Študoval a žil prevažne v meste Vicenza. Životný príbeh tohto renesančného architekta sa odvíja priamočiaro a bez zbytočných okrás, presne v štýle jeho tvorby. Svoje stavby navrhoval tak, aby boli v súlade s človekom a prírodou. Bol majstrom proporcií, svetla a materiálov. Palladio obnovil čistotu a jednoduchosť klasickej architektúry a priniesol do nej nové prvky. Rozprávanie formou epizód a dialógov odohrávajúcich sa paralelne v rôznych kontextoch spája práve on, Palladio, prostredníctvom svojho klasického štýlu, ktorý bol v priebehu storočí až dodnes mnohokrát napodobňovaný. Organizácia UNESCO priznala štatút Svetového dedičstva 24 vilám a 23 palácom, ktoré projektoval.
Druhý titul BERNINI je na programe v utorok 22. júna 2021 o 18.30 hod. Barokový sochár Gian Lorenzo Bernini pretváral našu kultúru pomocou mramoru, z ktorého vytváral silnou a presnou rukou takmer reálne výjavy. Jeho sklon k štylizácii a spôsob stvárňovania svojich objektov z neho urobili revolucionára. Ako sochár "rozprával" mytologické príbehy, zobrazoval ľudské bytosti a prírodu prostredníctvom ženských a mužských postáv v pohybe s výsostne ľudským výrazom: výraz Berniniho sôch nie je konvenčný ani statický, tie v sebe nesú hlboký a dramatický náboj. Dokument Francesca Invernizziho sa nakrúcal v rímskej Galérii Borghese, ktorá spravuje tie najvýznamnejšie a najpôsobivejšie diela veľmajstra barokového figurálneho umenia. Dokument je nabitý množstvom výnimočných záberov, zachytáva život a dielo sochára, maliara, urbanistu, architekta a scénografa od jeho príchodu do Ríma. "Mramor bol odjakživa nehybný. Berniniho majstrovstvo spočíva v schopnosti vnútiť nám predstavu skutočného pohybu, ktorý nikdy nenastal," povedala Anna Coliva, riaditeľka Galérie Borghese.
Tretí utorkový večer, 29. júna 2021 o 18.30 hod. ponúkne dokument ANTONIO CANOVA. Pôsobivá snímka Francesca Invernizziho zachytáva umelcov životný príbeh od objavenia jeho talentu až po medzinárodné uznanie. Canova bol majstrom európskeho sochárstva z prelomu 18. a 19. storočia a je považovaný za najväčšieho talianskeho neoklasicistického umelca. Dokázal vdýchnuť život klasickému ideálu krásy, odkazu starovekých Grékov. Sochárske remeslo sa učil v Benátkach, neďaleko svojho rodného mesta Possagna, väčšina jeho diel vznikla v Ríme, kde sa so svojou tvorbou aj preslávil. Vďaka najmodernejším technológiám snímania sa divák stáva súčasťou diela od vzniku až po výsledný efekt. Vníma biely mramor, asistuje pri tvarovaní sochy až po leštenie. S obdivom môže pozorovať mytologické výjavy, ktoré Canova s obľubou stvárňoval. V dokumente sa objaví množstvo sôch, je to historické a umelecké putovanie za veľkolepým životom a dielom umelca. Kunsthistorik Vittorio Sgarbi v úvode hovorí: "Canova predstavuje syntézu celej západnej umeleckej civilizácie…, jeho majstrovstvo spočíva v zachytení nadčasovej a bezhraničnej krásy, je umelcom harmónie, dokonalej miery v stratenom svete".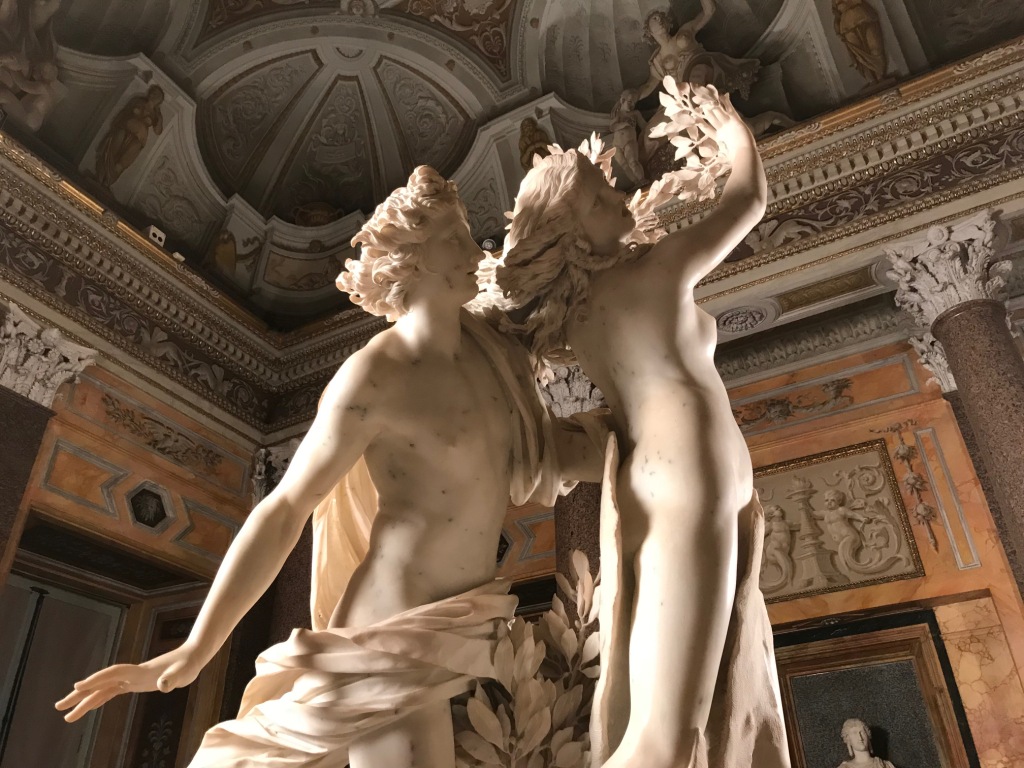 Prvé dva júlové utorky budú patriť komédiám, 6. júla 2021 o 18.30 hod. je na programe CHLIEB, LÁSKA A…,titul patrí k tomu najlepšiemu z talianskej komediálnej tvorby. Scéna, v ktorej Vittorio De Sica a Sofia Loren tancujú mambo sa stala emblémom talianskej komédie päťdesiatych rokov a preslávila pieseň Mambo italiano po celom svete. Snímka je súčasťou známej a divácky mimoriadne úspešnej ságy (Chlieb, láska a fantázia, Chlieb, láska a žiarlivosť) a mnohokrát bola premietaná v kinách po celom svete. Zábavný a pôsobivý scenár, dialógy plné vtipu a detailov, ktoré nechajú vyniknúť grandióznych hercov. Prekrásna Sofia Loren a neodolateľný Vittorio De Sica v úlohe záletného maršala dokázali v tomto filme ponúknuť zo seba to najlepšie. Snímka získala dvoch Donatellových Dávidov a Zvláštnu cenu pre režiséra Dina Risiho na festivale v Berlíne.
Tohtoročnú prehliadku Cinevitaj uzavrie v utorok 13. júla 2021 o 18.30 hod. pôvabná komédia v nezameniteľných tónoch päťdesiatych rokov, ktorú režíroval ešte mladý Dino Risi V ZNAMENÍ VENUŠE. Film sa opiera o brilantný scenár, pod ktorým sú podpísané známe mená ako Cesare Zavattini a Ennio Flaiano a rozohráva vtipné dialógy a komické situácie založené na fyzickom a charakterovom kontraste dvoch hlavných ženských hrdiniek. Krásna Agnese (Sofia Loren) priťahuje pozornosť všetkých mužov. Jej menej atraktívna, nesmelá sesternica Cesira (Franca Valeri) márne hľadá toho pravého. Ako predpovedá kartárka, hviezdy sú práve v znamení Venuše, ideálny čas nájsť lásku. Prehliadka sa koná ako súčasť iniciatívy talianskeho Ministerstva zahraničných vecí a medzinárodnej spolupráce Fare cinema, ktorá aj v tomto roku ponúka v týždni od 14. do 20. júna výber súčasných hraných filmov a dokumentov voľne prístupných online (viac informácií o podujatí na www.iicbratislava.esteri.it)
Festival Dolce Vitaj 2021 otvorila 21. mája výstava Corrada Cagliho Strach z totemu v Považskej galérii umenia Žilina, ktorá potrvá do 27. júna 2021. Corrada Cagliho môžeme považovať za akýsi symbol 20. storočia, pretože bol súčasťou avantgardných hnutí, prežil rasové prenasledovanie, dve svetové vojny, na jednej z nich sa zúčastnil ako vojak americkej armády, spolupracoval s množstvom umelcov a intelektuálov z celého sveta a najmenej štyrikrát sa zúčastnil Bienále v Benátkach.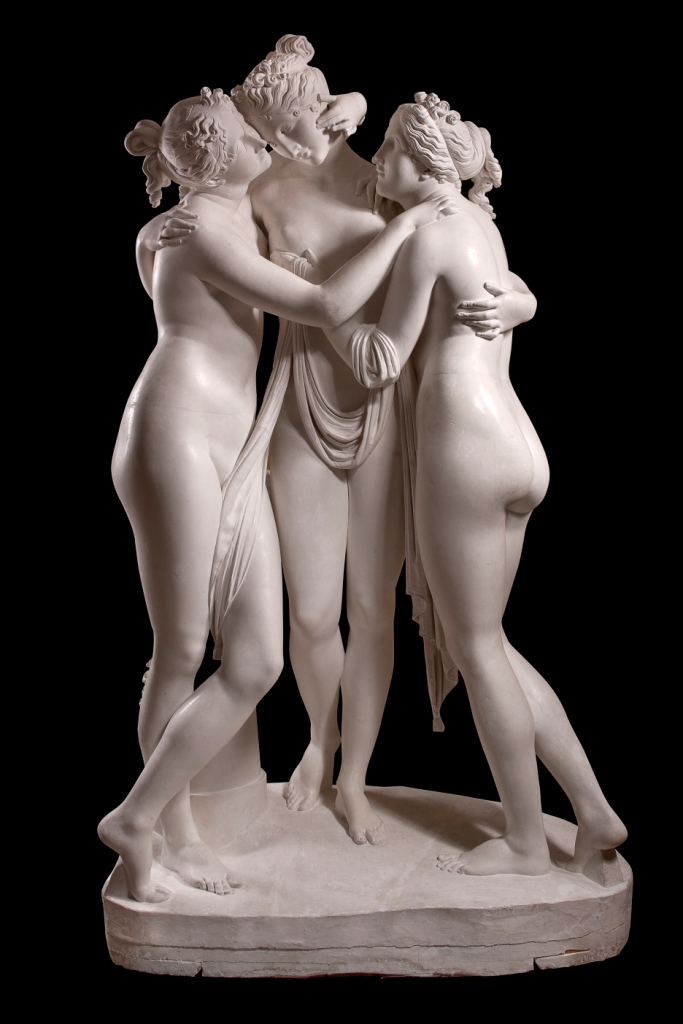 Festival ponúkne aj online stretnutia s troma významnými osobnosťami súčasnej literatúry: Silviou Avallone (Odkiaľ je život dokonalý), Marcom Missirolim (Vernosť), Nicolom Lagioiom (Krutosť).
Vo Výstavnej sále Univerzitnej knižnice na Michalskej ulici v Bratislave je od 11. júna do 11. júla sprístupnená výstava s názvom [Ne]viditeľné námestia, štyridsať významných talianskych umelcov – fotografov a spisovateľov -, súbežne zachytili námestie, ktoré sa viaže k ich rodnému mestu, alebo ktoré považujú za svoj nový domov. V čase lockdownu tak vytvorili dialóg medzi obnaženou architektúrou a novou formou spolužitia, ktorý stojí za zamyslenie, výsledkom je práve spomínaná výstava..
Štrnásty ročník festivalu predstaví okrem literatúry výnimočné momenty talianskej architektúry, dizajnu, výtvarného umenia, fotografie a filmu.
Festival sa koná pod záštitou primátora Hlavného mesta SR Bratislavy Matúša Valla.
Organizátori: Taliansky kultúrny inštitút v Bratislave, Talianske veľvyslanectvo, Taliansko – Slovenská obchodná komora
Viac informácií ponúkajú webové stránky: dolcevitaj.eu / iicbratislava.esteri.it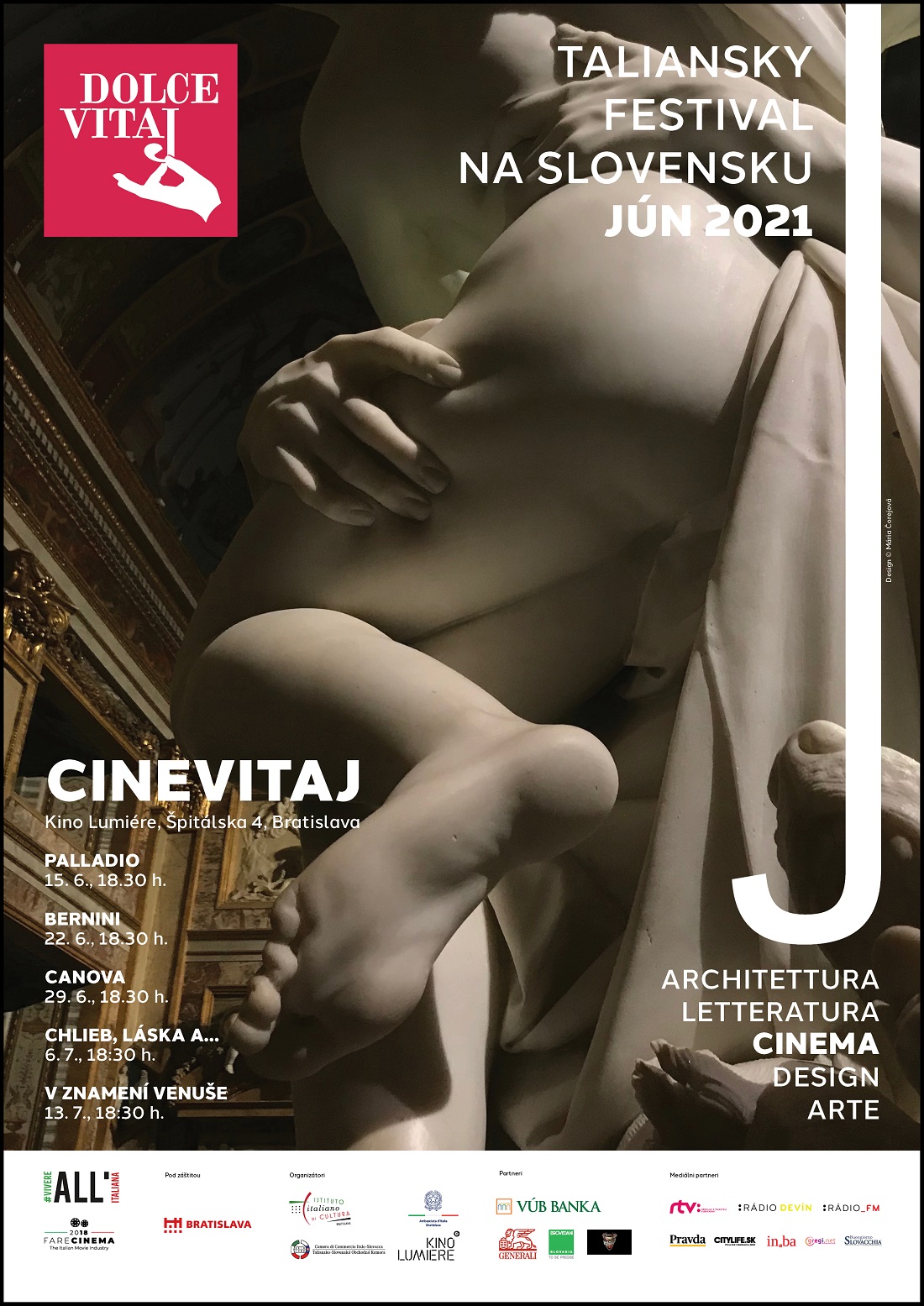 Zdroj: Zuzana Golianová, Mediálna podpora festivalu Dolce Vitaj 2021