Svojim soundtrackom k letným BBQ či ležérnym surf-rockom rozvlní Pohodu 2019 aj miláčik mileniálov Vernor Winfield McBriare Smith IV – známy ako Mac DeMarco. Tento 28-ročný kanadský spevák a multiinštrumentalista stihol za pol dekády nahrať tri albumy a dve LP, pričom hneď prvé dva albumy označil Pitchfork v oslavných recenziách "nálepkou" Best New Music.
Pri koncertných očakávaniach sa ale nenechajte oklamať lenivo-snovými nahrávkami. Mark Beaumont z The Guardianu napísal o jeho koncerte v londýnskej Brixton academy: "Po tom, ako učičíkal dav s pohodovými slnečnými melódiami tento kanadský excentrik v strhujúcom závere vypustil démona v show plnej kúzelných trikov, zavýjania či jódlovania."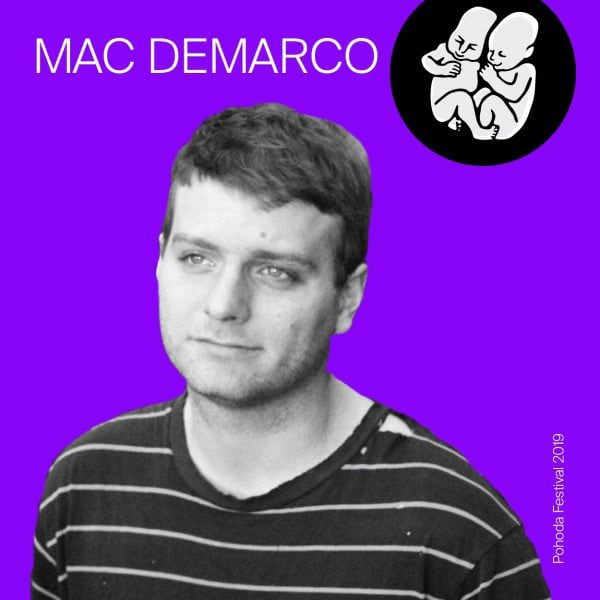 Z Edmontonu do Vancouveru, odtiaľ do Montrealu, New Yorku aby napokon zakotvil v Los Angeles. Mac DeMarco vo všetkých týchto mestách nasával nové inšpirácie, no pritom ostal verný svojmu nezameniteľnému štýlu, ktorý je trendom pre iných. V jeho piesňach dominuje gitara s výrazným chorusom a vibrátom doplnená o "osemdesiatkové" klávesy, ploché bicie, lo-fi basu a DeMarcov nezameniteľný hlas. Mac začínal vo vancouverských punk-rockových kapelách ako Japandroids či projekte Makeout Videotape. Po presťahovaní do Montrealu skúsil sólovú dráhu, no s jeho kariérou to nešlo tak dobre, ako dúfal, a tak si privyrábal účasťou na lekárskych experimentoch či ako robotník na cestách.
Všetko zmenilo mini-LP s názvom Rock and Roll Night Club, po ktorom Captured Tracks súhlasili s nahraním albumu. Debut s názvom 2 zaradil Pitchfork do Best New Music. Rovnakou "nálepkou" ocenil aj nasledujúci Salad Days, na ktorom Pitchfork vyzdvihol najmä DeMarcov civilný rozprávačský talent s prístupnou poetickou zasnenosťou. Album bol nominovaný na Polaris Music Prize. To už nebol DeMarco témou iba v USA a Kanade. NME mu dal deväť z desiatich a magazín Q ho zhodnotil slovami "potešenie je na našej strane". The Observer ocenil jeho citeľný DIY prístup a bezstarostnú náladu a Alexis Petridis z The Guardian napísal: "Salad Days nie je vec mainstreamového úspechu, no silne naznačuje, že jeho kult bude už len a len väčší." Tieto slová napĺňajú aj ďalšie jeho nahrávky…
V roku 2015 vydal mini album (LP) Another One, ktorý je podľa neho zbierkou ľúbostných piesní. Still in Rock dalo LP na tretie miesto najlepších albumov roka. Podľa MOJO je táto osbná nahrávka na povrchu čírou radosťou, no pod povrchom to nie je až také jednoduché. V máji 2017 vydal album This Old Dog, ktorý je podľa magazínu Clash doposiaľ najdôležitejšou kapitolou v jeho kariére a označil ho za intímny a úprimne poctivý. Do výberu najlepších albumov roka ho zaradili napríklad Exclaim, Les Inrockuptibles či Noisey. Počas minuloročného The Record Store Day vydal "demo" verzie piesní z This Old Dog pod názvom Old Dog Demos. Okrem toho v rámci edície nájdete aj viaceré piesne, ktoré sa na poslednú štúdiovku nedostali. V týchto príjemných obnažených úpravách si jeho piesne rozhodne vieme predstaviť aj v rámci našich Pohoda accoustic session ;). Koncom októbra zahral vo vypredanom Ateliéri Babylon, ktorý výborne vystihuje titulok recenzie na Hudba.sk s názvom: "Mac DeMarco a jeho kumpáni dali Bratislave lekciu koncertného humoru a slobody." Prísť si pre ňu môžete už o pol roka aj na trenčianske letisko.
Zdroj: Pohoda Festival s. r. o.