Na Pohode 2019 vystúpi britský MC/raper a hviezda žánru grime Skepta. Spolu s bratom Jamiem (Jme) založil kolektív a vydavateľstvo Boy Better Know. S ním spolupracoval aj na najnovšom albume Konnichiwa, za ktorý získal Mercury Prize (za sebou nechal Radiohead či Davida Bowieho) a redaktori Apple Music ho označili za album roka 2016.
V posledných rokoch spolupracoval s Dreakeom či Pharellom Williamsom a minulý sa podieľal aj na hite A$AP Rockyho "Praise the Lord (Da Shine)". Na portáli ranker.com je lídrom rebríčkov The Best British Rappers of All Time či Best The Best Grime artists. Prečo je tomu tak, predvedie Skepta vo štvrtok v noci na hlavnom pódiu aj návštevníkom Pohody 2019.
Z ulíc Tottenhamu na výslnie
Joseph Junior Adenuga, syn imigrantov z Nigérie, začínal ako DJ v grime kolektíve Meridian Crew. S bratom Jamiem sa následne pridal ku kolektívu Roll Deep a neskôr spoločne založili kolektív a zároveň label Boy Better Know. Pod ním vydal prvý mixtape Joseph Junior Adenuga a v roku 2007 debutový album Gretest Hits. V roku 2009 nasledoval Microphone Champion a v roku 2011 tretí album Doin' It Again, za ktorý bol nominovaný na BET Awards. V roku 2014 vydal pieseň "That's Not Me", za ktorú získal cenu pre najlepšie hudobné video na MOBO Award. Náklady na jeho produkciu boli pritom len 80 libier. V tom čase spolupracoval aj s Flatbush Zombies (na skladbe "Red Eye to Paris") či s Drakeom na remixe Wizkidovej piesne "Ojuelegba". Sám o sebe tvrdí, že sa cíti byť skôr sociálnym aktivistom, než raperom. A že je mimoriadne vplyvným aktivistom potvrdzuje aj zoznam Debrett z roku 2017, podľa ktoré je jedným z 30 najvplyvnejších ľudí v britského hudobného priemyslu (v zozname sú osobnosti ako Adele, Chris Martin, Simon Cowell, Ed Sheeran, Mark Ronson, agentka Emma Banks, ale i jeho sestra Julie Adenuga – moderátorka rádia DJ Beats 1).
Mimoriadne oceňovaný album Konnichiwa
Vydanie štvrtého albumu niekoľkokrát posunul, no oplatilo sa čakať. Štvrtá štúdiovka Konnichiwa vyšla v máji 2016 a s hitmi ako "That's Not Me", "Shutdown" a "Man" sa stala dvojkou britskej hitparády. Album si v rámci DIY prístupu produkoval takmer sám, no na skladbe "Numbers" sa podieľal Pharrell Williams. Louis Pattison z NME mu dal 5 hviezdičiek z 5 so slovami: "Konnichiwa je medzníkom britskej pouličnej hudby, nahrávka dosť dobrá na to, aby bola uvedená do sveta bez toho, aby na nej musel robiť kompromisy čo i len o palec." Okrem ceny za video k "That's Not Me" získal MOBO Award aj za pieseň "Shutdown". Za samotný album získal Skepta už spomínanú Mercury Prize a v tom čase ho ocenili aj oceneniami Bet Awards (Best International Act: UK) a NME Awards (Best British Male). Z Ivor Novello Awards si zase odniesol cenu pre skladateľa roka a spolu s Joshom Hommeom aj cenu za najlepšiu skladbu "Man". Skeptu po tomto ocenení vychválil aj Liam Gallagher slovami: "Ľudia ako Skepta sa držia pri zemi a vedia sa postaviť za dobré veci (Man like Skepta keeping it real. Got to stand for something)." Jeho grime kolektív Boy Better Know získal Innovation Award na NME Awards 2018. V októbri 2017 vydal EP Vicious, na ktorom sa objavili A$AP Rocky, Lil B, and Section Boyz. Spolupracoval aj na hite A$AP Rockyho "Praise the Lord (Da Shine)", ktorý má na YouTube takmer 130 miliónov pozretí. Len pred pár dňami nahral disstrack "Wish You Were Here" na "ex-kolegu" Wileyho. Budúce leto sa predstaví ako headliner festivalov Melt, Forbidden Fruit či Filed Day a nás teší, po menách ako The Roots, Gleb a Čavlenky poteší fanúšikov rapu na Pohode 2019 aj Skepta.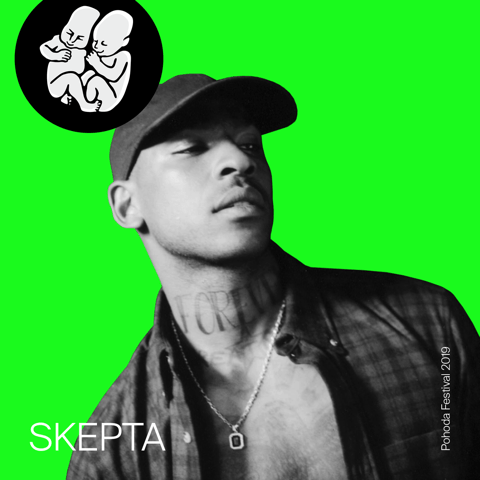 Zdroj: Pohoda Festival s. r. o.