Debutový album Všetko pominie česko-slovenskej skupiny Pekelné kone zrel od roku 2018 a vychádza dnes, 2. februára. Obsahuje dvanásť autorských piesní a jeho vydanie sprevádza videoklip k tretiemu singlu Ako Tieň. Práve táto skladba je úvodnou piesňou nahrávky a dokonale navodzuje jeho celú atmosféru. Pokiaľ máte radi tvorbu velikánov ako Leonard Cohen, Nick Cave alebo Tom Waits, oplatí sa dať šancu akustickému debutu Pekelných koní, ktorý je napísaný v slovenčine a hudobne vychádza z tradičného blues, country, folku, americany, slovenského a rómskeho folklóru.
Sedemdesiat percent skladieb zložil Tomáš Hricišák v priebehu pol roka ešte v 2018 a demo nahrávky pripravil ako duo s basgitaristom a svojím dlhoročným hudobným súputníkom Jozefom "Zelom" Zeleňákom. Pôvodne akustické duo (gitara, banjo, kontrabas, spev a vokály) sa transformovalo na plnohodnotnú kapelu doplnenú o bubeníčku Jane Meduza Hall, akordeonistu Radka Veselého a nepravidelného koncertného člena a producenta albumu Maja Džubáka, v ktorého štúdiu Smile 4 U Records aj nahrávka vznikla.
Pôvodne plánovali EP
Majo Džubák mal pôvodne robiť jeden mix pre Divnú Party začiatkom roku 2020, kde spevák a basgitarista pôsobia. "Keď spal u mňa v Prahe, púšťal som mu demáče Pekelných Koní, ktoré sme so Zelom nahrali v mojom byte. Pozval nás do Bratislavy s tým, že uvidíme, čo z toho bude. V štúdiu nás nechal rozložiť aparatúru, pretože chcel počuť, ako kapela hrá naživo. Zatiaľ čo sme hrali náš setík, robil si plán, ako budeme nahrávať. Myslel som, že vznikne EP. Za týždeň sme nahrali sedem skladieb, dali sme si od toho pauzu a do štúdia sme sa opätovne dostali po veľmi dlhej dobe, v lete 2021, kedy vznikli ďalšie skladby. Zároveň sme v pesničkách z prvej session upravovali niektoré aranže,"spomína na vznik nahrávky Tomáš Hricišák, ktorý je aj autorom textov.
Príbehové texty
Hudobníci aj producent potlačili svoje egá a podľa slov speváka všetko podriadili pesničkám. Keď to bolo potrebné, riešili každé slovo, pretože chceli, aby význam textu korešpondoval s hudbou. Zároveň sa im na album podarilo nenútene dostať rozprávačsky element. Všetko ale vychádza z textov, ktoré Tomáš Hricišák napísal. "Snažil som sa písať texty ináč. Pred tým boli viac básnickejšie, pre Pekelné kone vznikli príbehové texty, v ktorých sa nezopakuje žiaden refrén ani fráza a text má viac než A4 plného textu. Písať príbehové texty k pesničkám je pre mňa nová poloha a veľmi som sa v nej našiel. Sám som bol prekvapený, aký je slovenský jazyk bohatý, a keď som našiel tie správne slová, potešilo ma, že to nevyznelo banálne, čo mi povedali ľudia, ktorí mali možnosť počuť album ešte pred jeho vydaním."
Inšpirácia pre hudbu Pekelných koní pochádza zo spolupráce s írskym spevákom Travisom O'Neillom, s ktorým Hricišák a Zeleňák pôsobili v kapele Cardinal Sims, pokiaľ neodišiel spievať k punkovým Pipes and Pints. S ním robili country rock'n'rollovú muziku a práve vďaka spevákovi začal Tomáš Hricišák objavovať spätne country, folk a americanu. "V určitom pubetálnom veku som tieto žánre nemusel. Pre nás so Zelom to bola neprebádaná pôda. Začalo nás to baviť. Kopec tých pesničiek mi dokonca témami aj hudbou pripomína slovenský foklór. Folk je hudba prisťahovalcov z Británie, Škótska alebo východnej Európy, ktorí emigrovali do Ameriky. Z toho vzniklo americké country, aj keď ja mám radšej americanu."
Pekelné kone mohlo niekoľko zasvätencov zažiť ešte ako akustické duo. Kapelových koncertov nebolo veľa v plnej ostave. Všimli si ich kolegovia z českej kapely Wohnout, ktorí ich pozvali na dva koncerty v septembri minulého roku ako hosťa ich výročných koncertov k 25 rokom vzniku skupiny. Na oboch koncertoch si získali publikum, hoci boli pre všetkých neznámym pojmom.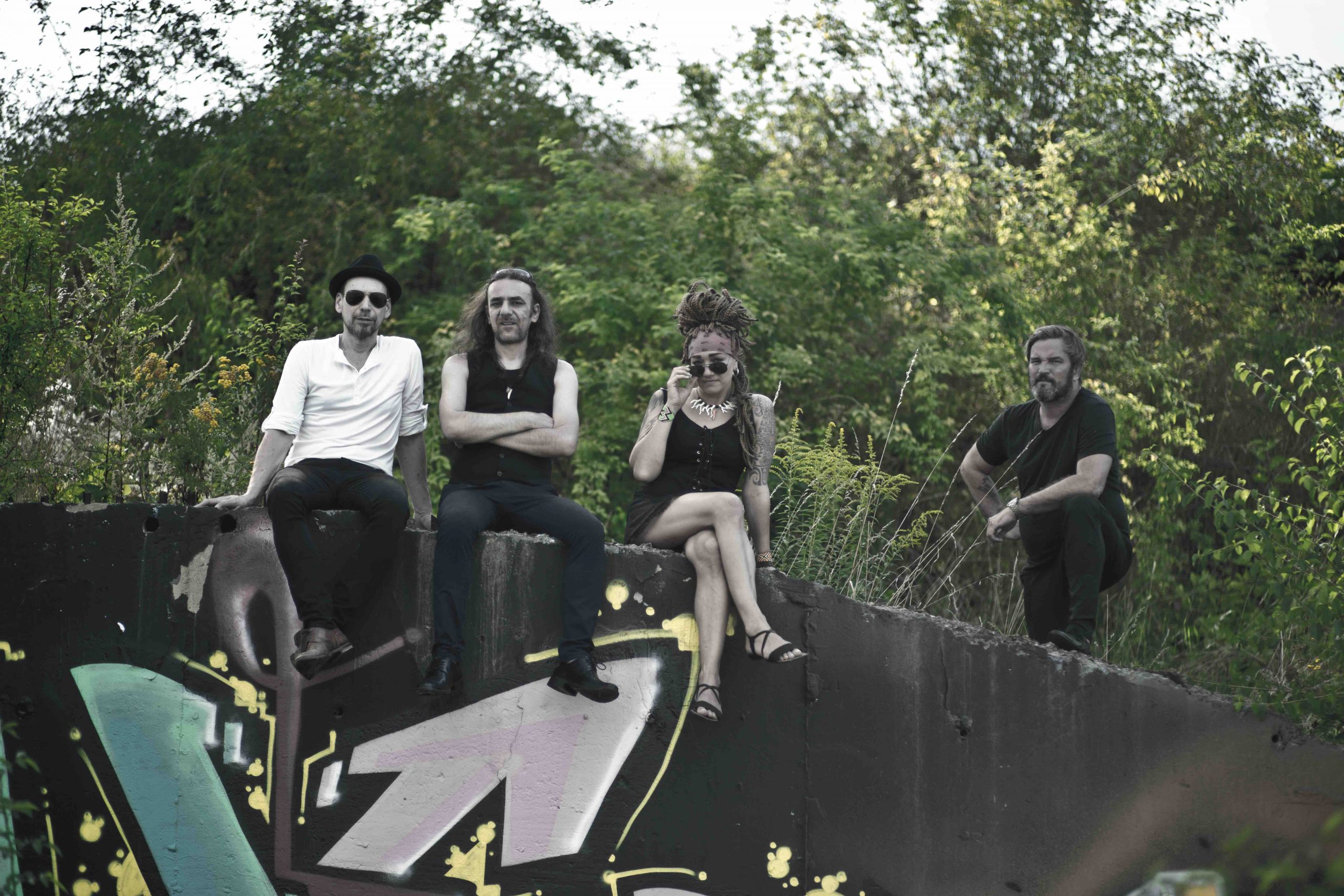 "Nie som dobrý popový songwriter, preto som vždy sádzal na žánre, ktoré síce nepočúva toľko ľudí, ale na druhej strane mám pre seba väčší priestor na tvorbu," priznáva Tomáš Hricišák.
Debutový album obsahuje dvanásť piesní, ktoré kapela nahrala spoločne digitálne. Mix a master však robil zvukový majster Majo Džubák na páse. Ako hostia sa na albume objavili Dorota Nvotová a Dáša Balanceková v skladbe Za horou, za dolinou a klarinetista Barnabás Kollárik v písničky Na dedinskej svadbe. Doposiaľ kapela predstavila prostredníctvom videoklipov single Nenávidím ťa a Hlasy v hlave. S oficiálnym vydaním kapela dnes zverejnila tretí singel Ako tieň, ktorý album otvára a nie je to náhoda. Poradie skladieb na albume zostavil Majo Džubák a skladba Ako tieň "úprimne, vo všetkých variáciách bola vždy prvá. Odzačiatku to pre nás bola dobrá skladba, ktorá by tento album mala otvárať," hovorí T. Hricišák.
Táto pesnička vznikla až v závere príprav albumu. Spevák mal dva dni hotovú hudbu, chýbal mu však text. "Celý čas sa mi v mysli vynáralo, že to má byť text á la mississippi blues. Chcel som do neho prepašovať voodoo atmosféru, aby znela drsne, bola o diablovi, o démonoch. Spomenul som si na Bad moon rising, ktorá má asi milión cover verzií a hoci s touto skladbou nemá nič spoločné, hneď sa mi v hlave začal odvíjať text, ktorý som si za pätnásť minút naťukal do mobilu." V tom čase čakal na eletričku č. 9 na Národnej tride v Prahe. Videoklip natočil vizuálny umelec, režisér a fotograf Norbert Tappert, ktorý pre Pekelné kone vytvoril aj predošlé dva videoklipy.
Debutový album Všetko pominie kapely Pekelné kone je od 2. februára 2022 v digitálnej distribúcii.
Redakciu informoval PR manažér Edo Kopček
Foto: Norbert Tappert