Pieseň Karla Kryla – Pasážová revolta – sa stala titulnou piesňou pripravovaného filmu Amnestie, ktorý prichádza do kín už túto jeseň, pri príležitosti 30. výročia Nežnej revolúcie. Špeciálne pre film skladbu prespieval Richard Műller, David Koller a Viki Olejárová.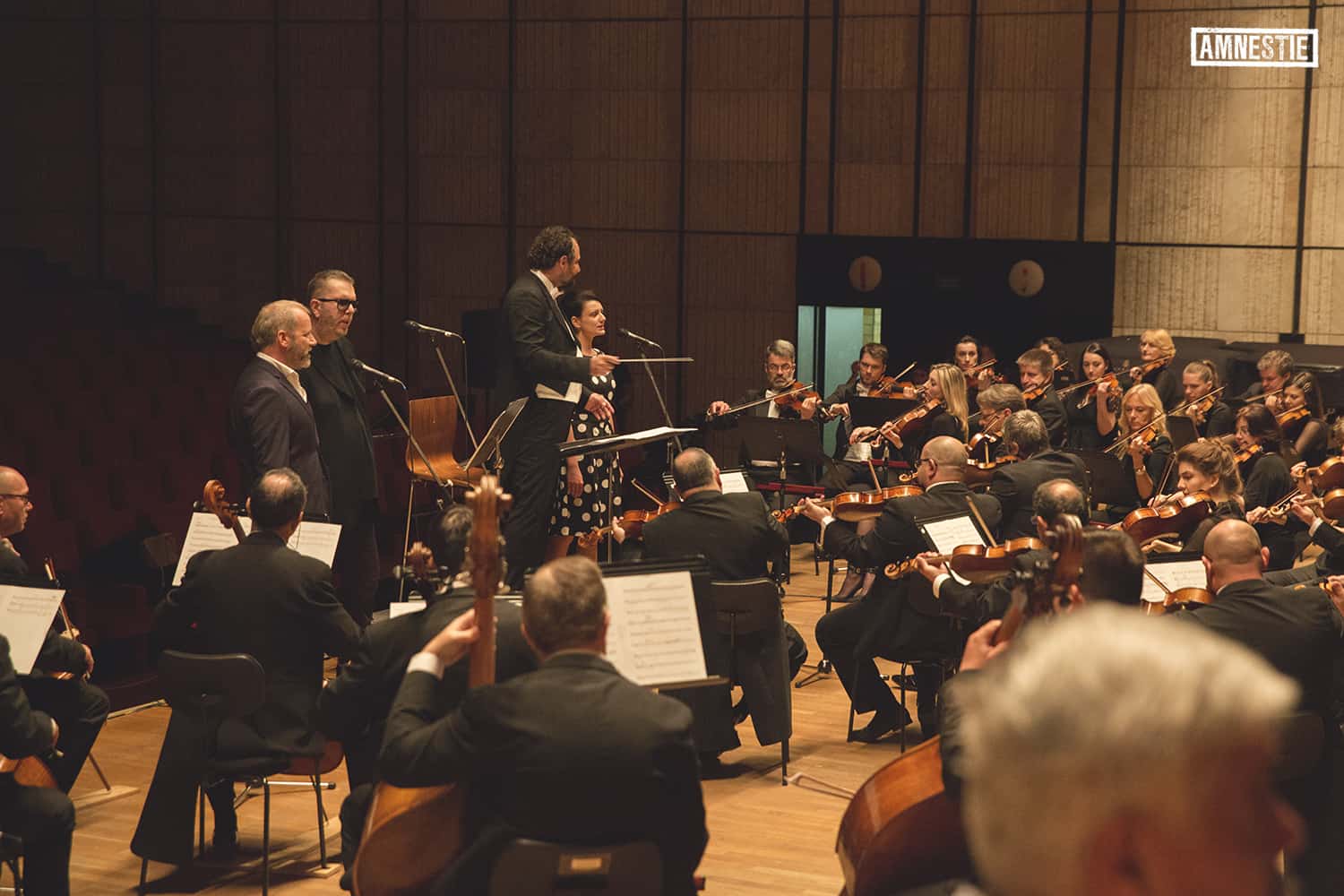 Producent filmu, Maroš Hečko, hovorí o tom, ako sa zrodil nápad pretvoriť Pasážovú revoltu do aktuálnej podoby: "Túto skladbu som pred desiatimi rokmi naspieval s Free Faces. Vedel som, že ju raz použijem vo filme. Text Pasážovej revolty je nesmierne aktuálny aj dnes. A prečo Koller, Muller a Viki? Film Amnestie je československý, jeho príbeh sa odohráva v ČSSR, hovorí sa v ňom oboma jazykmi, máme československé obsadenie, točili sme v obidvoch krajinách – preto som oslovil Davida Kollera na českej a Richarda Mullera na slovenskej strane. Obaja majú k 80. rokom silnú väzbu cez svoju hudbu. David ma poprosil, či by som nevedel nájsť miesto aj pre dámu a odporučil priamo Viki Olejárovú. Tak vstúpila do nakrúcania s orchestrom žena a som za to vďačný."
Možnú titulkovú pieseň vyberali producenti Maroš Hečko a Peter Veverka z množstva československých interpretov, ale na Krylovi sa okamžite zhodli. Pasážovú revoltu následne vybrali ako prvú a už ani nezvažovali inú skladbu. Maroš Hečko hovorí: "Napriek tomu, že skladba vznikla v roku 1968, k filmu sa hodí aj v kontexte s revolúciou v roku 1989, aj v kontexte so skepsou, ktorá dnes vládne. Ryjeme držkou v zemi, ako hovorí Kryl v závere." A ako by na výsledok reagoval Karel Kryl, keby si pieseň vypočul v novom šate? "Verím, že by sa mu to páčilo. Nikolaj Nikitin poňal Krylovu skladbu pestro, v prepojení so smetanovskou tradíciou a urobil pre Symfonický orchester Slovenského rozhlasu výnimočný aranžmán. Skladbou sme vzdali Karlovi Krylovi hold. Pre mňa je to veľká postava československých dejín,"hovorí Maroš Hečko.
Videoklip sa natáčal v Slovenskom rozhlase, so sprievodom Symfonického orchestra, celý počin režíroval Jonáš Karásek, vo videu sú použité aj snímky z filmu Amnestie. Už samotný proces vzniku skladby Pasážová revolta nebol úplne tradičný. Ako prvý sa natáčal spomínaný klip a až potom sa v štúdiu nahrávali vokály. "Celú pieseň najskôr naspievala Viki Olejárová. Neskôr sme s Davidom na jej pieseň vlastne robili playback. Keď sa dotočil film, každý z nás finálne nahral svoj part,"hovorí Richard Műller. "Celý koncept vymyslel Maroš Hečko, jeden z producentov filmu. Prišiel za nami už s tým, že by rád prerobil práve túto konkrétnu pieseň symfonicky a že do nej chce zakomponovať aj tóny Smetanovej Vltavy a Vyšehradu. Keď vyslovil toto spojenie, ani na chvíľu som nezaváhal. Bolo mi jasné, že pri tomto chcem a musím byť. Bola to rýchla, príjemná a dúfam, že aj užitočná práca!" dopĺňa Richard Műller.
Pasážová revolta z roku 1969 nesie podľa Richarda Műllera mimoriadne posolstvo aj pre dnešnú dobu: "Je to mimoriadne aktuálna pieseň, rovnako ako skladba, ktorú sme dokončili s Ondřejem Soukupem a mala by byť tiež na soundtracku k filmu Amnestie. Ide o Shakespearov sonet, 400 rokov starý text, veľmi aktuálny. Majster Shakespeare napísal tiež niečo, čo bude platiť, bohužiaľ, ešte pre mnoho generácií."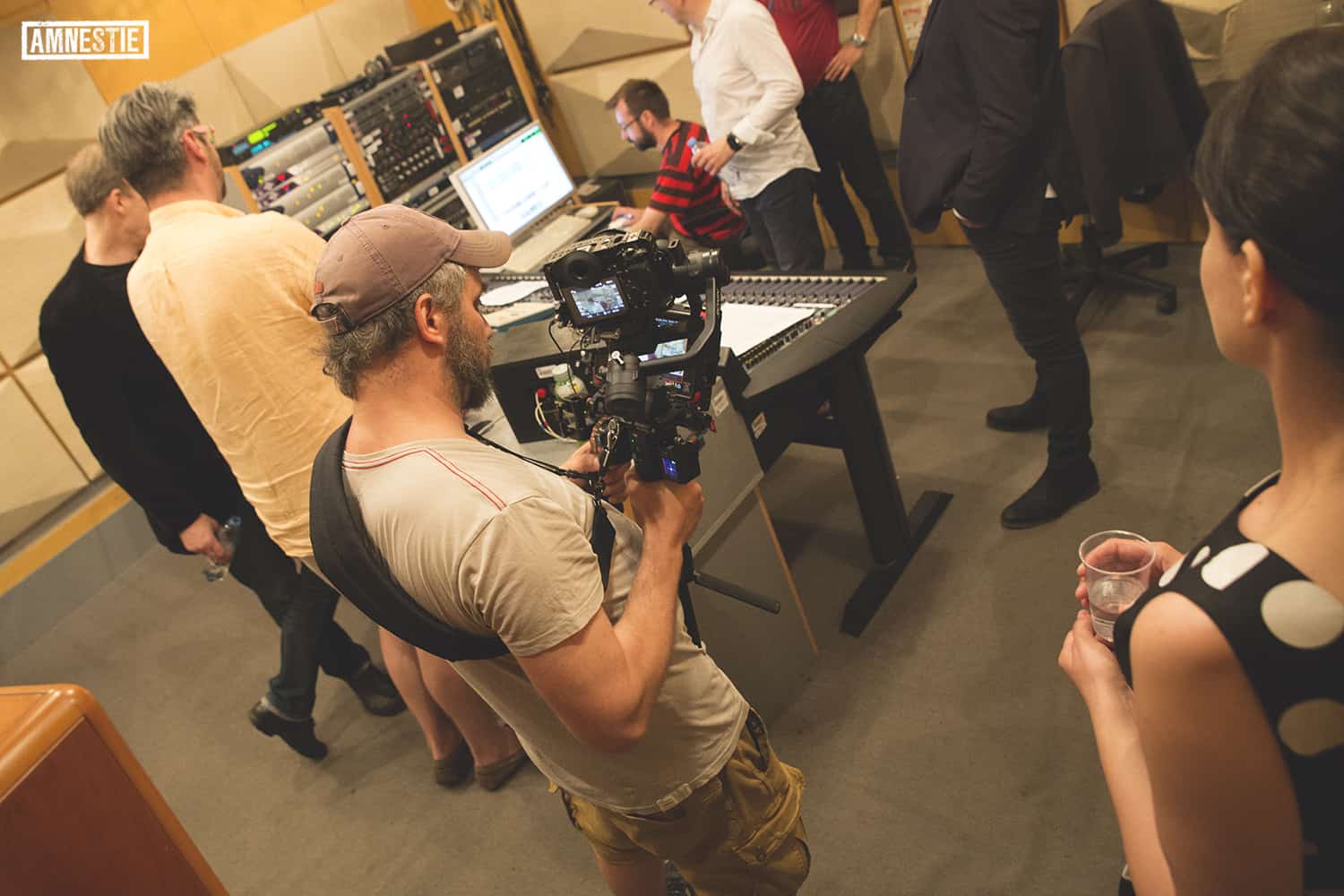 Viki Olejárová opisuje situáciu nasledovne: "S Davidom sme už spolu spievali jednu Krylovu pieseň – bolo to na koncerte pre Jána Kuciaka a Martinu Kušnírovú v Bratislave. Po čase sa mi ozval, či by som nemala chuť s ním a s Richardom nahrať titulnú pieseň k filmu Amnestie. Išlo o Pasážovú revoltu. Okamžite som súhlasila, pretože Kryl, Müller a Koller sú moje srdcovky a legendy! Bolo mi cťou spolupracovať na tomto projekte. Nikdy predtým som nepočula pieseň Karla Kryla v takom veľkolepom prevedení. Mala som husiu kožu takmer počas celého nahrávania… Keď som neskôr počula výsledok, dojalo ma to. Veľmi ma teší, že sa na tvorbu Karla Kryla nezabúda, no zároveň musím dodať – robme všetko pre to, aby jeho piesne už nikdy nemuseli byť aktuálne!"
Aranžmány v romanticko-symfonickom prevedení vytvoril hudobník Nikolaj Nikitin, spevákov sprevádzal Symfonický orchester Slovenského rozhlasu s dirigentom Petrom Valentovičom. V skladbe zaznejú aj motívy zo Smetanovej Vltavy a Vyšehradu. Skladbu vydáva Universal Music.
Uvedenie filmu Amnestie do kín budú sprevádzať aj ďalšie udalosti – vernisáž naplánovaná na 17. novembra v pražskej Lucerne otvorí výstavu diel uznávaného maliara Jozefa Gertliho Danglára a kniha s rovnakým názvom ako film – Amnestie, s podtitulom Sloboda ako hrubá čiara za minulosťou – vyjde v polovici októbra v nakladateľstve Slovart.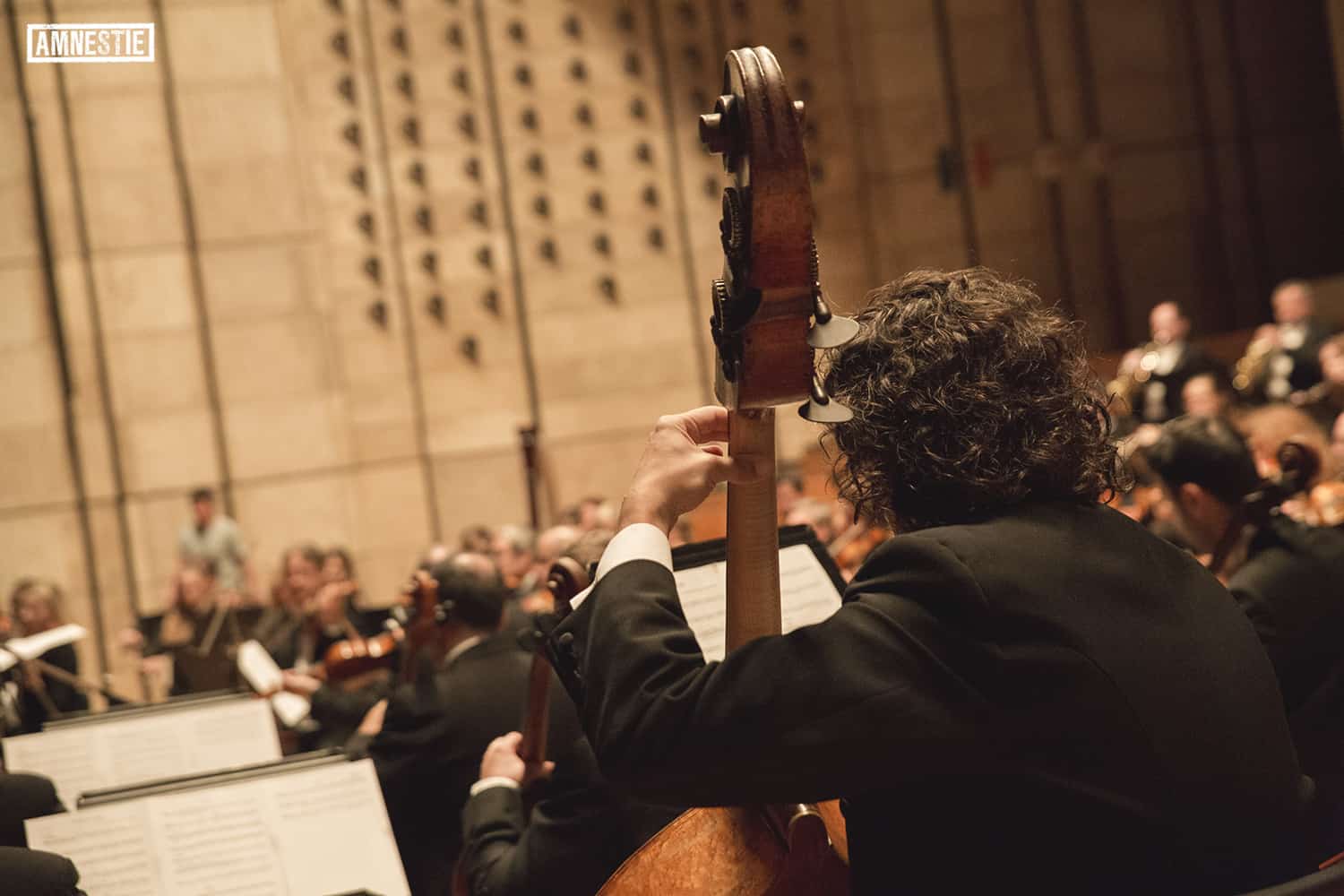 KAREL KRYL
Pasážová revolta
Titulná skladba filmu AMNESTIE
Hudba: Karel Kryl
Text: Karel Kryl
Nahral: Symfonický orchester Slovenského rozhlasu
Dirigent: Peter Valentovič
Aranžmán: Nikolaj Nikitin
Producent: Maroš Hečko
VIDEOKLIP
Strih a réžia: Jonáš Karásek
Kamera: Enrik Bistika a Jonáš Karásek
Maľby použité v klipe: Jozef "Danglár" Gertli
Účinkuje: Symfonický orchester Slovenského rozhlasu
Producent: Maroš Hečko
Zdroj: TS