Ženské vokálne trio, ktoré od roku 2009 pôsobilo v hudobnom zoskupení Bratislava Hot Serenaders pod názvom Serenaders Sisters, sa ako samostatné Paper Moon Trio v roku 2016 stalo víťazom súťaže Jazz Start Up.
Jeho členky Barbora Medeková (spev, ukulele), Juliana Šeregiová (spev, husle) a Andrea Kružliaková (spev, gitara) tak dostali možnosť natočiť svoje debutové CD. Pod názvom Teba vrúcne milujem vyšlo vo vydavateľstve Pavian Records a do hudobného života ho slávnostne uvedú členky tria spolu so svojimi vzácnymi hosťami 14.5.2019 v Koncertnej sieni Klarisky v Bratislave.
Názov Paper Moon Trio si hudobníčky spontánne zvolili podľa jednej z prvých piesní zo svojho repertoáru – It´s Only A Paper Moon. Rovnako ako keď pôsobili pod umeleckým vedením Juraja Bartoša v Bratislava Hot Serenaders, snažia sa aj vo svojom zoskupení o prísne dodržiavanie štýlových zásad tzv. starého alebo Hot Jazzu 20-tych rokov minulého storočia. V repertoári tria sú aj skladby neskoršieho obdobia 30-tych a 40-tych rokov.
Na slávnostnom uvedení albumu vystúpia okrem samotných členiek Paper Moon Trio aj ich hudobní hostia: skupina Five Gentlemen, rovnako sa venujúca interpretácii Sweet and Dance Music tohto obdobia, spevák skupiny Bratislava Hot Serenaders Miloš Stančík a spevák skupiny Five Gentlemen Jozef Kuriľák.
Za všetkých, ktorí sa na nahrávaní albumu podieľali a vystúpia v tento májový večer v Klariskách hovorí Andrea Kružliaková: "Dopriali by sme všetkým ten krásny pocit, keď môžeme spolu hrať a harmonizovať, pretože je to niečo neopísateľne čarovné. Dúfame, že sa láska, ktorú sme vložili do každej piesne, vnesie do sŕdc všetkých, ktorí si naše CD vypočujú."
Vstupenky na koncert v cene 10,00 € sú k zakúpeniu v kamennej predajni Dr.Horák na Medenej 19 a v predajnej sieti ticketportal.sk.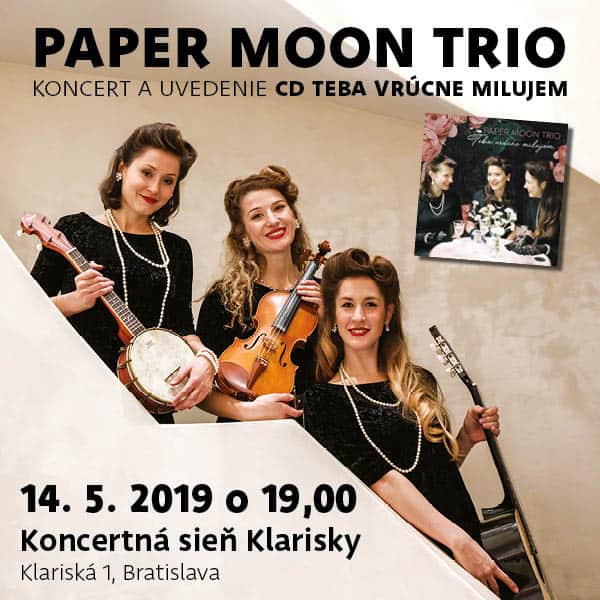 Paper Moon Trio – uvedenie CD Teba vrúcne milujem
14.5. o 19,00 Koncertná sieň Klarisky, Bratislava
Hostia : Five Gentlemen, Miloš Stančík a Jozef Kuriľák
https://www.facebook.com/events/314754635885228/
Zdroj: Dr. Horák