Dvanástka je pre mnohých šťastným číslom. Pre podujatie Objatie tónov v Leviciach to 30. januára 2022 platilo na 100%. 12. ročník benefičného koncertu pre osoby s mentálnym a zdravotným postihnutím pripravilo Občianske združenie Milan Štefánik v spolupráci s Občianskym združením Ostrov v Leviciach a pani Beátou Miškovičovou. Práve Beátka stála pri podujatí od jeho zrodu a ani nedúfala, že bude na toľkých úspešných pokračovaniach. "Stále mám chuť byť pri tom a možno že teraz aj o to väčšiu, čo máme v spoločnosti."A miesto konania? Kino Junior, Levice. Vstup pre pozvaných v režime OP.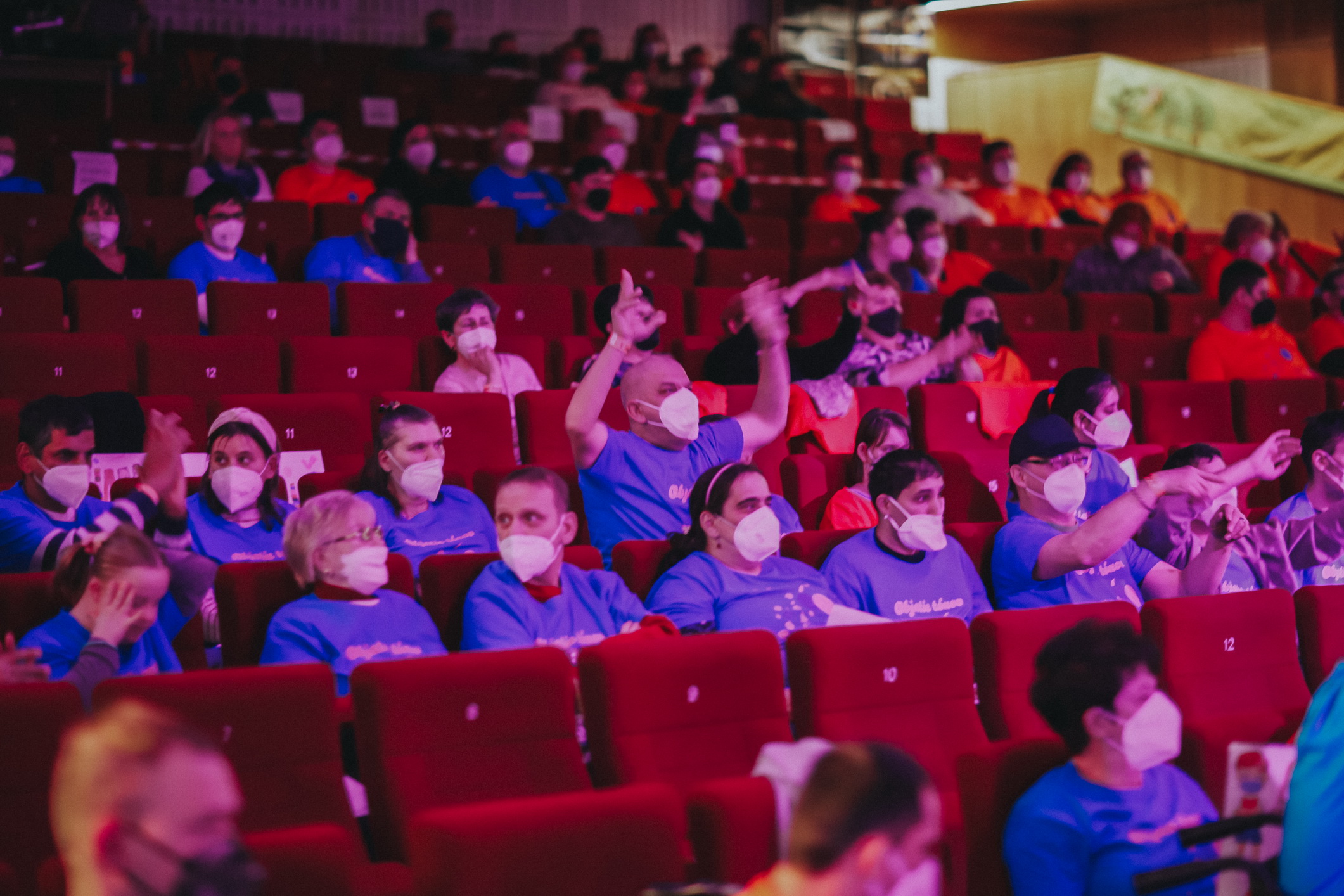 Pravidlami sa riadil celý koncert, ale i prípravy na neho. Dobrovoľníci od rána dezinfikovali priestory. Pripravovali hľadisko. Lepili usmernenia a upozornenia pre divákov. Chystali tričká. Každý účastník dostane jedno krásne farebné. Partia chalanov nosila aparatúru na pódium. Zapájali a skúšali, či všetko funguje ako má. Ešte upraviť šatne pre účinkujúcich. Všetci sa zosinchronizovať a ide sa na to. Púšťame prvých hostí. Pri vstupe kontrola, na ktorú si tak akosi už každý zvykol. Usadenie do hľadiska. A to už za nežných tónov gitary a krásneho hlasu mladej speváčky a song-writterky Andie J. Piesne si sama komponuje. Píše texty. "Keď som dnes spievala pre týchto ľudí, tak som sa cítila veľmi dobre. Som naozaj rada, že som tu mohla byť."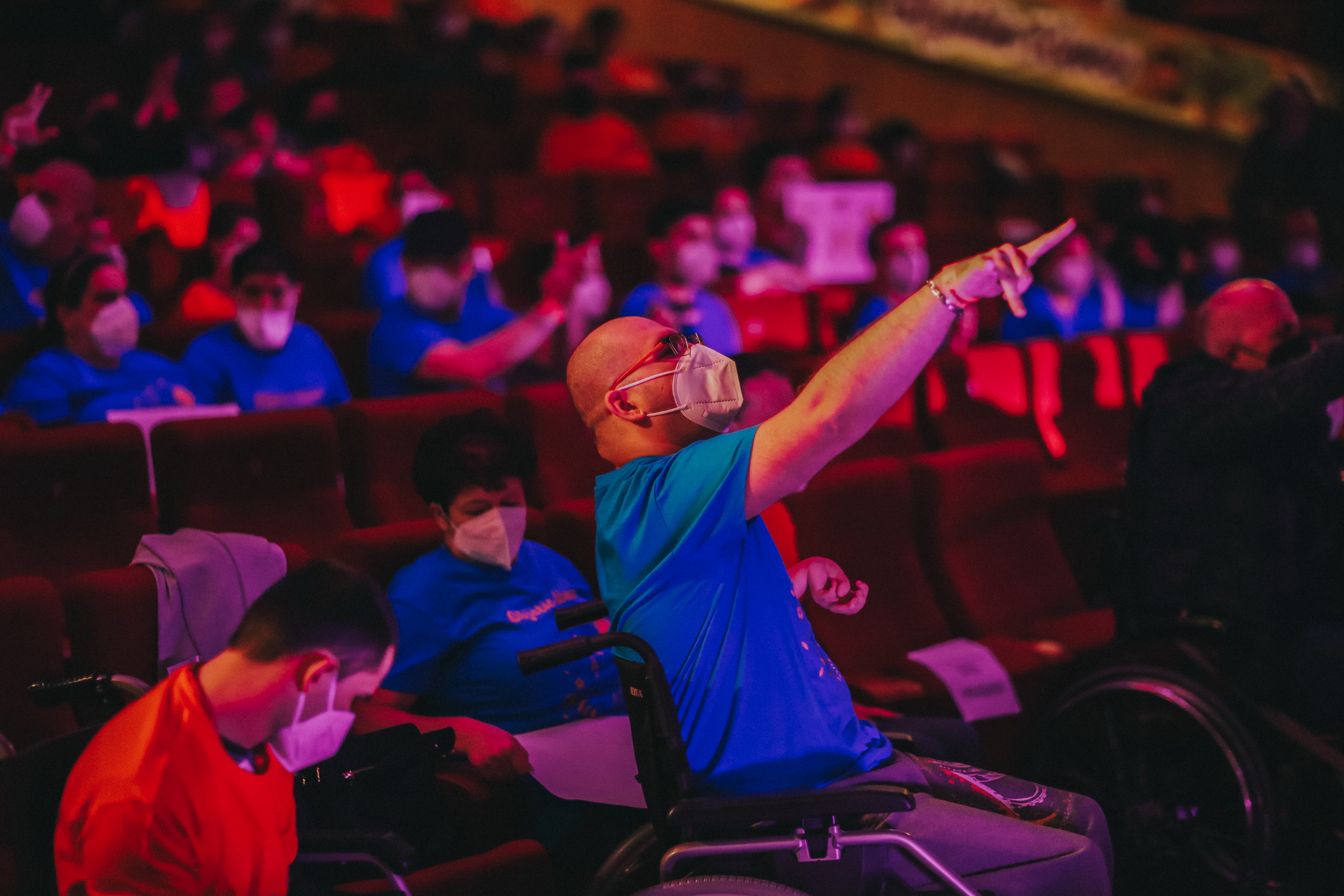 Všetci pohodlne usadení. Moderátorského mikrofónu sa ujal Janko Gordulič, známy aj z televíznej relácie. Hneď sa s vtipom opýtal: "Stenu dáme preč?" Pozval si k sebe Milana Štefánika, primátora Levíc RnDr. Jána Krtíka, PaedDr. Igora Édera – podpredsedu Nitrianskeho samosprávneho kraja, pani Lenku Liptákovú – riaditeľku OZ Ostrov a pani Beátu Miškovičovú. Všetci sa v krátkosti prihovorili "inak obdareným". Z úst primátora odzneli i slová: "veľmi sa teším, že sa opatrenia súvisiace s pandémiou uvoľnili natoľko, že opäť naše mesto mohlo hostiť toto úžasné podujatie." Pripomenúť protiepidemiologické opatrenia. R-O-R. V sále sa nesmie jesť ani piť.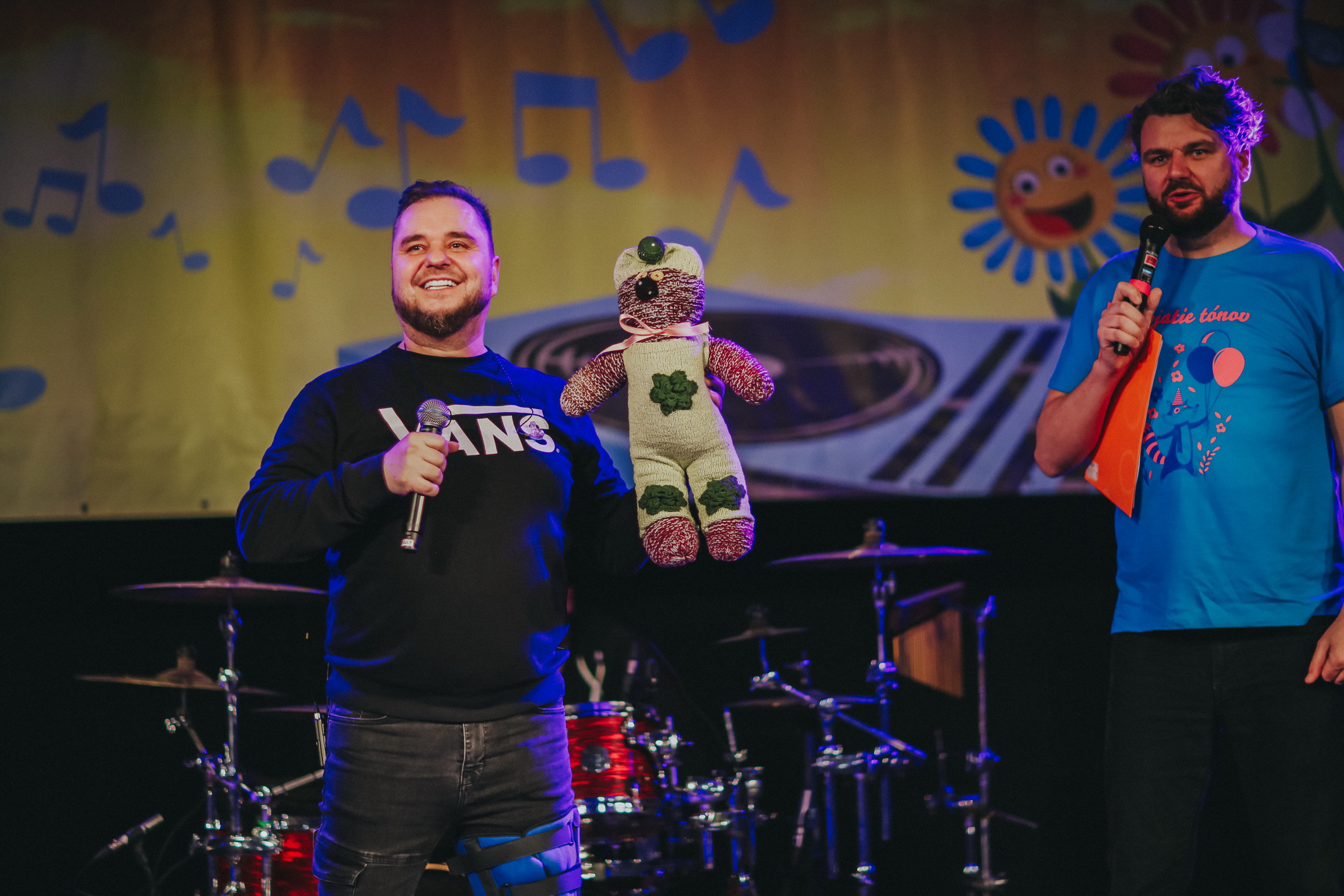 Prvé ťahy sláčikom po strunách huslí. Kroj. Košele s ľudovými motívmi. Švárni junáci sú na scéne. Kollárovci. Dvadsať päť rokov tvoria ich repertoár slovenské ľudové piesne obohatené vlastnými modernými úpravami, vlastnou tvorbou. "Bez problémov sme obetovali aj nedeľu a ten čas s rodinou a prišli k vám." Goralský temperament. Basa a akordeón. Len tebe spievam…no dnes spievali nám všetkým. Husle na pódiu a husle aj v publiku. Kollárovcov prišlo podporiť dievčatko v krásnom kroji a jej brat s husličkami. Za odmenu foto. Texty o láske. Kukulienka. A bratia by sa uživili i rozprávaním vtipov. Medzi piesňami rozozvučal sálu smiech. Cimbal. Ruky nestíhate ani sledovať. Členovia kapely si všimli i farebné plagáty. "Transparenty, plagátiky. Dokonca som videl aj takú vyrezávanú basu z kartónu, pekne vymaľovanú. Tak chválim všetkých umelcov, veľmi dobre to zvládli a majú veľkú jedničku."Veľmi ich zaujal jeden z nich. Od Mareka zo Žiaru. Prezradil na seba, že tiež rád spieva. Za odmenu k nemu putovalo CD. A kolotoč piesní pokračuje. Mám ja hrušku, Mal som raz jedno dievča. A aj tú ich, z rodného kraja. Goraľu. Melancholickú strieda ešte veselá. Mariša. "Publikum bolo parádne. Verím, že sme ich potešili našou muzikou, naším spevom." Veľký potlesk.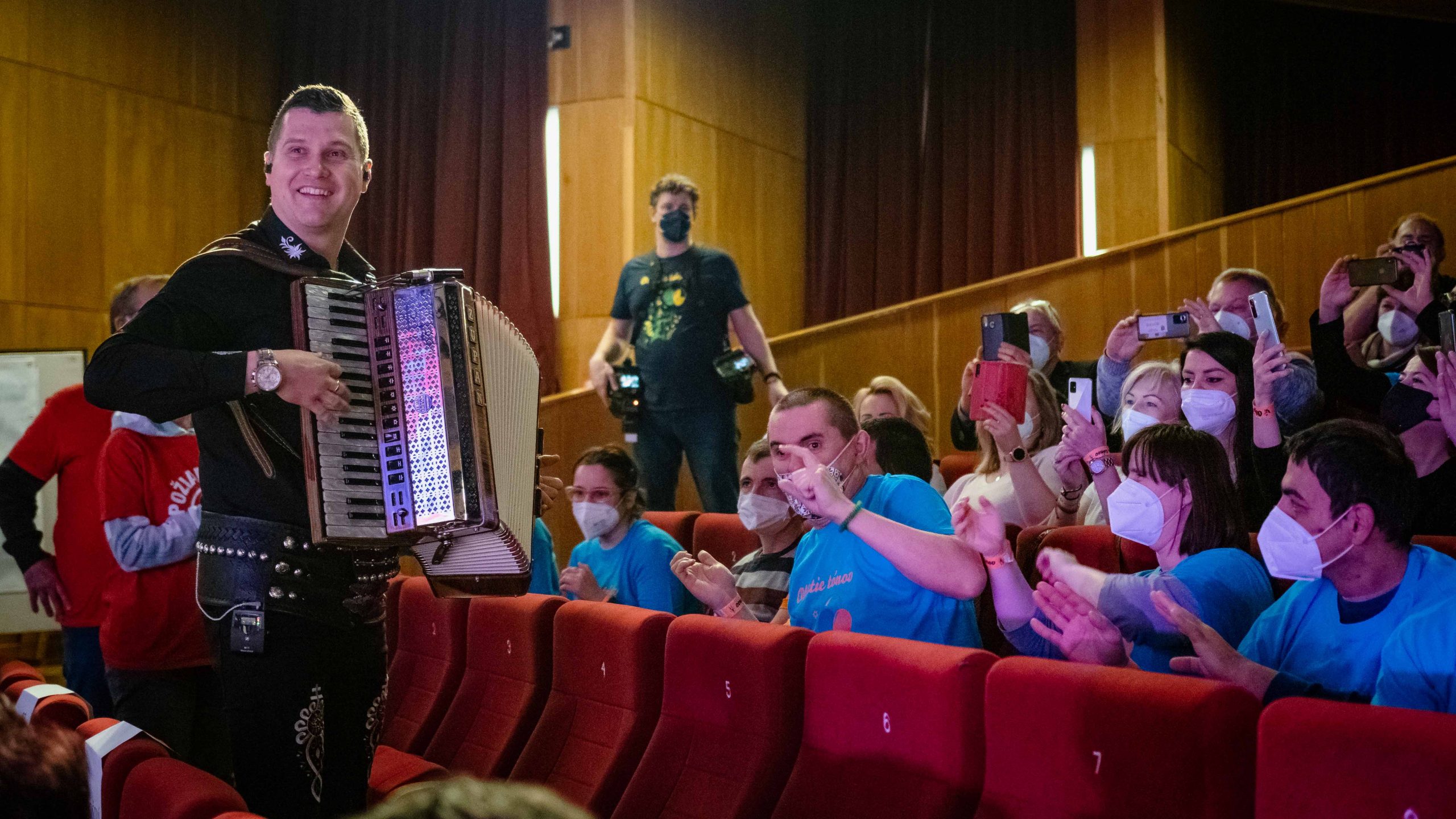 Úprava pódia. Výmena nástrojov. Správny čas na predstavenie dezinfekčnej hliadky. Ako ich nájdete? Červené tričká. Dezinfekčný sprej.
Výmena osadenstva na pódiu. Prichádza pravý rock. Desmod a Kuly. A začali hneď z ostra. Rocková gitara a bubny. Čierna ovca rodiny, Čierna diera. Aj členovia kapely zladení v čiernych tričkách. Ale nebuďme pesimistickí. Mikrofón si berie nežnejšia časť kapely – Mirka. Nevrav mi aký som. Texty plné ľudských osudov. Lásky. Chýbania."Zmena z toho stereotypu, ktorý prebieha stále u nich. Zrazu príde nejaký, ja by som to nazval že veselý deň, kedy idú niekam preč, sadnú si, počúvajú muziku, bavia sa. Jednoducho je to niečo krásne." Basová gitara a 100 rokov samoty. A Lavíny ďalších a ďalších piesní. Novšie – Kométa, i staršie – Niekto ti to povie skôr než ja. Jeden hit za druhým. Slová sa ozývajú i z publika. Na piesňach od Desmodu som aj ja "závislá". Moderné technológie ponúkajú rôzne možnosti. Preto sa niet čo čudovať, že pri baladickej Vŕbe sa v hľadisku rozžiarili svetlá z mobilov a vytvorili krásnu romantickú atmosféru. Pár dní bude emócia doznievať v srdciach "inak obdarených". Pred poslednou piesňou si Kuly žiada spoluprácu všetkých. Veď slová piesne pozná každý. Vyrobená pre mňa. A dnešný koncert vyrobený práve pre nás. "Pre mňa je to stále také, že ako prežívajú tú muziku s nami. Tak sa ich to dotkne. Veľa krát, keď vidím na koncerte, že niekoho len rozplačú tie pesničky, tak je to také, že dostávajú brutálnu emóciu týmto." Aj tieto slová odzneli z úst Mirky tesne po koncerte.
A čo hovorí Kuly na plagáty so svojim menom? "Plagát. Tak tu to mali skoro všetci. Takže bolo vidieť a cítiť, že si s tým dali prácu, námahu, a tešili sa vlastne na to. Dá sa povedať, že niekedy oveľa, viac ako ľudia, ktorí prídu na festival. A to je najkrajšie, čo môže byť." To už na pódium k nemu prišli Milan Štefánik a Janko Gordulič. Veď také perfektné práce treba odmeniť. Výber ťažký. Krátka porada. Vybrané tretie, druhé, prvé miesto. Ale odmenu v podobe malého darčeka dostane každý s mávadlom, transparentom.
Čo na záver? Veľký potlesk. Balíček s občerstvením. Zamávanie. Vyzdvihnúť si vetrovky a kabáty v šatni. A poďakovať. Poďakovať organizátorom, že to opäť zvládli. Dobrovoľníkom, sponzorom. Interpretom. So slovami Janka Gorduliča na záver. " Ja som si to užil naozaj fantasticky. Verím, že ste sa zabavili aj vy, preto že bolo to na Vás vidno. Teším sa na vás aj niekedy na budúce."
Text: Júlia Platková
Foto: Igor Frimmel, Marek Vaco a Milan Maršalka
Video: Igor Kolesár, Levice online