Druhá augustová nedeľa patrila na Hlavnom námestí v Bratislave vystúpeniu v podaní Anky Repkovej a americkej divy menom Moya Angela.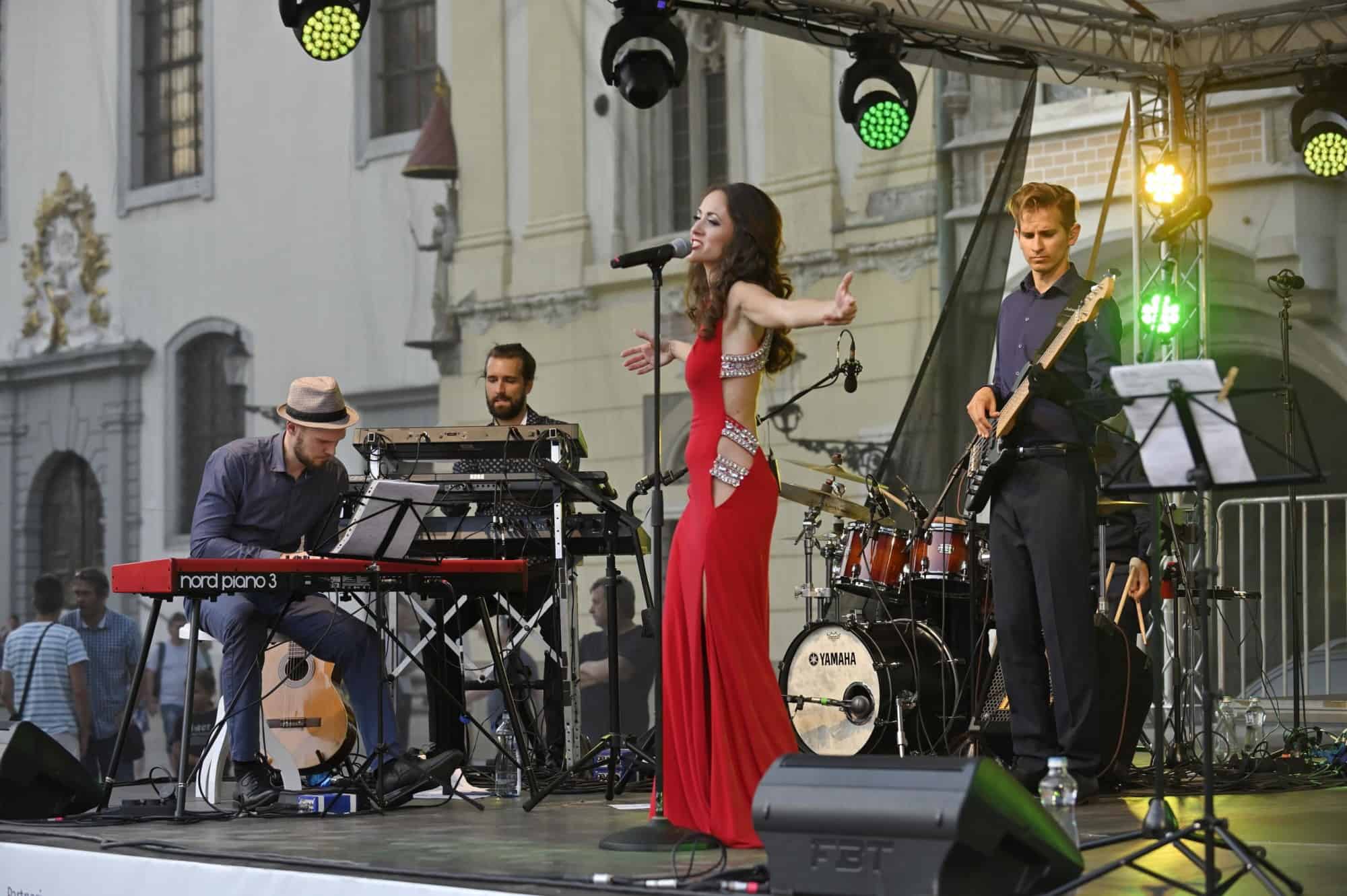 Koncert otvorila slovenská speváčka, autorka piesní, hlasová koučka a herečka Anka Repková. Predstavila piesne zo svojho albumu "Som pravdivá", ale aj svoju úplne novú tvorbu v angličtine. Okrem kapely a vokalistiek ju sprevádzal aj jej zbor Spievanie nás baví. Spevácky zbor pre dospelých, ktorí je otvorený všetkým záujemcom bez konkurzu založila v roku 2015 po návrate zo svojho pôsobenia v Londýne. O rok na to začala organizovať koncerty so zahraničnými hosťami, ktorým vždy predchádza spevácky workshop pod vedením daného hosťa. Rovnako tomu bolo aj počas štvrtého ročníka projektu.
Špeciálnou hosťkou večera pod holým nebom bola americká speváčka, herečka a hlasová koučka Moya Angela. Semifinalistka súťaže "Amerika má talent" účinkuje na Broadwayi od svojich 20 rokov a nedávno si zahrala aj v londýnskom West Ende. Práve tam si ju vyhliadla Anka Repková. "Pred rokom som ju videla v muzikály DreamGirls. Jej stvárnenie hlavnej predstaviteľky Effie White bolo dych vyrážajúce. Keď som premýšľala, koho tento rok pozvem do Bratislavy, voľba padla jednoznačne na ňu. Som veľmi šťastná, že moje pozvanie prijala a mohli sme tak slovenským divákom sprostredkovať umelecký zážitok so svetovou hviezdou," hovorí autorka spoločného projektu a dodáva: "Keď prišla na pódium počas našej spoločnej piesne -When you believe – a začala spievať svoj part, vnútri som sa samej seba pýtala, či sa to teraz naozaj deje alebo sa mi to len sníva. Slová piesne – zázraky sa dejú, keď veríš – mi zrazu dali úplne nový rozmer, pretože ten zázrak sa tam práve odohrával. Je to nezabudnuteľný zážitok."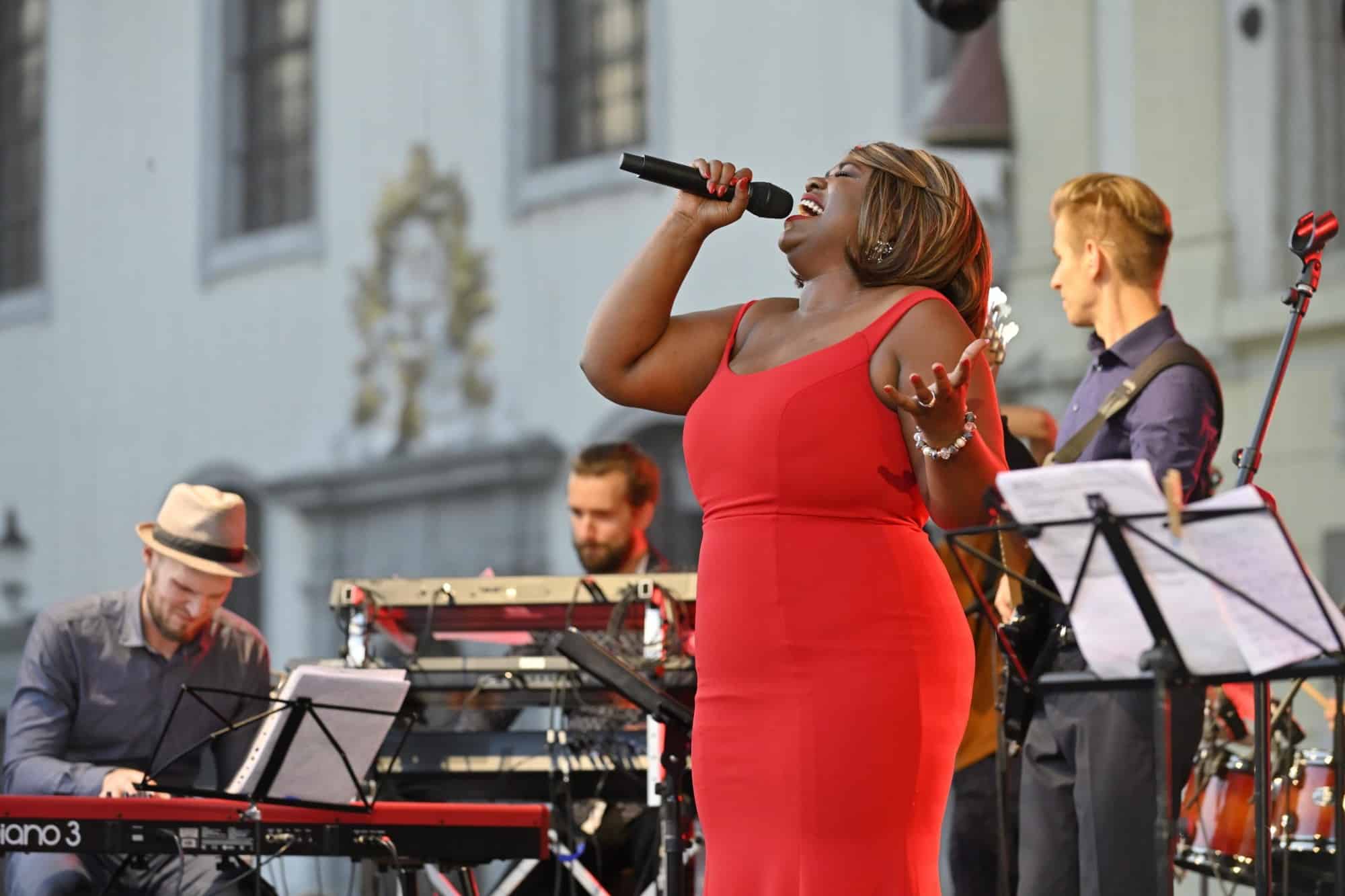 Šou s voľným vstupom predchádzal 2-dňový spevácky workshop, v rámci ktorého zahraničná hviezda učila nadšencov so záujmom o spev. Tí vystúpili v rámci programu ako 55-členný zbor. "Bola tu úžasná atmosféra. Máte tu mnoho talentov. Rada sa na Slovensko ešte vrátim," referovala po vystúpení charizmatická černošská diva. Tá si získala nielen srdcia slovenských divákov. O jej úspechu hovoria aj milióny zhliadnutí, ktoré zaznamenávajú jej videá po celom svete. Moya je tiež hrdou ambasádorkou národného divadelného projektu Broadway in the H.O.O.D, ktorý pomáha mladým plniť si ich sny a poskytnúť im podporu, aby sa nestali obeťami zneužívania a chudoby.
Koncert sa uskutočnil v rámci Kultúrneho leta a hradných slávností. Sprevádzala ho kapela v zložení Juraj Holoda (klávesy, gitara), Lukáš Cintula (klávesy), Martin Gábor (basgitara), Andrej Novotný (bicie) a trojica vokalistiek Lenka Novotná, Zuzana Šťastná a Diana Ristová.
Zdroj: TS