Kapela MYDY si prošla svým nejtěžším obdobím ve své hudební kariéře. Album nazvané jednoduše "V" je i přesto velmi pozitivní a hudebně pestré. MYDY jsou na něm sví, třpytiví, ale i nazí a startují tak svou novou éru. Novinku je možné najít na všech streamovacích platformách od 4. listopadu 2022 a fyzicky k objednání na jejich webu. Kapela zve zároveň na křest alba, který se uskuteční v domovském klubu Lucerna Music Bar 21. listopadu a v brněnské Flédě 23. listopadu.
Deska je o dění uvnitř kapely, která se v jedenácti písních vrací zpátky k sobě. "V" neboli římských pět klade důraz právě na důležitost jednotlivých členů a navíc jde o páté studiové album skupiny. Ač na něm spolupracovali celkem tři producenti a nahrávalo se v šesti různých studiích, MYDY ho považují za nejvíce celistvé. Sedm písní produkoval Matěj Belko, který spolupracoval mimo jiné na oceňovaných albech Řeka od Lenky Dusilové nebo Jednou tě potkám od Vladimíra Mišíka. Tři písně pak zprodukoval mladý německý talent EMI EMI. O mix se postaral Nèro Scartch, hlavní skladatel a nyní již bubeník party MYDY. Za masteringem pak stojí Risto Sokolovski.
"Chtěli jsme, aby tohle album mělo určitou atmosféru. U 'V' jsme se shodli, že po všech negativních událostech posledních tří let už toho bylo tolik, že nás to tak akorát štve, a že naopak chceme lidem i nám samotným přinést něco, co nás rozesměje a roztančí. A ačkoliv jsem se v té době necítila ještě stoprocentně v pořádku, snažila jsem se i tak najít cestu a lovila spíš ve starších textech, abych si připomněla, z čeho že mi to tenkrát bylo dobře. A našla jsem. Ve výsledku to byl neuvěřitelně ozdravnej proces a potvrdilo se mi, že opravdu vše negativní má i svou kladnou stránku," komentuje vznik alba zpěvačka Žofie. "Oproti předchozím deskám jsme se o textech dost bavili a hodně jsme přemýšleli, jak je podat. Nechtěli jsme je podcenit. Diskutovali jsme o nich a některé songy měly třeba tři verze, než jsme našli tu správnou," doplňuje Nèro.
Na desce nechybí ani hosté, kromě již zmíněných producentů Matěje Belka a EMI EMI, kteří během procesu tvorby natočili řadu hudebních nástrojů, jsou jimi Circus Brothers (dechy), Roman Vícha (bicí), Josef Fečo (kontrabas) a v neposlední řadě Jana Věnečková (housle).
MYDY dali dohromady nový set, nové kostýmy a obměněná scénografie je pak u kapely již samozřejmostí. "Novej playlist je neskutečně energickej, není v něm jediný slabší místo," slibuje kapela. Na obou křtech zazní jak dosud nehrané novinky z aktuálního alba, tak i osvědčené klasiky jako Just Dance nebo Rise Up. Vzhledem k letošnímu kulatému výročí kapely se diváci mohou těšit také na dlouho nehrané písně z počátků tehdejších Mydy Rabycad.
Vstupenky na oba letošní koncerty jsou v prodeji v síti GoOut.cz. Na jaře 2023 pak MYDY vyrazí na klubové tour po celé České republice.
WEB: http://mydyofficial.cz
Facebook: https://www.facebook.com/mydyofficial
Instagram: https://www.instagram.com/mydyofficial/
YouTube: http://youtube.com/mydyofficial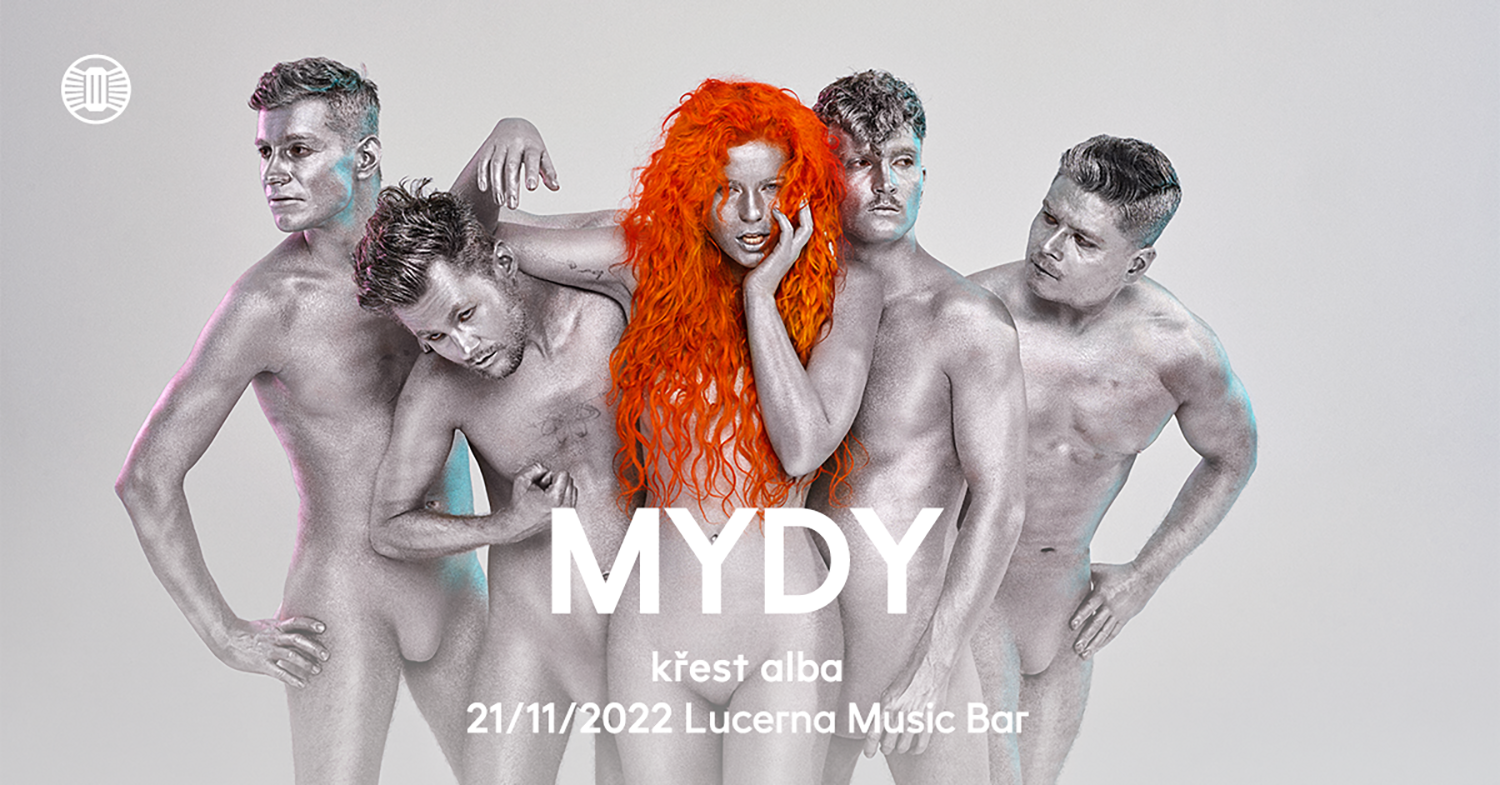 O kapele:
MYDY (dříve Mydy Rabycad) vznikli roku 2012 v Praze, v té době jako jedna z mála electroswingových kapel na světě. Krátce na to kapela začala koncertovat po Evropě a později i na dalších kontinentech. Objevili se na prestižních festivalech, jako je Sziget (2015), Fusion Festival (2015), Glastonbury (2016), Lowlands Festival (2017), koncertovali také po Severní Americe (2017, 2018) nebo Jižní Koreji (2016, 2019). Během let se MYDY dostali daleko za hranice původního žánru a vybudovali si vlastní signifikantní styl plný disca, rocku, funku, techna – taneční nálož kombinující elektronické a živé nástroje, při vystoupeních doplněné o extravagantní kostýmy a výraznou light show a pyrotechniku.
Na konci roku 2019 se kapela ukázala ve své zatím nejlepší formě, když odehrála svou doposud největší sólovou show v pražském Foru Karlín. I díky tomuto megalomanskému koncertu měli MYDY šanci vystoupit na main stage největších českých festivalů jako jsou Colours of Ostrava, Rock for People a dalších. Covidová pandemie však všechny tyto ambiciózní plány na rok 2020 překazila.
MYDY jsou zase zpět v sedle se svou dlouho očekávanou pátou studiovou nahrávkou! Nyní, jako pětičlenná skupina, jsou připraveni koncertovat více, než kdy dříve.
Zdroj: TS