Hudebník, malíř a grafik vystupující pod maskou a jménem JAF 34 vydává debutové album s názvem Empty na téma koloběhu života a jeho prázdnoty.
Projekt JAF 34 vznikl roku 2014, když umělce oslovili VR/NOBODY pro spolupráci na skladbě Gone. Následně začal JAF 34 zaznamenávat riffy, učit se samotný vznik skladeb a produkovat dema. Touha po rozšíření palety zvuku vedla k přizvání dalších hudebníků. Empty je tvořeno přesahy do post rocku, alternativního rocku i shoegaze s množstvím ambientních a synťákových ploch.
"Na počátku projektu stála smrt v mojí rodině, která celou věc hodně nakopla. Vlastně jsem chtěl album zemřelému věnovat. Emoce, kterou jsem prožíval, mi stanovila i koncept, zjistil jsem ale, že je to téma hodně široké, dá se na něj nahlížet z mnoha úhlů. Ať už je to prázdnota osobní či vyprázdněnost společenská, což odráží i jednotlivé tracky a videa,"přibližuje název alba JAF 34.
Na desce uslyšíte vokály Vojtěcha Filipa, Jakuba Daše (Nikitin), Viktorie Marksová (Houpací koně) a Petry Hanáčkové, za bicí usedli Jirka Bendl (Manon Meurt) a Oskar Pilař (ex-Peter Pan Complex), baskytary natočili Michal Hanáček (ex-Baro Chandel) a Jakub Chaba (ex-Peter Pan Complex), dále hostovali pianista Petr Voruda (ex-Baro Chandel) a David Novotný (Himalayan Dalai Lama) na synťáky. O mix a master se postaral Martin Havlen v Re-Sound studiu.
"Ve výsledku to tak přirozeně fluktuovalo, až se na desce podílelo deset lidí, kteří jako dílky skládačky přesně zapadli do celého konceptu. Nicméně v současné době plánuji stálejší sestavu, aby vše odsýpalo. Pracovat s tolika hudebníky byla skvělá, ale časově náročná zkušenost. Práce zabrala i kvůli coronaviru více než tři roky. V tuto chvíli chci kapelu personálně ustálit," dodává JAF 34 k plánům.
Sám JAF 34, vyznávající futurismus, coby progresivní nastavení mysli, skrývá svou identitu pod zrcadlovou maskou symbolizující reflexi okolního světa v tvorbě. Zároveň vyzývá posluchače, aby nevztahovali svou pozornost na povrchní záležitosti – jakou může být fyzický vzhled.
Empty vychází digitálně i jako originálně řešené a číslované fyzické CD v limitovaném nákladu.
YouTube:
Now: https://youtu.be/7b_4XZsBngs
Light: https://youtu.be/gN09kYlFsws
Single Exhale: http://bit.ly/JAF34_Exhale
Multilink: www.jaf34.com/sound
Další odkazy:
facebook.com/jaf34
instagram.com/jaf34music
jaf34.bandcamp.com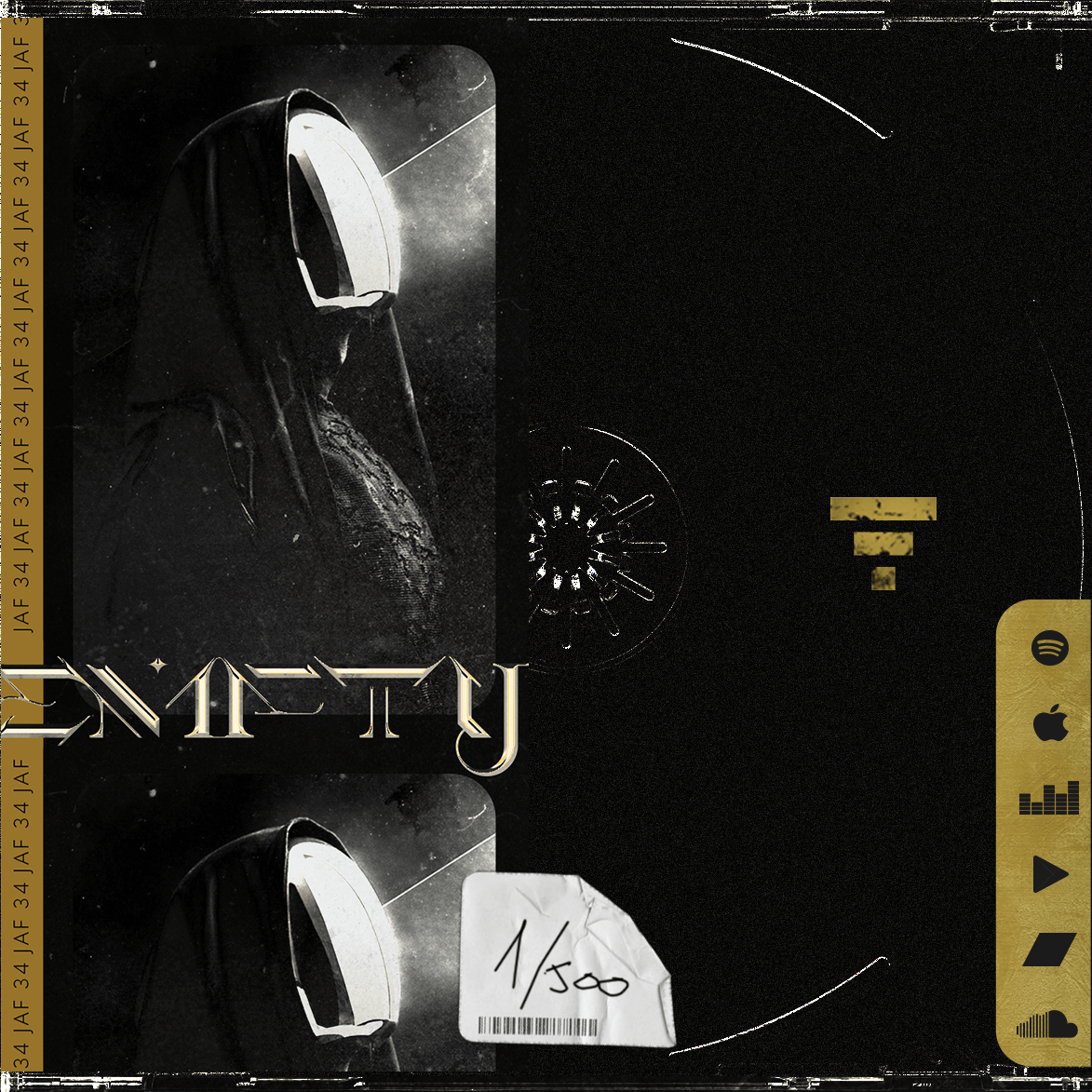 Zdroj: TS