Prestížne hudobné teleso Moyzesovo kvarteto oslávilo pred časom 45. výročie vzniku a pri tejto príležitosti nahralo album s názvom XLV. Sú na ňom skladby od piatich významných slovenských autorov, Alexandra Moyzesa, Ladislava Burlasa, Ilju Zeljenku, Mariána Vargu, Egona Kráka. Všetky skladby už kvarteto kedysi naštudovalo, no spolu na jednom albume sa ocitli po prvý raz; zároveň ich spájajú slovenské korene, na ktoré sa autori odvolávajú. Hráči kvarteta hovoria, že dramaturgia albumu je pestrá a každý si v ňom nájde kúsok svojho šťastia. CD XLV vydáva vydavateľstvo a nahrávacie štúdio Real Music House.
"Na novom CD je nestor našej klasickej hudby Alexander Moyzes, podľa ktorého je aj náš súbor pomenovaný, presne štvrté sláčikové kvarteto, ktoré nám venoval s pekným názvom Venované kvartetu môjho mena. Potom je tam Ladislav Burlas s naším obľúbeným tretím sláčikovým kvartetom, ktoré venoval Šostakovičovi, je úderné, takže si aj mladí ľudia, ktorí majú radi tvrdší zvuk, prídu na svoje. Zo staršej generácie je to Ilja Zeljenka a jeho Musica Slovaca, ktorá sa často hráva a náš nový primárius Jožko Horváth ju poňal podľa svojej predstavy," povedal violončelista, pedagóg, zakladajúci člen Moyzesovho kvarteta Ján Slávik.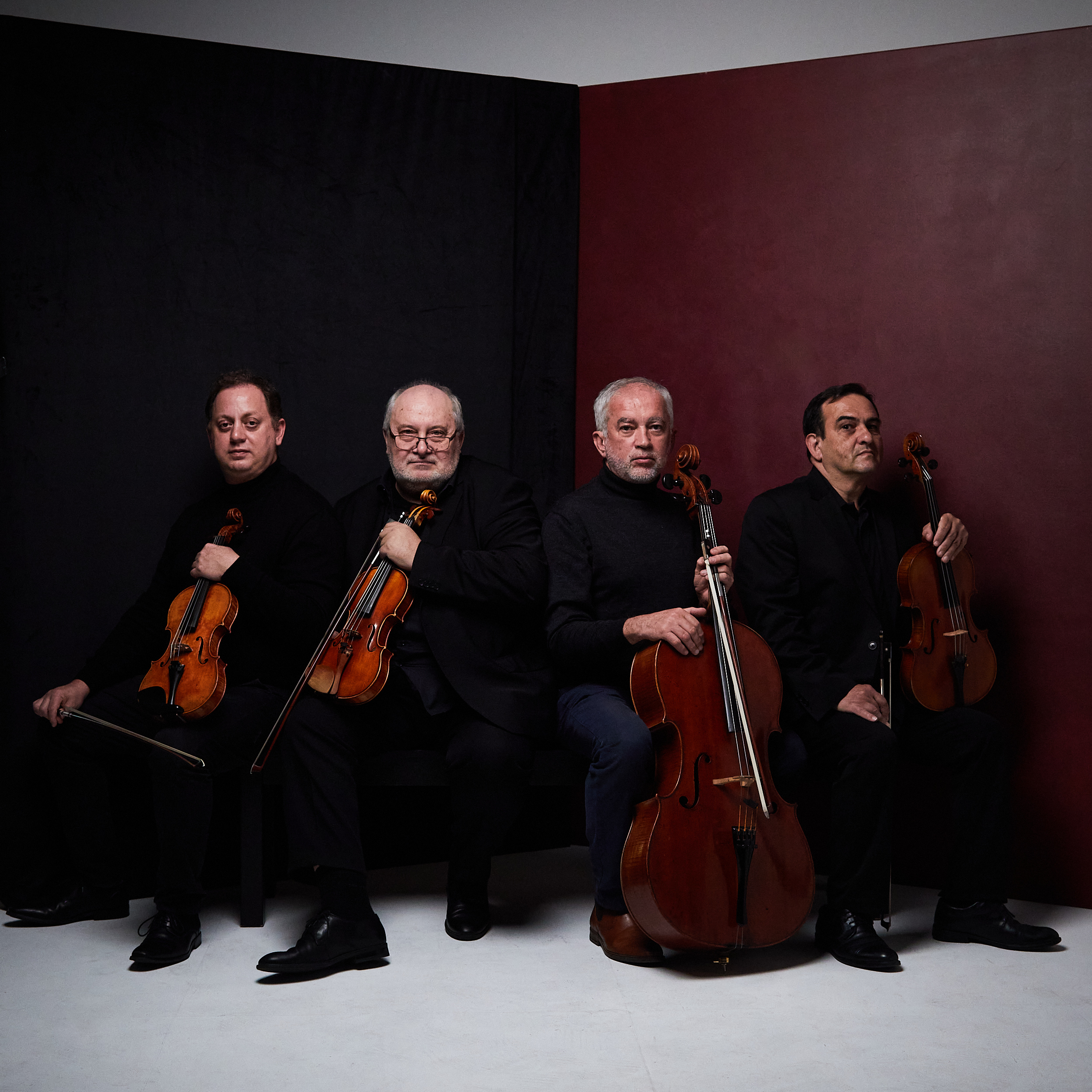 Štyridsiate piate výročie vzniku Moyzesovho kvarteta pripadlo na rok 2020. Pre komplikovanú situáciu v čase pandémie sa podarilo nový album nahrať až neskôr, v roku 2021. Album XLV má byť parafrázou na album k 40. výročiu z roku 2015, keď kvarteto vydalo tiež album so skladbami výhradne od slovenských skladateľov.
"Je veľmi vzácne, že s každým z tých skladateľov sme to jeho dielo naštudovali, ešte aj s pánom Moyzesom, s jeho dielom sme dokonca otvárali aj BHS, s pánom Burlasom sme tak isto študovali jeho kvarteto, s Mariánom sme skladbu hrávali na množstve koncertov po celom Slovensku. A pri Egonovi Krákovi bolo výnimočné, že bol priamo prítomný pri nahrávaní v štúdiu Real Music House, čo bolo veľmi autentické a osožné a veľmi to urýchlilo celú prácu," doplnil Ján Slávik.
Ďalšia zaujímavosť, na ktorú hráč na violončelo upozornil, je fakt, že všetky spomínané skladby už Moyzesovo kvarteto počas svojej dlhej histórie nahralo, no zatiaľ sa na jednom nosiči nikdy nestretli.
"Napríklad sme nahrali druhé sláčikové kvarteto súčasníka Egona Kráka RE – MI, je to taká jeho výpoveď. Hovoril, že práve pri ňom si uvedomil, ako jeho kompozičný prístup nadobudol nový rozmer, že je to pre neho významné, prelomové dielo. A na osvieženie sme zaradili aj Mariána Vargu. Jeho Sláčikovým kvartetom č. 4 sme chceli upozorniť na našu dlhoročnú spoluprácu a Mariánov návrat ku klasickej hudbe, s ktorou kedysi začínal. Myslím, že ho to veľmi tešilo a rovnako tak aj nás," dodal Ján Slávik.
Hráči kvarteta si pochvaľujú aj proces nahrávania v štúdiu Real Music House. "Veľmi tam dbajú na hudobný prejav, aby diela neboli príliš rozkúskované, ale aby bolo nahrávané vo väčších celkoch, aj keď je to pre interpreta náročnejšie. Ale zas my sme už natoľko ostrieľaní a vycvičení, že nám nerobí problém zahrať viackrát aj veľké úseky, práve vtedy sa tá autenticita hudby zachováva, čo je na nahrávke určite počuť. Som rád, že sa to podarilo," uzavrel Ján Slávik.
"Moyzesovo kvarteto považujeme za legendu. Spája nás priateľstvo aj hudobné cítenie. Sme poctení, že ich najnovšie CD vznikalo v našej réžii. Je to krásna a podľa nás aj dôležitá nahrávka. Je to príbeh výborných hudobníkov, ktorí sa stali súčasťou dejín našej kultúry ako takej. Aj po takmer piatich desaťročiach Moyzesovcov spája absolútna oddanosť hudbe. A to je mimoriadne vzácne. Veríme, že album XLV zarezonuje u poslucháčov naprieč generáciami. Má na to všetky predpoklady," napísali Robert Pospiš a Martin Sillay z Real Music House.
Vznik CD nosiča XLV z verejných zdrojov podporili Fond na podporu umenia, SOZA, Hudobný fonda Bratislavský samosprávny kraj.
Dokument o nahrávaní albumu XLV – https://www.youtube.com/watch?v=kF0wyisCmiA
Spotify: https://open.spotify.com/album/3RstJJnu20kLX2VBQSHpBh?si=-fBuibu6Rrq9aZbMVW5eNA
Apple Music: https://music.apple.com/sk/album/xlv/1605673243?l=sk
Tidal:https://tidal.com/browse/album/212888089
Bližšie informácie o CD: https://www.realmusichouse.sk/obchod/hudba/moyzesovo-kvarteto-xlv/
Moyzesovo kvarteto je od svojho založenia roku 1975 (A.Vrteľ) jedným z najvýznamnejších komorných zoskupení na Slovensku. Členovia kvarteta sú absolventmi VŠMU v Bratislave (T. Gašparek). V štúdiách pokračovali na Hochschule für Musik und darstellende Kunst vo Viedni (F. Samohyl, G. Pichler). Už počas štúdií kvarteto získalo viacero laureátskych titulov na domácich, ale i medzinárodných súťažiach (Evian). V roku 1998 získalo cenu brazílskych skladateľov za najlepšie CD brazílskej komornej hudby (G. Bauer, H. Crowl). V rokoch 1986-2005 patrilo Moyzesovo kvarteto k umeleckým súborom Slovenskej filharmónie. Slovenskú hudobnú kultúru reprezentovalo s úspechom takmer vo všetkých štátoch Európy, v Japonsku, Indii, Maroku, USA, Kanade, na Faerských ostrovoch a na Kube. V roku 2000 bola Moyzesovmu kvartetu udelená cena Frica Kafendu a zároveň cena kritiky. V roku 2015 získal súbor prestížnu Cenu Nadácie Tatra banky za umenie a bol poctený Cenou ministra kultúry SR za umenie. Repertoár telesa zahŕňa všetky štýlové obdobia, nevynímajúc ani tvorbu súčasných slovenských autorov, z ktorých mnohí skladby kvartetu priamo dedikovali. Sústavne sa venuje nahrávaniu nových kompaktných diskov (súbor nahral vyše 40 CD: A. Albrecht, J. L. Bella, J. Cikker, A. Dvořák, A. T. Grečaninov, E. H. Grieg, L. Kupkovič, W. A. Mozart, A. Moyzes, M. Moyzes, M. Ravel, F. Schmidt, B. Smetana, E. Suchoň, D. Šostakovič, G. Verdi, I. Zeljenka…) a realizovaniu nahrávok pre Slovenský rozhlas i zahraničné rozhlasové spoločnosti. V priebehu svojho pôsobenia vystúpilo kvarteto na festivaloch Bratislavské hudobné slávnosti, Melos-Étos, Pražská jar, Nová slovenská hudba, v Bad Kissingene a v Salzburgu. Počas svojej existencie koncertovalo vo významných hudobných sálach sveta: Shauspielhaus – Berlin, Mozarteum – Salzburg, Gewandhaus – Lipsko, Teatro Real – Madrid, Cathédrale Saint-Louis des Invalides – Paríž, Merkin Hall – New York, Walter Hall – Toronto, Musikverein – Viedeň, Auditórium – Rím, Malá sála Šostakovičovej filharmónie – Petrohrad. Koncertovalo i v Barcelone, Bruseli, Budapešti, Kyjeve, Miláne, Mníchove, Moskve, Osake, Prahe, Tokiu, Waršave, Ženeve… Moyzesovo kvarteto nahralo i hudbu k niekoľkým úspešným slovenským filmom. Od roku 2006 bolo Moyzesovo kvarteto komorným súborom mesta Modra. Od roku 2008 sa stalo komorným súborom mesta Skalica. 40 rokov bol primáriom Moyzesovho kvarteta Stanislav Mucha, od roku 2016 je ním Jozef Horváth. V posledných rokoch nahralo 2 CD s tromi sláčikovými kvartetami J.N. Hummela a CD s tromi sláčikovými kvartetami Vladislava Šarišského.
Zdroj: TS