Čtvrtý ročník butikového festivalu Moody Moon Noize proběhne na konci srpna v severočeském Chomutově. Pořadatelé putovní akce – hudební magazín Full Moon a promotérské platformy Heartnoize a Mood – se tentokrát spojili s místním spolkem Kuprospěchu a společně oživí hned několik pozoruhodných městských prostor – například Oblastní muzeum včetně jeho sklepení, kostel sv. Ignáce, Městský park nebo barokní jezuitskou kolej. Moody Moon Noize vol. 4 se odehraje během tří dnů 24.–26. srpna 2023, v první vlně vystupujících nechybí projekce oceňovaného filmu s živou hudbou, známá jména ani zbrusu nové objevy.
Program čtvrtého ročníku Moody Moon Noize bude opět žánrově doširoka rozpřažený, s akcentem na čerstvé zástupce domácí a slovenské scény. Žhavá jména doplní ověřené jistoty, v jednání jsou také zahraniční účastníci. "Stejně jako každý rok se těším na neotřelé složení interpretů a jejich zasazení do různorodých a často velmi specifických míst konání. Líbí se mi myšlenkové pochody za jednotlivými bookingy – nikdy totiž nešlo o prvoplánové nastřelení programu. Jinak tomu nebude ani letos," dodává k dramaturgii Tereza Odehnalová (Mood). Mezi prvními oznámenými jmény nechybí dvojice post-hudba, která v Chomutově představí nové album My všichni tady a teď, slovenští Berlin Manson, kteří si v rámci letošních Radio_Head Awards odnesli cenu Objev roku, nebo jména jako Body of Pain, Manon meurt, Blue Uandi nebo místní skupina Dokruhu. "Jedním z vrcholů akce bude zajisté projekce snímku Arvéd, doprovázená společným koncertem tvůrců soundtracku Aid Kida a Pjoniho, kteří za hudbu ke snímku nedávno obdrželi Českého lva," říká Michal Pařízek, šéfredaktor Full Moonu a doplňuje: "Z dalšího programu určitě doporučuji koncert klavíristky a skladatelky Nikol Bókové nebo jedno z prvních vystoupení projektu Awoo, kteří v AV show představí skvělé album Lost. Tato tři vystoupení proběhnou v unikátních prostorech místních kostelů."
Na festivalu Moody Moon Noize vol. 4 dále vystoupí zbrusu nová jména jako Ida the Young nebo Neue Welt, o jednu ze dvou afterparty se postará pražský kolektiv Glory Affairs. Akce bude probíhat na různých místech chomutovského centra a přilehlého okolí – například v Oblastním muzeu, Kulisárně Městského divadla, kostele sv. Ignáce nebo v Sadech Čs. Armády. "Pro čtvrtý ročník festivalu už definitivně opouštíme koncept hlavní scény spojené u tradičních festivalů s pozicemi headlinerů. Chceme představit unikátní zážitky v souladu s charakterem a někdy v kontrastu k rozmanitým městským prostorům, nikoliv se fixovat na konzervativní představy o hierarchii scén či line-upu," komentuje David Čajčík z kolektivu Heartnoize. Podobně pestrý bude také tradičně bohatý doprovodný program, v němž najdou své místo autorská čtení, výtvarné instalace, diskuze nebo tematické procházky, s akcentem na místní a krajová specifika. Kompletní program festivalu Moody Moon Noize vol. 4. bude oznámen v průběhu jara.
Myšlenka na butikový festival s omezenou kapacitou pořádaný na specifických místech vznikla na jaře roku 2020, v době, kdy bylo jasné, že mnoho tradičních akcí nebude možné kvůli koronavirové pandemii uskutečnit. Během prvních ročníků v Mariánských Lázních a v Prachaticích se festival jasně vyprofiloval díky zaměření dramaturgie na současnou domácí a slovenskou scénu s akcentem na premiéry nových projektů, unikátní prostory i programem voleným podle konkrétních lokálních dispozic. Putovní charakter navíc pořadatelům – týmu magazínu Full Moon a spřáteleným promotérským platformám Heartnoize a Mood – nedovoluje podlehnout setrvačnosti a rutině. Každý ročník akce je novou výzvou pro pořadatele i návštěvníky. "Jsme si vědomi, že na publikum festivalu Moody Moon Noize klademe poměrně velké nároky, přesto mám za to, že si během tří let konání tato akce vybudovala stabilní okruh fanoušků, které neodradí ani další vyloučená lokalita," říká Pařízek a upřesňuje: "Přesun do Chomutova nemůžeme vnímat jinak než jako další výzvu, zdejší centrum a přilehlé okolí navíc nabízí hned několik specifických lokací a prostor, kterým postavíme program na klíč. V rámci aktivit Full Moonu jde již o několikátou spolupráci se členy spolku Kuprospěchu, kteří mají s pořádáním akcí v Chomutově dlouholeté zkušenosti."
Spolek Kuprospěchu je na Chomutovsku aktivní od roku 2003, v posledních letech se jeho aktivity zaměřují na menší akce, koncerty nebo cyklojízdy. V minulosti jeho členové stáli za třinácti ročníky festivalu Cumbajšpíl, na který by měl Moody Moon Noize vol. 4 částečně navázat. "Dramaturgie našich hudebních akcí si řadu let klade dva hlavní cíle – představit v regionu originální, současná a kritiky oceňovaná jména hudební scény, a to často v netypických prostorách. Spolupráce na Moody Moon Noize je tak díky jeho unikátnímu konceptu zcela logickým vyústěním naší činnosti, kterou díky Full Moonu a dalším zúčastněným můžeme posunout na další úroveň," říká zástupce spolku Petr Karásek.
Aktuálně zbývá v prodeji v předprodejní síti GoOut.cz posledních 25 kusů z limitované první edice vstupenek v hodnotě 490,- Kč (plus příslušné poplatky). Po jejím vyprodání bude k dispozici další vlna vstupenek v hodnotě 590,- Kč (plus příslušné poplatky). Kapacita akce je stanovena na 350 osob, určitá část vstupenek bude alokována pro místní obyvatele.
Moody Moon Noize vol. 4 FB event: https://www.facebook.com/events/1088717825097655
https://goout.net/cs/listky/moody-moon-noize-vol-4/awgq
moodymoonnoize.cz
moodymoonnoize.cz
fullmoonzine.cz
heartnoize.cz
facebook.com/pg/bookingmood
kuprospechu.org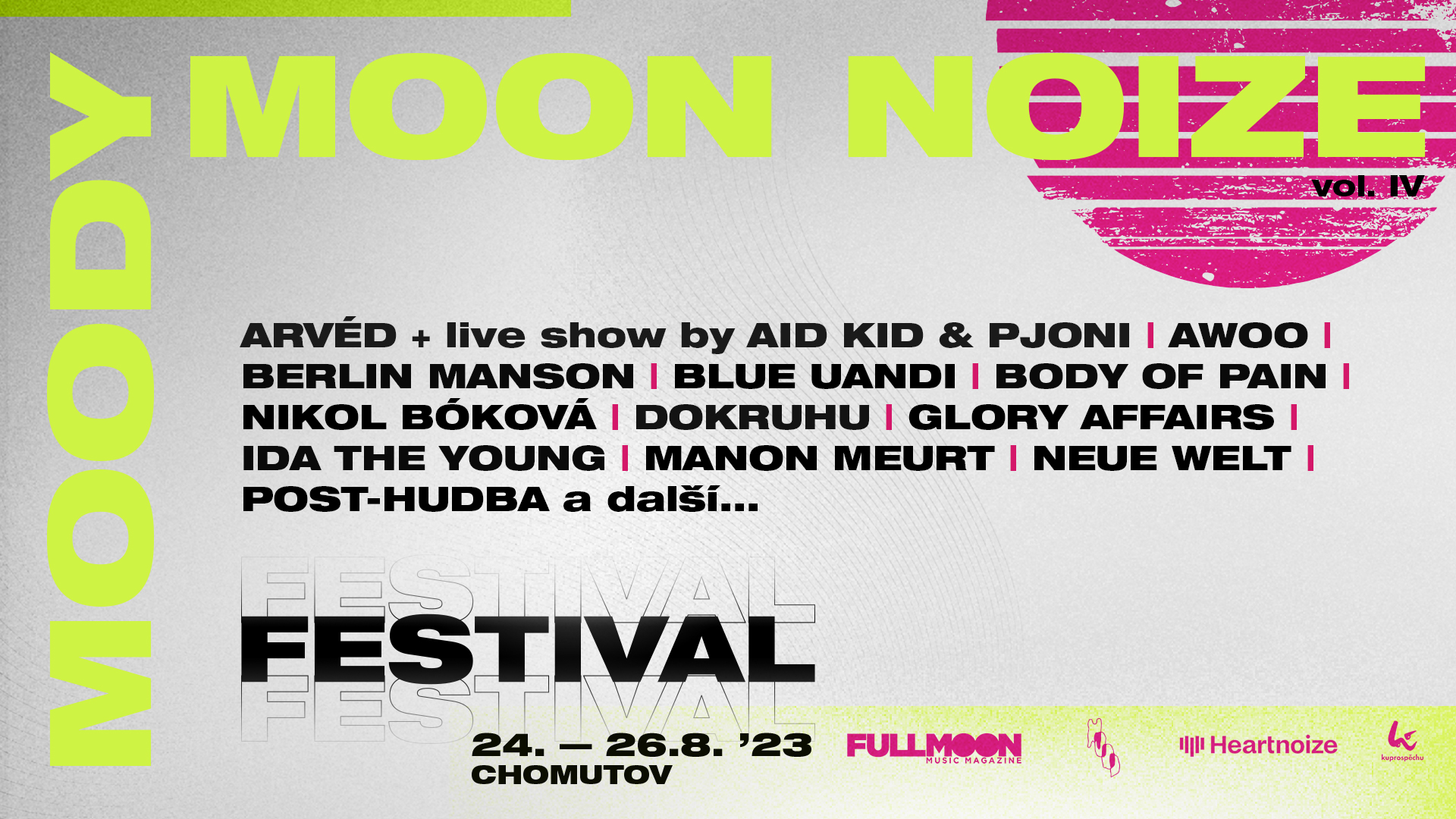 Festival Moody Moon Noize je v roce 2023 podpořen grantem od Ministerstva kultury České republiky, Státního fondu kultury a města Chomutov.
Zdroj: TS