Pro polské MGŁA je pro jejich důraz na výrazné kytarové melodie čistý zvuk důležitý – je třeba, aby od sebe bez byly všechny instrumenty rozeznatelné. To Melodka v kombinaci s vlastním zvukem Poláků nabídne bez pochyb.
A i když MGŁA nehrají žádný extrém a skladby jsou spíše poslechové, přesto jsou naživo velmi chytlavé a silné a v kombinaci s promakanými světly a zamgłeným podiem vytváří mocnou atmosféru. V Brně nelze očekávat nic než precizní set a konečně i prezentaci chystané desky "Age of Excuse", která dle první ukázky pokračuje v cestě, kterou na sebe MGŁA poutají pozornost a kterou získávají celosvětový respekt.
Kvartet z Krakova s sebou na turné má další dvě polské kapely. Pohřební tématikou fascinované blackmetalisty MARTWA AURA. I kvintet z Poznani adoruje melodie, byť je jejich projev o dost syrovější. Stále ale kultivovaný. To samé platí pro ABOVE AURORA, kteří jsou z této trojice asi nejzahloubanější a nejhutnější. U jejich žánrového směřování se krom střednětempého blacku dá mluvit také o doomu, takže o rozložené, pesimisticky znějící akordy tu rovněž není nouze. A že v Polsku tento typ muziky zvládají s bravurou!
MGLA (Polsko) – black metal – No Solace
www.facebook.com/mglaofficial
www.youtube.com/watch?v=e0ryOwlXkP4(nová skladba)
www.youtube.com/watch?v=TvGPAVTYfXI
MARTWA AURA(Polsko) – black metal – Under The Sign of Garazel
www.facebook.com/martwaaura
www.youtube.com/watch?v=0PQE2D-91eg
ABOVE AURORA(Polsko/Island) – black/doom metal – Agonia Records
www.facebook.com/aboveaurorapl/
www.youtube.com/watch?v=pYGRVrmT06E
Vstupenky budou dále k dispozici v INDIES a předprodejních sítích TICKETPORTAL a TICKETMASTER.
MGŁA, MARTWA AURA, ABOVE AURORA
4. září 2019 – Brno, Melodka
https://www.facebook.com/events/2618354121549643/
předprodej e-ticket: https://obscure.cz/cs/tickets/detail/id/293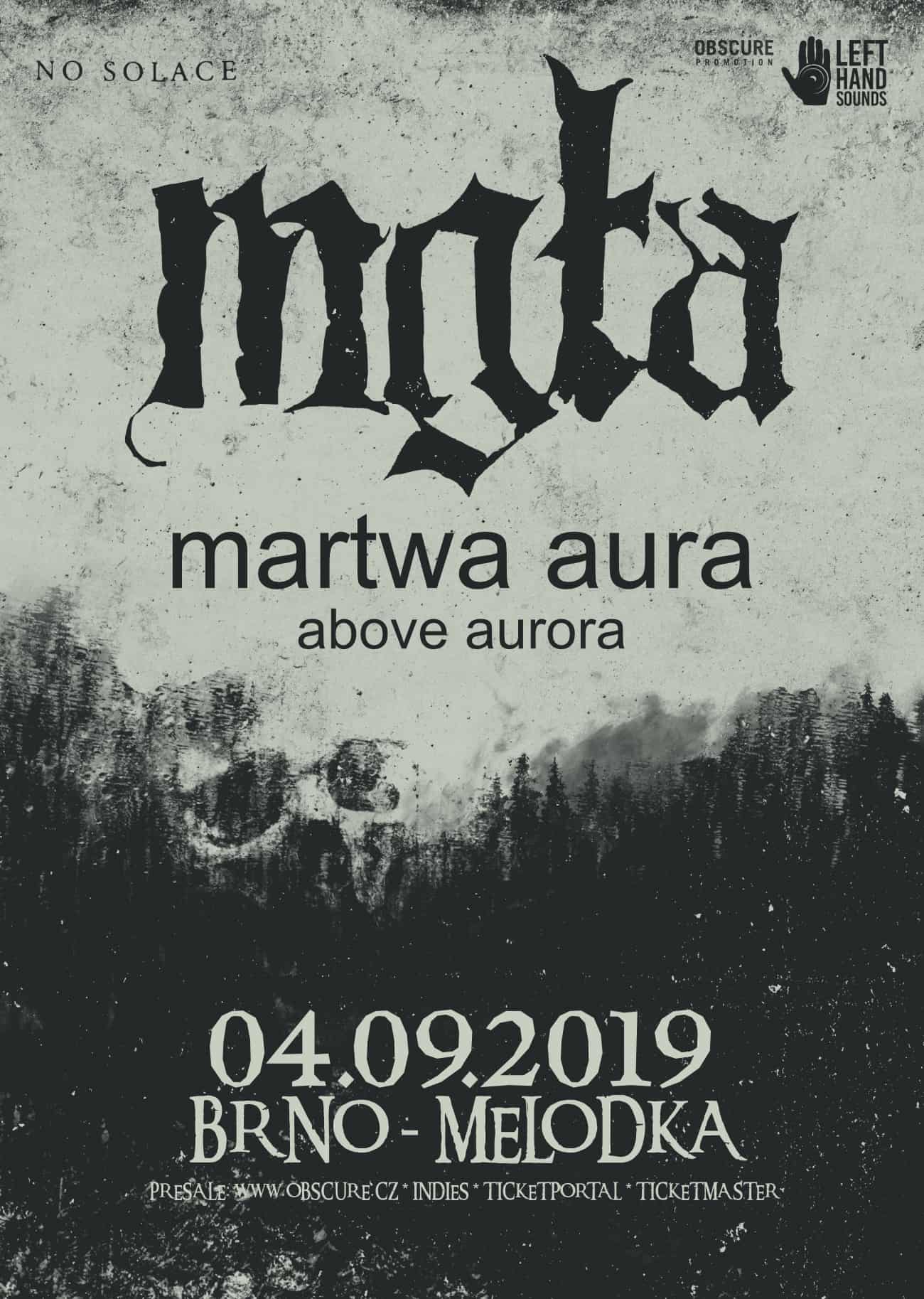 Zdroj: Obacure Promotion