Ja som tá Nevinná, spieva Martina Kapráliková v novej skladbe Nevinná. Speváčka po dvoch singloch pokračuje s písaním pesničiek, pretože ju to napĺňa a baví. Autorkou hudby aj textu k skladbe Nevinná je 16-ročná speváčka, s aranžmánmi jej pomohol Adam Hudec. Klip má na konte celá Kaprálikovská rodina, ale najviac jej s ním pomohol najmä brat Michal Kaprálik. Pozrite si klip Nevinná, Martina v ňom oprášila tanec, ktorému sa venovala sedem rokov. A dokonca si zahrala s Matejom Landlom mladším, s ktorým sa skamarátila v seriáli Chatári.
Martina Kapráliková zdedila talent po rodičoch, je dcérou hercov Michaely a Martina Kaprálikovcov. Jej veľkou vášňou je spievanie, texty aj hudbu si skladá úplne sama. Aranžmány má rovnako ako pri predchádzajúcich dvoch skladbách na konte Adam Hudec.
"Pieseň Nevinná vznikla v lete. Napísala som ju veľmi rýchlo, keď som si raz sadla za klavír s pocitom, že neviem čo momentálne cítim a celá sa nejako hľadám. Pieseň je vlastne o tom, že niekedy sme ovládaní veľmi zvláštnymi emóciami a nevieme nájsť to, čo chceme a hlavne nevieme, čo chceme cítiť. Táto pieseň má pre mňa obrovskú hodnotu, lebo keď som ju napísala, pochopila som, že nie je dobré sa stále vŕtať v tom, čo sa stalo. Ale rozmýšľať o tom, čo je a plánovať to, čo bude. Pieseň je trochu inak spracovaná, je tam hlavne veľmi veľa vokálov, ktoré som si nahrávala sama a nesmierne ma to bavilo," prezradila Martina Kapráliková.
Klip k novinke Nevinná vymyslela celá rodina Kaprálikovcov. Ale najviac Martine pomohol brat Michal Kaprálik, ktorý všetko zorganizoval. Nakrúcanie klipu si všetci užili a majú na neho krásne spomienky. Martina dokonca oprášila tanec, ktorému sa venovala sedem rokov!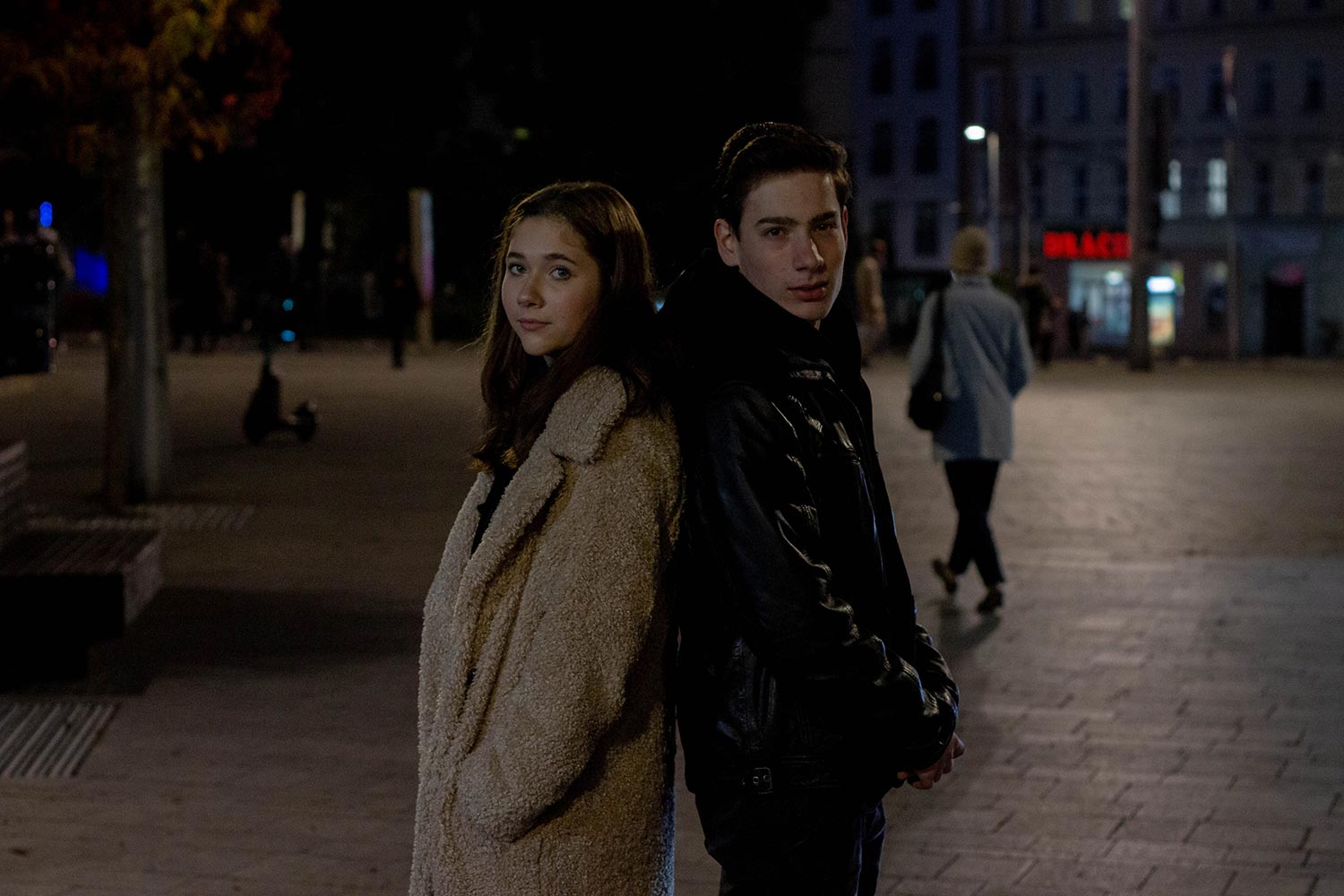 "Môj brat Miši zohnal ľudí, ktorých sme potrebovali, vo všetkom ma stále podporoval a pomáhal mi, za čo som mu neskutočne vďačná. Samotné nakrúcanie klipu mali pod palcom Tomáš Majláth a Jožko Antálek, ktorí nám aj režijne pomohli. Prvé, čo mi napadlo, keď som počula prvé demo tejto piesne, bol tanec. Neváhala som a oslovila som tanečníkov z Jumbo Dance Studio, kde som ja sama tancovala takmer sedem rokov. Choreografiu nám robil skvelý Janko Šutka, ktorého poznám od malička, ktorý úžasne tancuje. Na každom tréningu sme sa nasmiali, boli sme super partia. V krátkej pasáži som si zatancovala aj ja, tešila som sa, že si znovu trochu zatancujem, aj keď len kúsok," konštatuje talentovaná autorka a speváčka.
Martina aktuálne účinkuje v seriáli Chatári, ale vo svojich 16-tich rokoch má už za sebou viacero hereckých aj dabingových skúseností. V Chatároch sa zoznámila s hercom Matejom Landlom mladším, s ktorým sa skamarátili.
"My sme si s Maťom od začiatku nakrúcania seriálu Chatári celkom sadli, sme dobrí kamaráti, na pľaci sme si vždy rozumeli. Preto som oslovila práve jeho. Som veľmi rada, že do toho s nami šiel a že si na to našiel čas. Keď sme nakrúcali klip, tak sme sa nasmiali, bola tam super atmosféra a tým, že sa obaja pohybujeme aj v hereckej sfére, hneď sme vedeli čo máme robiť," opisuje vznik kamarátstva Martina.
Talentovaná Martina má rozpracované ďalšie skladby a v tvorení vlastnej hudby pokračuje naďalej. Chce, aby jej hudba mala určitú výpovednú hodnotu, aby sa ľuďom páčila a aby ju radi počúvali. Pieseň Nevinná je dostupná na youtube a na všetkých streamovacích platformách vrátane spotify a apple music.
Instagram – https://www.instagram.com/martinakapralikova/
Facebook – https://www.facebook.com/martinakapralikovaofficial/
Zdroj: NK Factrory