Eufória a radosť! Tak sa cítili účinkujúci aj fanúšikovia na festivale MALÝ ŽÁKOVIC v Trenčianskych Bohuslaviciach. Napriek obmedzeniam si fantastickú atmosféru rodinného festivalu užili všetci na pódiu aj pod ním. ŽÁKOVIC roztancovali domáci obľúbenci HEX a kapely Polemic, Para a Le Payaco. O dokonalú zábavu sa postarali Vrbovskí Víťazi, Saténové ruky, Bad Karma Boy, Žena z lesoparku, Trolejboys, Genuine Jacks, Random Choices, Parketový Lev a Box.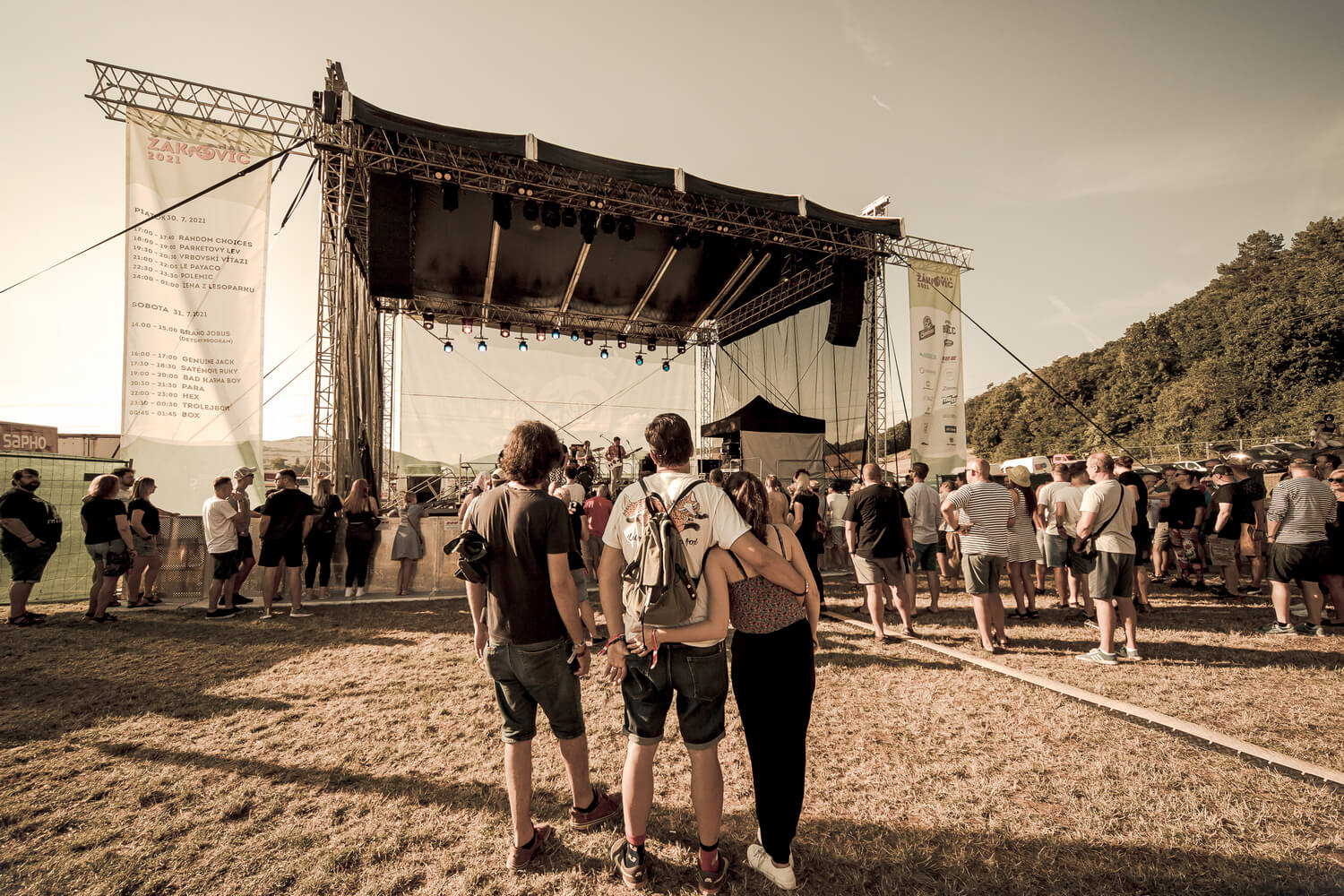 Najrodinnejší malý festival na Slovensku ŽÁKOVIC OPEN v malebnom prostredí Bošáckej doliny má za sebou vydarený 21. ročník. Program prvého dňa odštartovali skupiny Random Choices a Parketový Lev. Potom už ŽÁKOVICké publikum zabávala hudobno-pracovná skupina Vrbovskí Víťazi na čele s famóznym Braňom Jobusom. Kapela hrá vlastný hudobný štýl – priemyselný folklór na doma skonštruovaných hudobných nástrojoch, ktoré vyrába Braňov brat Andrej Jobus.
"Na ŽÁKOVICi sme hrali po druhýkrát. Je to festival o priateľskom stretávaní sa a to sa tu deje od prvej minúty, čo sme tu. Je cítiť, že ľudia sú nenabažení a humor a hudba im chýbali. Takže sú tu výbuchy eufórie a radosti. Mňa to veľmi baví, vychutnávam si to," tešil sa Braňo Jobus.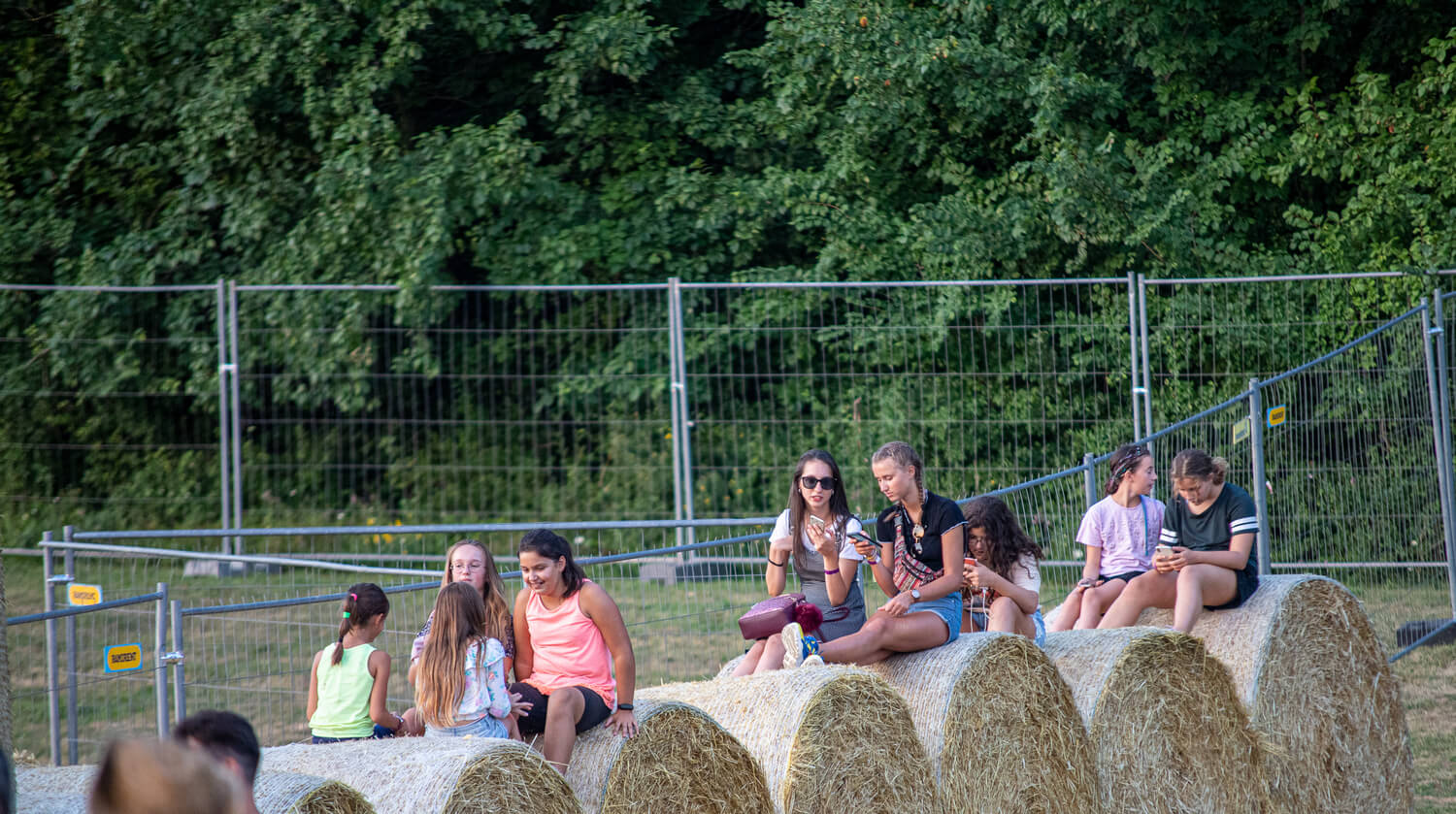 Bratislavská skupina Le Payaco predstavila naživo nový album "Pohybliví v nehybnom", za ktorý získala Cenu Anděl aj dve ceny Radio Head Awards. Chalani sa predstavili v rozšírenej zostave.
"Na publikum sme sa tešili. Zahrali sme dve tretiny z nového albumu, čiže šesť pesničiek vrátane titulnej "Pohybliví v nehybnom", "Ráno", "Nemusíš sa báť". Museli sme rozšíriť zostavu, pretože nezvládam hrať na dvoch klávesoch a ešte aj na gitare. Takže sme si pozvali Jerguša Oravca, ktorého považujem za jedného z najlepších muzikantov," skonštatoval Tomáš Sloboda.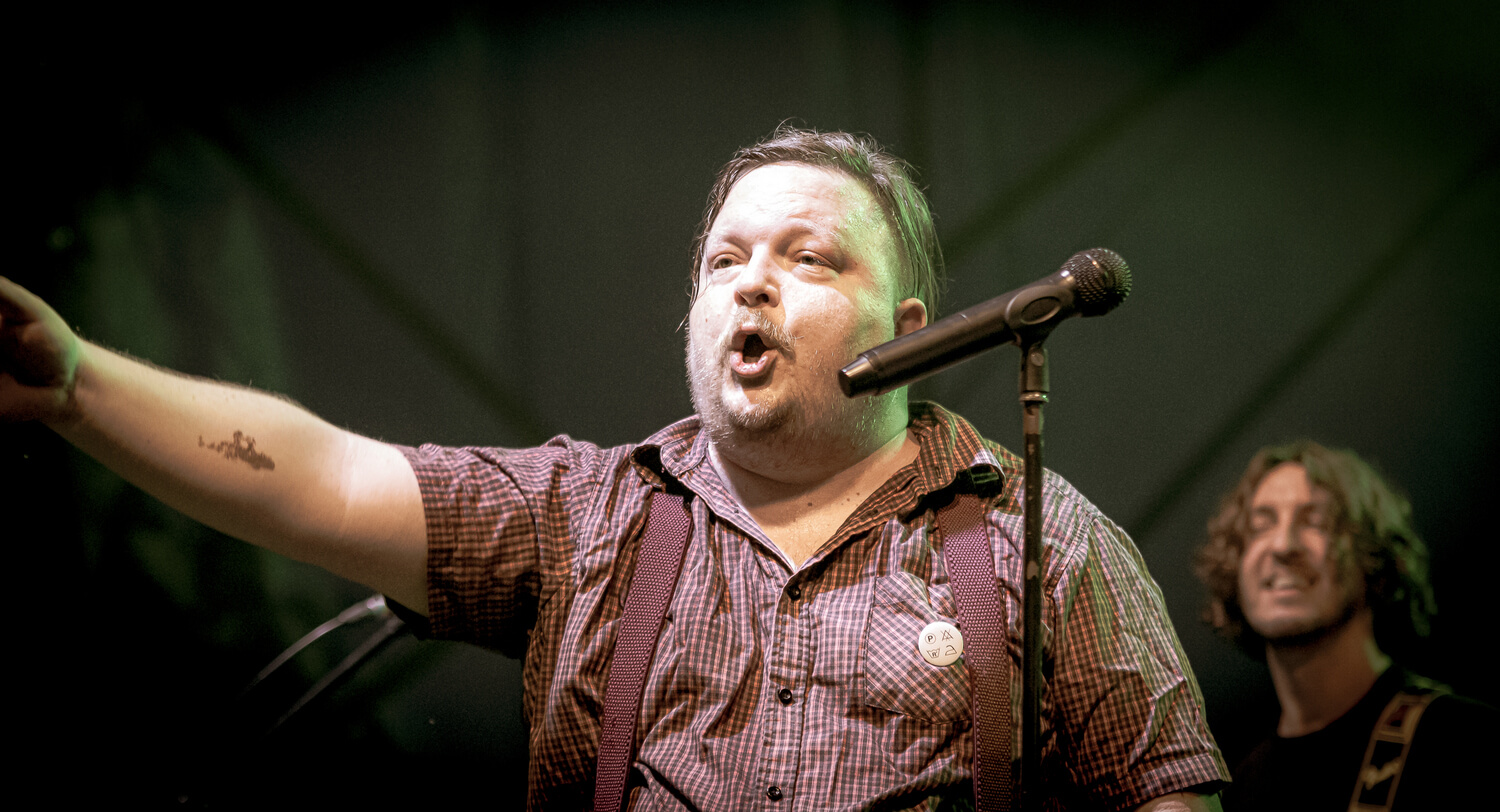 Zárukou kvality a skvelej zábavy je skupina Polemic. Návštevníkov festivalu roztancovali energické hity "Ona je taká", "Ja som to vedel" či "Komplikovaná"
"Na ŽÁKOVIC OPEN sme nehrali už niekoľko rokov a pamätám si, že vždy, naozaj vždy je tu úžasná atmosféra. A teraz, keď sme 10 mesiacov nemali priamy kontakt s publikom, sme si koncert neuveriteľne užili. Čistá eufória ako od nás, tak z publika. Dojalo ma, keď sme dohrali posledný prídavok, a už bolo jasné, že ďalej hrať nebudeme môcť, publikum stále kričalo Polemic Polemic. Toto nám fakt veľmi chýbalo. Veľká vďaka, ŽÁKOVICké publikum," neskrýval radosť Braňo Bajza z Polemicu.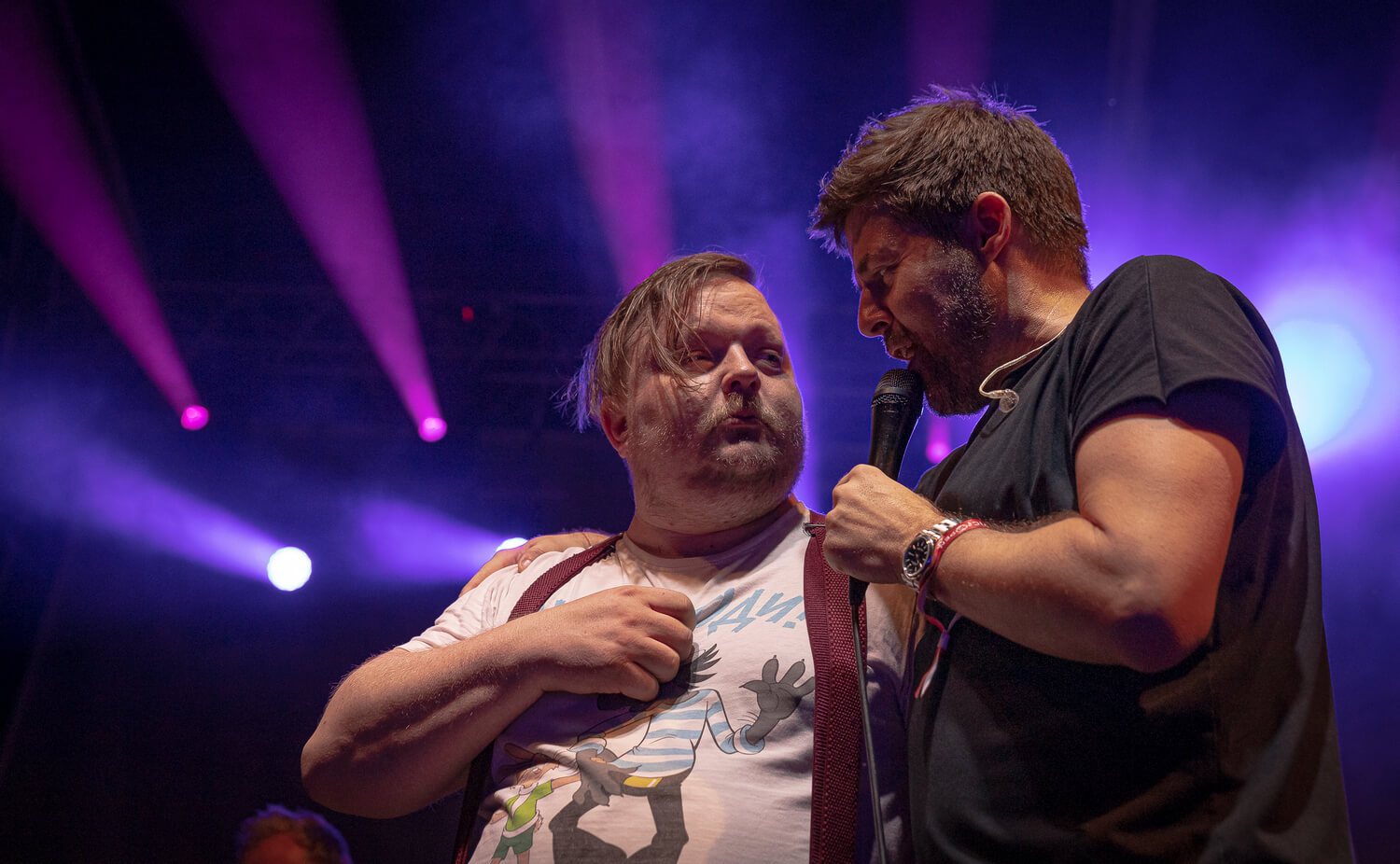 Piatkový program zakončila bratislavská formácia Žena z lesoparku na čele s Petrom "Šarkanom" Novákom. Druhý deň festivalu odštartoval Braňo Jobus programom pre deti. Hudobník a spisovateľ má na konte 19 detských kníh, z ktorých sa predalo už vyše 90 tisíc kusov. Na jeho rozprávaniach sa zabavili malí aj veľkí. Porciu rock'n'rollu pridala z pódia skupina Genuine Jacks, ktorú vystriedala bratislavská formácia Saténové ruky, ktorá na ŽÁKOVICi zahrala aj skladby z nového albumu "Lom",
"Saténové ruky oslavujú desaťročnicu svojej existencie. Album sme pokrstili 30. júna a je teda celkom čerstvý. Hrali sme z neho tri štvrtiny programu a testujeme, ako na neho ľudia reagujú. Živé hranie nám veľmi chýbalo. Byť zavretí v štúdiu a tvoriť je veľmi príjemné, ale vo finále to, prečo to všetci robia, je stáť na pódiu a vidieť ľudí, ako počúvajú, čo hráme," priznal Braňo Bezák.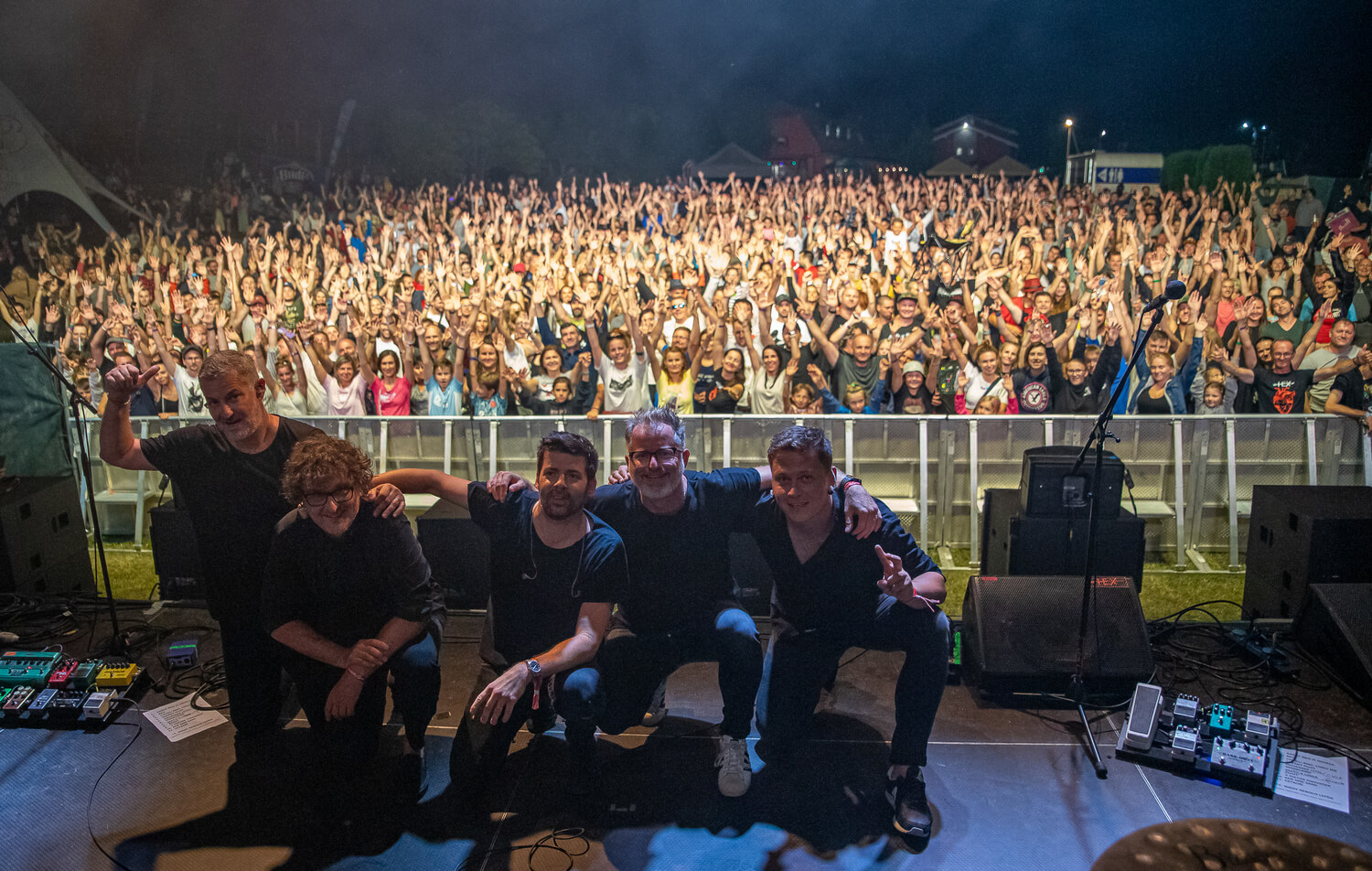 Alternatívny rock predviedla na festivale formácia Bad Karma Boy, ktorá v hodinovom sete nevynechala hit "Dunaj". Potom už nastúpila bratislavská Para, ktorá ako vždy, roztancovala publikum hitmi "Zatancuj", "Abstinent", "Keď ťa stretnem" či "Otec". Publikum ešte po odchode kapely z pódia dlho spievalo pieseň "Prví poslední."
"Para nehrala od septembra minulého roka, tak si to teraz veľmi užívame. Každý koncert si vážime, je to veľký zážitok stretnúť sa s ľuďmi. Počas korony sme stihli vytvoriť nový merch a teraz sa chystáme skladať nové skladby," prezradil spevák Lasky.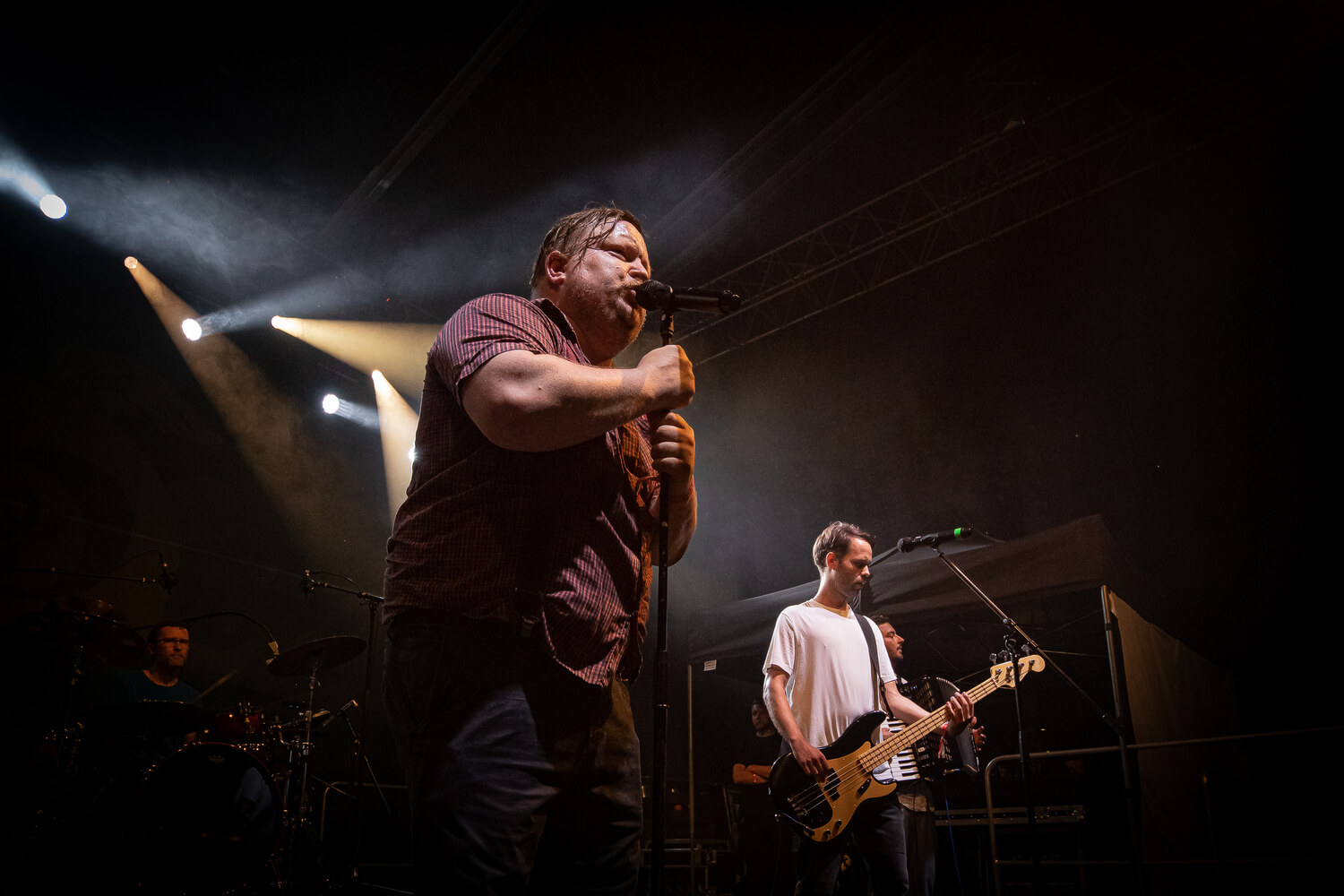 Magnetom každého ročníka ŽÁKOVICu je festivalová stálica HEX. Šarkan, Fefe, Yxo a Tybyke fanúšikom zahrali svoje najväčšie pecky. Oni sa im za to odmenili hlasným potleskom a zborovým spievaním vo všetkých skladbách. Okrem hitov "Nikdy nebolo lepšie", "V piatok podvečer" či "Snežný pluh" odpálili HEX skladbu "Ciga" z roku 1997 či rockovú bombu "Medvedík". Megahit "Keď sme sami" venovali HEXáci do neba Petrovi "Ďuďovi" Dudákovi
"Po dlhej pauze nás veľmi baví hrať a je to obrovské šťastie, že robíme to, čo milujeme. Som veľmi šťastný, že sa nám festival podaril urobiť tak, ako sme si to predstavovali. Vidíme, že ľudia sa chcú zabávať a že takáto akcia je pre nich balzamom na dušu. Ďakujeme všetkým fanúšikom, ktorí prišli a ktorí sa so všetkou zodpovednosťou úžasne zabávali," uzatvára organizátor festivalu a líder HEXu Tomáš "Yxo" Dohňanský.
MALÝ ŽÁKOVIC zakončil energický koncert kapiel Trolejboys a Box. Všetky informácie sa dozviete na www.zakovicopen.sk a www.facebook.com/zakovicopen.
Zdroj: NK Factory
Foto: Pavol Karell