Hudba z nejrůznějších koutů světa, akrobaté, divadlo pro malé i velké, dílny i nepřenositelná atmosféra festivalového areálu mezi středověkými hradbami a rybníkem. Devatenáctý ročník multižánrového festivalu Colour Meeting přivítá ve dnech 22. – 23. července v Poličce hvězdu současné londýnské jazzové scény Sarathyho Korwara, kanadského post–rockera Alexe Henryho Fostera, Anetu Langerovou s kapelou, řecké Thrax Punks, polské Kosy, slovenskou scénu představí Terrible 2s, Edúv Synnebo Zabiť Františka, vystoupí také Irena & Vojtěch Havlovi, Ventolin, Arleta, Frankie & The Deadbeats, Cotatcha Orchestra, Anna Vaverková a mnoho dalších.
Indický hudebník Sarathy Korwar začal hrát jako dítě na tabla, přitahovala ho ale americká hudba, která prosakovala ven dveřmi místního obchodu s jazzovou hudbou. Z Indie se přestěhoval do Londýna, vzdělával se jako hráč na tabla a bicí nástroje. Etabloval se jako jeden z nejoriginálnějších a nejpřesvědčivějších hráčů britské jazzové scény. Spolupracoval se Shabakou Hutchingsem, absolvoval turné s Kamasi Washingtonem, Yussefem Kamaalem nebo Mosesem Boydem.
Několikanásobná držitelka Ceny Anděl, zpěvačka a hudebnice Aneta Langerová naplno rozvinula potenciál při spolupráci s klavíristou, hudebním skladatelem a producentem Jakubem Zitkem na deskách Na Radosti a aktuálním počinu Dvě slunce, který na Colour Meetingu představí.
Kanadský hudebník, producent, zpěvák a skladatel Alex Henry Foster, známý především jako frontman Your Favorite Enemies, vytváří se svou novou kapelou The Long Shadows intenzivní až brutální muziku. Je nejen výrazným performerem, ale také vášnivým obhájcem lidských práv. Řečtí Thrax Punks kombinují lidové nástroje jako dudy, kaval, buben a lyra s elektrickou a basovou kytarou, smyčkami, psychedelickými předěly, hutným zvukem i punkovou estetikou. Kosy jsou fascinující ženské hlasy spojené v písních Dolního Slezska, hudebnice oživují písně svých předků a vracejí je na půdu moderních měst.
Neortodoxní přístup ke kompozičním technikám a interpretačním postupům, brilantní intuice a nezlomná důslednost. Tvorba Ireny & Vojtěcha Havlových jim vynesly mezinárodní uznání, mnoho hudebních a filmových spoluprací a turné po Evropě, USA, Kanadě, Japonsku a Africe.
Popové milostné písně, veselé i tísnivější sci-fi, situační absurdita, ano, na Colour Meeting dorazí také Ventolin. Městští kovbojové Frankie & The Deadbeats jsou all star bandem složeným z členů klubových stálic Prague Conspiracy, Unholy Preachers, Inventa Storca. Od punku ke country a folku? Přirozenějšího vývoje prý není, jak říká sama kapela.
Pod poličskými hradbami zazní i domácí jazz. Fúze autorských jazzových skladeb s elektronikou vynesla mezinárodnímu bigbandu Cotatcha Orchestra nominaci na Cenu Anděl a výhru v anketě Česká jazzová sklizeň 2020. Prvky jazzu, progresivního rocku, noise i ambientu, za pomoci analogových syntezátorů vytvářejícího zvukové stěny podepřené živelným, sofistikovaným groovem, to je Tryptych, projekt kytaristy Vladimíra Mikláše, bubeníka Dušana Černáka a baskytaristy Miloše Klápště.
Výrazné slovo dostane slovenská scéna. Terrible 2S založily Lucia Piussi a Agnes Lovecká po rozpadu kapely Živé kvety. Uhrančivé texty nesoucí se na beatových podkladech i jednoduchých klavírních a kytarových harmoniích, muzika proplouvá od hiphopu k poezii.
Slovenský alt-folkový písničkář Zabiť Františka ve své tvorbě úspěšně kloubí československý folk a indie-pop. Ani rap nesmí na Colour Meetingu chybět. Místo typických rapových materialistických a egoistických témat se rapper Edúv Syn ve svých textech zabývá osobními názory na svět, nemá problém přiznat své chyby a nedokonalosti. Na festival se vrací i královna českého alternativního rapu Arleta.
Festival přivítá také zástupce mladé generace hudebníků a hudebnic. TheCoffees jsou místy elektronický pop provázaný jemným hlasem a ostrou kytarou s aranžemi postavenými na vintage zvuku. Zpěvačka a klávesistka Anna Vaverková, členka mezinárodní formace The Flavians, s níž vystoupila na proslulém festivalu Glastonbury, vydala letos svůj nepřehlédnutelný indie popový debut Roztomilá holka. Herečka a písničkářka Jana Kozubková skládá křehké písně na pomezí folku a šansonu. Kozubková odehraje na Colour Meetingu také představení Rusalka od Vydří řeky a povede workshop.
Pro děti i dospělé bude hrát Hlasový šálek a Divadlo Loutky bez Hranic. Colour Meeting již tradičně zahájí vystoupení na hlavním poličském náměstí. Pouliční vystoupení s akrobatickým kolem, s notnou dávkou lomozu i supění přijedou V.O.S.A. Theatre & Sunriders.
Vstupenky zakoupíte v prodejní síti smsticket.cz. Kompletní program naleznete na colourmeeting.cz
Colour Meeting festival
22-– 23. 7. 2022, Polička, Park u hradeb
Pardubický kraj
Vstupenky: https://colourmeeting.cz/vstupenky/
Facebook událost: facebook.com/events/260900788871071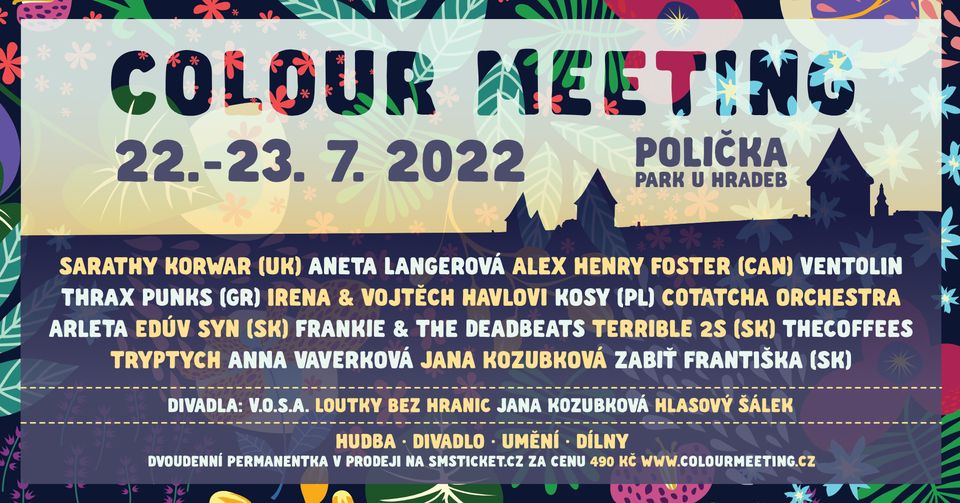 Zdroj: TS