Je psík naozaj akousi predprípravou na spoločné dieťa? Alebo je, naopak, náznakom, že ešte zďaleka nejde o vážny vzťah? A ako si máme povedať tie pekné veci, ak to nevieme? Odpovede na nielen tieto otázky možno nájdete v novej českej komédii Povedz to psom, ktorá prichádza do kín už 7. júla.
Dita (Berenika Kohoutová) je mladé dievča, žije so sympatickým Filipom (Igor Orozovič) a pracuje pre svoju najlepšiu kamarátku Gábinu (Hana Vágnerová). Táto idylka sa však náhle skončí, keď namiesto vytúženého dieťaťa dostane od svojho partnera border kóliu. Ale Filipovi akosi uniklo, že Dita sa bojí psov. Navyše to znamená, že je "psíčkar", a tí sú takí smiešni. Úbohá border kólia je v tom úplne nevinne, a hoci robí psie veci, aby potešila svojho nového majiteľa, Dita sa nenechá uniesť tým, že je pes. Nielenže dostane od Filipa psa, ale dostane aj kopačky. Filip ju opustí s klasickými výhovorkami, že nie je pripravený na vážny vzťah, že je príliš mladý a že hľadá sám seba.
Na krku pes a – ďalšie problémy
Opustenú Ditu čakajú veľké problémy. Akoby nestačilo, že má na krku nového psa, zradí ju jej najlepšia priateľka a šéfka Gábina. Dita tak nakoniec príde o prácu. Zrazu je všetko zle. Aby toho nebolo málo, Ditina príliš aktívna a trochu afektovaná matka (Veronika Žilková) sa rozhodne pomôcť svojej dcére nájsť si nového priateľa. Našťastie sa Dita proti svojim očakávaniam zblíži nielen so svojím psom, ale aj s ostatnými milovníkmi psov. Od propagátorky psích ihrísk pani Voráčkovej (Táňa Medvecká), cez bývalého barového klaviristu pána Drnca (Jiří Lábus) až po Petra (Štěpán Benoni), z ktorého sa možno vykľuje niečo viac ako len jej zdanlivo čudný sused. A to možno aj vďaka tomu, že jeho psom je border kólia.
Skutočný príbeh?
Autorka scenára, spisovateľka Irena Obermannová, sa pri tvorbe príbehu nechala inšpirovať skutočnou udalosťou: "Jedna moja kamarátka mi hovorila, ako so svojím psom stretla muža, ktorý chcel dať ich psov dokopy a uniklo mu, že k sebe patria skôr ich majitelia, ako psy. Pripadalo mi to ako skvelá východzia situácia a ďalej som už iba vymýšľala, hrala som sa."
A pre koho je film podľa autorky predovšetkým určený? "Povedz to psom je film o nás všetkých, nevnímam ho ako film o ľuďoch so psami alebo len pre ľudí so psami. Ja sama nemám psa. Je to príbeh o nás, ktorí si často nedokážeme povedať ani tie najobyčajnejšie veci – napríklad Milujem ťa. V tomto príbehu to za nich nakoniec povie ich pes," povedala Obermannová.
Nakrúcanie so psími hercami
Podľa hlavnej hrdinky Dity nebolo nakrúcanie vôbec jednoduché. "Psík nebol iba jeden, hralo ich viac. A všetci boli nádherní, skvelí, vychovaní. Boli to borderkólie, jedni z vôbec najšikovnejších psov, ale i na nich toho niekedy bolo dosť," povedala Berenika Kohoutová, "Veľa ľudí, rôzne pokyny, opakovania záberov… I pre nás hercov je účinkovanie so psami pomerne náročné. Musíme sa sústrediť na technické pokyny so psíkmi a zároveň na vlastné hranie, občas je to dosť komplikované."
Podobne to vnímal aj Jiří Lábus, ktorý si vo filme strihol vedľajšiu rolu a zistil, ako na to so psíkmi má ísť: "Skúšal som to cez rozličné psie piškótky maškrtky. Myslím, že to celkom dobre zabralo. Inak som v živote žiadneho psíka nemal, i keď mám zvieratká rád."
Pozrite si krátke video, v ktorom vám herci svojich psích kolegov predstavia: https://www.youtube.com/watch?v=L4imXU0AKPo
Novú českú romantickú komédiu Povedz to psom prináša do kín distribučná spoločnosť CinemArt SK už 7. júla.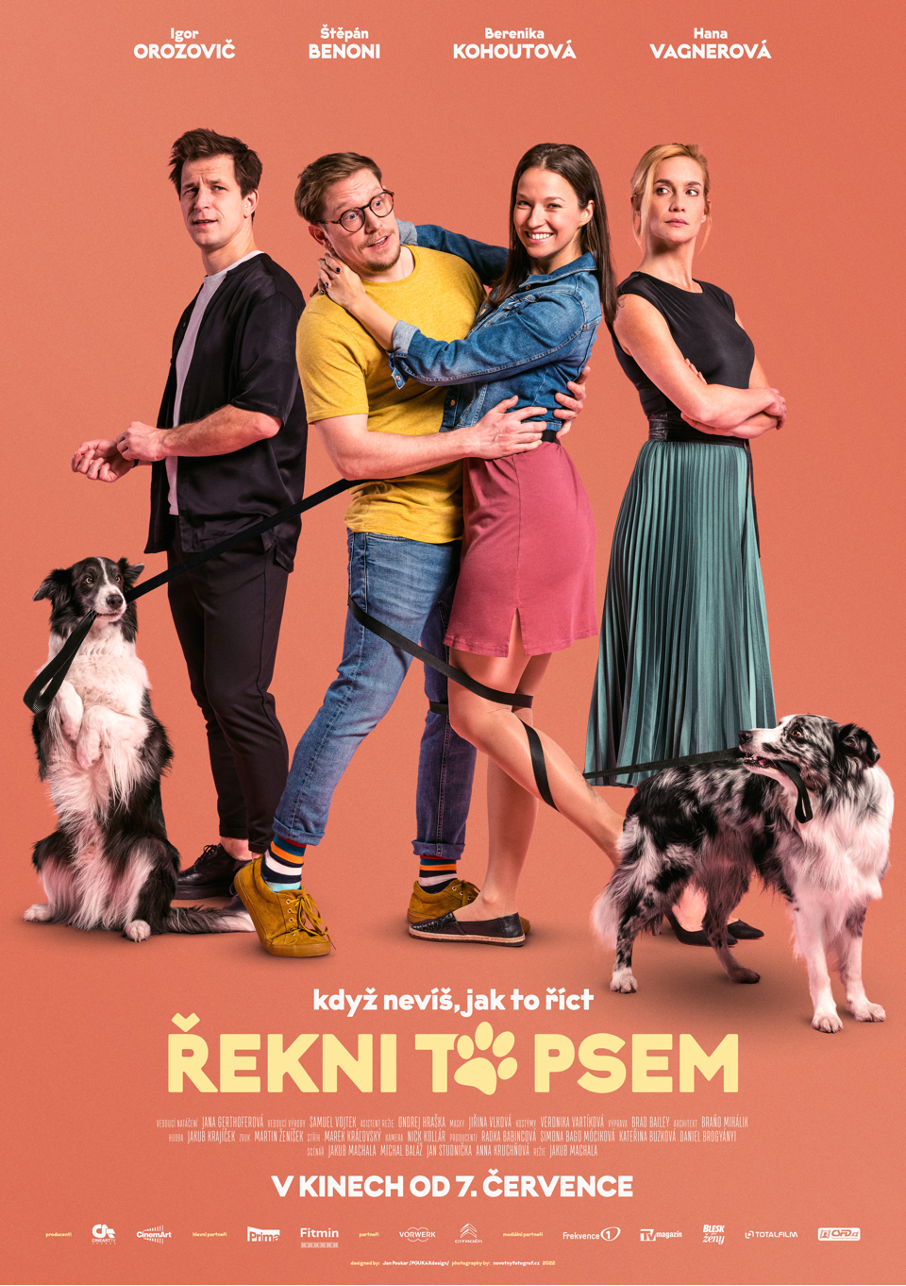 Zdroj: TS