Fínska metalová kapela Amorphis patrí medzi tie, ktoré sú na Slovensku vždy vítané. Aj preto sa vracia, pre zmenu na východniarsky Dobrý festival, ktorý sa uskutoční 14. až 16. júna 2019 na prešovskom prírodnom kúpalisku Delňa.
Kapela patriaca medzi najvýznamnejšie fínske a svetové kapely je aktuálne na výslní aj vďaka novému albumu The Queen of Time. Nové skladby, z ktorých väčšinu predstavia Fíni naživo, odkazujú na silu z ranných čias a zároveň v sebe nesú melodickosť a progresívnosť tvorby poslednej dekády.
Amorphis patrí na hudobnej scéne ku kapelám, ktoré sú povestné svojím vývinom a posúvajú metalovú muziku zakaždým o kus ďalej. Vzišli z death metalu, počas celej svojej kariéry sú otvorení novým vplyvom a tak vo svojej tvorbe spájajú tradičný heavy, doom a death metal, popretkávaný folkovými prvkami či rôznymi psychadelickými motívmi. Za zdroj svojich textov často priznávajú Kalevalu, epickú zbierku poézie zloženej z fínskeho folklóru a mytológie.
Novinku, s ktorou zavítajú aj do Prešova, natočili Fíni za tri mesiace pod taktovkou vychýreného producenta Jensa Bogrena. Ten produkoval albumy desiatkám významných umelcov a medzi nimi aj Machine Messiah brazílskej Sepultury, ktorá vystúpila na Dobrom Festivale v roku 2017.
K novinke Queen of Time sú Amorphis na turné od minulého roka a o jej úspechu svedčí aj to, že bol vo Fínsku nominovaný na Grammy v kategórii Najlepší metalový album. "Táto nahrávka je pre nás veľkým prekvapením," priznáva gitarista Esa Holopainen. "Počas skúšania a príprav na nahrávanie sme netušili, že má Jens (Bogren) takúto jasnú a veľkolepú predstavu o albume. Jasné, že nám o tom veľa rozprával, ale nepripúšťali sme si, že to naozaj dá celé dokopy na tento album."
Na platni hosťujú Anneke van Giersbergen (The Gathering), Chrigel Glanzmann (Eluveitie) na gajdách, hrdelný spevák Albert Kuvezin, saxofonista Jørgen Munkeby, orchester a spevácky zbor. Tieto elementy dodávajú dramatickú a filmovú hĺbku zvuku kapely, všetko je epickejšie, hlbšie a zmysluplnejšie než kedykoľvek predtým, pričom si zachováva typickú magickosť tvorby Amorphis. Skupina podľa gitaristových slov už roky tajne túžila po takejto premene.
Amorphis v Prešove ponúkne výpravné melódie, mystériu a melachóliu, ktorá je vzorová pre fínsku metalovú hudbu. A veru, majú z čoho vyberať. Podľa setlistov aktuálneho turné dostávajú veľký priestor novinky The Bee, The Golden Elk, Wrong Direction, Daughter of Hate, Heart of Giant, ale aj základné kamene Black Winter Day, Death of a King, House of Sleep a ďalšie. "Skladby z nového albumu nastavili nové štandardy našim shows. Každý, kto počul Queen of Time aspoň raz, tak vie, čo to znamená. Týmto albumom sa zrodil nový "Tales From The Thousand Lakes" a začala nová éra," dodáva Holopainen.
11. ročník Dobrého festivalu sa bude konať 14.-16. júna 2019 na prírodnom kúpalisku Delňa v Prešove.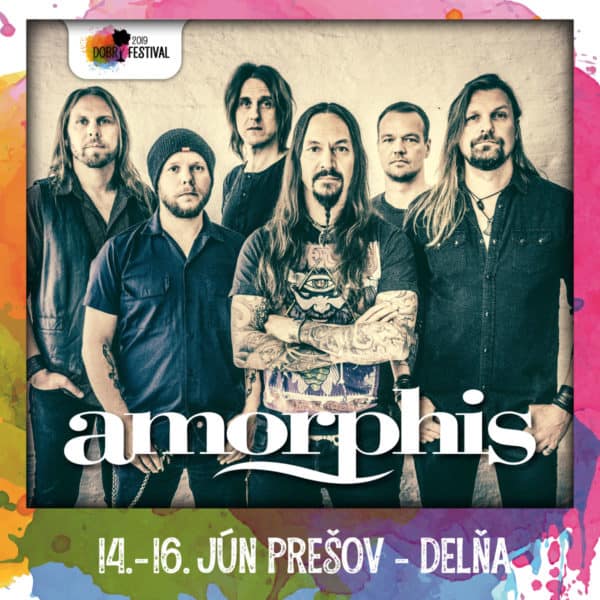 Zatiaľ ohlásené mená účinkujúcich: IMT Smile, RAZORLIGHT, N.O.H.A., Ofenbach, Pendulum DJ set, Kali a Peter Pan, Chinaski, Karolina Czarneczka, Chikiliki Tu-a, Heľenine oči, Kandráčovci, Štefan Štec, Ine Kafe Elevenhill, Satin lead, Adam Ďurica, Emma Drobná, Buranowski, Grai, Wayd, Slobodná Európa a další.
Ďalšie informácie nájdete na www.dobryfestival.sk a www.facebook.com/dobryfestival. Vstupenky sú v predaji v sieti ticketportal a ticketlive https://www.dobryfestival.sk/dobry-festival-2018/kup-vstupenky
redakciu informoval Edo Kopček z organizačného tímu Dobrého Festivalu
foto: archív