Festival talianskej kultúry DOLCE VITAJ spestrí aj tohto roku kultúrnu scénu na Slovensku. Predstaví výnimočné momenty talianskej architektúry, dizajnu, literatúry, výtvarného umenia, fotografie a filmu. Celý rad podujatí otvorí 21. mája 2021 výstava Corrada Cagliho – významného predstaviteľa talianskej maľby 20. storočia – Strach z totemu v Považskej galérii umenia v Žiline. Výstava ponúka pohľad na magicko-totemický vizuálny svet umelca, ktorý sa zaujímal o filozofiu a psychoanalýzu a prácu Gustáva Junga; kládol do popredia slobodu vyjadrenia a vlastnej predstavivosti. Festival organizuje Taliansky kultúrny inštitút v Bratislave.
"Minuloročný program festivalu sme pripravovali s presvedčením, že o rok budeme na výnimočný ročník vo výnimočných podmienkach spomínať s úsmevom. Po roku sa nachádzame takmer v rovnakej situácií, avšak dlhé obdobie strávené v izolácii a neistote nám umožnilo koncipovať dramaturgiu festivalu tak, aby sme napriek všetkým epidemiologický obmedzeniam dokázali milovníkom talianskej kultúry ponúknuť hodnotný a pestrý program. Preto budú v tohtoročnom programe dominovať výstavy, filmové projekcie a online podujatia," povedal o 14. ročníku festivalu Marco Gerbi z Talianskeho kultúrneho inštitútu.
Festival intenzívne udržiava kontakty s talianskou kultúrou, spája tradíciu a súčasné trendy. Tohto roku prinesie online stretnutia s troma významnými osobnosťami súčasnej literatúry: Silviou Avallone, Nicolom Lagioiom, Marcom Missirolim, nebude chýbať filmová prehliadka Cinevitaj, výstava fotografií [Ne]viditeľné námestia, dve pozoruhodné výstavy – "kresliaceho" architekta a dizajnéra Alda Rossiho a maliara Corrada Cagliho. Dolce Vitaj ponúkne aj online podujatia pri príležitosti 700. výročia úmrtia Dante Alighieriho, jedného z najvýznamnejších básnikov všetkých čias.
Festival otvorí 21. mája výstava Corrada Cagliho Strach z totemu, ktorá potrvá v Považskej galérii umenia Žilina do 27. júna 2021. Corrada Cagliho môžeme považovať za akýsi symbol 20. storočia, pretože bol súčasťou avantgardných hnutí, prežil rasové prenasledovanie, dve svetové vojny, na jednej z nich sa zúčastnil ako vojak americkej armády, spolupracoval s množstvom umelcov a intelektuálov z celého sveta a najmenej štyrikrát sa zúčastnil Bienále v Benátkach.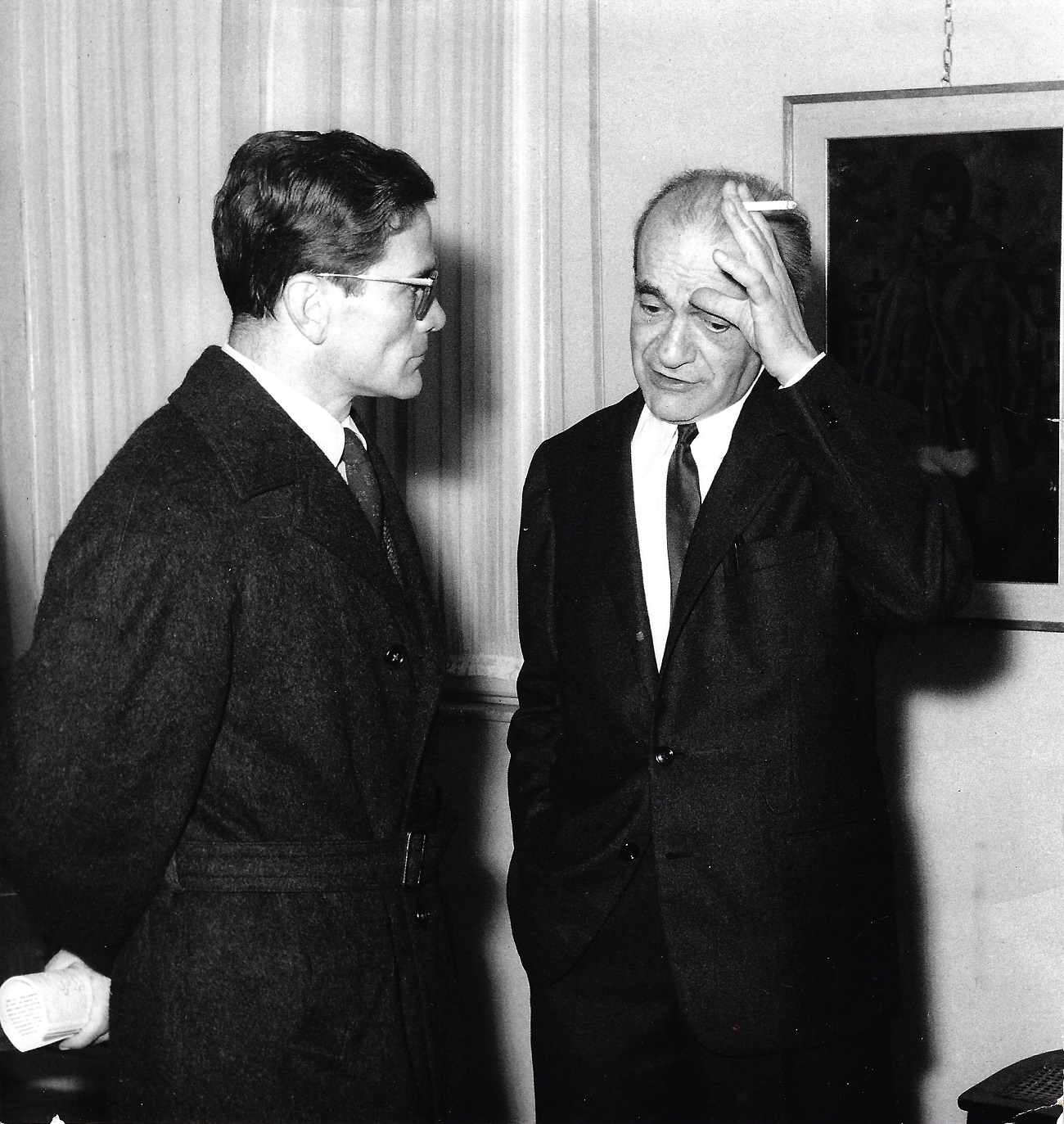 Diela vystavené po prvýkrat na Slovensku sa sústreďujú na jeho vzťah k psychoanalýze a štúdiu C.G. Junga. Cagli sa vo svojej tvorbe pohybuje na hranici figurálnej a abstraktnej maľby, jaskynného a moderného umenia, z čoho vo výsledku vznikajú výnimočné diela plné magických a atavistických odkazov.
"Z Cagliho tvorby ma najviac zaujali diela zo sedemdesiatych rokov, ktoré tvoria aj významnú časť tejto výstavy. Sú inšpirované mimoeurópskymi, predovšetkým africkými kultúrami, v ktorých cítiť snahu národov a politických hnutí vymaniť sa z kolonializmu a diktatúry. Pretože Cagli zakúsil prenasledovanie na vlastnej koži a aj v tomto prípade stojí na strane utláčaných. V tom je sila jeho odkazu," povedal Marco Gerbi.
Výstava ponúka pohľad na magicko-totemický vizuálny svet maliara Corrada Cagliho, umelca, ktorý od počiatkov svojej tvorby naplno zúročil potrebu oživiť vlastný umelecký jazyk. Hľadanie figurálnych a predovšetkým znakových archetypov vytvára osobný a autentický štýl, ktorý môžeme pozorovať v rôznych aspektoch umelcovej tvorby. V dielach sa odráža skutočnosť i podvedomie, pamäť a predtucha, tieto aspekty spolunažívajú v neutíchajúcej potrebe objavovať moderný svet primitívnym, barbarským a mysterióznym spôsobom, ktorá má veľa spoločného s myšlienkovým svetom Carla Gustava Junga. Cagli svoje kreatívne nomádstvo transformuje na slobodu vyjadrenia a vlastnej predstavivosti. Výstava pozostáva z takmer päťdesiatich diel, ktoré vznikali v období rokov 1946 – 1973.
Corrado Cagli (Ancona 1910 – Rím 1976) patrí medzi významných talianskych maliarov 20. storočia. Spoločne s ďalšími nádejnými umelcami ako boli Giuseppe Capogrossi a Emanuele Cavalli založili umelecké združenie Scuola Romana. Počas prvých rokov umeleckej aktivity sa venoval tvorbe grafitti a experimentoval s neokubistickou a metafyzickou maľbou.
Jeho diela medzi prvými vystavovala Galleria d'Arte v Ríme a Triennale v Miláne v roku 1936, kde mali diváci možnosť vidieť obraz Battaglia di San Martino (Bitka o San Martino), ktorý sa od roku 1983 nachádza v Galérii Uffizi vo Florencii. Na konci 30. rokov minulého storočia Cagli vystavoval aj v New Yorku. Keď sa roku 1938, sprísňovali protižidovské zákony, bol nútený kvôli svojmu pôvodu utiecť do Paríža a neskôr do New Yorku, kde si otvoril ateliér. V roku 1941 získal americké občianstvo, narukoval do americkej armády a bojoval v Európe. Dostal sa aj do koncentračného tábora v Buchenwalde a tento srdcervúci zážitok spracoval v sérii dramatických kresieb. Po skončení druhej svetovej vojny sa Cagli vrátil do Ríma, kde experimentoval s abstraktnou maľbou.
V roku 1946 získal cenu Guggenheim a v roku 1954 cenu Marzotto. Táto cena sa udeľovala v období 1951 – 1968 umelcom a mysliteľom, ktorí prispeli ku kultúrnej obnove povojnového Talianska a financoval ju módny dom Marzotto z Valdagna.
Niekoľkokrát vystavoval na Bienále v Benátkach (1936, 1938, 1948, 1954). Pracoval pre divadlo aj film, a okrem toho sa zaujímal o filozofiu a psychoanalýzu, predovšetkým o prácu Gustáva Junga. Jeho obrazy možno nájsť v mnohých významných zbierkach v Taliansku aj vo svete: Mestská galéria moderného a súčasného umenia v Ríme, Vatikánske múzeá, GAM v Turíne, Galéria Uffizi vo Florencii, Múzeum 900 vo Florencii, Museum of Modern Art v New Yorku, The Jewish Museum v New Yorku, LACMA v Los Angeles, Fine Arts Museum v San Franciscu, Múzeum moderného umenia v Eilate, Puškinove múzeum v Moskve, atď. Diela Corrada Cagliho sú súčasťou aj zbierky umenia v paláci Farnesina, ktorú spravuje Ministerstvo zahraničných vecí v Ríme.
Cagli udržiaval priateľské vzťahy s mnohými talianskymi umelcami, ako boli Riccardo Muti, Pier Paolo Pasolini, Alfonso Gatto, Elio Vittorini. Významný taliansky básnik a spisovateľ Giuseppe Ungaretti o ňom povedal: "Keď sa postaví pred plátno, presne vie, aký má cieľ: má ho v sebe, v očiach, prstoch, tele; je súčasťou jeho samého, jeho fantázie, pocitov. Je to niečo, čo prináša úžasné výsledky, takmer až zázraky."
Festival sa koná pod záštitou primátora Hlavného mesta SR Bratislavy Matúša Valla.
Organizátori: Taliansky kultúrny inštitút v Bratislave, Taliansko – Slovenská obchodná komora, Talianske veľvyslanectvo, Považská galéria umenia v Žiline
Viac informácií ponúkajú webové stránky: dolcevitaj.eu / iicbratislava.esteri.it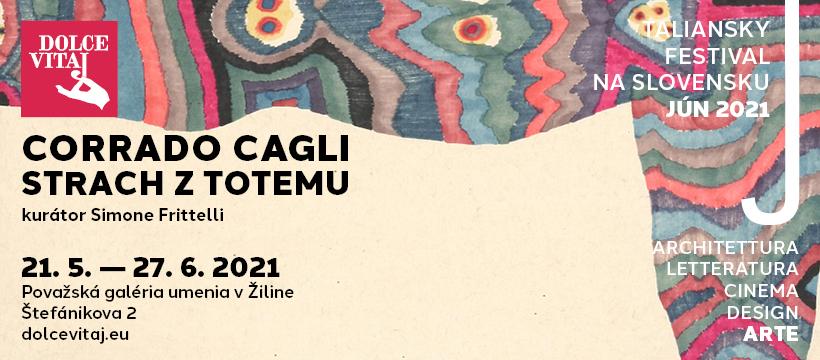 Zdroj: TS