Festival Punkáči Deťom bol v roku 2020 náhle zrušený tri dni pred jeho otvorením. Finančné straty sa podarilo vykryť aj vďaka podpore darcov prostredníctvom verejnej zbierky. Organizátori tak mohli pripraviť najbohatší program pre jubilejný desiaty ročník jedného z najvýznamnejších komunitných festivalov. Počas štyroch dní vystúpi vyše 70 účinkujúcich.
Festival Punkáči Deťom sa tradične koná posledný augustový víkend na letisku v Trenčíne. Obvyklý trojdňový festival sa organizátori rozhodli obohatiť o deň navyše, a tak sa festival začne už v stredu 25.8. Za štyri dni sa na dvoch pódiách predstavia nielen hudobníci, ale tiež prednášajúci, cestovatelia, standup komici a "básnici" slam poetry.
Narodeninový 10. ročník prinesie to najlepšie na slovenskej a českej scéne nielen zo žánrov punk, rock, HC, ska a rockabilly. Headlinerom úvodného dňa bude slovenská rocková legenda Slobodná Európa a španielski matadori ska-punku The Locos. Ska-punkový tandem doplní domáca stálica Smola a hrušky.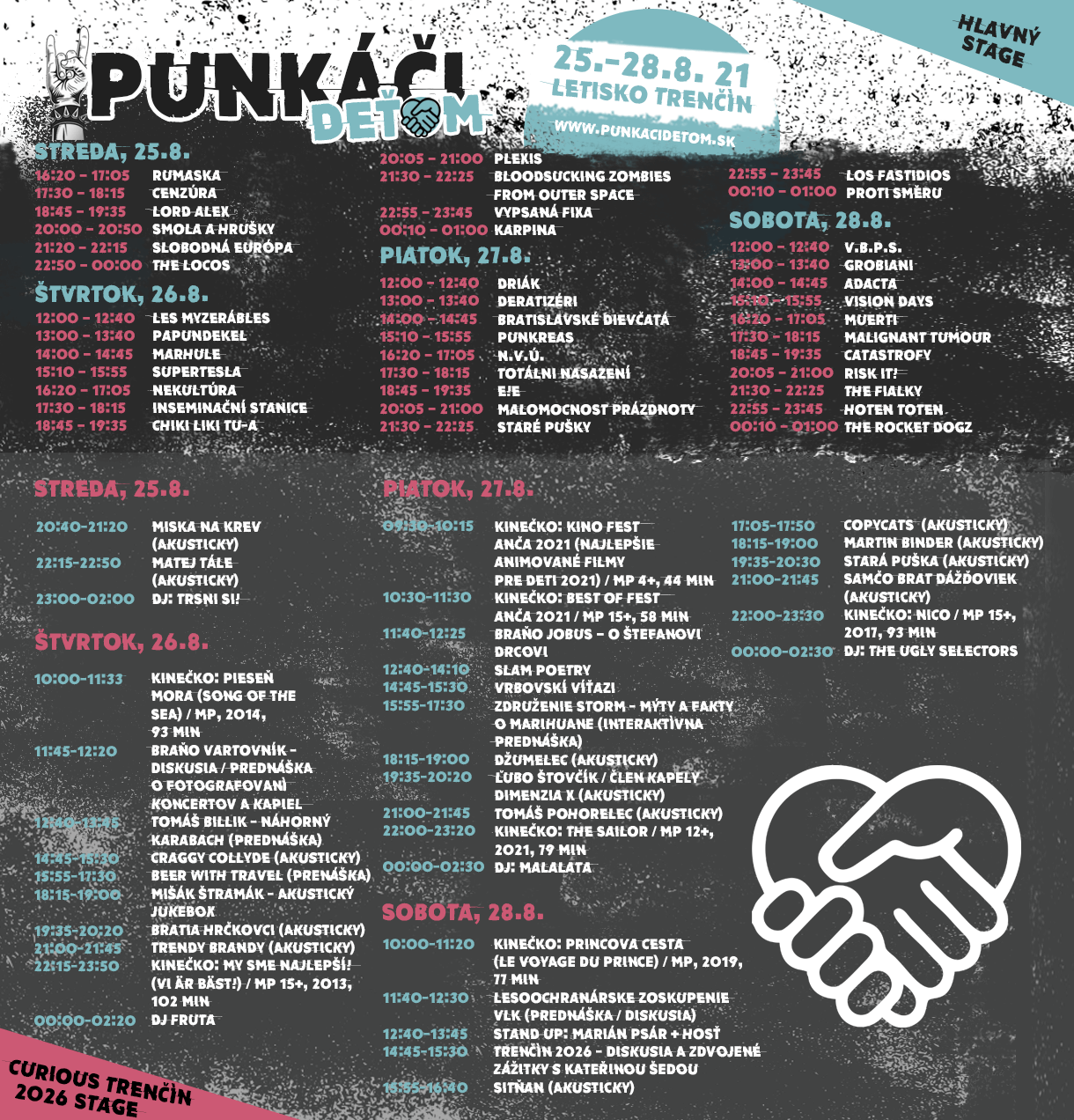 Milovníci alternatívy nájdu v line-upe zaujímavé mená ako Vypsaná Fixa, Chiki-liki-tua či Samčo brat dážďoviek. Metalistov budú reprezentovať kapely Catastrofy či Malignant Tumour. Najväčšie zastúpenie majú punkoví interpreti, z CZ/SK scény napr. Plexis, Hoten Toten, Punkreas, Totální Nasazení či The Fialky, zo zahraničia pricestujú talianski veteráni Los Fastidios.
Návštevníci sa však môžu tešiť i na bohatý sprievodný program. Akustický stage ponúkne široký diapazón podujatí – od folkových koncertov (Džumelec, Vrbovskí Víťazi, Sitňan) cez čítačky kníh (Braňo Jobus), prednášky (Lesoochranárske združenie VLK, Združenie STORM) až po nočné DJ sety (Malalata). A k tomu tradične premietanie filmových titulov, ktoré stoja za pozornosť, ako napr. Nico či The Sailor.
Festival je vhodný pre všetky vekové kategórie; pre individuálov, ako aj rodiny s deťmi. Okrem stageov ponúka i priestory na oddych a zábavu ako chill zóna či čajovňa s vodnými fajkami.
Hlavným motívom festivalu je benefícia, ktorej myšlienky je zakomponovaná priamo v názve festivalu: výťažok zo vstupného putuje na pomoc deťom v núdzi prostredníctvom OZ Punkáči Deťom.
Vstupenky na festival je možné zakúpiť online na www.punkacidetom.sk .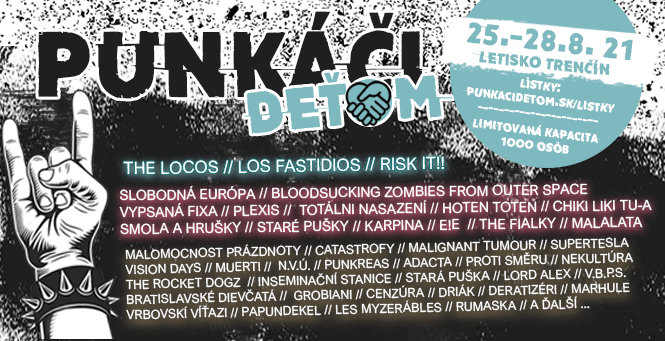 Zdroj: TS