The Exploited, The Toy Dolls či The Boys, ktorí sú na scéne od roku 1976. Britské punkové legendy sú hlavným ťahákom benefičného festivalu Punkáči Deťom. Silné zahraničné mená zastupujú aj príbuzné žánre – elektro-punk-hardcore v podaní Moscow Death Brigade či metal v prevedení moldavských Infected Raid. Festivalový lineup však ponúka aj mnoho atraktívnych interpretov z CZ-SK scény zo širokého žánrového spektra. Do 1.7. si môžete zaobstarať vstupenku na tento mnohoraký festival za zvýhodnenú cenu.
Punkáči Deťom sa tradične konajú posledný augustový víkend, v aktuálnom roku sa program začína už v stredu 24.8. a potrvá do soboty. Novinkou tohto ročníka je B-stage, ktorý v minulosti plnil úlohu pódia pre akustické projekty a prednášky. V tomto roku nebude žánrovo obmedzený a zaznie na ňom napr. post-black metal v podaní skupiny Besna, hardcore punk od kapiel Kazostroj či Hrobár, alebo "satanistický pop pre deti" od recesistov zo skupiny Pentagramček. Ďalšou novinkou je tiež zastúpenie čoraz populárnejšieho žánru – trap, ktorý príde reprezentovať Dušan Vlk. Napokon sa môžeme tešiť aj na fúzie žánrov, ako napr. metalovo-rapový beatdown pod taktovkou kapiel Tatrofka 200025000 či Brizolit.
Na "áčkovom" stejdži sa medzičasom môžu návštevníci tešiť na hore uvedené zahraničné mená, ktoré bude dopĺňať výber domácich mien z rôznych žánrov. Návštevníci si môžu vypočuť etablované kapely ako Polemic či Slobodná Európa, ale tiež virtuózny rom pop od zoskupenia Lomnické Čháve či bezkonkurenčné reggae od Medial Banana. Samozrejmosťou sú česko-slovenské punkové stálice ako Rozpor, SPS či Vision Days. Zástupcom folku bude, okrem iných, český legendárny nomád Záviš.
"Čaká nás najväčší ročník v histórií. Už minulý rok sme mali vyše 70 účinkujúcich, tentokrát bude však ponuka interpretov skutočne pestrá: ku gitarovým žánrom, ako je punk, metal, ska či folk sme pridali rap, na konci každého dňa bude žánrová diskotéka. K tomu si prirátajte doprovodný program v podobe prednášok či omše v podaní Svedkov Liehovových. Každý deň máte čo robiť od rána do večera." hovorí Andrej Siget, zakladateľ festivalu, ktorý minulý rok oslávil 10 rokov od založenia.Hlavným motívom festivalu je benefícia, sociálna inklúzia a solidarita. Festival odovzdáva výťažok zo vstupného na pomoc deťom v núdzi prostredníctvom OZ Punkáči Deťom. Kúpou vstupenky tak môžete priamo podporiť benefičnú myšlienku festivalu. Do 1.7. si môžete 4-dňovú permanentku rovnako ako dennú vstupenku, kúpiť za zvýhodnenú cenu na webe festivalu: https://www.punkacidetom.sk/listky.
Web festivalu: http://www.punkacidetom.sk/
FB festivalu: https://www.facebook.com/punkacidetom/
Instagram: https://www.instagram.com/festival_punkaci_detom/
FB udalosť: https://fb.me/e/M9W1MlpC
Punkáči deťom 2021 – aftermovie: https://www.youtube.com/watch?v=muYd7ciMMY8
Nadácia Pomoc deťom v ohrození: http://www.pomocdetom.sk/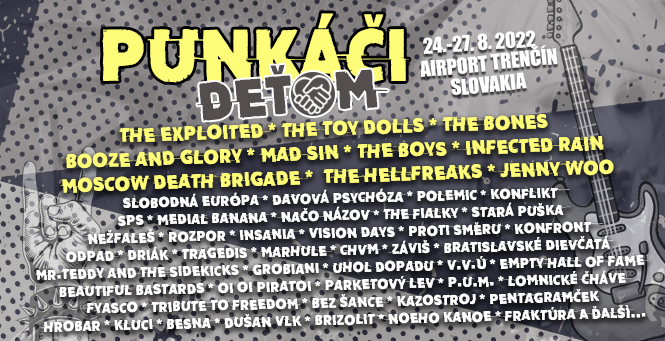 Text: Tomáš Billik