Medzinárodný festival filmových klubov Febiofest zavíta tento rok až do rekordných 15 slovenských miest a 17 filmových klubov. Od 25. marca do 10. apríla 2019 sa s podtitulom Best of MFFK Febiofest odohrá v Banskej Bystrici, Dubnici nad Váhom, Kežmarku, Košiciach, Leviciach, Lučenci, Martine, Modre, Nitre, Nových Zámkoch, Poprade, Prešove, Prievidzi, Trenčíne a Trnave.
Do jedenástich miest prinesie tento ročník festivalu jedinečné projekcie kontroverzného filmového hitu Klérus, ktorý inak nebude možné vidieť v kinách na Slovensku.
"Tento rok v regiónoch neuvádzame širší výber filmov z festivalu, ale sústredili sme sa na jeho najzaujímavejšie tituly," vysvetlil umelecký riaditeľ MFFK Febiofest Přemysl Martinek.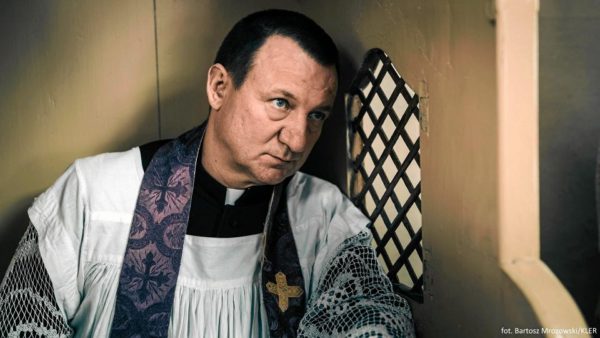 Vo výbere je okrem otváracieho filmu 26. ročníka MFFK Febiofest Punk je hned! taktiež dlho očakávaný hit Paola Sorrentina Oni a Silvio. Najnavštevovanejší filmový hit v dejinách poľskej kinematografie, ktorý si už pozrelo päť miliónov Poliakov, film Klérus, putuje do regiónov v exkluzívnom uvedení. Na Slovensku ho môžu vidieť diváci iba počas Febiofestu v Bratislave a v regiónoch, inak sa do našich kín nedostane. V mestách, kde nie z technického hľadiska možné Klérus premietnuť, ho zastúpi iný poľský reprezentant, pozoruhodný triler Útek. V najväčších regionálnych metropolách, v Banskej Bystrici a Košiciach sme do programu zaradili aj nový česko-slovenský film Chvilky, ktorého hlavná predstaviteľka, česká herecká hviezda Jenovéfa Boková, získala v sobotu Českého leva za svoj excelentný výkon.
Film Wojteka Smarzowského, štvornásobného víťaza poľských filmových cien, Klérus vyvolal v jeho rodnej krajine, kde sa ku katolíckej cirkvi hlási viac ako 90 percent obyvateľov, nevídanú kontroverziu. Otvorene totiž zobrazuje, hoci na fiktívnych filmových príbehoch troch kňazov, skutočné praktiky a hriechy duchovných katolíckej cirkvi – vrátane pedofílie, smilstva, alkoholizmu či korupcie. Hneď po uvedení do kín sa stal najväčším hitom posledných rokov, trhol rekordy návštevnosti, keď ho za prvé dni videlo 2 a pol milióna Poliakov.
MFFK Febiofest 2019 si za otvárací film vybral tento rok slovensko-českú snímku Punk je hned! debutujúceho režiséra Juraja Šlauku. Film, inšpirovaný detailne odpozorovaným životom pankáčov prebývajúcich na periférii, putuje ako jeden z troch top filmov Febiofestu aj do regiónov. Rozpráva príbeh 30-ročného drogovo závislého Kvička, ktorý žije v rozpadajúcom sa podnájme so svojou družkou a s dvojročným synom. Jeho impulzívne správanie mení jeho život na voľný pád.
Hedonistický portrét bývalého talianskeho premiéra Silvia Berlusconiho Oni a Silvio predstavil vlani na festivale v Cannes držiteľ Oscara, Talian Paolo Sorrentino, ktorého preslávili filmy ako Mladosť alebo Veľká nádhera. Aká je najväčšia ľudská túžba? Láska? Peniaze? Sex? Neobmedzená moc? A je možné to všetko dosiahnuť a nestratiť pri tom vlastnú tvár? Sorrentinov dvorný herec Toni Servillo stvárňuje v tejto veľkolepej provokatívnej komediálnej dráme notoricky známeho miliardára, strojcu škandálov, mediálneho magnáta a dlhoročného kontroverzného talianskeho premiéra.
Psycholologický triler Útek bude uvedený v štyroch slovenských mestách, v Banskej Bystrici, Nitre, Prešove a Prievidzi, ako druhý film poľskej proveniencie a alternatíva ku snímke Klérus. Režisérka Agnieszka Smoczyńska prináša vo svojom druhom hranom filme neštandardnú a znepokojivú drámu, ktorá je inšpirovaná skutočným príbehom. Jej hlavnou postavou je Alicja, ktorá sa navzdory straty pamäti snaží vybudovať nový život s novou identitou. Do príbehu vstupuje jej pôvodná rodina, ku ktorej sa po dvoch rokov vracia. Svoj minulý život odmieta až do momentu, kedy sa jej začínajú vynárať záblesky spomienok z jej života pred stratou pamäti. Postupne jej nová a pôvodná identita splývajú do jednej a na povrch sa dostáva znepokojivé zistenie o nej samej.
Snímka Chvilky, ktorú premietnu filmové kluby v Banskej Bystrici a Košiciach, je debutom českej režisérky a scenáristky Beaty Parkanovej. Na konte už má Cenu českej filmovej kritiky a čerstvo aj prestížneho Českého leva pre Jenovéfu Bokovú za najlepší ženský herecký výkon v hlavnej úlohe. Popri nej sa v snímke predstaví aj slovenský herec a hudobník Marek Geišberg. Chvilky citlivo zachytávajú nástrahy rodinného života, komentuje ich s humorom, pochopením a neobyčajne vyvinutým citom pre situácie. Chvilky hovoria o každodenných situáciách, vzťahoch a emóciách, s ktorými sa stretávame, sú nám blízke a dôverne známe. Rozprávajú o láske, bolesti, oddanosti, ale rovnako aj o nádeji, že človek svoje zranenie dokáže premeniť v novú životnú silu.
Banská Bystrica
25.–28. 3. 2019
FK v Múzeu SNP
Dubnica nad Váhom
2.–4. 4. 2019
Filmový klub Kina Lastovička
Kežmarok
25.–27. 3. 2019
FK Iskra│Kino Iskra
Košice
28.–29. 3. 2019
Kino Úsmev
Košice
30.–31. 3. 2019
Kino Tabačka
Levice
27.–29. 3. 2019
FK Otáznik│Kino Junior
Lučenec
26.–28. 3. 2019
FK Priestor
FK Európa│Kino Apollo
Martin
2.–3. 4. 2019
FK Alternatíva Martin│Kino Moskva
Modra
25.–27. 3. 2019
Filmklub K4│Kino Mier
Nitra
25.–26. 3. 2019
Kinoklub Tatra
Nové Zámky
26.–28. 3. 2019
FK pri kine Mier
Poprad
1.–3. 4. 2019
FK Poprad│Kino Tatran
Prešov
1.–2. 4. 2019
Kino Pocity│Wave ~ cnk
Prievidza
8.–10. 4. 2019
FK ´93
Trenčín
27.–29. 3. 2019
Artkino Metro
Trnava
25.–27. 3. 2019
FK Naoko│Kino Hviezda
Zdroj: SFÚ