Sovietsky nemý film v spojení s drum and bassovou hudbou? Alebo kultový Dracula v doprovode temnej elektronickej hudby? Blížiaci sa 26. ročník Medzinárodného festivalu filmových klubov Febiofest, ktorý sa v Bratislave začne už od 20. marca a potrvá do 26. marca 2019, ponúkne aj tri špeciálne projekcie so živým hudobným doprovodom.
Kino Mladosť obsadí 23. marca 2019 Dracula v spojení s dark ambientom. Diváci si budú môžu užiť slávnu nemú adaptáciu románu Brama Stokera, Upír Nosferatu režiséra Friedricha Wilhelma Murnaua, doplnenú o hudobný sprievod jihlavského hudobného dua Tábor Radosti. Ich identitu pozná málokto, keďže vystupujú v maskách a pod pseudonymom. Ich temná a pomalá elektronická hudba zahrá ku kultovému filmu a unikátna projekcia sa odohrá počas Febiofestu len raz.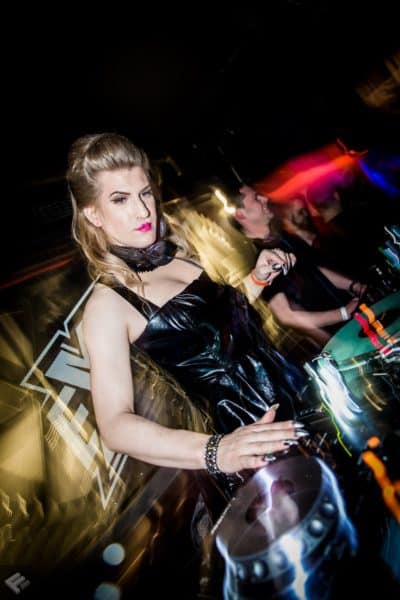 Najvychytenejšia slovenská drum and bassová dídžejka B-Complex si do svojich rúk zas zoberie doprovod ku klasickému sovietskemu nemému filmu Sergeja M. Ejzenštejna Desať dní, ktoré otriasli svetom. Legendárna ruská snímka, ktorá spracúva udalosti boľševickej revolúcie v roku 1917, doplnená o špeciálny hudobný set, ktorý ešte nikdy neodznel, zaznie jedine počas MFFK Febiofest a len raz – a to 24. marca 2019 v Café Berlinka SNG.
"Je to špecifické hranie a je jasné, že synchrónnosť pri dídžejingu je nereálne dosiahnuť, takže sa budem snažiť film podporiť atmosférou, a nájsť prienik medzi klasickým filmom a súčasnou elektronickou hudbou," povedala B-Complex.
Na záver Febiofestu, 26. marca 2019 je pre festivalových návštevníkov pripravené v A4 – Priestore súčasnej kultúry jedinečné audiovizuálne predstavenie so živým zvukovým sprievodom prinesie z Česka. Dielo Taran autorskej trojice Týmal, Rouš a Šmitmajer zavíta do Bratislavy hneď po svetovej premiére na prestížnom festivale v Rotterdame. Dňa 8. septembra 1914 sa na oblohe nad ukrajinskou Žovkvou odohral historicky prvý vzdušný taran – bojový manéver, pri ktorom pilot zámerne navedie svoje lietadlo na nepriateľský stroj, aby ho zničil. Rus Piotr Nesterov, priekopník leteckej akrobacie, tak za cenu vlastného života zmietol z oblohy rakúske lietadlo, ktoré pilotoval František Malina – ten sa tak stal vôbec prvým českým letcom zabitým vo vzdušnom súboji. Filmové vystúpenie Taran pomocou experimentálnej techniky živej animácie rekonštruuje tento incident a zároveň zobrazuje premenu aviatiky, vznešenej disciplíny a symbolu ľudského pokroku, na ničivú zbraň, ktorá zmenila podobu vojenstva.
↔ KOMPLETNÝ PROGRAM MFFK FEBIOFEST 2019 A VSTUPENKY K DISPOZÍCII TU↔ https://cinepass.sk/mffk/sk/tickets
Zdroj: TS