Po takmer štyroch rokoch sa do Bratislavy vráti americká neo-post punková kapela The Soft Moon. Projekt hudobníka Luisa Vasqueza zavíta 9. apríla na Veľkonočnú nedeľu – do bratislavskej Fugy – s novým albumom Exister, ktorý je osobnou výpoveďou o jeho životných zmenách. V úlohe predskokana sa predstaví jednočlenný industriálny newyorský projekt Trace Amount. Podujatie sa koná pod značkou Nu Sound Of…
Veľká zmena v živote nastala u Luisa Vasqueza, ktorý vedie neo-post punkovú skupinu The Soft Moon. Keď sa pred pár rokmi sťahoval do Berlína, očakával vzrušujúce obdobie. Voľné dni trávil v berlínskych kluboch a v slobodomyseľnej atmosfére tamojších ateliérov a štúdií. Z tejto inšpirácie vznikli diela Criminal a Body of Errors. Potom prišiel čas na zmenu. Presťahoval sa naspäť do Ameriky, do púšte Joshua Tree, kde si vychutnával samotu. Očistil sa od všetkých rušivých myšlienok a výsledkom je album Exister. Ten sa stal jeho terapiou po tom všetkom rušnom životnom štýle, aj vysporiadaním sa s komplikovaným vzťahom k jeho matke a s úzkosťou z rodinných tajomstiev. Hodnotí svoje minulé skutky, polemizuje a háda sa sám so sebou a uzatvára ťaživú minulosť.
"Celá podstata tejto nahrávky je o zdieľaní pocitov, ktoré som vtedy cítil. Je o tom, aké je to byť človekom a prežívať všetky tie emócie a skúsenosti plynúce zo života. Oddával som sa spomienkam a bolesti, ktorú som zažíval počas skladania. Je to moja najosobitejšia nahrávka. Napriek všetkému tomu smútku a hnevu je v nej aj kus nádeje a krásy," vyjadril sa Luis Vasquez k obsahu dosky Exister. Tá je pestrou zmesou dravej elektroniky v melancholickom dark-wave šate a v extatických techno rytmoch.
Nedáva si žiadne limity. Takto sa na tvorbu zvukov a hlukov pozerá Newyorčan Brandon Gallagher, ktorý vystupuje pod menom Trace Amount. Jeho debut Anti Body Language vyjde 15. apríla vo vydavateľstve Federal Prisoner, do ktorého ho uviedol Greg Puciato (The Dillinger Escape Plan, The Black Queen, Jerry Cantrell). Predobrazom mu bola vízia postapokalyptického New Yorku zdecimovaného pandémiou – rozvrstvené v agonickom kvílení odrážajúceho sa od noisových plôch. Už teraz sa o ňom vraví ako o veľkej nádejí americkej industriálnej scény.
Projekt z verejných zdrojov podporil Fond na podporu umenia.
Nu Sound Of…The Soft Moon (USA); Trace Amount (USA) – 09.04.2023, Fuga, Bratislava
Goout: https://goout.net/en/tickets/the-soft-moon+support-trace-amount/ijxq/
Predpredaj: https://predpredaj.zoznam.sk/sk/listky/soft-moon-support-trace-amount-2023-04-09/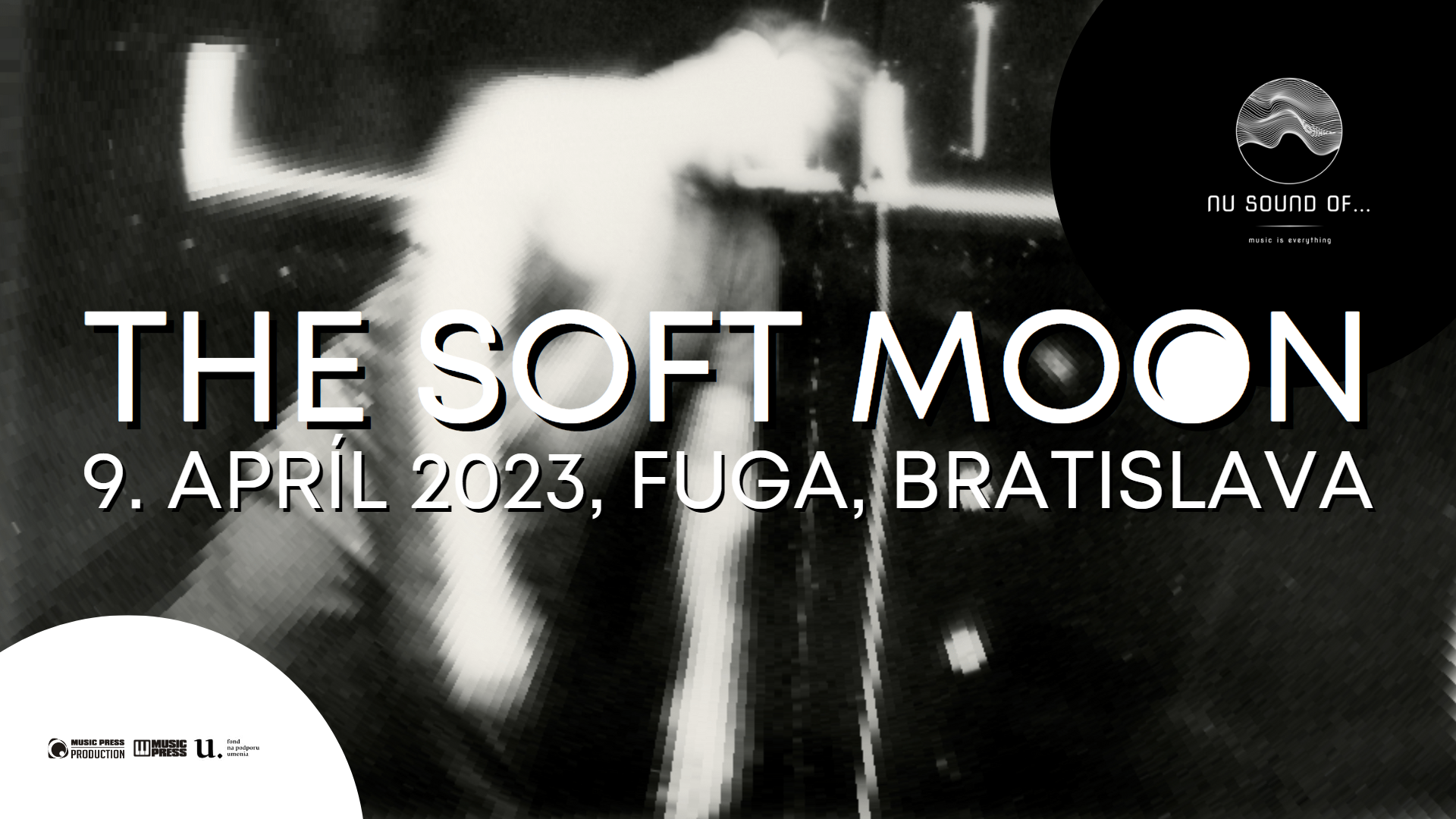 Zdroj: TS