České odborné hudobné Ceny Anděl sa budú odovzdávať 27.4. 2022 vo Veľtržnom paláci v Prahe. Česká hudobná akadémia rozhodla o trojiciach nominovaných v jednotlivých kategóriách tento rok po prvýkrát v troch kolách hlasovania. Zo zverejnených shortlistov vznikla po druhom kole hlasovania finálna trojica nominovaných v každej kategórii. Z nich akademici v poslednom kole zvolia víťaza.
"Celkovo hlasovalo viac ako 423 akademikov, odborníkov z hudobnej oblasti," upresnila Petra Žikovská, riaditeľka Českej národnej skupiny Medzinárodnej federácie hudobného priemyslu (ČNS IFPI), ktorá ocenenie vyhlasuje.
Favoritkou 31. ročníka Ceny Anděl sa stala Ewa Farna. S albumom Umami je nominovaná v kategóriách Album a Sólová interpretka. Jej skladba Telo sa môže stať Skladbou či Videoklipom roka. Po troch nomináciách získali Vladimír Mišík a jeho Nočný obraz a aj album Dýchej, ktorý po smrti Davida Stypku dokončili jeho spoluhráči z kapely Bandjeez. Do kategórie Slovenský album sa po druhom kole prebojovala mladá dvojica Lash & Grey (Kristína Mihaľová a Jakub Šedivý) s albumom Blossoms of Your World, a zavedení hudobníci Peter Nagy s albumom Petrolej a Peter Bič Project s albumom Hlava.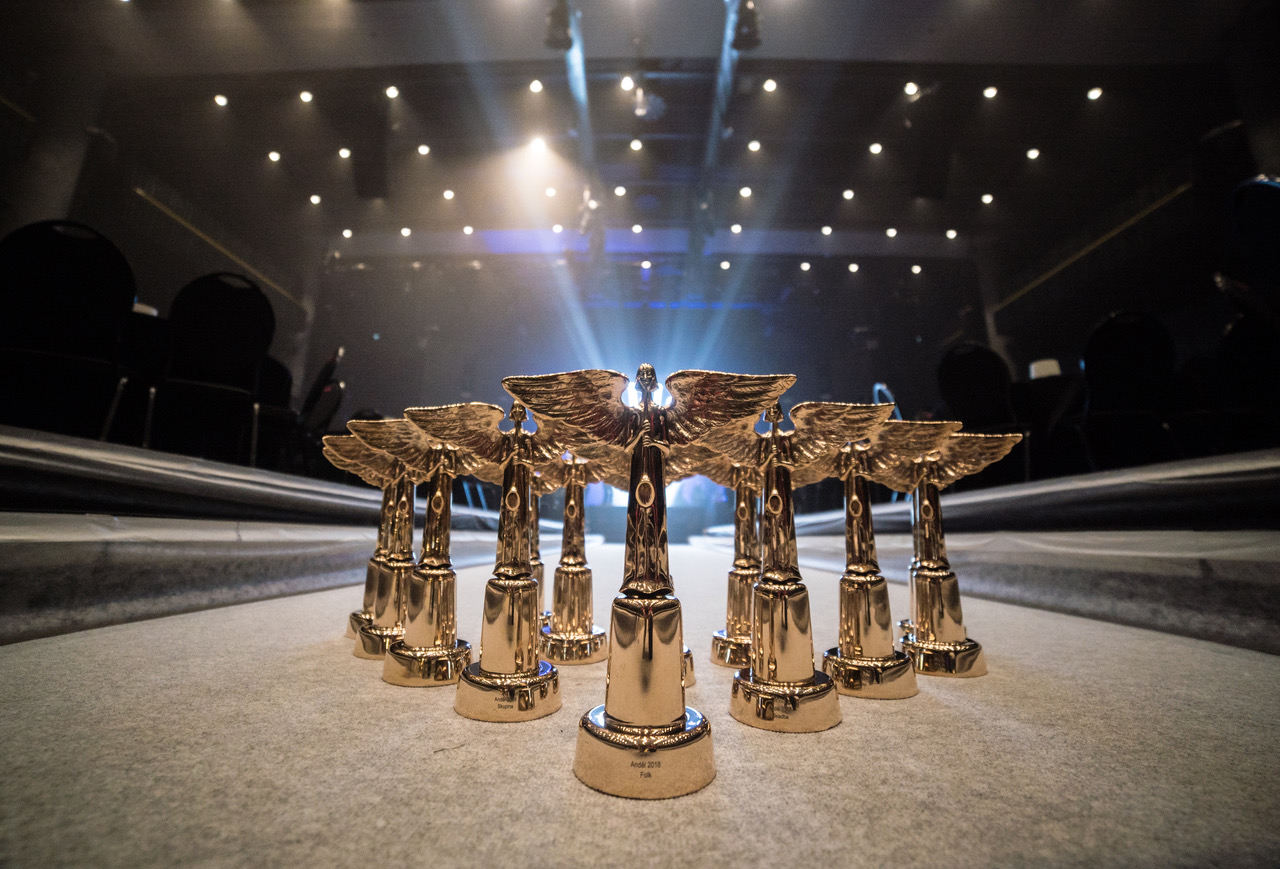 "Za všetkými nominovanými albumami stoja výrazné osobnosti tuzemskej populárnej hudby aj silný príbeh. Bude zaujímavé sledovať, koho nakoniec akademici v tak vzácne vyrovnanej konkurencii zvolia za víťaza. Celkovo je vo všetkých kategóriách nominovaných tridsaťtri albumov alebo piesní rôznych žánrov od popu až po vážnu hudbu. Za pozorné vypočutie stojí každá z nich," povedal predseda rady Českej hudobnej akadémie (ČHA) Honza Vedral.
Radu ČHA, ktorá na podobu a pravidlá Cien Anděl dohliada, okrem neho tento rok tvorí publicista Josef Vlček, riaditeľka ČNS IFPI Petra Žikovská a producentka Cien Anděl Lucka Hájková.
Garantmi žánrových kategórií v ročníku 2021 sú Vojtech Tkáč (Alternatíva a elektronika), Milan Tesař (Folk, Jazz), Michaela Vostřelová (Klasika), Matěj Kretík (Rap), Petr Adámek (Rock), Roman Juhás (Slovenský album) a Saša Michailidis (Videoklip). Žánrové ocenenia budú rovnako ako v predchádzajúcich rokoch udeľované priamo počas hlavného ceremoniálu, ktorý tento rok usporiadatelia plánujú po dvoch koronavírusom poznamenaných ročníkoch uskutočniť ako klasický živý ceremoniál. V rámci galavečera sa naživo predstaví česká hudobná špička rôznych žánrov.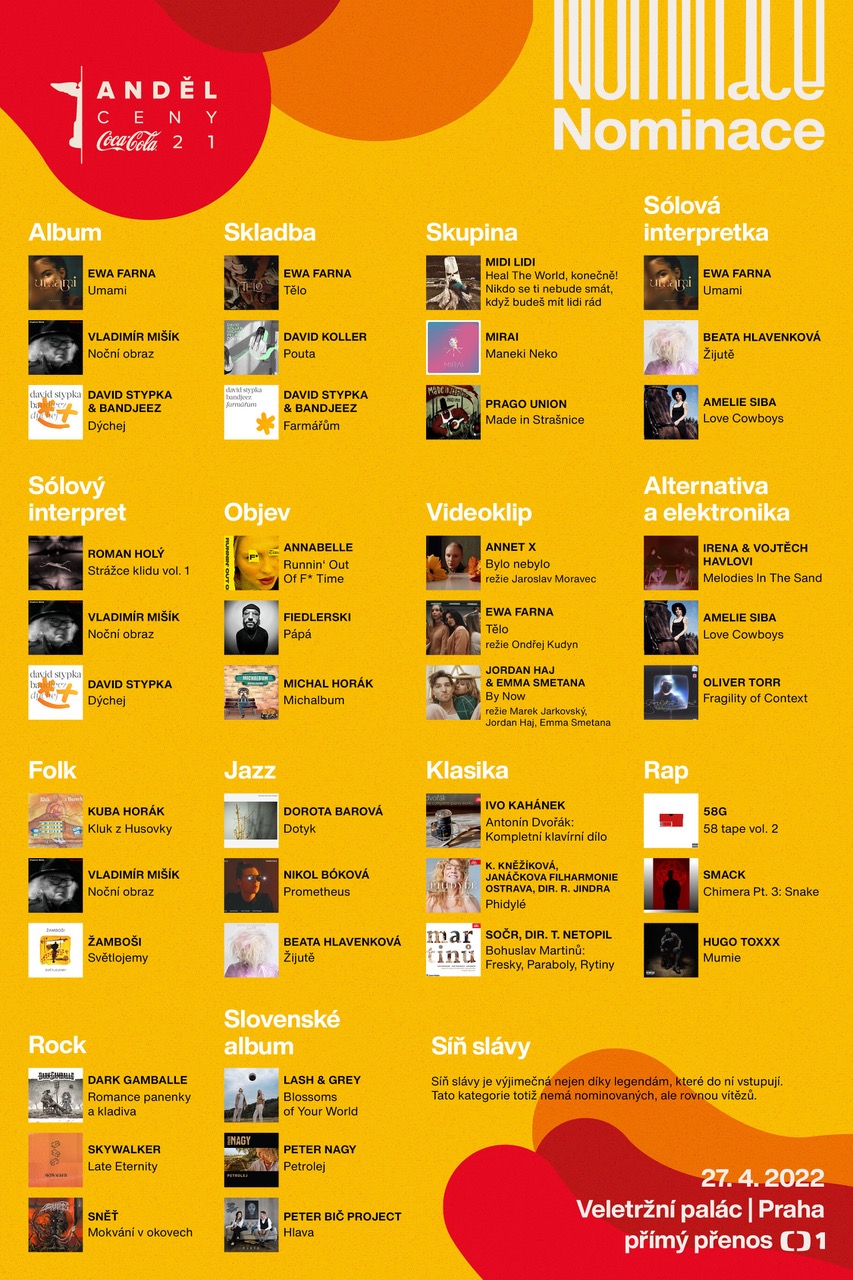 Titulárnym partnerom 31. ročníka je spoločnosť Coca-Cola ČR, hlavným mediálnym partnerom je rádio Evropa 2. To v rámci spolupráce opäť podporí kampaňou v hodnote pol milióna CZK výhercu Anděla v kategórii Objav. V nej sú tentoraz nominovaní speváčka Annabelle, producent fiedlerski a pesničkár Michal Horák.
Ceny Anděl udeľuje každoročne od roku 1991 hudobná akadémia. Od roku 1995 sa realizujú pod záštitou ČNS IFPI a od roku 1997 ich symbolizuje soška Anjel so šalmajom od sochára Jaroslava Rónu. 31. ročník Cien Anděl Coca-Cola 2021 odvysiela 27.4.2022 v priamom prenose ČT1.
Zdroj: TS