B-Side Band představí 2. června nový koncertní projekt Takt-Ty. Na pódiu brněnského Metro Music Baru spolu s osmnáctihlavým tělesem zahraje Cenou Anděl čerstvě oceněné slovenské duo Lash & Grey, v big bandových aranžích zazní tvorba rock-funkové skupiny Jay Delver.
Za svou šestnáctiletou kariéru spolupracoval B-Side Band s nejednou českou i zahraniční osobností. Počínaje Vojtěchem Dykem vystoupil soubor s členy Orchestru Gustava Broma, dvojnásobným držitelem Grammy Kurtem Ellingem, vokálním ansámblem New York Voices rovněž oceněným zlatým gramofonem či britskými The Puppini Sisters. V rámci aktuální kolaborace si interpreti kladou za cíl propojit své umělecké styly do nového formátu.
"Oba talenty už sleduji dlouho. Fúzí jejich soudobého pojetí soulové či funkové hudby s big bandem chceme dodat vynikající tvorbě Lash & Grey a Jay Delver další rozměr. Od tohoto protnutí si všichni slibujeme tvůrčí osvěžení a rozšíření obzorů. A vzhledem ke kvalitám zúčastněných si troufám říct, že se naše očekávání vyplní," říká bandleader a zakladatel B-Side Bandu Josef Buchta.
Slovenská dvojice Kristíny Mihaľové a Jakuba Šedivého vystupující pod názvem Lash & Grey od svého vzniku získává jedno ocenění za druhým. Od slovenských Radio_Head Awards za Nejlepší debutové album přes Objev roku na New Faces of Slovak Jazz až po aktuální výhru Ceny Anděl v kategorii Slovenské album roku. Evropskou hudební scénu oslnili natolik, že zcestovali bezmála desítku prestižních festivalů ve Francii, Německu či Belgii. "S bigbandom sme ešte nespolupracovali a myslíme si, že to bude veľmi zaujímavé spojenie," shrnuje Mihaľová.
Dalším objevem aktuální scény, který se na pódiu setká s B-Side Bandem, je zpěvák, klavírista a saxofonista Jakub Urbánek z brněnské rock-funkové skupiny Jay Delver. Nadaný skladatel se svou kapelou rovněž reprezentoval svou zemi v zahraničí, naposledy například v Paříži v Českém centru či na srbském Nišville Jazz Festivalu. Jako předskokani rozvášnili v domácím Sono Centru fanoušky čekající na koncert americké kytaristky Maliny Moye. Prvním místem na soutěži Jazzfruit festivalu Mladí Ladí Jazz převzali žezlo od minulých vítězů jako skladatele Igora Ochepovského či slovenského uskupení Ľudové Mladistvá.
Předprodej na vystoupení lze zakoupit na síti GoOut.
Facebook událost: https://fb.me/e/4zNovHp5d
Facebook B-Side Band: https://www.facebook.com/BSideBandBrno
Instagram B-Side Band: https://www.instagram.com/b_side_band/
Facebook Lash & Grey: https://www.facebook.com/lashgreymusic
Instagram Lash & Grey: https://www.instagram.com/lashgreymusic/
Facebook Jay Delver: https://www.facebook.com/jaydelverband
Instagram Jay Delver: https://www.instagram.com/jay_delver/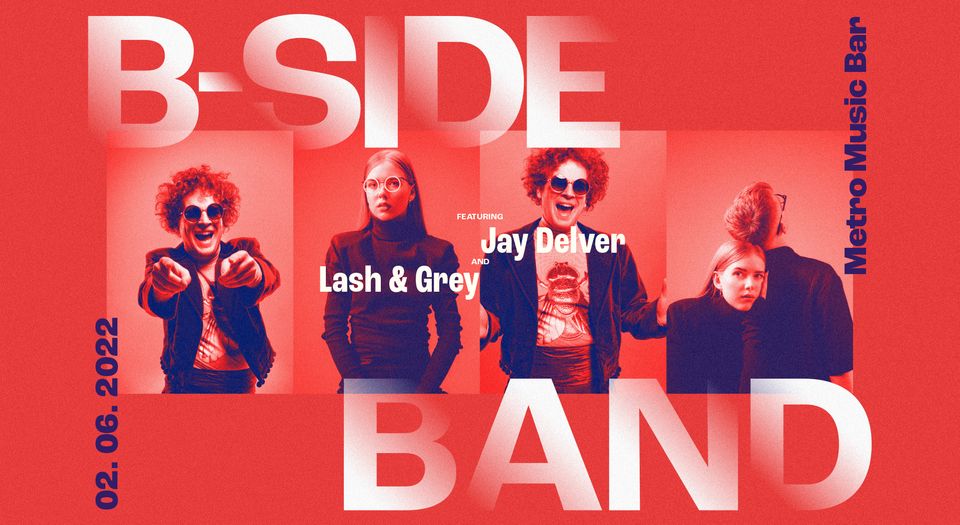 Zdroj: TS