A neoslavíme to s nikým jiným než s těmi, kteří již v minulosti přispěli do hudební mozaiky značky SOUND44.
Navazujeme na snahu být za každých podmínek zárukou kvality, ať už se to týká osvětlení, vizuální stránky či samozřejmě vystupujících. Takže co vás čeká?
Jsme rádi, že naše pozvání přijal jeden z našich slovenských bratov, rodák z Piešťan! Vystupoval u nás pravidelně a publikum si získal především díky pestrým a rázným setům. Konec napínání… dj Boss! Borec, který svůj djský maraton započal už v roce 1995. Všem nám je o 20 let více a tak jsme zvědaví, co si pro nás technoranař přichystá! Už teď je ovšem jisté, že i přes neuprosný tok času se při hraní Slavo nebude opírat o čagan a hudební paleta bude mít daleko k line-upu tv Šlágr. Bude TECHNO ako sa na Bossa sluší a patří!
Nemenší radost nám dělá, že se nám podařilo přemluvit legendární djskou dvojici Mischa & Hubiss ke společnému vystoupení. Rok jsme si pohrávali s touto myšlenkou a jsme rádi, že kluci vyslyšeli naše přání. Bude to něco výjimečného především díky čtyřem gramofonům, dvěma mixům a dvěma djs, kteří hudebně prolnou zástupce dvou techno generací – dj Mischa se starými peckami a dj Hubiss s těmi současnými. Máte tedy exkluzivní šanci je společně s námi zažít, pouze a jedině v Kyjově!
Nestačí? Jasně že ne! Vystoupí totiž také naši dva největší ambasadoři. Byli s námi po celou dobu a podporovali nás každým coulem. Nemluvíme o nikom jiném než o našich rezidentech – Paul Hawk a Liner. Ti na takové oslavě samozřejmě nemohou chybět a už teď víme, že si pro nás připravují něco fakt "echt spešl"!
Abychom neusnuli na vavřínech či nezatláčeli nostalgickou slzu, pozvali jsme představitele mladé techno krve, nadějného producenta a dje v jedné osobě, zástupce kyjovského labelu Techno Terrorist! Dj Endlok nás provede netradičním pojetím techna a bass music inspirované především současnou UK scénou.
Pastvu pro ucho doplní pastva pro oko v podání vizuálního mága, kterým je již tradičně VJ Ledabyl.
Již od minulé akce máme hotové úpravy původního osvětlení sálu. Díky synchronizaci světel s hudbou jsme dosáhli efektivnějšího oživení parketu a propojení celého prostoru. Ale pořád tomu něco…. no jasně, co by to bylo za oslavu bez pořádné výzdoby? Tu bude mít na svědomí kouzelnice Alena, která prostor vizuálně okoření!
Těšte se a odpočítávejte s námi!
Vaše Sound44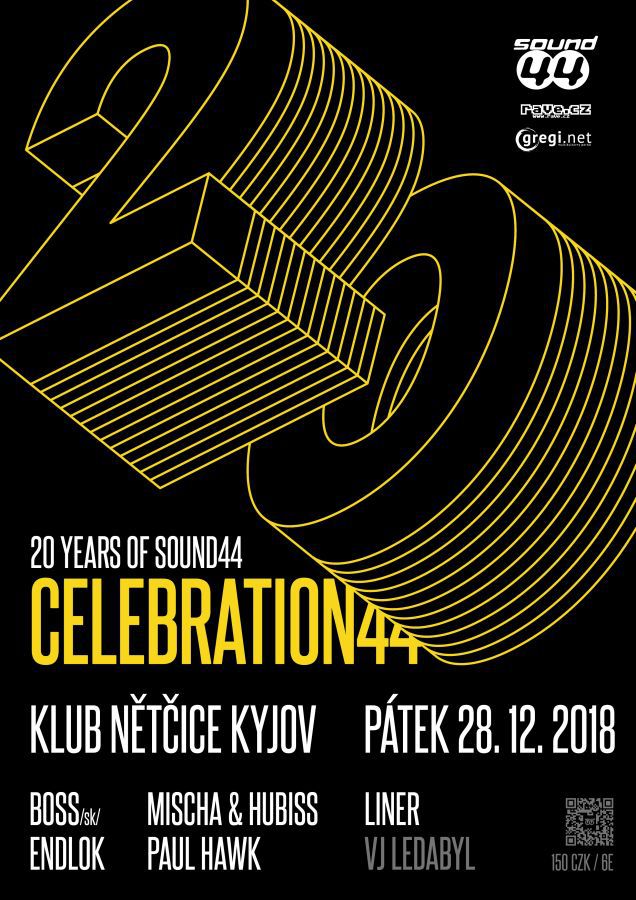 Zdroj: TS