Mixmaster DJ Sayko, rezident naší akce Dra:m, si tentokrát pozval opravdovou vypečenost, dlouholetou djskou dvojici QO & Computerartist! A support nebude o nic méně zajímavý. Line-up jsme totiž sestavili tak, aby na sebe všechny DJské sety navazovaly a celý večírek gradoval od samého začátku až do posledního vinylu.
Nyní ale k party samotné. Kdo že to přijede zahrát?
QO & Computerartist (Hoofbeats Music)
Spolupracují spolu úctyhodných třináct let, a to nejen v djingu, ale taky v oblasti produkce. Po přívalu vlastního hudebního materiálu tak bylo založení labelu přirozeným počinem. Do dnešních dní na něm tohle těžkotonážní kombo vydává nejen své tracky, ale i hudbu od nových talentů.
Jejich zvuk je definovatelný jako mix úderného techstepu, neurofunku a techy drum and bass s velkým B – hutnou, našlapanou basou. Vychází na labelech Eatbrain, Citrus, Disturbed nebo Close 2 Death.
Sayko (Razcals)
Tuto živoucí legendu a drtiče parketů není potřeba nějak představovat. Kromě djingu se věnuje i vlastní tvorbě. Ta mu vyšla na labelech Close2death, Deafmuted, Darktide, Sun Side rec. a Blast Furnace rec. Když náhodou nedělá hudbu, tak tvoří muziku, naplno se věnuje produkci tracků a odpočívá tvorbou písniček. Inu Sayko, hudebník tělem i duší. Autor skladeb v projektu Dyes se zpěvačkou Vera Muse, spoluautor v respektovaném drum and bassovém projektu Razcals.
Soldik (Drumandbassvinyl.cz)
Po zasloužené dovolené se ke gramofonům vrací odpočatý DJ Soldik, majitel vinyl shopu www.drumandbassvinyl.cz. Soldik, dj a sběratel v jedné osobě, se začal specializovat na hraní starých a osvědčených klasik (nejen!). Čekejte to nejlepší z labelů Virus, Bad Company, Cause 4 Concern nebo Renegade Hardware!
Olivaz
Před kyjovským publikem si odžije svou premiéru slovenský rodák DJ Olivaz. Hraní se věnuje přes dvacet let a za tu dobu prošel více styly. Nejprve si pohrával s housem a hip hopem, ale nakonec zvítězil drum & bass, na který se soustředí dodnes. Letitá zkušenost se ovšem odrazila v jeho žánrové pestrosti. Vedle klasického drum & bassu od něj můžete slyšet i jungle, ragga jungle nebo neurofunk.
Rejny (Nonoise)
Z Uherského Hradiště přijede provětrat Nětčice neurofunkem DJ Rejny, zástupce Nonoise crew. Po nářezu, který před ním zahrají QO & Computerartist, očekávejte volné pokračování s notnou dávkou jak ostřejších, tak deepovějších poloh.
Shmin (Beat Collision)
Břeclavský DJ Shmin se na minulé Dra:m velice dobře osvědčil a vykoledoval si tak účast i na dalším dílu. Podobně jako minule to bude vybalancovaný mix jak prověřených, tak čerstvých fláků od deepovek po techstep.
O originální vizuální stránku se postará artista od slova art, VJ Ledabyl, který doputuje společně se svou velkoplošnou videoprojekcí.
Shrnutí
Dra:m w/ QO & Computerartist
pátek 20. 5. 2022
Kyjov, Klub Nětčice (Kostelecká 2650/2a, 697 01 Kyjov)
Djs:
QO & Computerartist
Sayko
Soldik
Olivaz
Shmin
Rejny
VJ ledabyl
Vstupné 200 CZK / 9 EUR
Fb událost: https://www.facebook.com/events/397794665133935/
https://www.facebook.com/sound44com/
https://www.facebook.com/klubnetcice/
https://www.instagram.com/sound44com/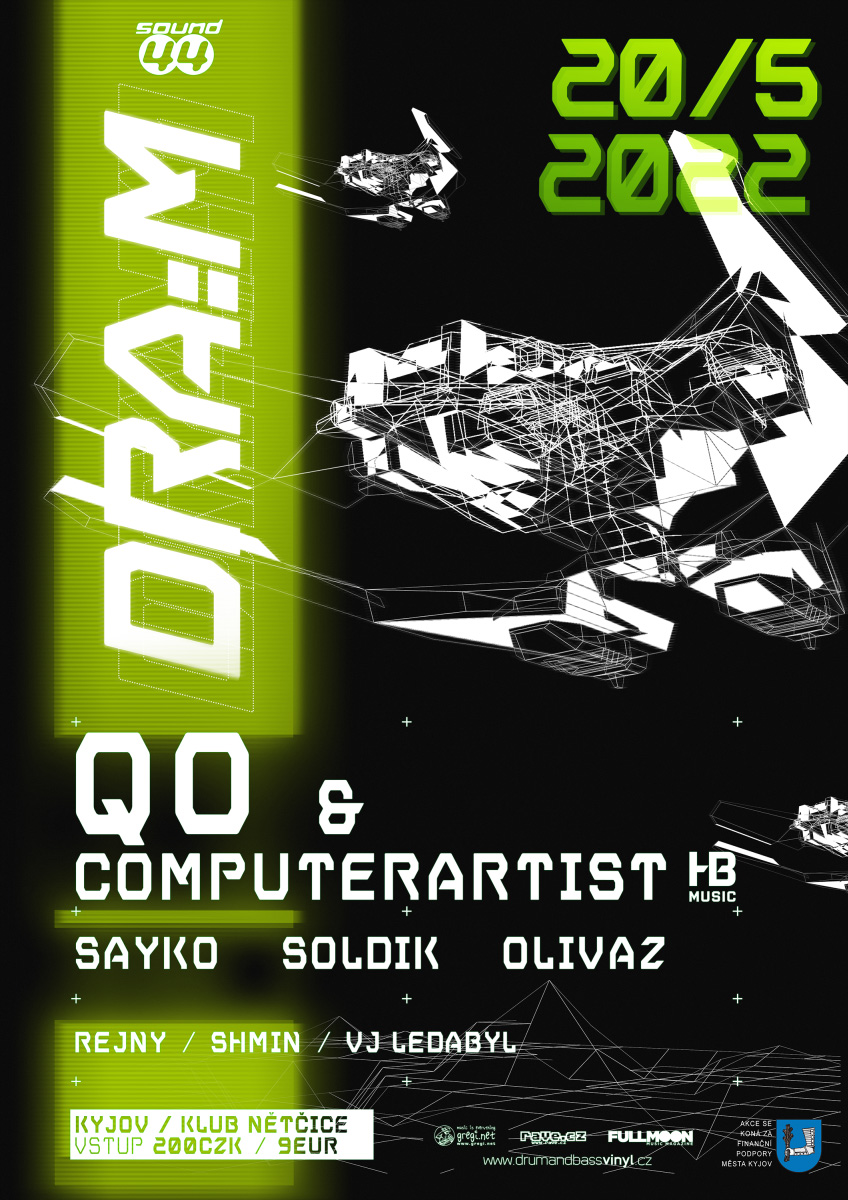 Zdroj. TS