Zlepšenie situácie súvisiacej s pandémiou COVID-19 sa prejavilo pozitívne v otvorení možností organizovať kultúrne podujatia – koncerty, divadelné predstavenia, festivaly atď., na druhej strane nejednoznačné a nepresne formulované vyhlásenia politikov a zodpovedných osôb spôsobili, že verejnosť dostala zavádzajúce informácie. Preto je dôležité, aby sme uviedli informácie na pravú mieru a umožnili ľuďom zúčastňovať sa na kultúrnych podujatiach bez obáv.
Pokiaľ sa niekto rozhodne navštíviť kultúrne podujatie, NEMUSÍ sa preukázať absolvovaním očkovania.
Rovnako sa NEMUSÍ preukázať negatívnym testom na COVID-19.
Vyhláška ÚVZ SR č. 223 zo dňa 25.6.2021 jasne uvádza, že pokiaľ sú dodržané všetky hygienické a všeobecné podmienky v nej uvedené a je dodržaný počet účastníkov na kultúrnom podujatí, nevyžaduje sa od návštevníkov preukazovanie očkovania, ani platný test na COVID 19. Jediná povinnosť pre každého účastníka kultúrneho podujatia je, poskytnúť prostredníctvom formulára Ticketingovej spoločnosti, cez ktorú si kupuje vstupenku (alebo na mieste konania), informácie, ktoré slúžia pre evidenciu účastníkov pre prípad, že sa na danom podujatí vyskytne epidemiologický problém. To znamená, že formulár slúži výlučne na dohľadanie prítomných v prípade potreby. Nepredstavuje žiadnu administratívne ani finančné nároky.
Nejasne formulované informácie, ktoré sa prostredníctvom médií dostali k verejnosti, spôsobili, že ľudia sa z obáv nutnosti podstupovania ďalších povinností spojených s finančnými nákladmi, rozhodli na kultúrne podujatia nechodiť. To ovplyvňuje resp. ohrozuje prípravu a samotnú realizáciu kultúrnych podujatí, predovšetkým predpredaj vstupeniek. Pandémia COVID-19 spôsobila segmentu kultúry extrémne straty a škody, preto považujeme za legitímne očakávať od kompetentných zodpovedné a jasné komunikovanie pravidiel. Tak aby im verejnosť rozumela, nebola zbytočne traumatizovaná a aby sa predišlo ďalším, v tomto prípade zbytočným, stratám v oblasti kultúry.
Veríme, že spoločne dokážeme verejnosti ponúknuť mnohé zážitky, o ktoré bola dlhé obdobie ukrátená. Organizátori kultúrnych podujatí sú zodpovední a sú pripravení privítať na svojich podujatiach návštevníkov pri dodržaní všetkých povinných pravidiel. V tomto prípade stanoveným maximálnym počtom návštevníkov na podujatí – podľa COVID semaforu, povinné rúška resp. respirátory a dodržiavanie odstupov.
Živá kultúra zachraňuje čo sa dá, prispejte k tomu pravdivými a presnými informáciami aj vy, aby sa ľudia nebáli prísť na kultúrne podujatia.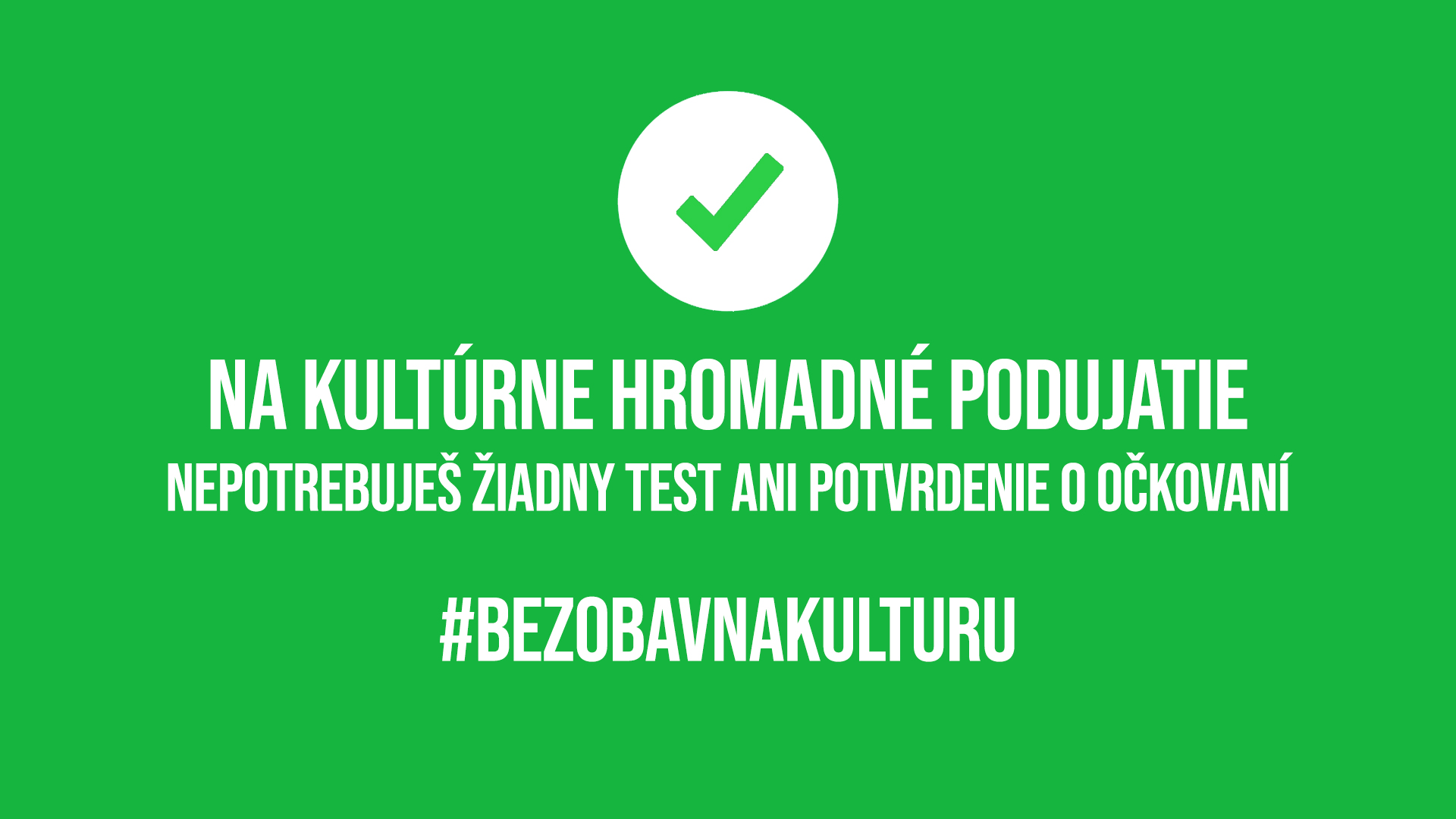 Hudobná únia Slovenska
Asociácia Hudobných Klubov Slovenska AHKS
Združenie promotérov a festivalov na Slovensku