V nedeľu 22. augusta 2021, sa amfiteáter v Banskej Štiavnici stal "domovom" už dvanásteho ročníka benefičného podujatia Osmidiv. Pre osoby s mentálnym a zdravotným postihnutím ho úspešne pripravilo Občianske združenie Milan Štefánik. Vzhľadom na pretrvávajúce opatrenia vstup bol len pre pozvaných.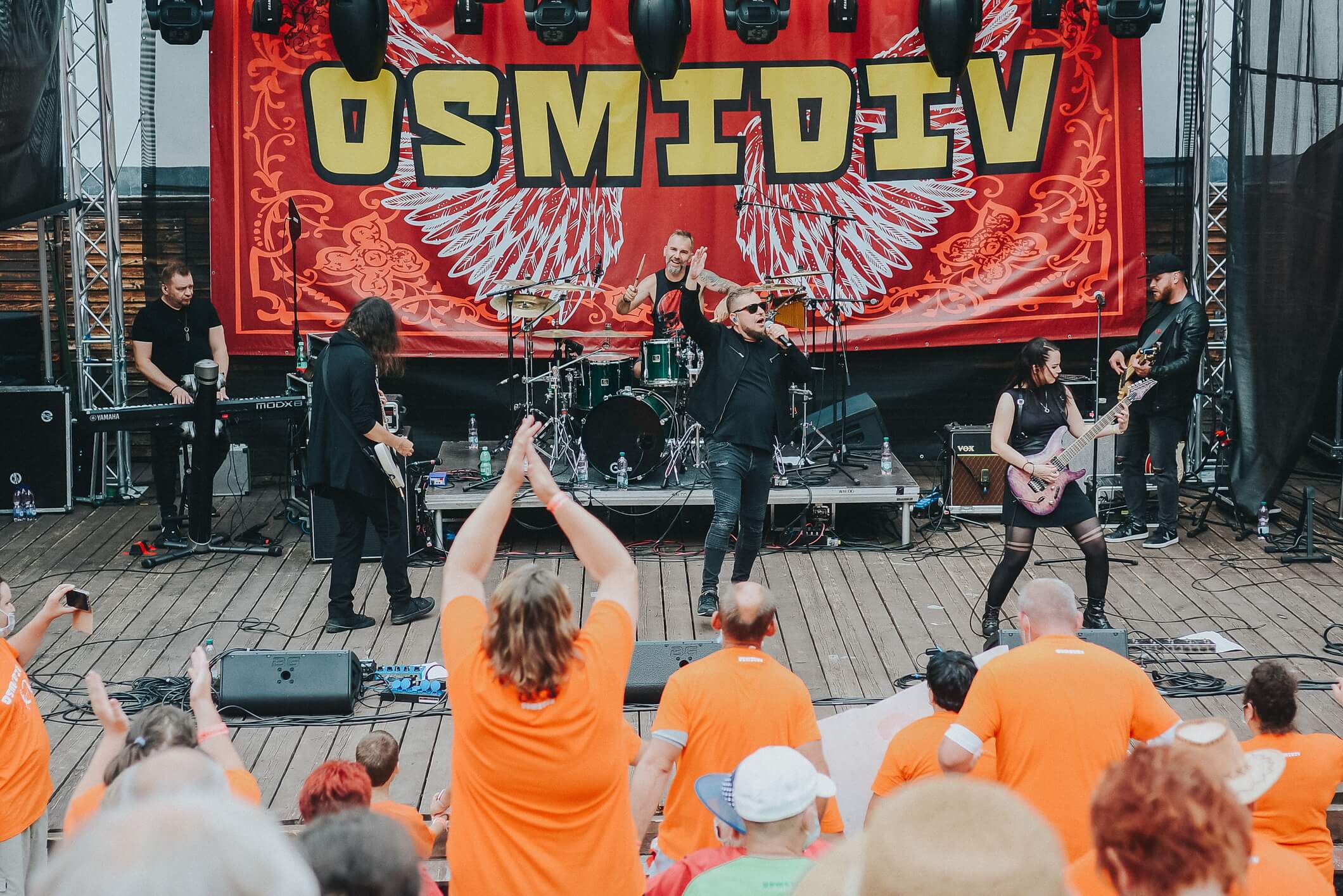 Pred koncertom bolo potrebné ale čo to pripraviť. Partia dobrovoľníkov sa od rána nezastavila. Vybaľovali, vešali, lepili. Skladali a zapájali. Po schodoch nachodili snáď i 100 letných kilometrov. Kútik s občerstvením. Kreatívne dielne. Aparatúra. Ozvučenie. Vydezinfikovať dotykové plochy. Všetko má svoje miesto. Ešte stojany s dezinfekciou. Podeliť úlohy. Tričká pre "inak obdarených" ku vstupu a ide sa na to. Kontrola teploty. Foto pod plagátom.
S prvými divákmi prichádza na pódium Didiana. Mikrofón v rádiu vymenila pre dnešný deň za ten pódiový. Tento rok padla voľba organizátora na ňu. "Osmidiv je fajn projekt. Fajn podujatie, ktoré zabáva roky už množstvo ľudí. Ja si myslím, že je to pekná tradícia, v ktorej treba pokračovať." Na úvod pripomenula pravidlá. ROR – ruky, odstup, rúška. Všetci ich už poznáme. Ale predsa. Pozýva k sebe Zolyho so Zumbou. Výnimka platí. Zumbujúci môžu pri športovej činnosti rúška na chvíľu odložiť. Chytľavé latino rytmy. Kroky sa striedajú. Pomalšie. Rýchlejšie. Do strán. Vpred a vzad. Ruky vbok. Kým zaznie ďalšia skladba, ukážte ako to bolo? Rozhýbte boky. A hore ruky aj tí, čo sedia. Ešte salsa. "Zumba Zoli vás pozdravuje!"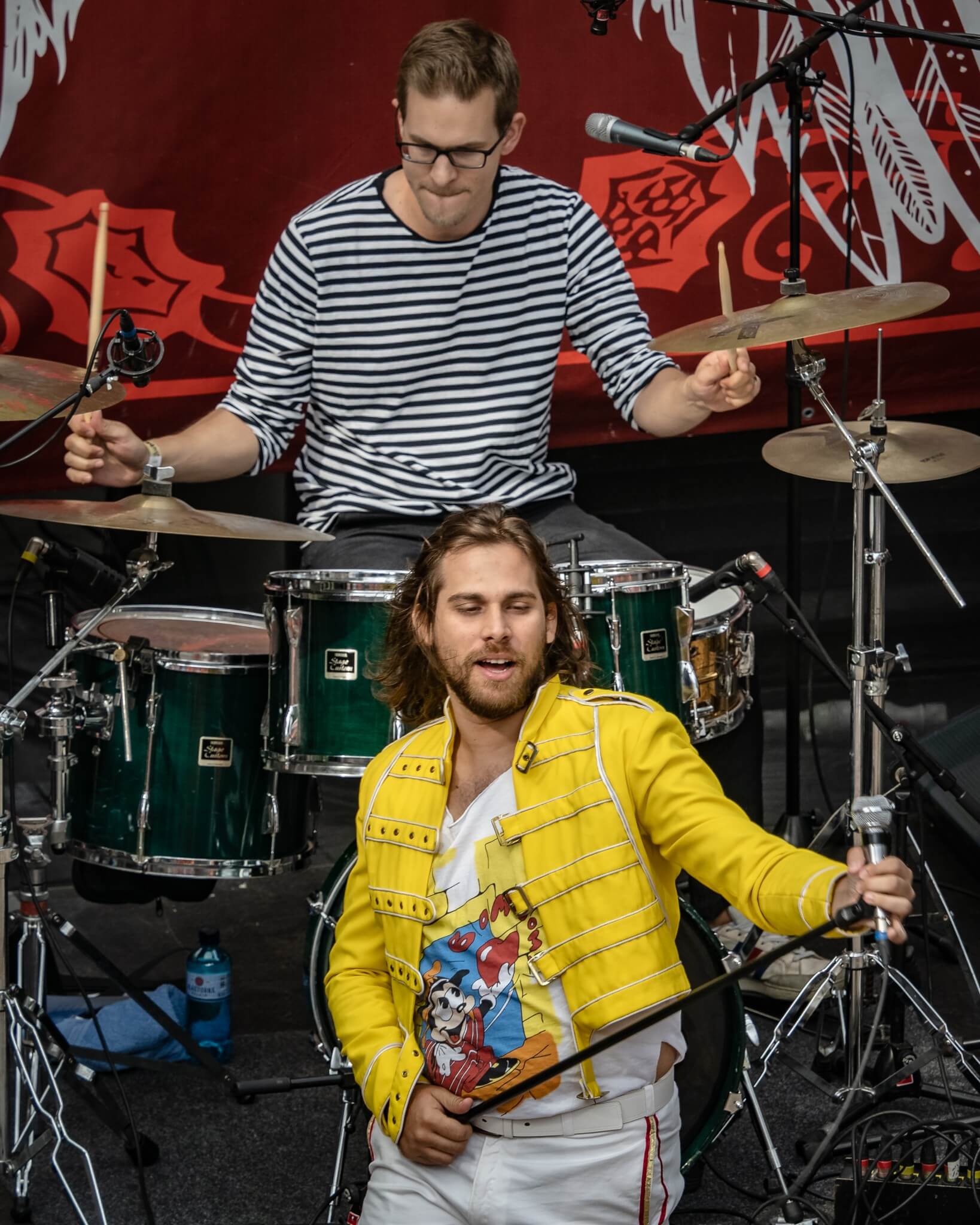 Počas krátkej pauzy si k sebe Didiana pozýva organizátora – Milana Štefánika. Obraz s jašteričkami, ktoré sú symbolom nie len Banskej Štiavnice, ale i festivalu Osmidiv, namaľoval známi textár Vlado Krausz. Na pódium si ho prišla prevziať Marianna Paučová. Veselé farby na plátne budú zdobiť interiér Domova sociálnych služieb Ladomerská Vieska.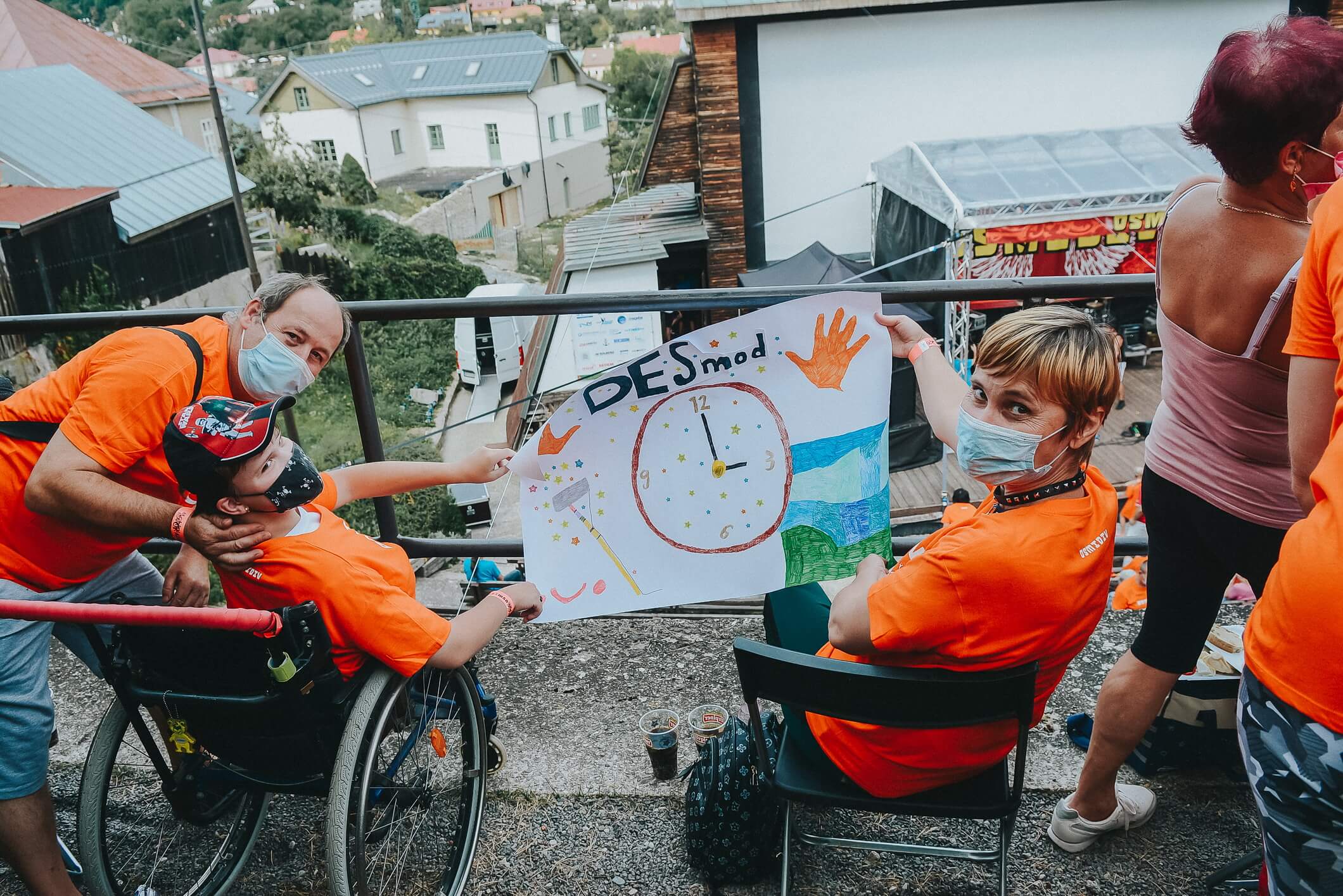 Prvé tóny melodického rocku. Na scéne už je Desmod. V novom zložení. S o to väčším entuziazmom. Bicie sa miešajú s basgitarou. Kuly so zamatovým hlasom. "Jednoducho je to krásne. Chcem, aby aj oni zažili niečo takéto. Jednoducho toto je špeciálne pre nich." Pre "inak obdarených" vybrali najväčšie hity. Čierna ovca rodiny, Čierna diera…nie je všetko čierne. Za 25 rokov účinkovania na hudobnej scéne bolo tých TOP neúrekom. Nevrav mi aký som. Oko i ucho mužskej časti publika sa potešilo. Na gitare hrá a spieva Mirka.. Chýbanie koncertov, sociálnych kontaktov spôsobilo hľadanie Vŕby bútľavej. Novinka – Kométa. Publikum sa pridáva. "Inak obdarený" spievajú spoza rúšok. Texty. Slová, ktoré rozoznejú dušu. "Keby že nemám okuliare, tak tam vidíš slzy. Lebo som si uvedomil práve počas spievania, že koľko našich textov sedí na osudy veľa z nich." Na osudy ľudí s postihnutím. Osudy ľudí. Baladická Vyrobená pre mňa. A poriadny "rokec". Na Tebe Závislý. Repráky rezonujú s basgitarou.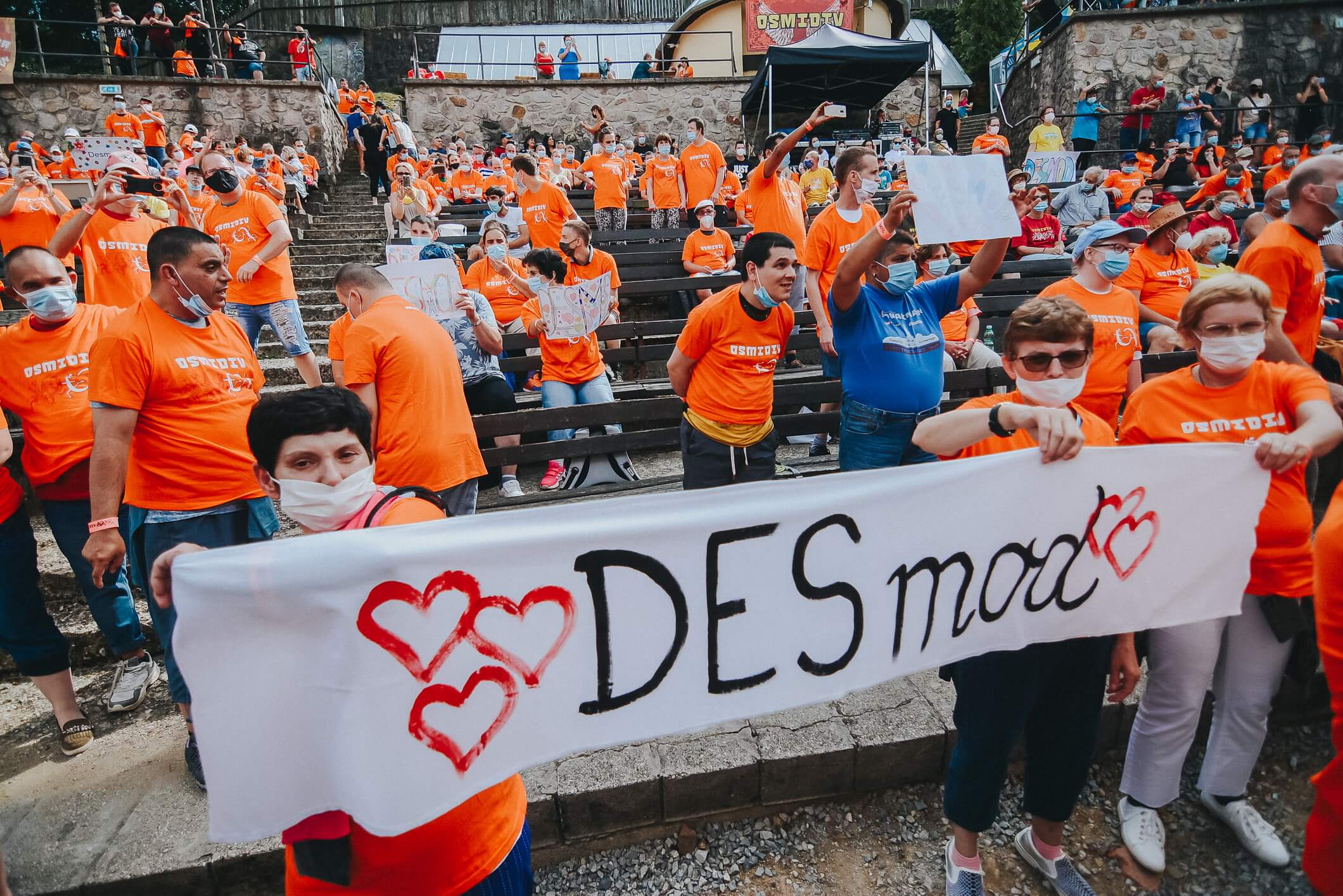 Je čas zmeniť skupinu i jazyk. Výmena nástrojov. Dezinfekčná hliadka. Už prichádzajú. Tento outfit je známy. Biele nohavice, tričko a výrazná bunda so zapínaním. Prvé tóny. Vrátili sme sa v čase? Queeeen? Na pódiu je hosť z Maďarska – Hungarian Rhapsody Queen revival. "Odpálili" zmes najznámejších piesní. Magic, In the pressure, I want to break free… Jazyková bariéra? Nikto si ju ani nevšimol. Slovami lídra kapely: "hudba lieči. Spája nás. A je jedno akým jazykom hovoríme. Lebo hudbe rozumieme všetci." Don´t stop me now, Somebody to love. Nemôže chýbať Bohemian rhapsody. Ešte trocha rock and rollu. Spev, tanec, tlieskanie. "Radi vystupujeme na takýchto akciách, lebo obecenstvo si to užíva." Prekvapenie. Členovia kapely dostávajú darčeky od "inak obdarených". Vyrobili ich sami. A my veríme, že sa na podobnej akcii na Slovensku so skupinou znova vidíme.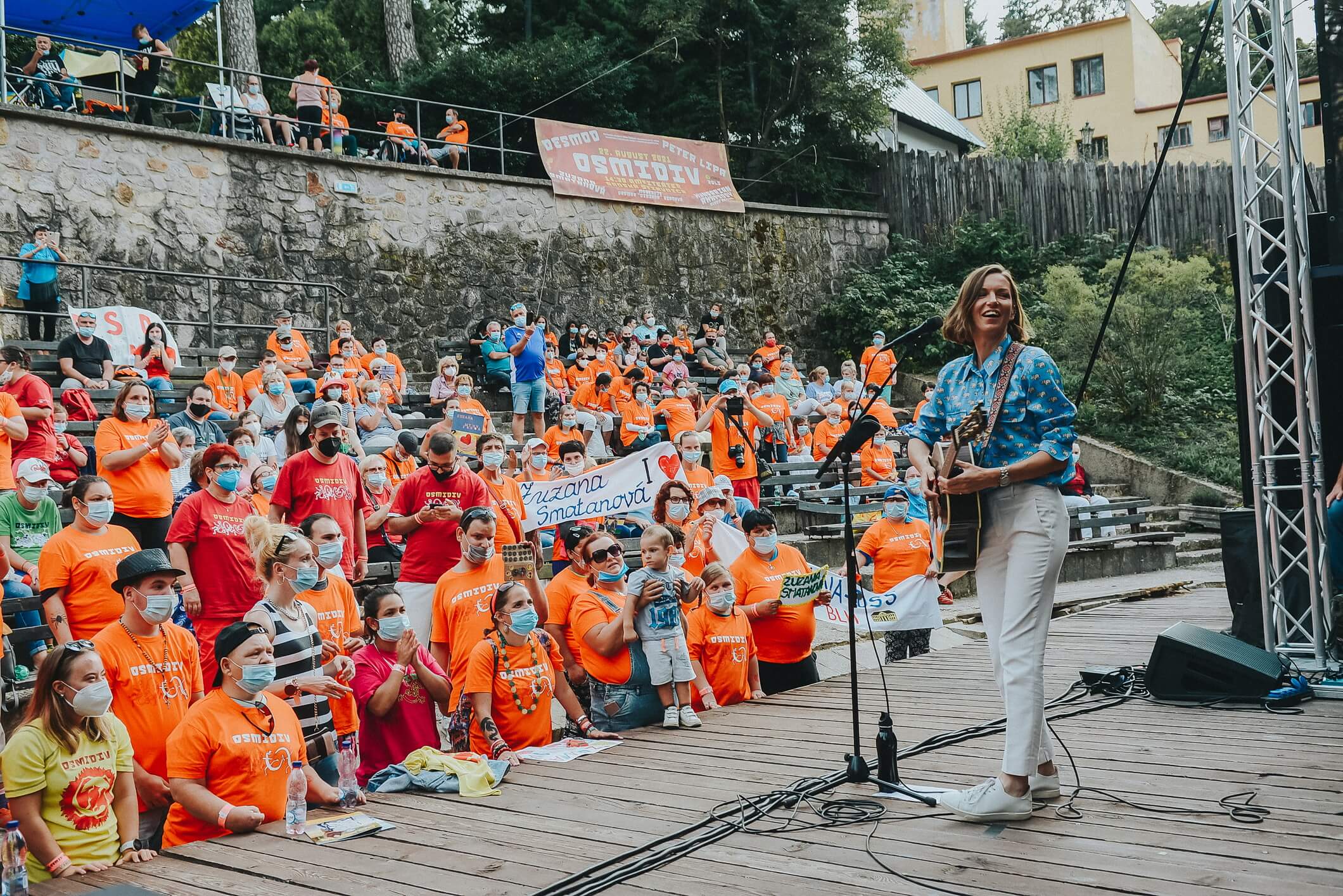 Zmena štýlu. Nastupuje jazz a blues. Peter Lipa a jeho Band. S osobitým vokálnym prejavom. Typickým baretom na hlave. "Nie všetci ľudia majú rovnaký život. Sú ľudia, ktorí to majú trochu ťažšie. Keď môžeme našou muzikou, hudbou, pomôcť niekomu aspoň na chvíľu, tak je to veľmi potešujúce." Saxofónové sólo. Prsty behajúce po pražci gitary. A už znejú Sťahovaví vtáci. Aktuálna téma – U doktora. Ale tlak je ideálny, 120 na 80. Pred ďalšou piesňou požiadal Peter o spoluprácu publika. Nápev jednoduchý: lala-lála-lála-la-lála. Voláme Caracas. "Veľmi radi chodíme na takéto akcie a radi cítime aj odozvu publika." Balada na koniec. Pricválali 4 kone vrané. Klaňačka. Deň sa prehupol pomaly k večeru.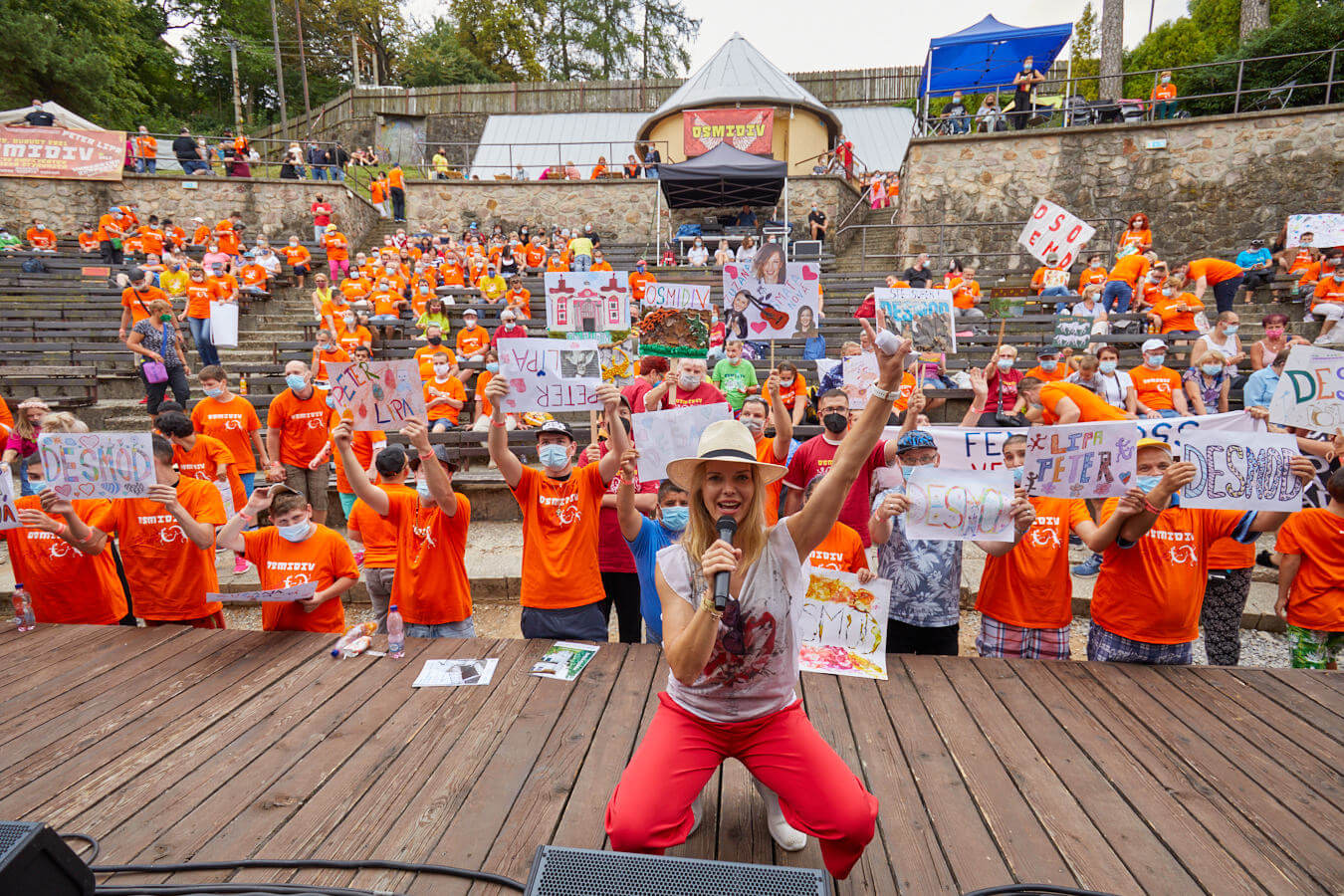 Pred finálovým vystúpením je čas odmeniť "inak obdarených". Za nádherné farebné transparenty, mávadla. Rozhodnutie má v rukách Didiana. Ktorý vyhrá hlavnú cenu? Najfarebnejší? Najväčší? S fotkami, či namaľovaný? Vybrané. Ani ostatní nemusia smútiť. Darčekov je dosť. Každý "umelec" dostane aspoň malý.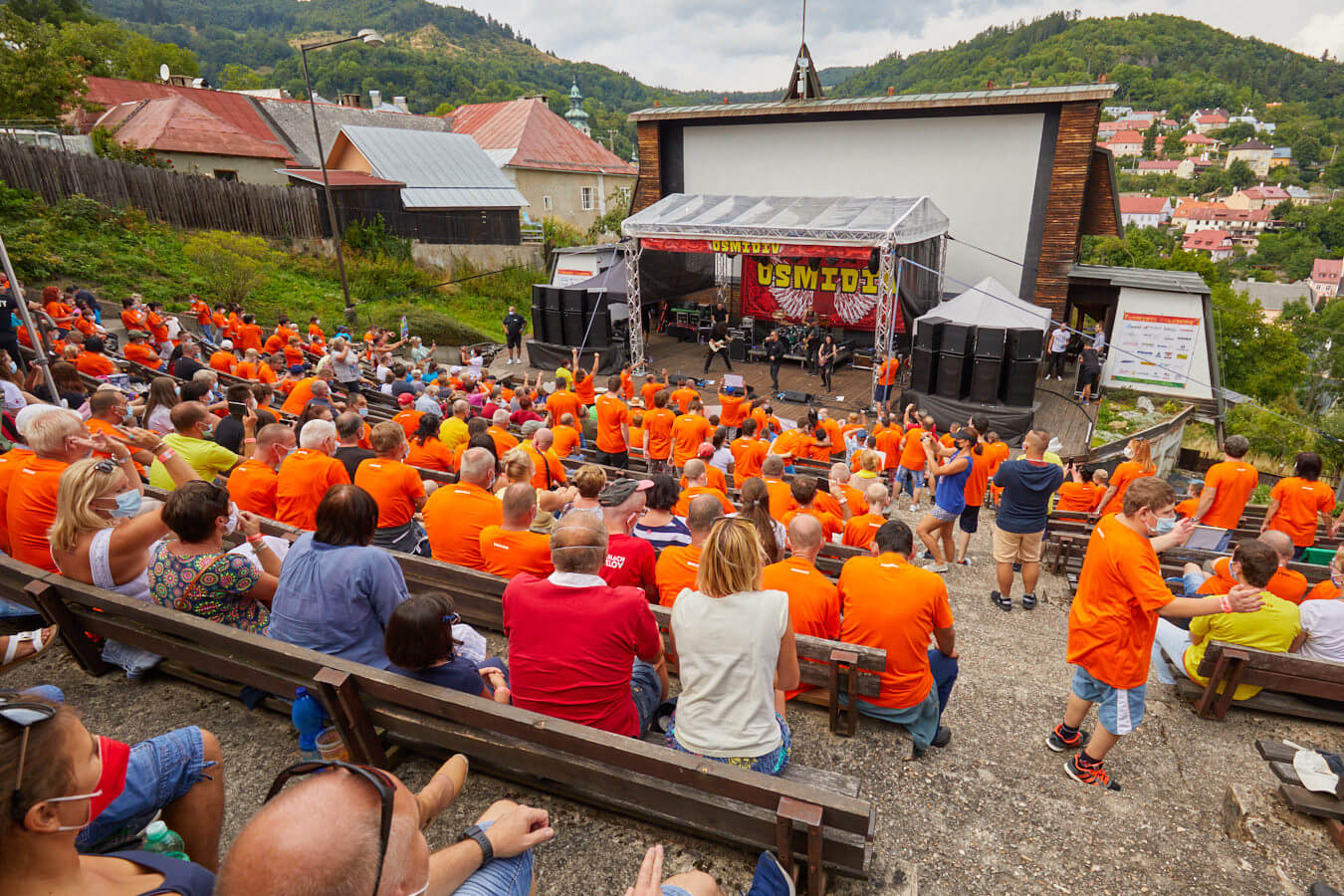 A konečne na pódium prichádza … Zuzana Smatanová. Popová speváčka, skladateľka. Pri pohľade na ňu by ste ani neverili, že je na hudobnej scéne už dvadsať rokov. Publikum "chytila" hneď prvou piesňou, Daj ruku do mojej ruky. O to viac, že v súčasnosti je podávanie rúk len symbolické. Nech sa deje čo sa má. A veru sa dialo. Gitara a harmonika. Diváci zrazu stáli. Transparenty. "Úplne taký úsmev som mala na tvári, že zas vidím to svoje meno a nejaké také fotky staršie a je to strašne milé." Dnes sa mi nechce nič, len byť na skvelom koncerte. Prvý krát V dobrom aj v zlom. Farebný balón preletel nad nami. "Ja mám Banskú Štiavnicu spojenú s Osmidivom. Tu je tá atmosféra taká strašne domáca a ja ďakujem, že som tu mohla byť."Blížime sa do finále. Dajme tie naj. Slová všetci poznajú. Nekráčaj predo mnou, Tam kde sa neumiera. Klavír. Banskou Štiavnicou sa rozlieha "modlitba" – Horou.
Posledné tóny. "Boli ste fantastické publikum."
No nielen hudbou a tancom žil Osmidiv. "Umelci" si mohli vyskúšať svoju šikovnosť pri práci so žehličkou a voskovkami. Dobre čítate. Žehličkou. Enkaustika. V druhom stánku čakali deti sadrové odliatky, ktoré ožívali farbami. Na rukách namaľované ornamenty, motýle a srdiečka. Nadšenci z OZ Rytieri Vir Fortis zo Zvolena pripravili pre "inak obdarených" streľbu z luku na terč, výrobu kožených náramkov i razenie tradičnej mince. Na všetkých čakalo občerstvenie.
Poďakovanie i tento krát patrí organizátorovi podujatia, Milanovi Štefánikovi. Ale nie len jemu. Za koncertom stoja dobrovoľníci, účinkujúci, sponzori. Im patrí vďaka za radosť, zážitky, ktoré dnes "inak obdarený" mali. Lebo … Didiana to povedala za nás všetkých. "Tešte sa z každej minúty, ktorú zažívate!"
Text: Júlia Platková
Foto: Igor Frimmel, Milan Maršalka a Marek Vaco
Video: Leviceonline.sk TVTEKOVHONT, Igor Kolesár