Číslo 13. Pre niekoho šťastné, pre niekoho nešťastné. Pre organizátora benefičného festivalu Osmidiv, Milana Štefánika, tento rok určite magické. V nedeľu 21. augusta 2022 už po trinásty krát bola Banská Štiavnica dejiskom tohoto krásneho podujatie. Pre nepriaznivú predpoveď počasia sa zmenilo miesto konania. Vonkajšie priestory amfiteátra nahradila sála Centra kultúry. Pre osoby s mentálnym a zdravotným postihnutím koncert plný hudobných hostí pripravilo Občianske združenie Milan Štefánik.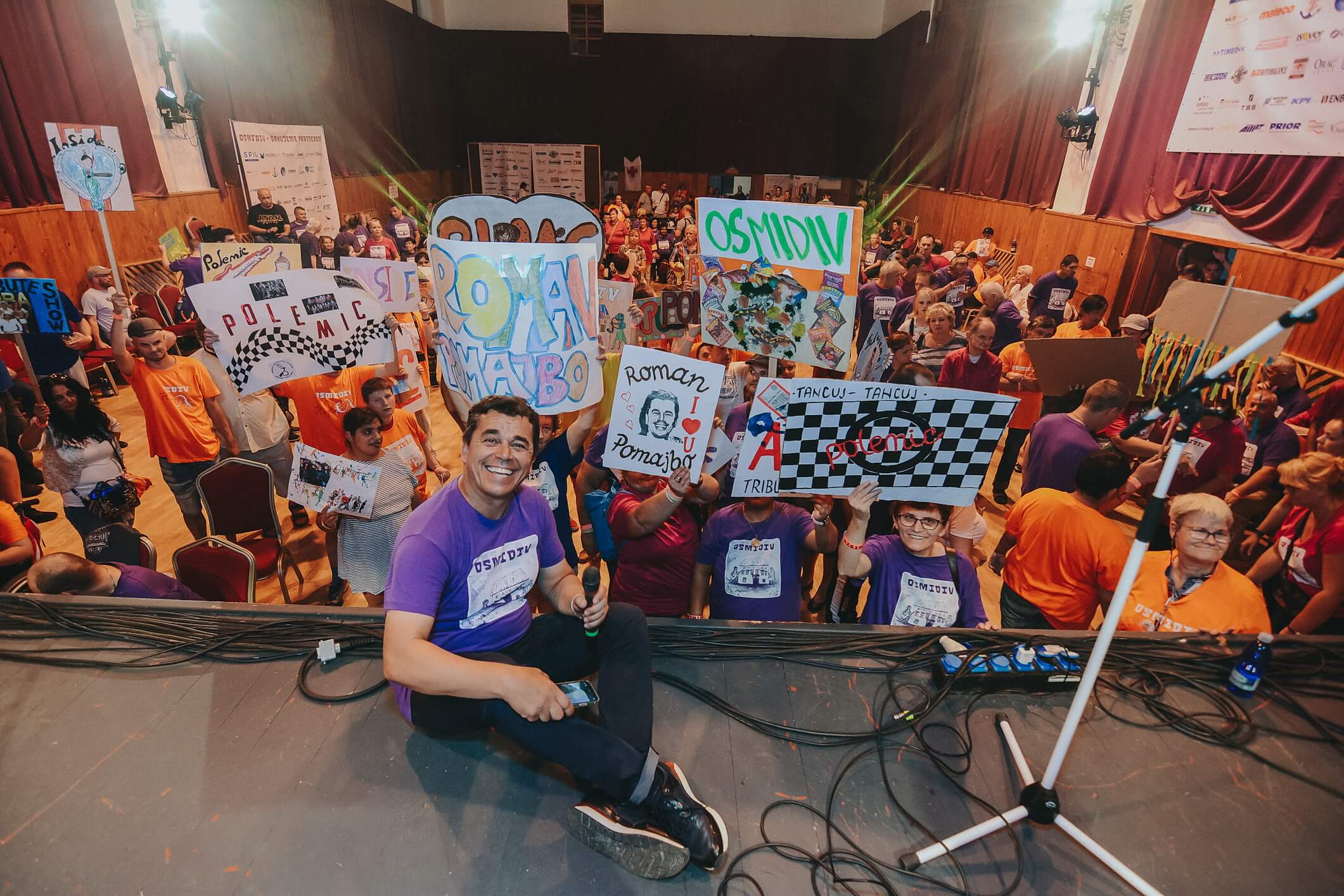 Historická budova Centra kultúry sa od rána hemžila dobrovoľníkmi. Pod "taktovkou" Milana Štefánika nosili, skladali, lepili, aby všetko bolo tak, ako má. Pripraviť šatne, miesto pre kreatívne dielne, občerstvenie. Zavesiť bannery. Rozvešať plagáty. Ešte posledné úpravy. Technika na pódium a ide sa na to.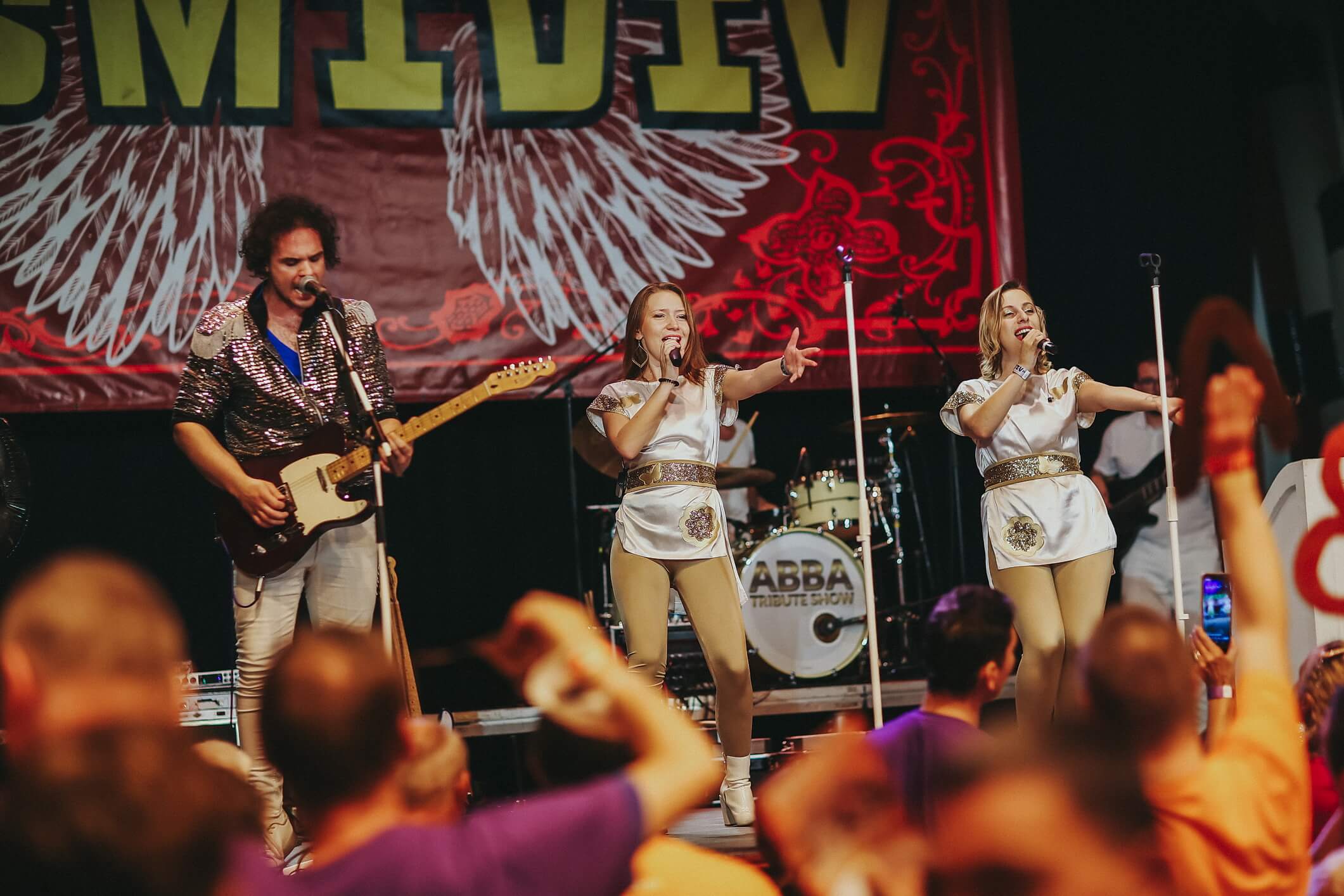 Na pódium vybieha Roman Pomajbo – moderátor podujatia. Prišiel zažiť úžasný deň. Po privítaní hostí – "inak obdarených", si k sebe hneď pozýva Milana Štefánika. Neprichádza sám. Sprevádza ho i Beáta Miškovičová. Pred nimi je milá povinnosť. Odovzdať obraz s motívom Osmidiv 2022, ktorý namaľoval maliar a textár hitov kapely IMT Smile, Vlado Krausz. Poputuje do ZSS Krškany DOMUM. Prevziať si ho príde pani Kováčiková, sociálna pracovníčka zo ZSS. Ešte foto. A pripomenúť prítomným, na čo sa okrem hudby môžu tešiť. Pre "inak obdarených" sú pripravené náučné workšopy. Čo si môžete vyskúšať? Výroba doplnkov z kože, razenie mincí, výroba šperkov z drôtu. Maľovanie na ruky a na tvár. Enkaustika – maľovanie horúcim voskom. Prístupné sú po celý čas konania koncertu.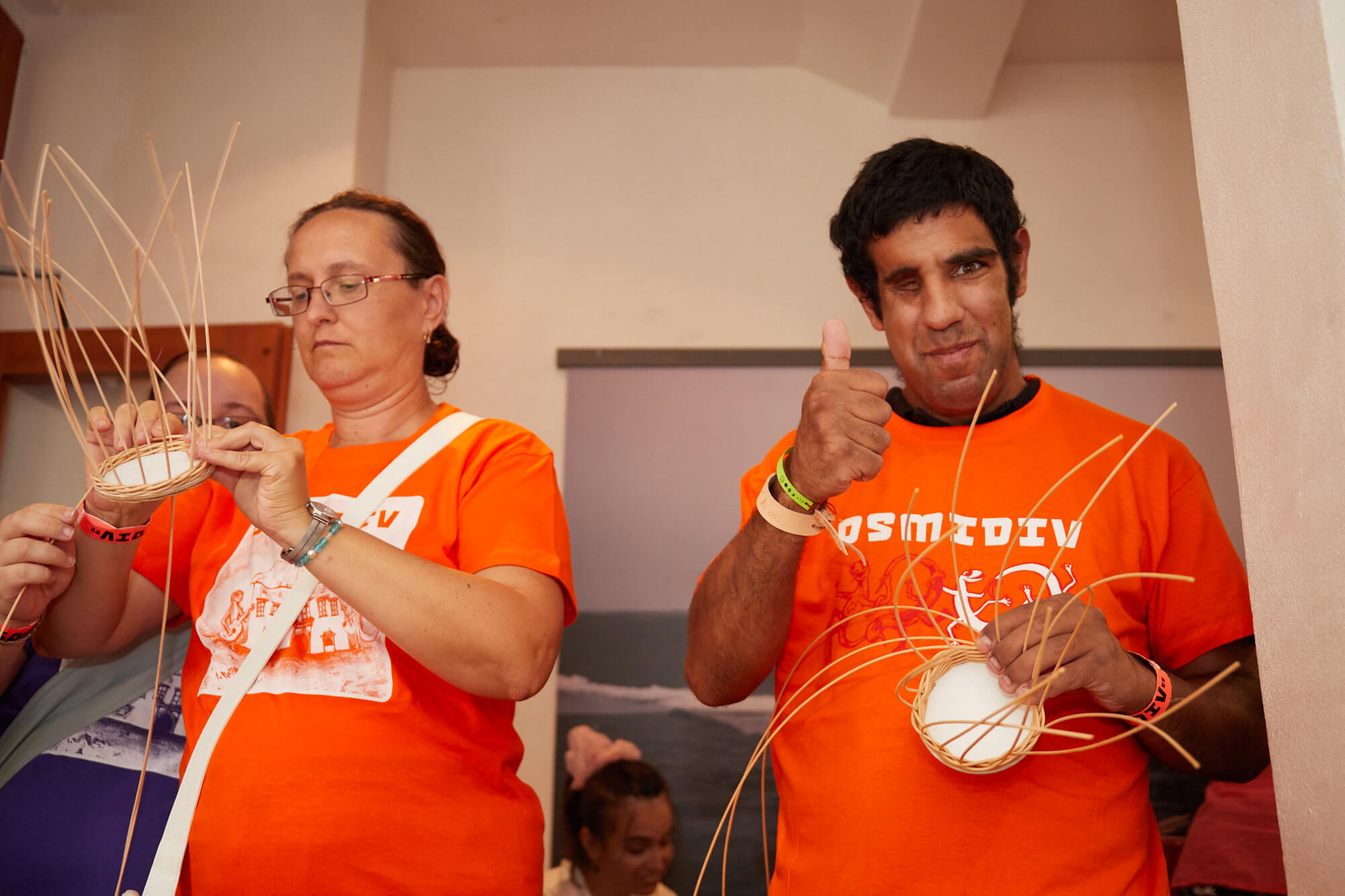 Ale už sa tešíme na hudobných hostí. Kto dnes vystúpi ako prvý? Bubny, gitara. Jemné tóny trúbky. Saxofón. Prichádzajú muži v čiernom. Polemic. Slovenská Ska/reggae skupina. Termín Osmidivu sa takmer trafil na narodeninovú oslavu lídra skupiny, speváka Braňa Bajzu. "Po tom mojom úraze som to tak viacej precítil to, že som s nimi viac menej handicapovaný a sme tak na jednej lodi spolu si preplávali tento koncert . Tak o to viac som to teraz pochopil, prečo to tak intenzívne vnímali." S prvými tónmi prichádza pozvánka. Tancuj. Bav sa a tancuj. Hanbu preč, rob čo vieš, nič nerieš, tancuj. Diváci sa nenechajú dlho prosiť. A už zaplavujú parket farebné tričká. Medzi "inak obdarených" púšťajú svoju Medicínu – dobrú náladu, ktorá je najlepším liekom. Spolu si dali i hej-hou-hej-hou. Bubon a saxofón. Nie je to žiaden Škandál, že máme dnes Slnko v sieti. "Je to jedna z tých najúprimnejších akcií, ktoré zažívame. Tie decká to majú v podstate taký ten svetlý bod možno v tom celom roku , že dôjdu známe kapely si zahrať, podať ruky a reakcia toho publika je iná ako všade inde. Ja to volám že extrémna srdečnosť." Ona je taká. Ideme spolu. 2 kroky na stranu a hore noha. Nesmie chýbať Komplikovaná. Možno aj preto sú v kapele samí muži. Publikum už zaplnili farebné transparenty, mávadlá. A reakcia kapely na ne? "Mali mnohé transparenty Polemic. A keď som na nich čo i len žmurkol, alebo niečo, tí ľudia boli úplne nadšení." Potlesk a už sú tu darčeky. Od "inak obdarených". Sami ich pripravili.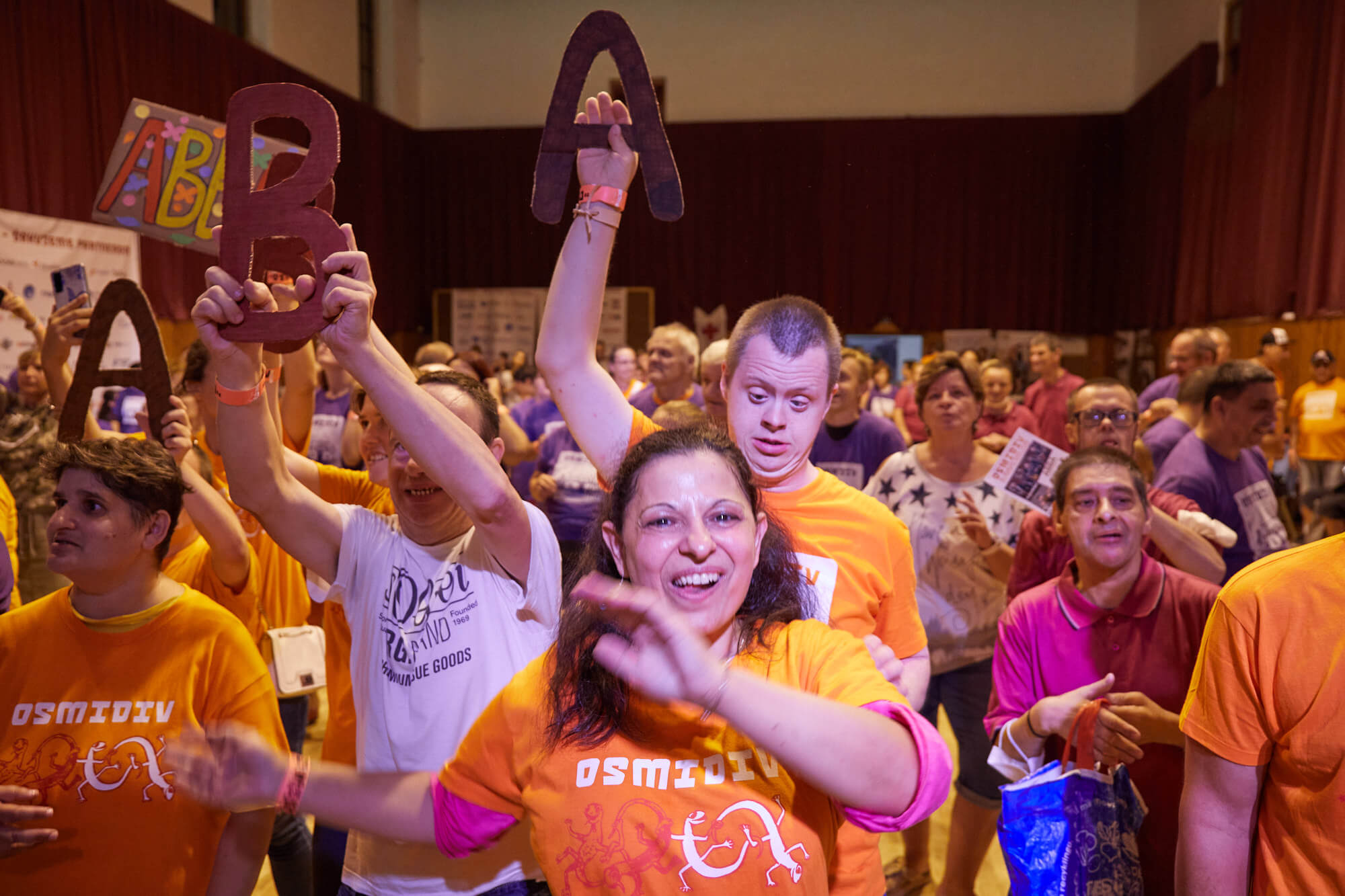 Krátka prestávka na výmenu nástrojov. Aj tú treba využiť. Pripomenúť občerstvenie. A predstaviť dezinfekčnú hliadku. V červených tričkách sa tu medzi vami pohybujú Veronika, Lenka a Sonička. Po schodoch do sály zas vozíčkárom pomohli schodolezy od spoločnosti SPIG. Monika Ponická vám rada poradí, ako si pomôcky vybaviť.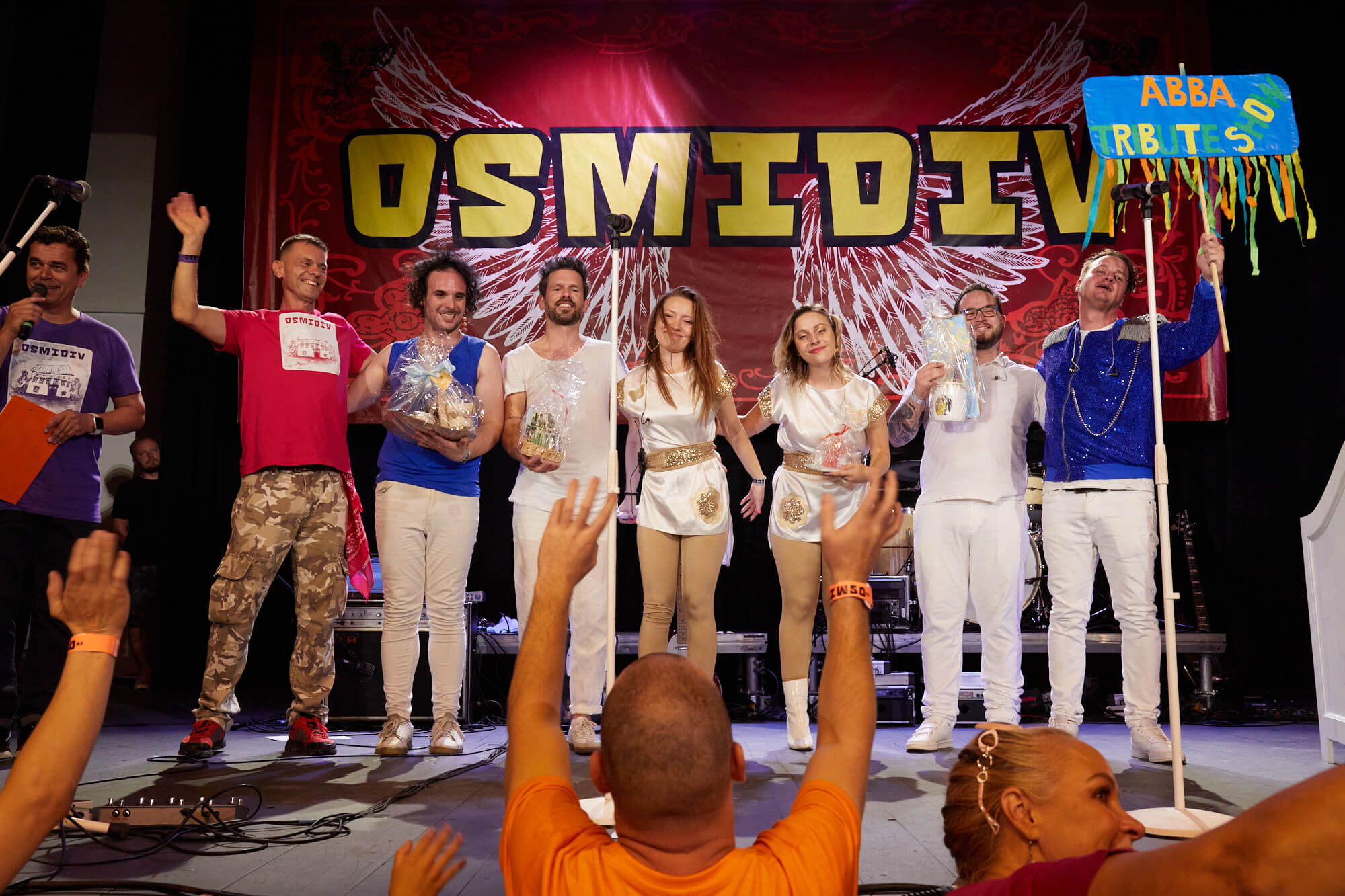 Druhý hudobný hosť prišiel spoza hraníc. Bacily dorazili i s legendou, Václavom Neckářom. Zlaté dieťa z tria GOLDEN KIDS to so skupinou ťahá na hudobnej scéne už viac ako päťdesiat rokov. Skromný hudobník s veľkým srdcom. Päťdesiat rokov prináša fanúšikom radosť. Piesne, hity. Staršie i novšie. Päťdesiat rokov podporujú i projekty a koncerty pre "inak obdarených". "Když je to takováhle akce, tak neexistuje, aby sme nepřijeli. Proto že na charitu si vždycky uděláme čas a 50 let to s Bacily děláme. Takže když nás někdo chce, tak rádi přijedeme." Hudobný kolotoč hitov sa roztáča. Tu kytaru jsem koupil kvúli tobě, Stín katedrál, Kdo vchází do tvých snú. Symbolicky si podali ruku a previedli piesňou prítomných starým Václavákom. Harmonika. Publikum sa zapojilo. Dam-di-dam. Lásku ztracenou "našla" nejedna mamička v sále. A i keď Časy se mění, každý má toho svojho Anděla strážneho. Baladicky krásna a moja obľúbená Púlnoční. I keď ešte nie sú Vianoce. Ruky nad hlavy. Tichá gitara a s ňou životný príbeh…Všechno je jenom jednou. A odkaz od Václava pre všetkých: "Nelituj, nikdy nelituj!" Aplauz a darčeky.
A v sále záplava transparentov. Práve čas na vyhodnotenie. Ktorý je ten naj? Kto sa ujme tejto neľahkej úlohy? Mikrofónov sa ujali Milan Štefánik a Roman Pomajbo. Ktoré vybrať? Najväčší, či najfarebnejší? Po porade "rozhodcov" sú vybraní piati finalisti. Ale darček za snahu dostane každý, kto doniesol originálny, vlastný transparent alebo mávadlo.
Na pódiu i v sále to šumí. Ešte je pripravený nejaký hosť? K mikrofónom prichádzajú dve krásne devy v zvláštnych kostýmoch. Čo nám pripomínajú? Za bubny si sadá ich kolega a ďalší si berie gitaru. Ešte jeden ku klavíru. Z Budapešti k nám prišli ABBA Tribute show. Priestorom sa rozliehajú tie najznámejšie hity. Skupina mala pozvanie na podujatie na Slovensku už dva roky, ale pre pretrvávajúce opatrenia a stále sa meniacu situáciu v súvislosti s ochorením Covid, sa im to podarilo uskutočniť až teraz. Staršie ročníky v publiku si zaspomínali na svoju mladosť. A mladšie sa vybláznili pri hitoch ako Mama mia, Dancing Queen, Rock me, Money, Voules Vous… "Bol to jeden obrovský zážitok. Prvých pár pesničiek som sa rozplakala skoro. Bol to neuveriteľný zážitok a snáď sa tým deťom podarilo vypustiť paru poriadne. Takéto niečo sme ešte nezažili." I takto zhodnotila jedna zo speváčok účinkovanie na podujatí Osmidiv 2022. A my sme radi, že sa to podarilo. Snáď sa na niektorom koncerte organizovanom OZ Milana Štefánika ešte stretneme.
Darčeky a dlhý aplauz. Posledné foto, podania rúk. Pripomenutie občerstvenia. Treba doplniť tekutiny. A čo dodať? Poďakovanie. Veľké ďakujem organizátorovi. A nie len jemu. Za ním stojí kopec ľudí – dobrovoľníci, účinkujúci, sponzori. Hodiny príprav. Roman Pomajbo to zhodnotil takto: "rôzne aktivity a úžasný koncert, že musím povedať, že ten Milanko Štefánik to naozaj krásne organizuje. Vidím, ako je to nutné, ako je to dôležité, aby prežívali kus umenia, hudby, relaxu, radosti z toho, že sa stretnú takto pokope a môžu si zaspievať, zatancovať, vyjašiť sa ." A ja dodávam, verím za viacerých, že je mi cťou byť súčasťou jeho tímu a prispievať k dobrej nálade, radosti "inak obdarených". Už teraz sa teším na ďalšie podujatie.
Text: Júlia Platková
Foto: Igor Kolesár, Marek Vaco a Milan Maršalka
Video: Leviceonline.sk TVTEKOVHONT
Video: Igor Kolesár